Alter Eco is one of the country's leading fair trade and sustainable food companies, they believe that "Sustainability lies at the core of our company. For us, it means a way of doing business that nourishes the whole system, from foodie, to farmer, to field." This belief and their love of what they do comes through in the quality and taste of their products. Product received for review. Post contains affiliate links.
Alter Eco Food Products
Alter Eco products are wonderful! They offer 3 types of Quinoa, 3 varieties of rice, and a delicious Organic Mascobado Cane Sugar, with hints of rich vanilla and caramel notes! This sugar is amazing in/on everything from baked goods, to oatmeal, to frozen yogurt, to your tea and coffee! *interesting fact: Did you know that SOME sugars are actually good for you?
Alter Eco Cane Sugar is a healthy source of potassium, calcium, magnesium, and iron! Most white table sugar is NOT vegan, the processing includes animal byproducts.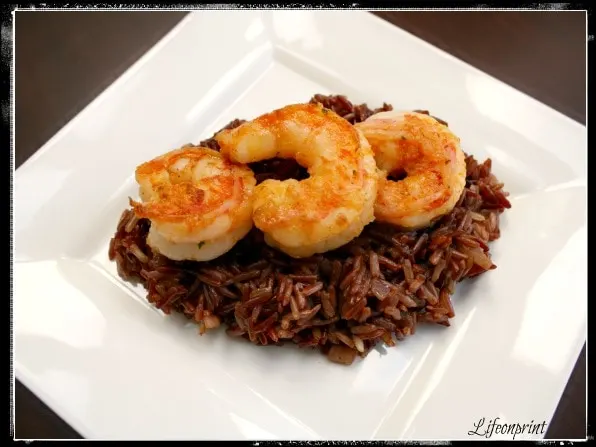 The Organic Ruby Red Rice is the perfect pairing for any meal and is sure to be a crowd pleaser. I paired it with spicy buttered shrimp and it was fantastic! The flavors went so well together!
I love that this rice has a wonderful nutty flavor to it. * This yummy rice was also featured in The New York Times!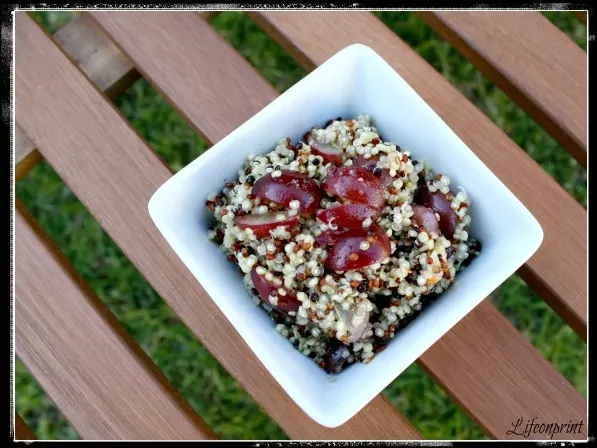 Quinoa is so popular right now and there are so many wonderful recipes for this delicious low fat, protein packed dish! Quinoa is also known as a "nearly perfect nutrition source" and is high in antioxidants!
This beautiful rainbow dish is pleasing to the eyes and the palate! I made this great salad side by adding red onion, red grapes, celery, spices, and olive oil. *interesting fact: Quinoa is actually an edible seed related to beets, spinach, and tumbleweeds!
Do you love chocolate?…..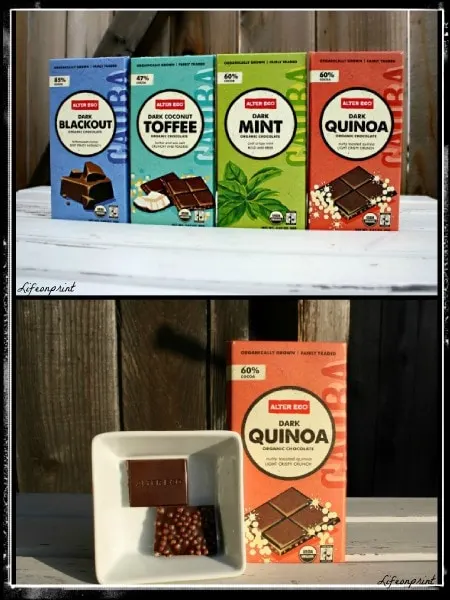 Then you will absolutely adore these Dark delicacies of Peru and Ecuador! With their 10 different flavor choices, you are sure to have more than one craveworthy favorite! Out of the 4 I sampled, my very favorite was the Dark Coconut Toffee with butter and sea salt…yes, I'm drooling just thinking about it! The Dark Mint was a close second for me, with its smooth dark chocolate and the surprise crunch of peppermint crystals, YUMMM!
This amazing chocolate starts from cacao beans picked from organic trees in the Peruvian Amazon and Ecuadorian Coast, then brought down to the base of the Andes Mountains to be transformed into some of the worlds finest cocoa product, the finally off to Switzerland where expert chocolatiers craft these amazing chocolate bars!
These are truly some of THE best chocolate bars I have ever tasted. *Studies show that dark chocolate can contribute to lower blood pressure, overall heart health, and cancer prevention.
Alter Eco is a "values-based brand of specialty foods that uses delicious, exotic, healthy and sustainable ingredients from around the world, while directly benefiting farming communities in the Global South."
Alter Eco is a company with a conscience, who care about the quality of their products, these are foods that you can feel good about buying, eating, and sharing.
Alter Eco receives 5+ stars for: high quality organic products, taste, sustainability, eco friendly, Fair Trade Certified, vegan friendly, gluten free, and all around amazing products and company!
Be sure to visit Alter Eco on Twitter and Facebook too!!