We were loaned a 2012 Kia Sorento for a week to review and it was a treat! The Kia Sorento is a spacious, midsize crossover SUV that is perfect for families or anyone who enjoys extra space without all the extra cost!
2012 Kia Sorento Review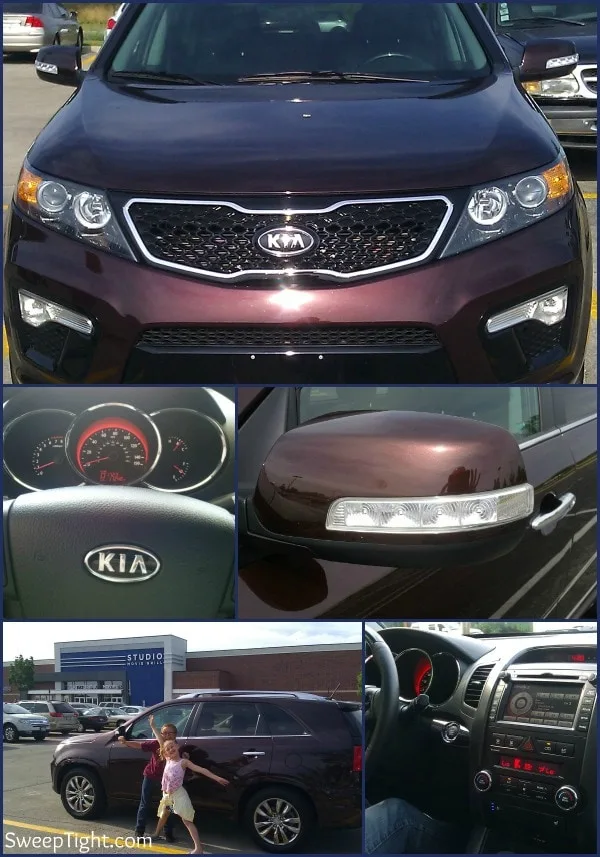 Over the years I somehow developed an inaccurate opinion about Kias. I am not even sure when or why this happened, but I had it in my head that a Kia was kind of a "cheap" vehicle. I could not have been more wrong! My ignorance was apparent the second I entered the Sorento.
I wasn't the only one who was immediately impressed… my husband was also pleasantly surprised. He is a lot more "in the know" about vehicles and had heard that Kia had come a long way over the years, but he didn't expect to fall in love with one.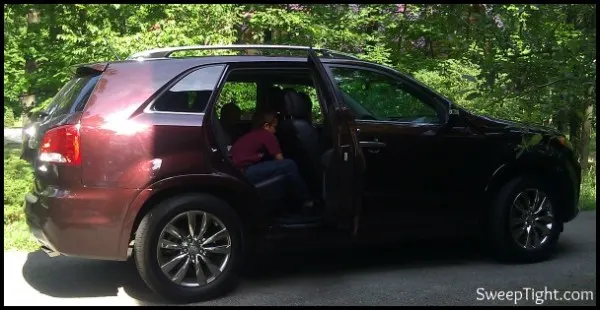 First of all (being a girl and all) I adore the dark cherry color of the exterior. What a unique and eye-catching paint job! Many people commented on this along my travels. I was stopped in parking lots just to ask "what color is your car?".
The overall appearance of the Kia is just my taste. I like the more rounded look as opposed to boxy cars, so I thought this was super sharp.
I drove it to work, too. I work with my family so they all checked it out. The first thing my Grampa said was, "Now THAT is a luxury vehicle!". This is a man who has driven nothing but Lexus and Jaguar most of his life, so his statement says a lot!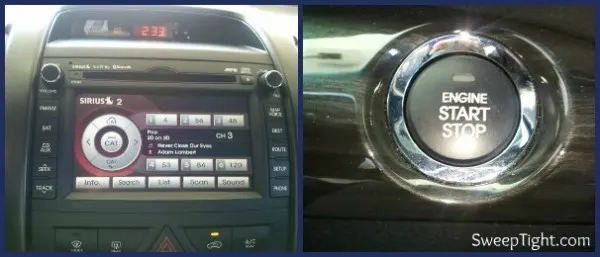 The black leather interior was gorgeous. Inside the looks were completely modern and full of bells and whistles. The navigation display that includes Sirius satellite radio, and a rear back-up camera is now something that I never want to be without. This feature provides the ultimate in convenience and safety.
The push-button start took some getting used to. I forgot to turn it off once (for a short time) and also had to make sure I grabbed the keypad before leaving the vehicle. With more time I am sure I would adjust.
I must mention that the air conditioning is serious in this car! It's been in the nineties and I know in our other cars it can take a while for the them to cool down – especially with black leather. In the Kia it literally only took seconds. Oh, and wait for this one… the driver seat has heated and air conditioned seats!
No more sticky skin to the leather. Plus, in the winter I cannot live without the heated seat. The Sorento has the option for heated seats in both front seats and it has a heated steering wheel! Love that!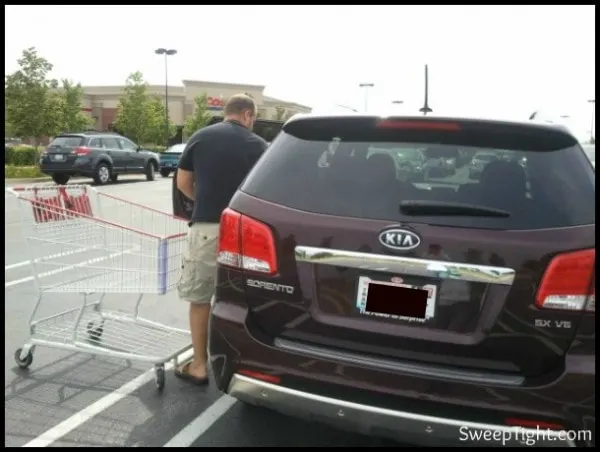 Here we are on a trip to Costco. There's so much room to load up groceries and goods into the back seat…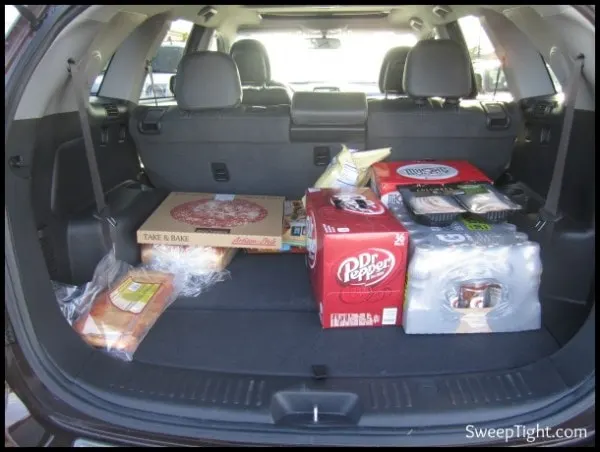 …or into the cargo space area. This also pulls down into third-row seating. Although it's a smaller row, it's still a fabulous option for bigger families!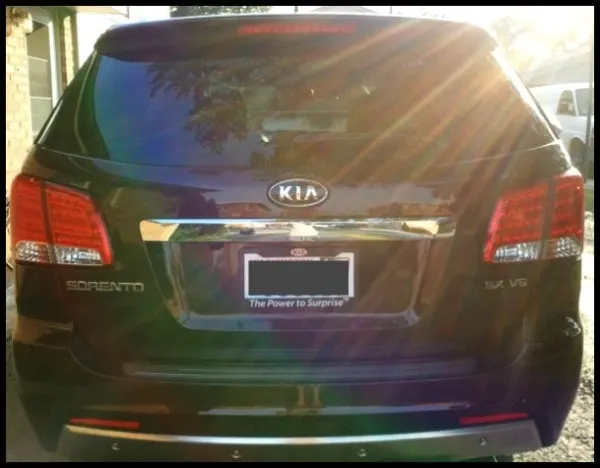 This vehicle is packed full of safety features which made me feel good while I was transporting my niece and nephew around. You have your typical dual front advanced airbags, but there are also front seat mounted side airbags and side curtain airbags in the 1st and 2nd rows!
We were saying that if they all went off we would be wrapped in a big airbag bubble. Not a joking matter, but good to know that we were all very protected.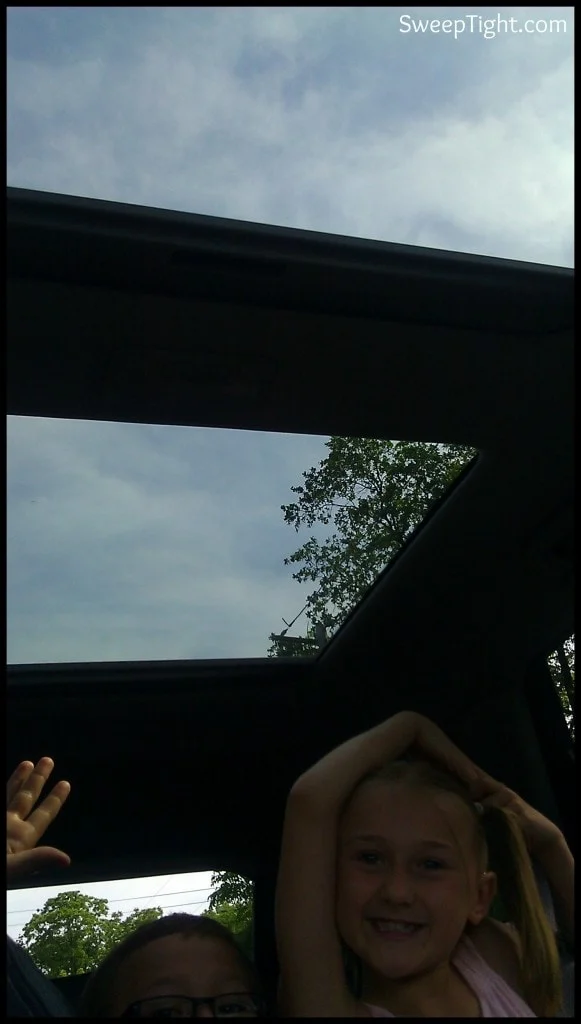 Not only is there a sunroof, but also a panoramic sunroof. The kids loved this since you can see through the majority of the roof. They were doing lots of oohing and aahing over this vehicle!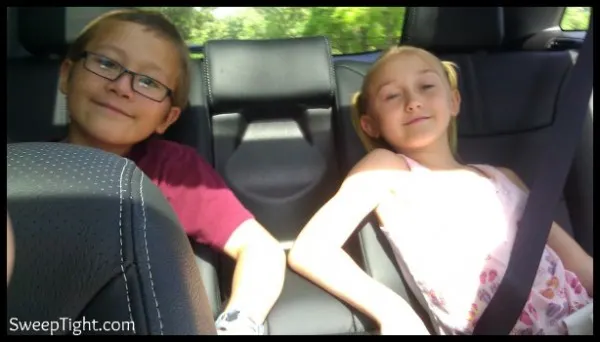 Look at how relaxed they are! 😉
My husband has now began shopping for vehicles. His work car is 15 years old and going to need to be replaced soon. Because of this review, he has now added Kia to his search. He would have absolutely wanted THIS Sorento except for the fact that the seat did not lower enough for him.
He is a bigger guy (about 6'1″) and felt like he was towering over the dashboard. Even when the seat was at the lowest he still felt like a giant in a small car. Personally, I couldn't have been more comfortable! Since I am short (5'2″) this worked out in my favor.
The one and only complaint that I had was the lever to lower the steering wheel seemed awkward. On the vehicles that we own there are very fluid levers to easily adjust the steering wheel. On the Kia it was difficult and choppy. This is something I use often so it annoyed me.
I currently drive a 2007 Chevy Avalanche. I purchased this beast back when times were good and gas was cheaper. I was making a lot more money and was not concerned that I was cruising around in a gas-guzzler. Boy do I regret that purchase now!
It's a beautiful machine, don't get me wrong, but not the most practical. Driving this Kia for a week and not having to fill up the tank once was a dream! It gets 20 City MPG and 26 Highway MPG which is a lot better.
Overall, we were sad to see this Kia Sorento go! Don't be shocked if you see me driving one of my own in the near future! 😉