If you are looking for drug-free headache relief you need to try the Headache Reliever from AbsolutelyNew, Inc. The Headache Reliever is a head wrap designed to use hot or cold compression to eliminate headache pain without drugs. This product was developed by a NASA scientist and neurologist that specializes in severe headache treatment. Product received for review.
Drug-free Headache Relief with Headache Reliever
If you suffer from frequent headaches you know how horrible this can be. Personally I have a dull, feverish feeling in my head almost every single day. This is not a migraine, and I am not even sure if it qualifies as a "real" headache, but it's annoying. (If you suffer from migraines, I highly suggest you follow my sister's journey with the daith piercing for migraines.) I always assume it's from allergies, but I really don't know what it is. So, I continue to just treat the symptoms. For a while I would wake up and pop 2- 4 Motrins everyday. Knowing that this would probably create a whole new slough of issues, I stopped that. At night I would sometimes lie a cold wet rag on my head, but that is messy and doesn't really help for long.
Finally I searched for "headache wrap" and was so thankful that the product I had in mind existed! The Headache Reliever is a headband that comfortably wraps around your head to provide consistent compression. It includes three reusable gel packs that can be heated or frozen. The gel packs are easily inserted into the headband for instant relief. Simple yet genius product!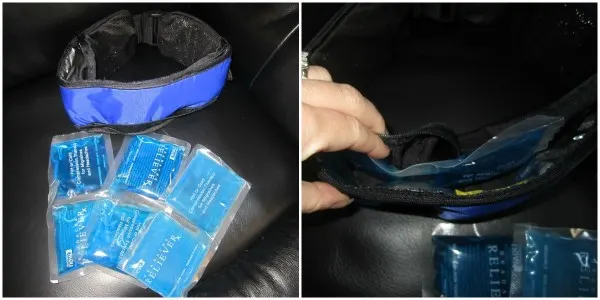 Headaches are about the only time that I want cold therapy. Being a person that is always cold, I usually opt for everything warm. But, when my head hurts I want ice! I cannot imagine ever heating up the gel packs, but the option is there. After about 20 minutes in the freezer, they are ready to go.

The head wrap covers all around the head, so the relief is everywhere. It actually can be a little overwhelming at first if the packs are very cold, but I always adjust quickly and find it soothing. There is also the option of not using all the gel packs at once. My absolute favorite part is that the gel packs remain flexible even when they have been in the freezer. So, there is not a hard ice cube pressed into your head. This makes an enormous difference when it comes to comfort.
Here is how I like to wear it… I like to have the ice packs directly on my forehead since that's where my pain is.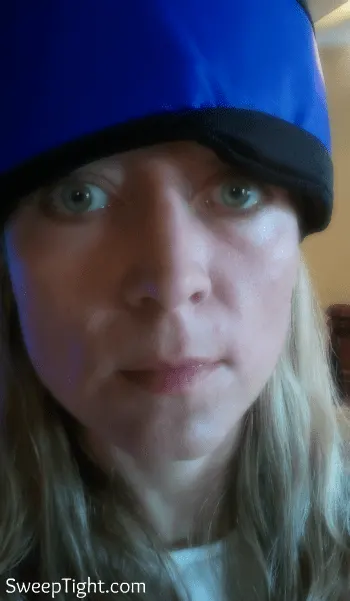 They suggest you wear it with the velcro part up front…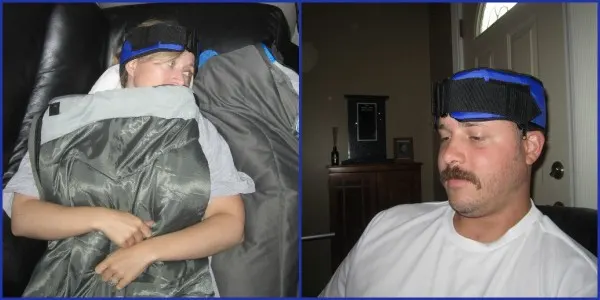 This headband can provide drug-free headache relief anywhere however, due to the size of the band, it might look a little funny. Personally, if I am in pain I don't really care what people think, but walking around in this is probably not that practical. I do not feel like this is a strike against the product at all. I wear it around my house for hours. It doesn't impair my vision and I can go about my daily chores.
So, I still do not know why I feel like I have a fever every day of my life, but this product is my new best friend. I love it and I am completely obsessed with it. I would highly recommend it to anyone who experiences frequent headaches! I think it's the quickest, safest and fastest form of headache relief.
The Headache Reliever can be purchased from AbsolutelyNew, Inc. for $39.99. This is a great value for such a high quality and useful product! Be sure to browse the rest of the site, too. They have some really interesting and innovative products!