It's been one year since I got the "migraine piercing." I tried the daith piercing for migraines on February 19, 2016.
It's been one heck of a year, and I'm super excited to tell you all about it. I cannot stress enough that this piercing may not be for everyone.
I am not a medical professional and am not giving medical advice. I'm only sharing my experience in hopes someone may find it useful.
After one year, I feel like the best way to approach this update is to give you what I would consider being the pros and cons of having this migraine piercing.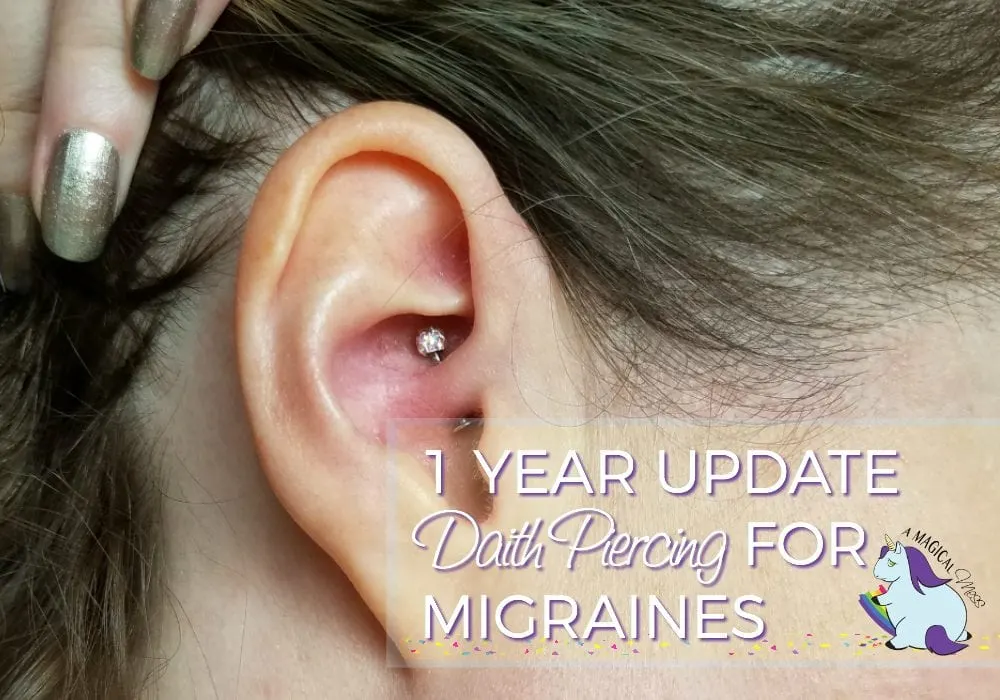 Migraine Piercing – Pros
Let's start with the pros.
I have had approximately a 97% decrease in my migraine headaches and related symptoms.

I went from 4-5 a week to having a total of SIX in an entire year. Those 6 incidents were nothing like what I used to experience.

I had the aura and light sensitivity, but when the pain set in, it was weaker and only lasted about an hour compared to days.

It's cute. The piercing itself is super trendy, and there are a decent variety of jewelry styles you can wear–I'll be doing a whole post on the best daith earrings soon.

I'm now almost medication free. I only took a couple of ibuprofen for a few of those incidents, and that's a tremendous decrease.

Before this migraine piercing, I was taking 800 mg of ibuprofen daily and trying all sorts of prescription meds that only caused a nightmare of side effects.

It's affordable. Getting your daith pierced isn't expensive. Depending on your piercer and type of jewelry you choose, it's only around $40.

For me, the piercing itself didn't hurt that much. It was a lot of pressure. The days following, I had some soreness, but overall nothing so terrible.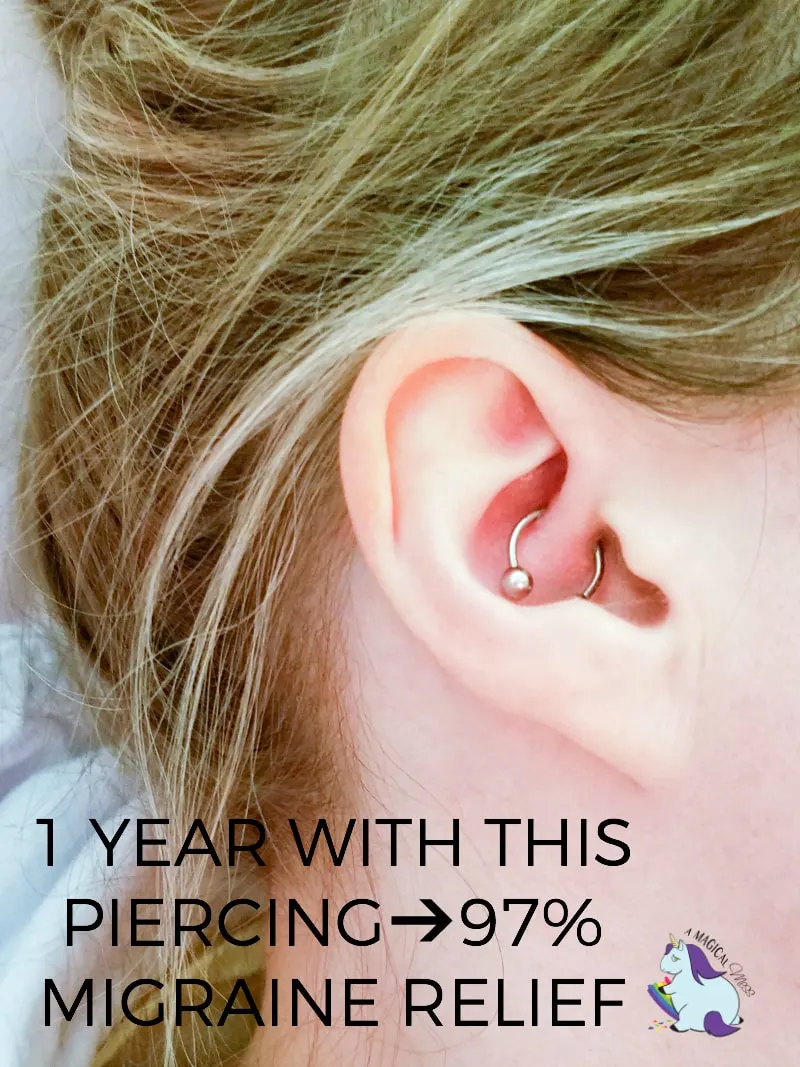 Daith Piercing – Cons
I'm going to keep it real. This piercing is kind of a pain in the–well, ear. But for the migraine relief I've experienced, I'm obviously just dealing with it. Small price to pay, in my opinion. But here goes:
It takes forever to heal. In fact, after a year, I still have to clean this ear piercing for migraines at least twice a week with wound wash.

Because of the location, there is very little blood flow and a good bit of bacteria.

When I was in microbiology, we swabbed the back of our ears and grew cultures… did you know we all have staph behind there?!

Nothing to be alarmed about, just know that our immune systems are constantly working to keep everything at bay.

But because this spot lacks blood, it gets infected easily. Just cleaning it in the shower with soap and water doesn't seem to cut it.

Wound wash is super easy, so it's not a huge deal. You can also just use a salt water solution too.

The jewelry can make it difficult to wear earbuds, or if you're a medical professional, a stethoscope might be a challenge.

With certain jewelry, if you lay on it wrong, it can disrupt sleep.

I have a horseshoe shaped piece in there, and if it swings out and I lay on that side, it's pretty uncomfortable.

However, this is the easiest jewelry to clean.

Changing the jewelry may require a professional. See below for my experience on that.

If for any reason, this area swells, that hurts. Again, more on that below.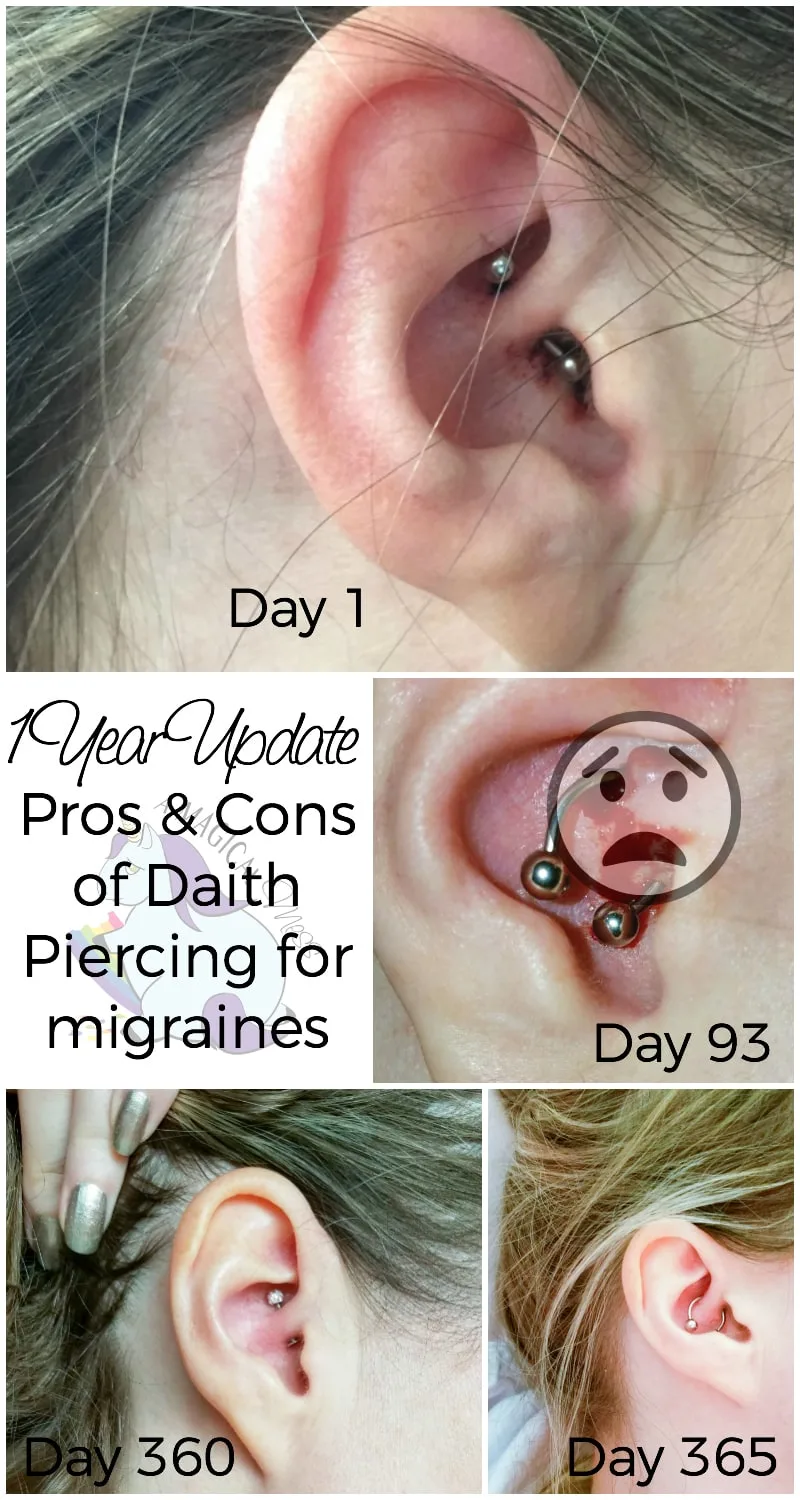 Tried something new…
For my daith anniversary, I decided to see Hershey and swap my jewelry. (She's such a doll. Huge thanks for her letting us take video to share!)
I opted for a small bar with a flat back on one side. I figured this would make wearing earbuds easy again.
However–yowza. While my daith piercing had fully healed, going from a curved bar to a straight one caused some nasty irritation.
It was so weird. The pressure actually felt kind of good. But, it ended up getting infected, swelling and causing a decent amount of pain.
The new jewelry didn't leave enough room to swell, so it ended up getting really tight.
While cleaning it, the bead popped off and I put my old horseshoe back in. Within 24 hours the pain and swelling are gone.
Even the infection seems to be 90% cured. I've been using heated salt water on a cotton ball 3x/day for just two days.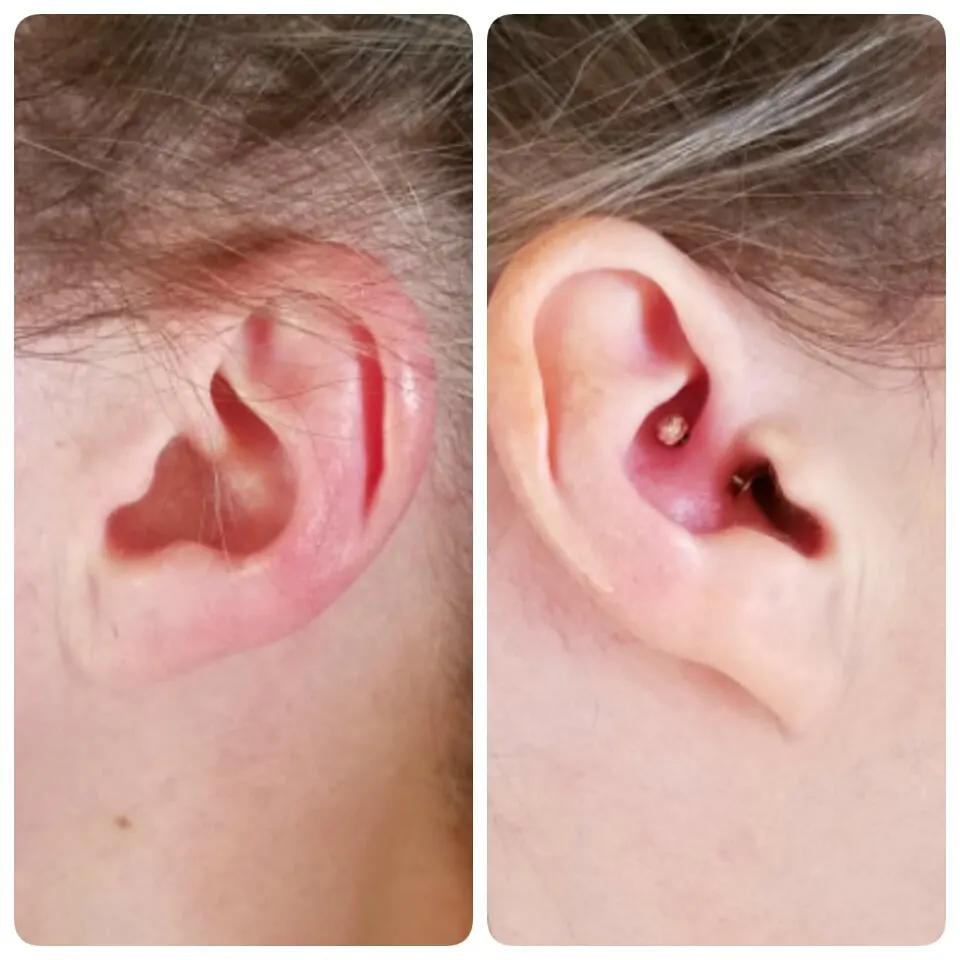 Basically, this area seems super sensitive to infection. I think I might try a smaller horseshoe or explore another curved barbell with a flat back after this is totally cleared up.
Moral of my story: for me, this piercing for migraines, despite any inconveniences, has been 100% worth it.
None of the piercing pain comes close to the pain of a migraine headache. And being medication–and therefore side effect–free is priceless.
Read my piercing for headache relief two year update for more.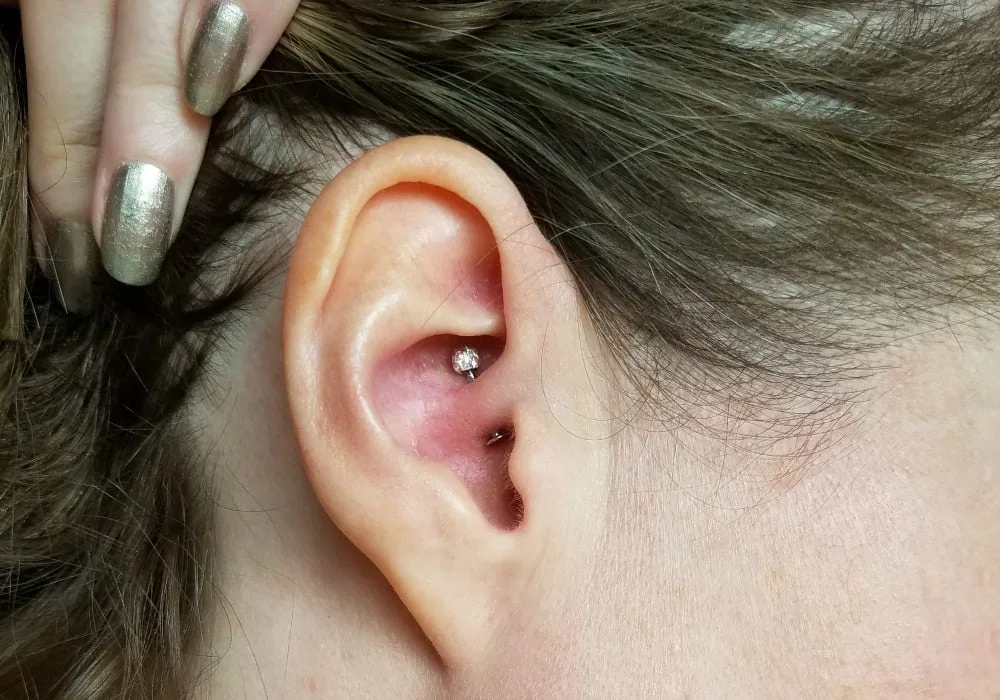 Products I use for my Daith Piercing and Migraine Pain
Click to follow my daith piercing journey. The articles I've written are more organized so you can follow the timeline.
IMPORTANT UPDATE:
FINALLY! A doctor in London, Dr Chris Blatchley MB BChir, has put together a team of experts to conduct a study on the effectiveness of the daith piercing for migraine headaches.
If you've had the piercing done, please take his survey. It takes about 10 minutes. 🙂
Thank you so much! I can't wait to see his results and finally have some real data behind this. As soon as possible, I will share what I can.
If you try this migraine piercing, please let us know how it goes!