Many of you arrive at this blog due to my sister's popular posts about her experience with the daith piercing for migraines. Between the two of us, we are constantly looking for drug-free migraine relief options.
Cefaly sent me a device in exchange for my review. I'm also an affiliate with the company. Please know that everything I write in this post is 100% my own thoughts and opinions based on using the device.
Nothing in this post is medical advice. Please see a medical professional before trying any at-home migraine pain relief treatments.
About My Migraine History
Since Shelley has written most of the posts about migraines thus far, I felt I should share a little of my own experience with migraine pain.
Thankfully, I haven't had to deal with migraines to the degree that my sister has. Migraine pain hasn't plagued me to the point of trying the daith piercing. I'm too much of a wimp to get my daith pierced unless it's the last option out there!
Having said that, I have had a few migraine attacks that have taken me out for days at a time. As I get older, I notice both my triggers and symptoms are changing. I now get a little bit of a warning before a migraine gets so bad that a dark room is the only option.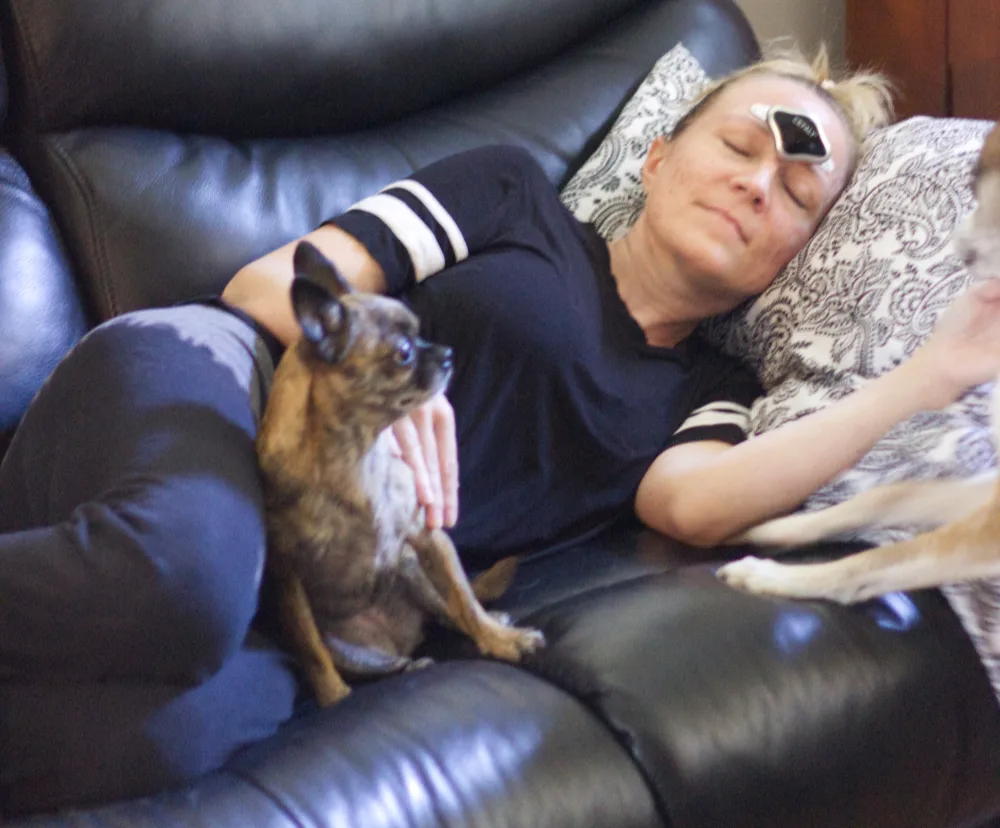 What I believe are my migraine triggers:
Sugar – Without fail, when I increase my sugar intake, I am guaranteed some migraine symptoms.
Tension – I notice when I am stressed or working extra long days, my jaw and upper shoulders get really tense. Just like my sister, this seems to create knots that trigger a migraine.
Hormones – There's an undeniable pattern between my cycle and migraine headache pain.
Knowing your triggers is helpful in my experience. It at least gives you something to work with when you're trying to holistically relieve migraine pain. I'm always obsessed with finding the underlying cause of my symptoms.
When I was on the keto diet, I can't remember having a full migraine at all. That's how I discovered sugar is an issue for me. However, as much as I love the benefits of living a low-carb life, I am human and take breaks. I mean, life is too short to never eat carbs again!
I have been having health issues most of this year. My many symptoms include frequent migraines and headache pain. I'll save all the details for another post, but a low allergy to eggs and peanut butter was discovered in the process. I was eating a lot of both on keto.
To get to the point, right now I am eating whole foods, including healthy carbs. I have to watch my sugar intake like a hawk. Even fruit, which is annoying.
As far as tension and my hormones go, I am trying to exercise more and figure out how to relax more often. I suck at both those things, so that's a work in progress.
The one thing I do know is that I don't want to take medication for migraines. I will exhaust every other option before that. So, let's get to my experience using Cefaly for the past two months.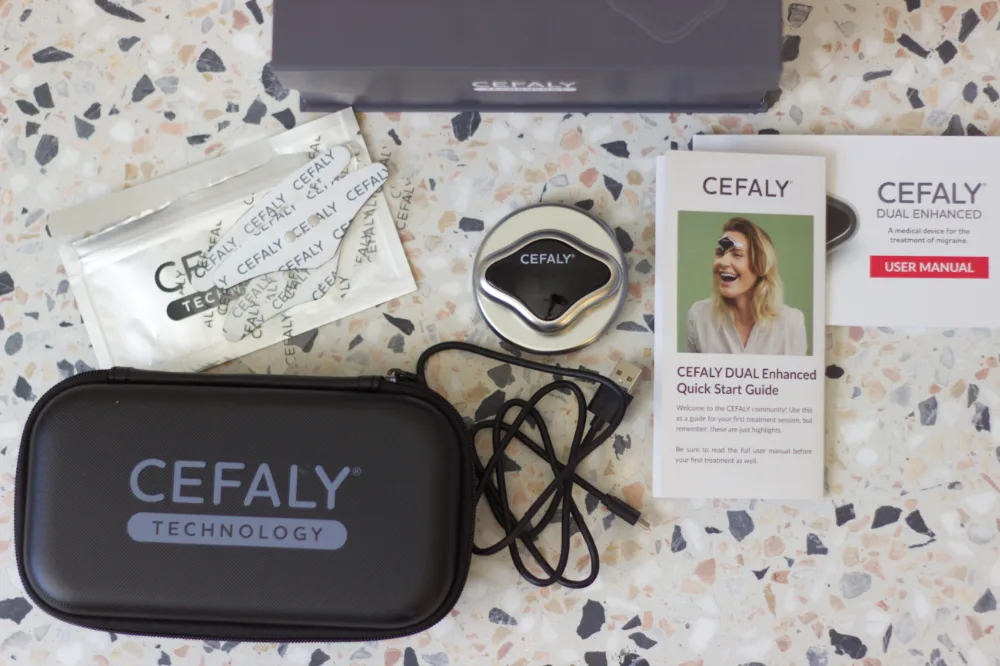 What is the Cefaly device?
Cefaly Dual Enhanced is an FDA-cleared device to help prevent, stop, and/or reduce migraine pain.
How does Cefaly work?
The Cefaly device uses small electrodes to send electrical impulses through the skin to stimulate the trigeminal nerve, which can reduce or stop migraines. The stimulation is controlled by you to comfortably treat without pain.
There are two settings – ACUTE and PREVENT. Use ACUTE during an active migraine attack. This setting is clinically proven to reduce or even stop pain during an active migraine.
The PREVENT setting is for daily use, and is shown to reduce the frequency of migraine days.
How to use the Cefaly Device
Cefaly is easy to use and there are clear instructions on how to get started in the quick-start guide. There's also a helpful video on their website.
Step 1: Charge your device using the included charging pad and plug.
Step 2: Thoroughly wash and dry your face, mainly your forehead above your eyebrows.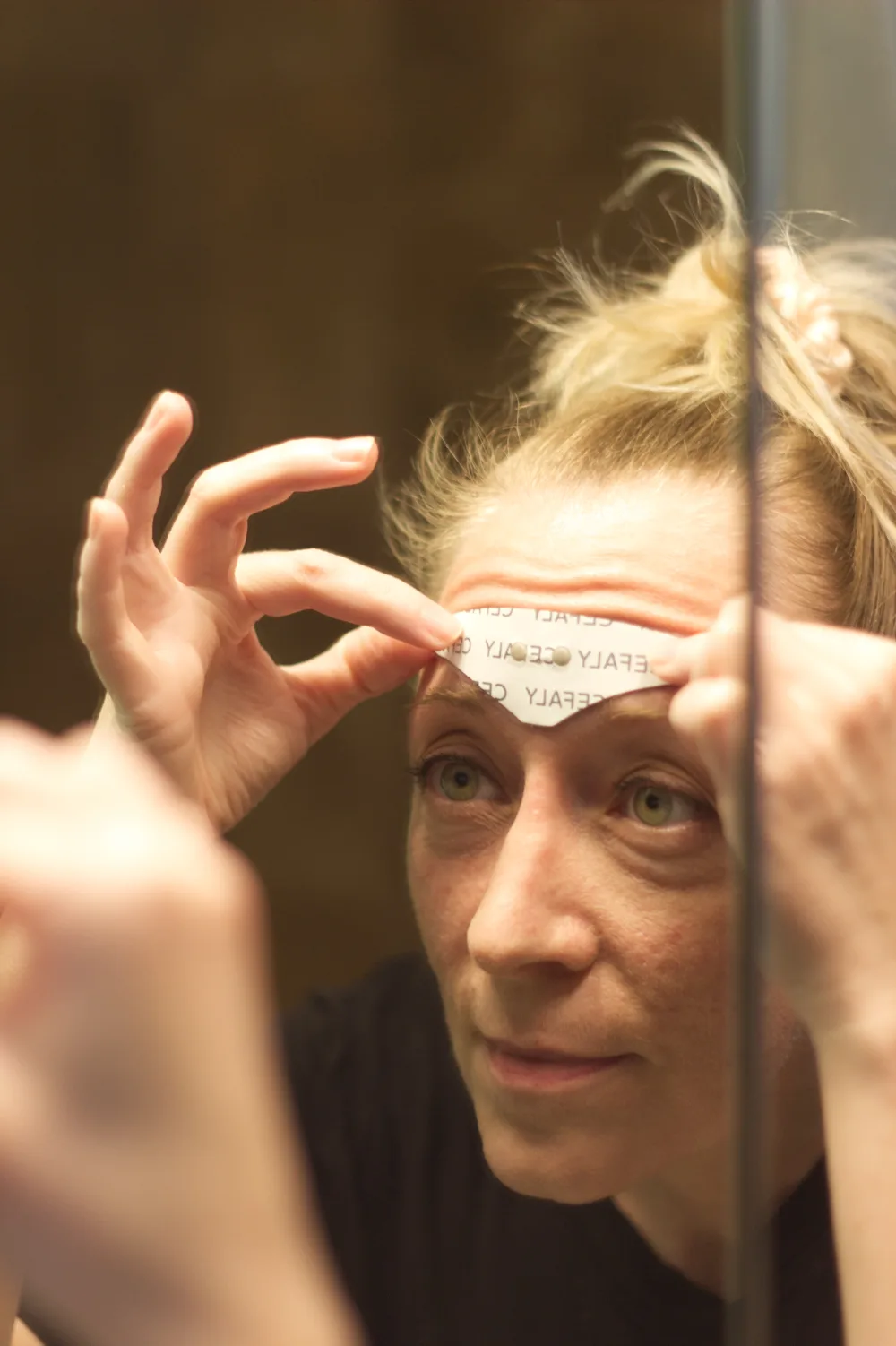 Step 3: Place the electrode pad on your forehead. Our fingers have natural oils, so try to hold the pad at the edges.
Step 4: Attach the Cefaly device to the electrode.
Step 5: Choose a treatment program – either ACUTE or PREVENT – and adjust the intensity to your comfort level. Start at the lowest intensity and work your way up.
Step 6: Find a spot to relax comfortably during your treatment. The ACUTE treatment takes 60 minutes, and PREVENT is only 20 minutes. Several support dogs are optional, but recommended. 😉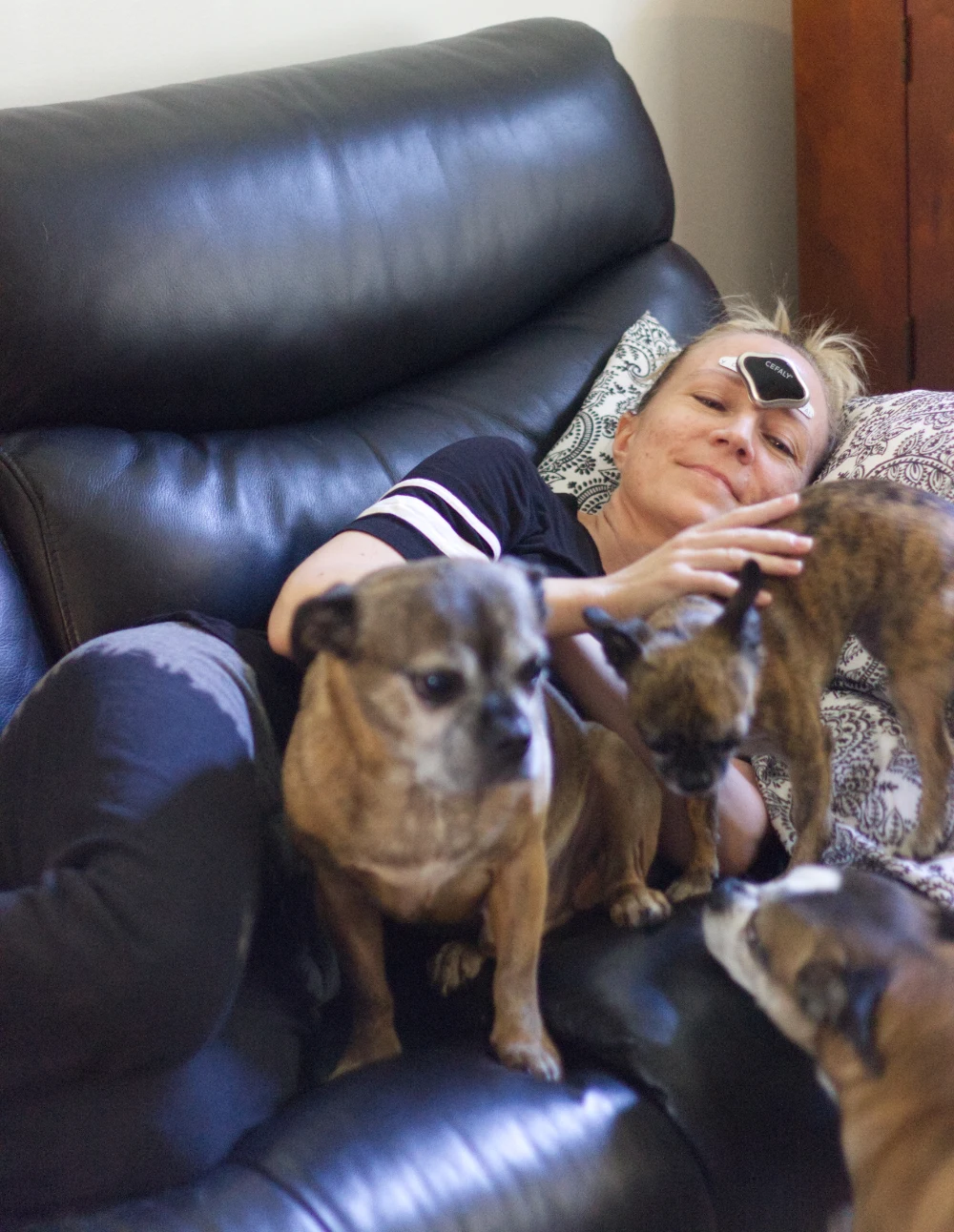 Step 7: Remove the device from the electrode and carefully take the pad off your face to save for another use.
My Experience using Cefaly for Migraine Pain Relief
Getting started with Cefaly is easy, which I always appreciate. As stated above, the instructions are clear. I recommend everyone read the user manual thoroughly before use.
This might be bad to say, but I am thankful you do not have to download an app to use the device. It seems like so many gadgets require an app these days that my phone is overloaded!
I started off slowly using the PREVENT program first. It took me a few days to get used to the light, tingly feeling. Honestly, it was not my favorite feeling at first, but now I do not mind it. I still have not increased the intensity.
After the 20-minute treatment session, I'm often left feeling "lighter" somehow. It's as if any excess pressure has left my head if that makes sense.
I had one time throughout this period where I felt a full migraine attack coming on. I quickly used the Cefaly device on ACUTE mode and relaxed on the couch for the full time period.
The pains never developed into a full episode, so I was very thankful to have the device on hand. I'm also grateful to work from home and be able to take that break when necessary. I know not everyone can do that with jobs, children, and countless other obligations.
One suggestion I have is to be sure to lay still while using the device. I'm a restless multitasker and usually have the urge to get up and do things while wearing the Cefaly. The one time I tried I got dizzy and nauseous, so just chill for the 20-60 minute time period.
Using Cefaly in PREVENT mode is now part of my daily routine. After using it daily for about two weeks, I stopped having the threats of a full-blown attack.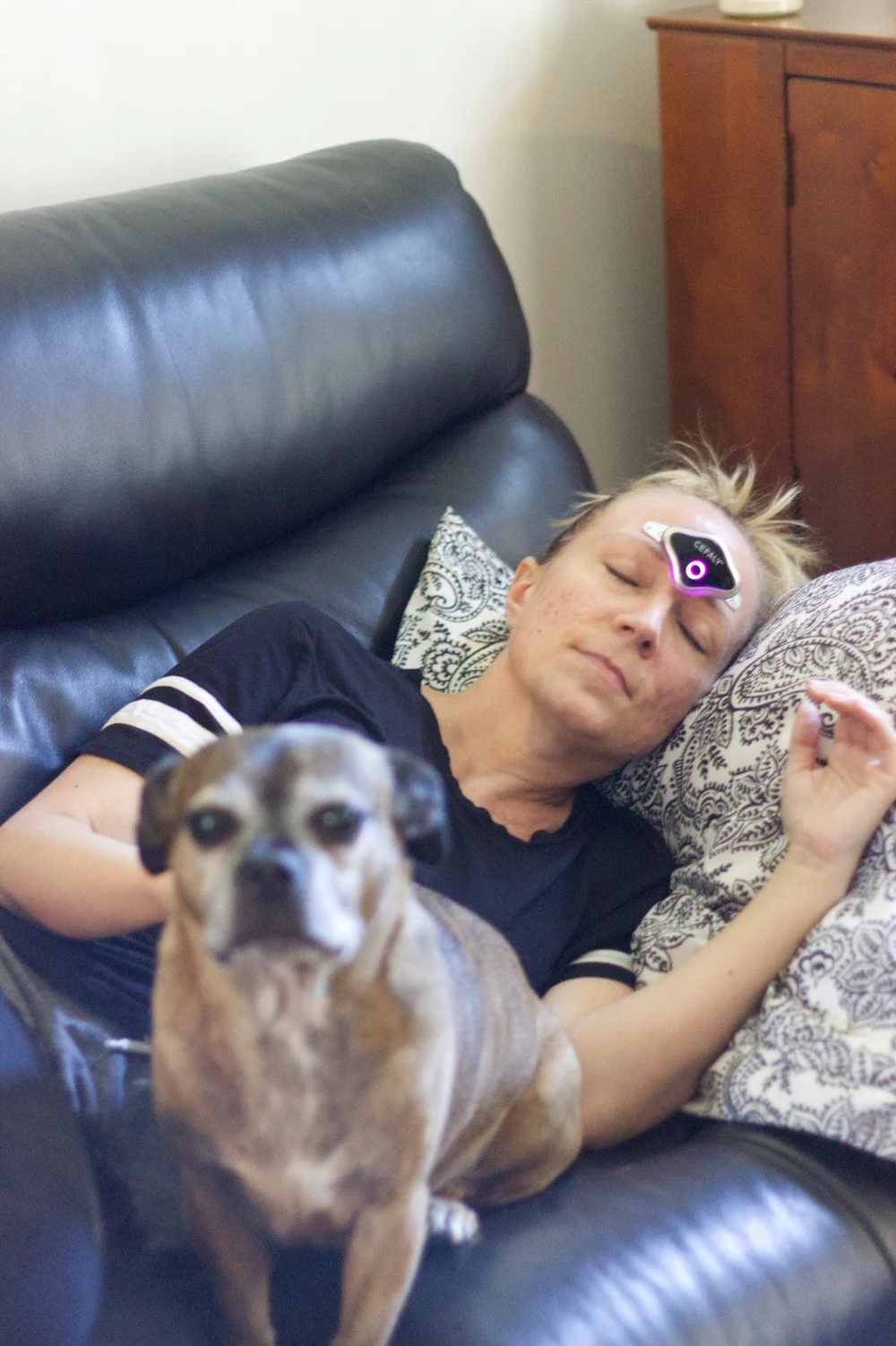 P.S. You can kind of see how bad my skin is in these pictures. Part of my health issues include rosacea, which I am struggling to get under control!
Cefaly Coupon Code
Find out where to buy a Cefaly device and current savings info below. I will keep it updated with the current coupon codes.
Pin to your pain relief board to save and share!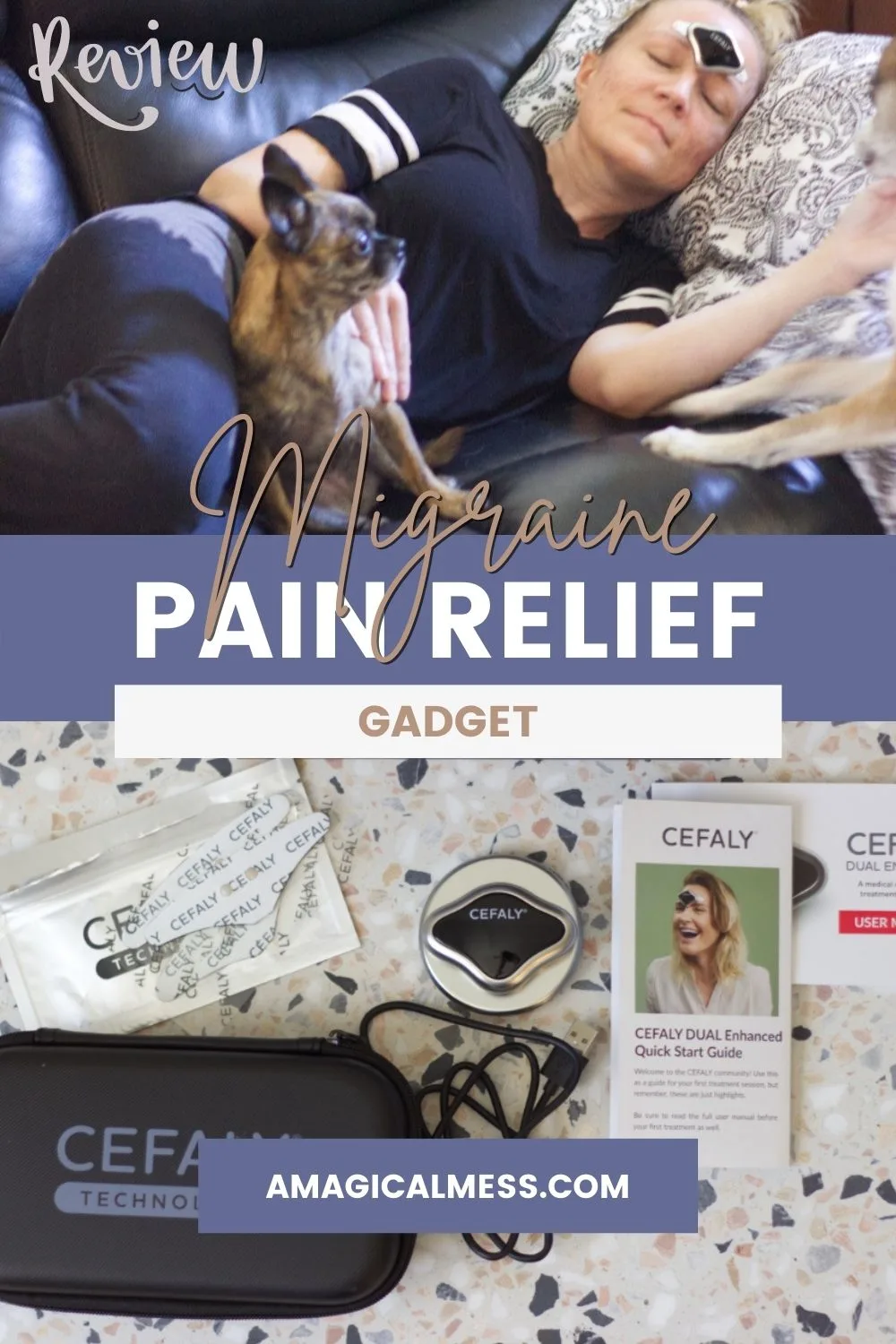 I hope my Cefaly review gave you some information you need to help you decide if it's right for you. Please let me know if you try the Cefaly device for your migraine pain!