After trying this ear piercing for migraines and announcing it here, I was shocked to hear from so many of you that you also suffer from horrendous migraine symptoms.
As promised, I kept a daily journal of my experience after getting my daith piercing.
Below you will find my unedited journal.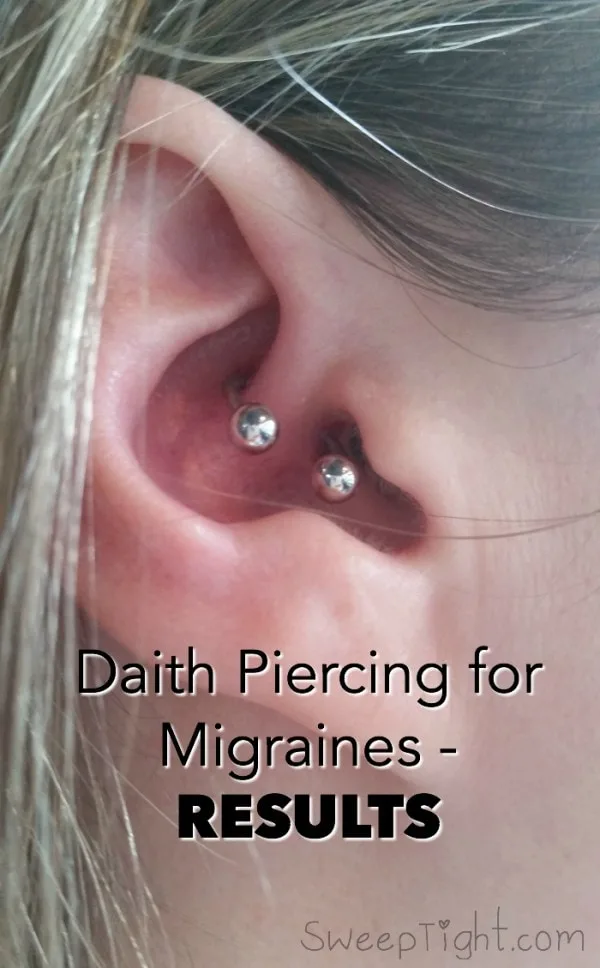 Ear Piercing for Migraines Results
You can read more about my specific migraine symptoms in detail here, but it is extremely important to note that migraines are NOT headaches. The headache is just one symptom of a migraine.
After over 20 years suffering from severe migraine symptoms–of which the headache is by far the worst for me–I decided to try this ear piercing for migraines.
There have been no clinical studies that I'm aware of to support this as a method for treating migraine symptoms, but I deemed it worth the risks.
I have heard that about half of the migraine sufferers that have tried it reported some sort of relief.
So, I kept a detailed journal of my experience to collect my own data to share. I am not recommending this for anyone, I am simply sharing my experience.
You can make your own decision on what is best for you and definitely speak with your doctor.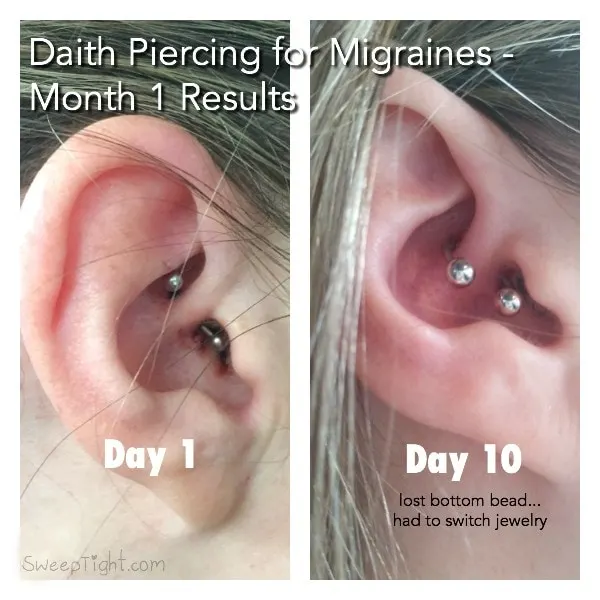 Results – 31 Days Post Piercing
Day 1, Feb. 18, 2016 – Migraine. Got daith pierced. Instant partial relief that lasted the rest of the night.
Day 2 – 2/19 Very light sensitive, ended up taking 400mg of Ibuprofen because piercing area was sore.
But that wasn't enough Ibuprofen to even touch a true migraine if it were going to come back… I kind of felt like I was going to get one, but it never came.
Day 3 – 2/20 Felt fine. Piercing still sore. But took no meds.
Day 4 – 2/21 All good.
Day 5 – 2/22 Terribly light sensitive. Thought for sure an aura was going to follow.
Had some nasty tension in my shoulder so Evan gave me a 5 minute massage. No migraine and no meds taken.
Day 6 – 2/23 Had a slight aura in the afternoon and almost decided to take 800 mg of Ibuprofen thinking a full blown headache was to follow but decided to wait.
No migraine. In the evening I did take 400 mg of Ibuprofen only because the piercing area was really sore. (I irritated the heck out of it trying to clean too hard.)
Day 7 – 2/24 Taking a ridiculous amount of naproxen sodium (Aleve) for cramps. Not a fair test today. Stupid periods.
Day 8 – 2/25 Still light sensitive but no headache or aura. Took one naproxen sodium for cramping.
Day 9 – 2/26 Thought for sure a full blown aura was about to hit–super light sensitive and just 'off' but it never did. No meds taken.
Day 10 – 2/27 Pretty good day but lost bottom bead to earring in the evening.
Slept sort of nervous because it felt like I was going to lose the bar.
Day 11 – 2/28 Still light sensitive. Crazy busy day but was able to run over and have Hershey put in a new earring…
Slight headache afterward but nothing close to a migraine… maybe from the mimosas at the baby shower. lol
Day 12 – 2/29 LEAP DAY! Feeling fantastic. Not even light sensitive.
Day 13 – 3/1 Felt great all day.
Day 14 – 3/2 Awesome. Even forgot my sunglasses and didn't mind.
Day 15 – 3/3 Had an issue with low blood sugar. I got busy and forgot to eat lunch, then hopped on the treadmill (duh, so dumb) and ended up a shaky mess with my blood sugar at 46.
I thought I was getting a full blown aura but it turned out it was just my blood sugar.
I ate a few sweets and recovered for the most part but still felt pretty lousy. No meds taken.
Day 16 – 3/4 Feeling very fragile today. Very much like I'm on the verge of a full blown migraine attack.
Light sensitive, sound sensitive, sore neck muscles… but still no headache.
Day 17 – 3/5 All good. No symptoms at all.
Day 18 – 3/6 All good.
Day 19 – 3/7 Smidgen of light sensitivity, otherwise nothing else.
Day 20 – 3/8 All good.
Day 21 – 3/9 Definitely ovulating and still all good. (Sharp pain on right side of lower abdomen–typical for this time of month.) No meds taken.
Day 22 – 3/10 Moderate pain due to ovulation and slight visual aura. No meds taken.
Day 23 – 3/11 All good. No meds.
Day 24- 3/12 All good. No meds.
Day 25 – 3/13 All good. No meds.
Day 26 – 3/14 All good. No meds.
Day 27 – 3/15 Super strong visual aura. No meds taken. No headache.
Day 28 – 3/16 All good. No meds.
Day 29 – 3/17 Light sensitive. No meds. No headache.
Day 30 – 3/18 Light sensitive. No meds. No headache.
Day 31 – 3/19 Light sensitive. No meds. No headache.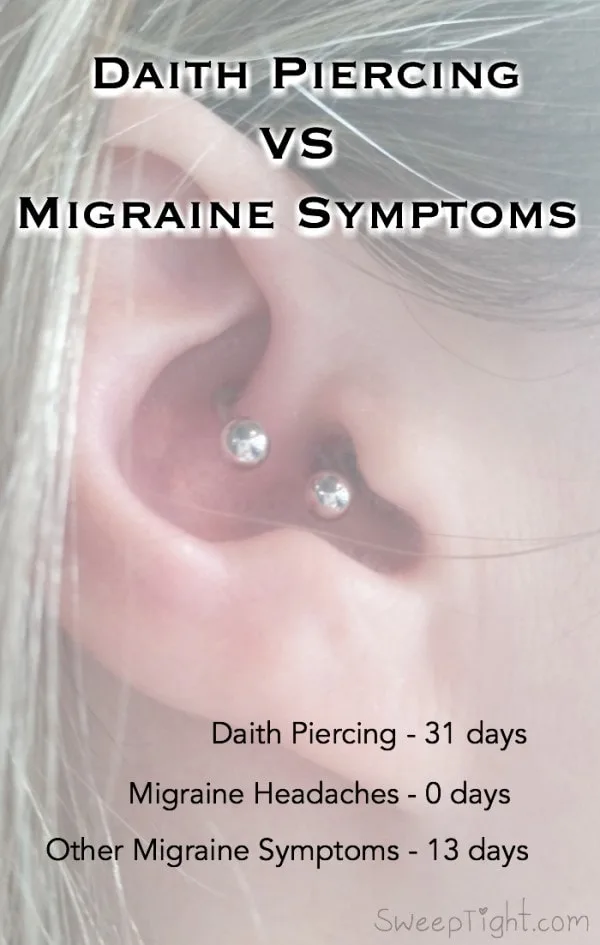 OMG! I cannot believe I have gone 31 days headache free! I've definitely had other migraine symptoms but the headaches are by far the worst and most debilitating.
I can totally function with all the other stuff. So far, if this is at all due to this ear piercing for migraines, I'd say it's been absolutely worth it.
Honestly, even if it is some strange placebo effect, I'll take it! It's only been 31 days, but I went from 4+ migraine headaches a month, to zero.
UPDATE!
One of my blogger buddies/fellow migraine sufferer decided to try the daith piercing for migraines too! You can see her results here.
CHECK OUT MY DAITH PIERCING RESULTS AFTER 6 MONTHS!
ONE YEAR UPDATE ON THE MIGRAINE PIERCING!
TWO YEAR DAITH PIERCING UPDATE AND INFO ABOUT A SUPPLEMENT I'M NOW TAKING DAILY.
Ear Piercing for Migraines FAQ
Does it hurt to get the daith piercing?
The piercing itself doesn't "hurt" that bad. It's a lot of pressure and then tender when the jewelry is put in.
I did have a good bit of soreness in the 3-4 days immediately following but a couple Ibuprofen worked wonders.
How do you clean the daith piercing?
In the first week to two weeks, I was instructed by my piercer, Hershey, to make a salt water solution (1 tsp sea salt *not iodized* + 8 oz distilled water) and clean the area 2-3 times a day.
I would pour about 2 tablespoons of the solution into a microwavable cup and heat for 9 seconds. It gets super hot, super fast! I would then soak a cotton ball with the hot salt water and put it on the piercing.
It feels AMAZING. If any little crusties (sorry, I know that's gross) were present, I'd use a sterile Q-Tip to wipe them away.
Moving the jewelry is not necessary for cleaning. While in the shower, I just let the water run over and into my ear like it normally would.
When I had to have a new earring put in after 10 days because I lost the bottom bead, Hershey said my ear looked outstanding.
She said I was doing an excellent job with whatever I was doing and to keep it up. 🙂

You can also just purchase Wound Wash instead of mixing your own solution.
I can't have visible piercings at work, but want to try this for my migraine symptoms. How easy is it to hide?
With the initial barbell I had, no one could see it when looking at me head-on.
It's only visible from the side if you're looking into my ear.
You'd have to talk to your piercer, but you may be able to use a clear or flesh-tone piece of jewelry available on amazon at an affordable price.
You can definitely switch to something like this after the initial healing process but I think you may need to have surgical steel daith earrings in the beginning.
Did I miss any questions? If so, ask in a comment below and I'll answer to the best of my abilities. 🙂
There's a full daith piercing for migraines FAQ post to read, too.
Products I use for my Daith Piercing and to Help Relieve Migraine Pain
IMPORTANT UPDATE:
FINALLY! A doctor in London, Dr Chris Blatchley MB BChir, has put together a team of experts to conduct a study on the effectiveness of the daith piercing for migraine headaches.
If you've had the piercing done, please take his survey. It takes about 10 minutes. 🙂 Thank you so much! I can't wait to see his results and finally have some real data behind this.
As soon as possible, I will share what I can.
Read more posts about my daith piercing journey here.
Would you consider this ear piercing for migraines?