Yeah, I'm a girl. And I had facial hair. I have come to accept that the human body is pretty much just repulsive so I don't mind sharing since we all have to deal with our own grotesque issues. I received the Silk'n Flash&Go Permanent Hair Removal Device to facilitate my review and I have used affiliate links where applicable. But all thoughts and opinions are my own.
Facial Hair on a Lady
Facial hair is something I'm not used to dealing with. I'm naturally blonde and, oh yeah, a GIRL! I have always had some peach fuzz but I also have Polycystic Ovarian Syndrome (PCOS). I used to be on birth control pills and that kept my hormones regulated. But now that I have been off of them for like 4 years, I am really seeing the difference–although I feel so much better off of them. I'm 30 and I have acne like a 13 year old. I have whiskers–I mean thick, wiry, black AND white, whiskers all over my chin. Even on the pill I had one. But now I have over a dozen. So, I pluck, and I pluck, and I pluck. Sometimes I can get them, but most of the time they just break or turn into a big nasty zit. And I swear those suckers can come back over night!
While the Silk'n Flash&Go is great for your whole body, my main focus was my chin. I started seeing results immediately! And I'm so happy to report that not only are my whiskers thinning out, but my acne is drying up and disappearing too!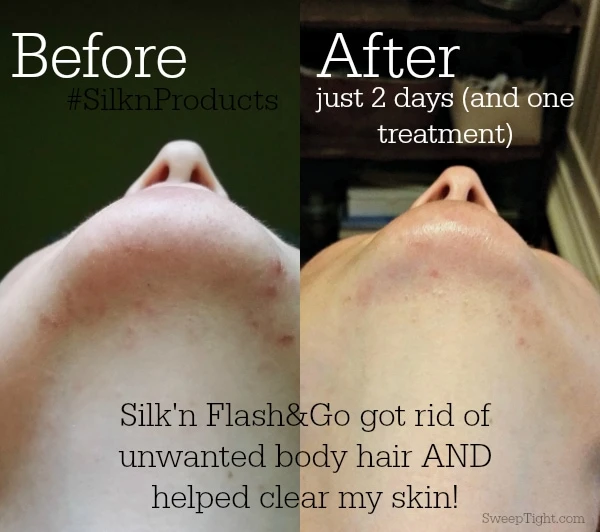 Get Rid of Facial Hair with Silk'n Flash&Go
Before you use the Silk'n Flash&Go you should know a few things. First, you don't have to let your hair grow out to use it! I used to hate that about waxing. In between treatments, you look like a wooly mammoth! With the Flash&Go, you use it on freshly shaved skin so there is no need to look like a cave person in between uses! Second, don't use it if you've recently been exposed to the sun. This makes sense. But it's also why I'm holding off until the colder months to go to town on my legs, underarms, and bikini line. After spending some time on the boat this summer my skin has been through a lot. So I'm giving it a little break. Also, don't use the Flash&Go on any sensitive areas, tattoos, or open sores. Common sense here. 😉
Otherwise, the Silk'n Flash&Go uses FDA cleared technology for permanent hair removal/reduction for the entire body. (So don't use it anywhere you may actually want hair someday.) With the large treatment spot size it takes only about 45 minutes to do your whole body!
Silk'n Flash&Go Lifetime Cartridge
To make this awesome device even better, grab the Lifetime Cartridge for these benefits:
Lifetime use
Never buy another hair removal item again
Allows you to remove ALL unwanted hair, permanently
Easy, safe and painless
Saves hundreds of dollars vs. professional treatments
No more waxing, shaving or plucking
I would recommend this product for anyone suffering with unwanted hair. It's such a waste of time and with a few simple treatments, you can have confidence and freedom!