After 146 days of wearing Invisalign aligners, I now have some must-have items I'd like to report. If you plan to start your journey with aligners, here are some things that have helped me ease into this new lifestyle.
Aligner life is all day every day for at least a year in my case. I won't know how long I will need to wear Invisalign until the next round of scans. The good news is that there are products out there to help you get used to wearing aligners for the recommended 20-22 hours per day.
Although my orthodontist's office gave me loads of great tips, some of these things I had to learn along the way. For that reason, I thought it may be worth sharing in case others are struggling to get used to wearing aligners.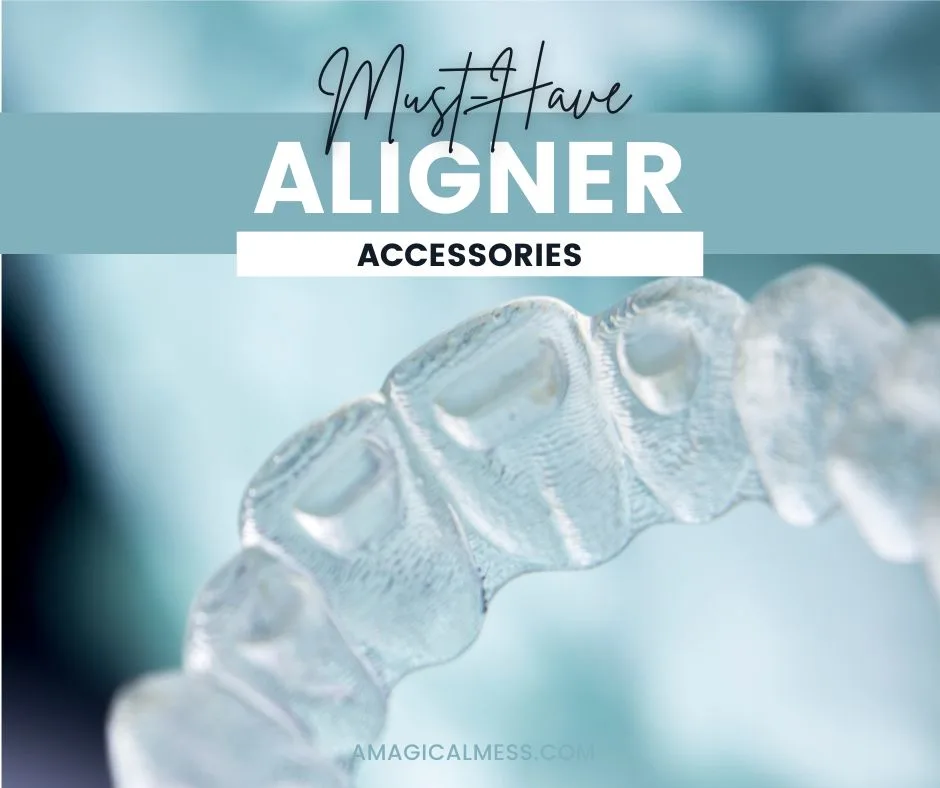 My Invisalign Essentials: Products for a Comfortable Journey
Here are my top Invisalign essentials. Many of these items are great for improving your oral hygiene with or without aligners.
Daily Cleaner
The Invisalign cleaner they include is terrible. Thankfully, my orthodontist's office warned me of this and told me to buy Pul right away.
I tried the Invisalign cleaner before my order arrived and it did nothing. I was so confused. I don't know if I got a bad batch, but the powder just dropped to the bottom of the bowl and that was it.
The Pul cleaner bubbles and fizzes to at least look like it's being productive. LOL
I have the Daily Aligner Cleanser Tablets by Pul on subscribe & save and use one each morning. I don't notice any type of flavor or anything. They just feel clean and fresh when I put them back in after breakfast.
Remover Tool
I've read that it's different for everyone, but my aligners are incredibly difficult to remove without a tool. I believe it depends on if you have a lot of attachments, which I do.
I broke a couple nails, got my lip and cheek stuck (how?!), and was just a mess before my remover tool arrived.
I saw the Pul tool while I was ordering the cleaner, so I added that to the cart, as well. It's way easier to get my aligners out using the tool. It fits nicely in my case, too.
The opposite end of the remover contains a place to bite down to help set the aligners, similar to chewies.
Please be careful with any aligner removal tool. I was rushing one day and ended up hooking myself in the gum. This was entirely my own fault, but just always take your time, so you don't hurt yourself or break your aligners.
Firm Toothbrush for Cleaning
I use the fizzing cleaner once in the morning. In between that, I brush my aligners with a firm toothbrush and a tiny bit of toothpaste. This is what my ortho recommended.
Since I brush my teeth with an electric toothbrush, I keep a normal brush just for my aligners. The electric one would be a mess if I tried to use it on my aligners.
There are special toothbrushes just for this purpose, but I just use my Doctor Plotka's toothbrush which I will discuss more below.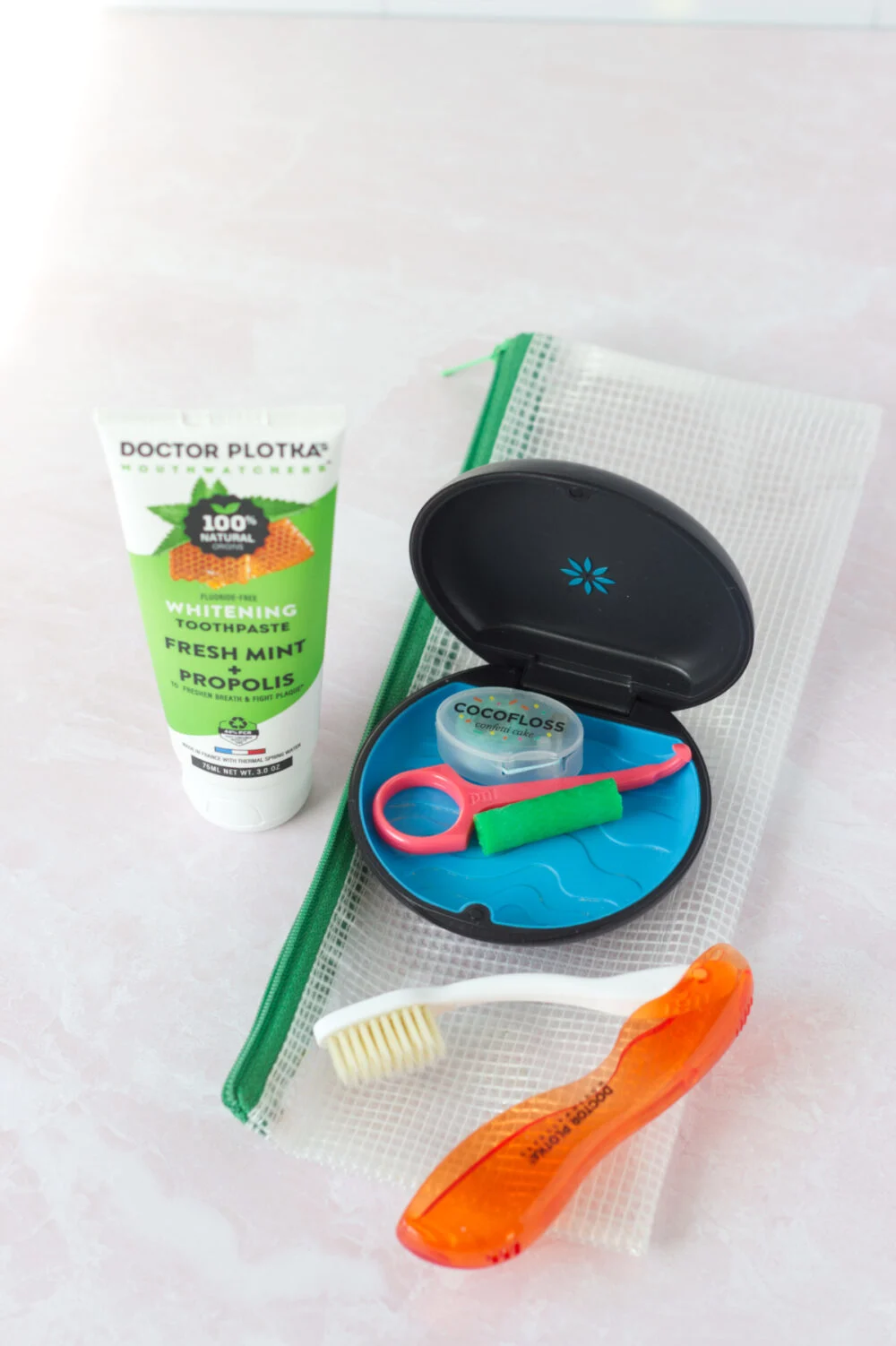 Additional Toothbrush for Me
I went from brushing my teeth 2-3 times a day to a minimum of 3-5 times per day. I found out early on that brushing so often with my electric toothbrush was ripping up my gums. I now alternate between my electric toothbrush and Doctor Plotka's.
I was sent some products from Doctor Plotka's to try out. Their toothbrushes have the best bristles EVER. They have flossing bristles that are super thin and really get into the crevices of your teeth to act like a floss as well as a toothbrush.
The bristles feel extremely strong and effective and soft and gentle at the same time. This is my new favorite manual toothbrush for sure!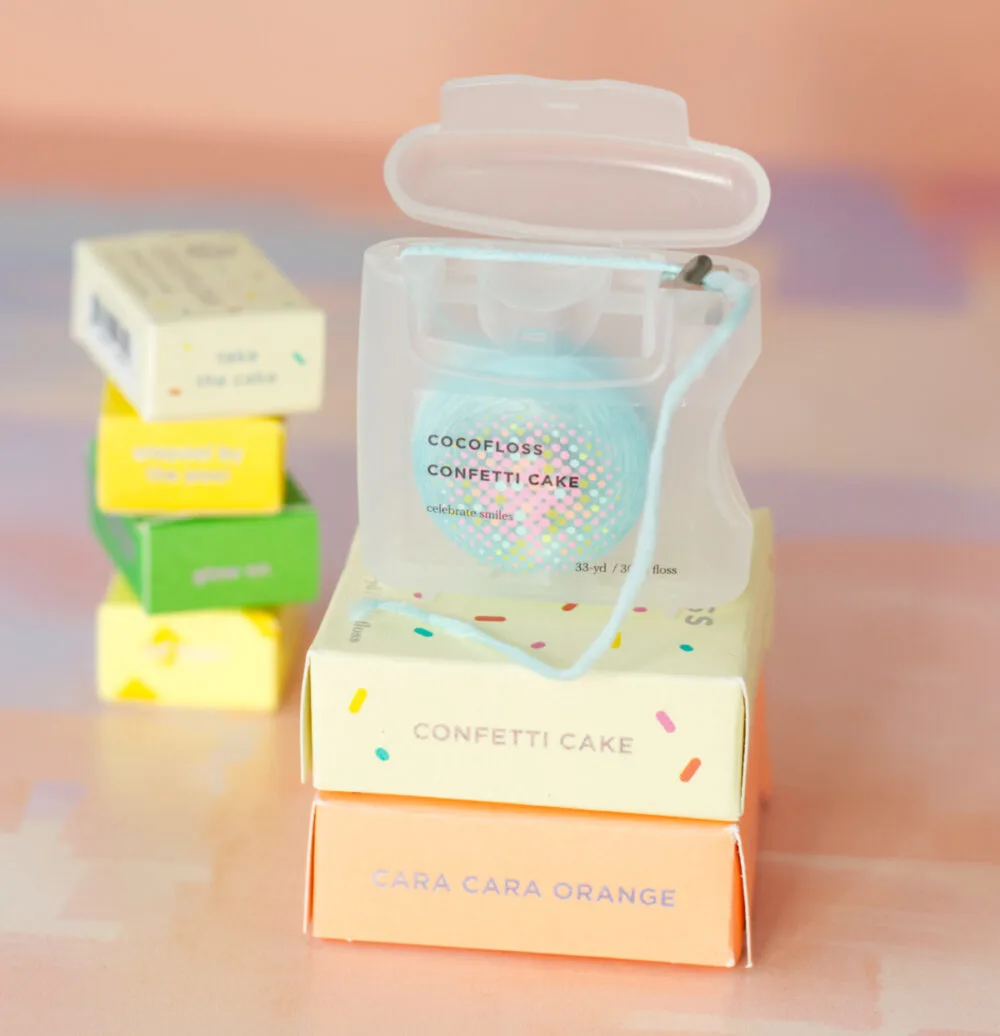 Good Floss
Wow, so I have never given so much thought to dental floss. Since I now floss a minimum of three times per day, I started caring about the floss I'm using!
I did a little Googling and found CocoFloss. Instant obsession. I ordered some to try right away. After I fell in love with their floss, I reached out to them to see if they had an affiliate program because I knew I would want to share.
First of all, look at all the fun floss flavors. Even though it's just a hint of orange, confetti cake, pineapple, or whatever scrumptious flavor you choose, it's still a unique surprise. It's not a blast of flavor by any means, but it's enough to keep the floss life interesting.
What most excites me about this floss, though, is that it's like a tiny loofah for your teeth. It's instantly noticeable how the floss really gets in there and scrubs. I've had other flosses just glide through my teeth. This is like a legit brushing.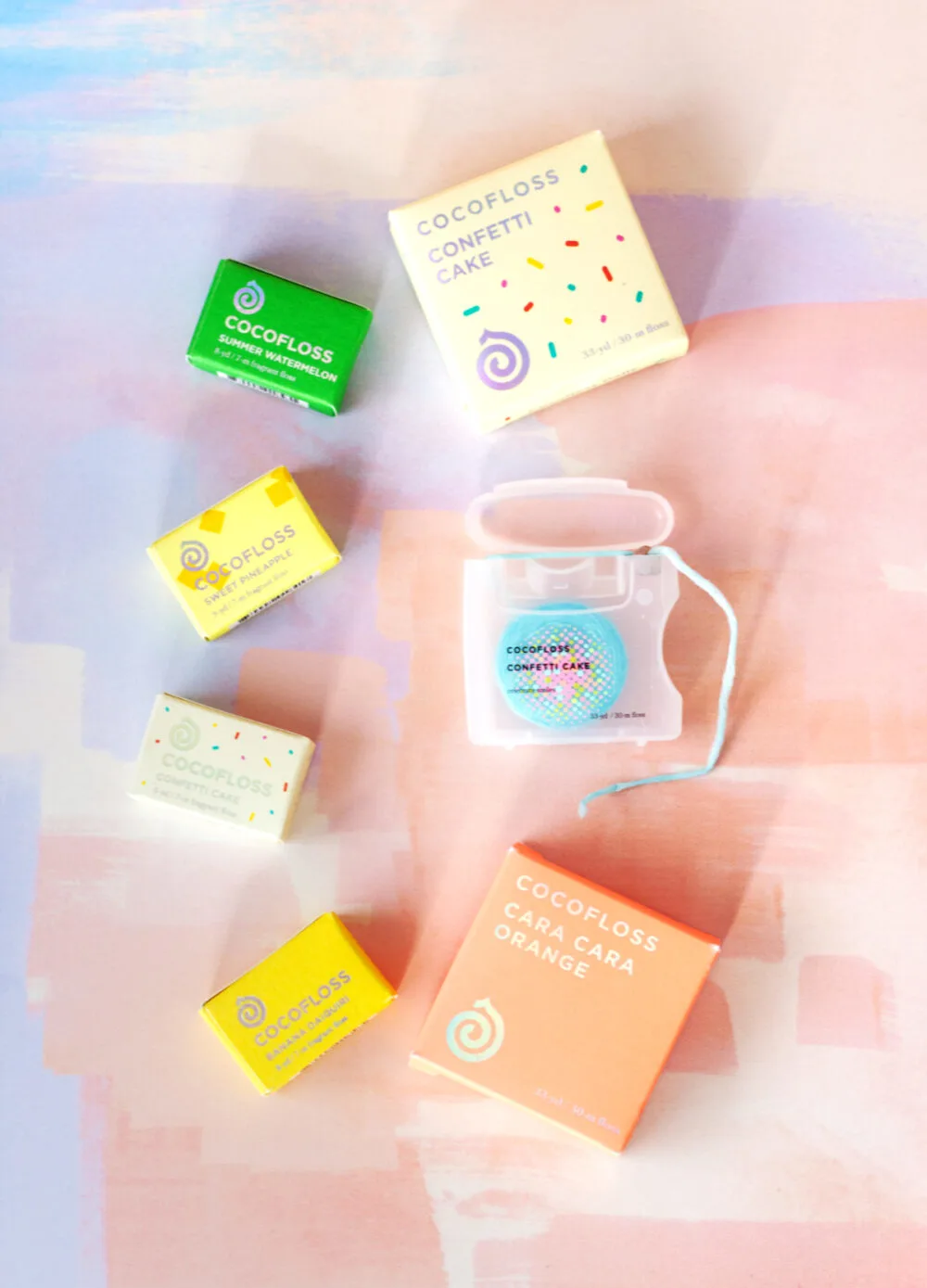 Strangely enough, even though CocoFloss feels thicker, it fits between ALL my teeth. I have two teeth that are really tight. Even the thinnest floss wouldn't get through it before. CocoFloss fits right in. I'm baffled but pleased about this.
Electric Toothbrush
As I mentioned above, I use an electric toothbrush for my teeth and I have for years. I finally convinced Mike to use one, as well, and he immediately noticed the difference. His teeth now feel smooth and sparkling after using it.
Extra Chewies
Chewies are small, spongy rubber rings that are designed to help your aligners fit more comfortably and snugly against your teeth.
Simply place a chewie between your aligners and your teeth and chew on it for a few minutes. This will help to push your aligners into place and ensure that they are seated correctly on your teeth.
Hopefully, you were given some chewies in your starter kit, but I find that it's nice to have extra to carry with you all over. You are supposed to use your chewies often, so might as well have them everywhere.
I also started really wearing my initial two chewies down to nothing. There wasn't as much resistance when I bit down on them. Once I received the new ones, I could quickly feel the difference.
Natural Toothpaste
I have extremely sensitive teeth and gums, so the toothpaste I use most often is Sensodyne. Again, with brushing so often, I am trying to alternate with a natural option, as well.
My health issues over the past year have made me extremely conscious of the chemicals in products.
Switching to a natural toothpaste is a struggle for me. There's something about the flavor, feel, and texture of most natural toothpastes that I just cannot get used to.
Doctor Plotka's included their whitening toothpaste with fresh mint and propolis for me to try out. It has excellent ingredients and is packaged with us and the earth in mind.
I'm still not in love with the flavor, but it's the best natural toothpaste I have tried to date. I'm happily using it at least 2 out of the 4-5 times I brush each day!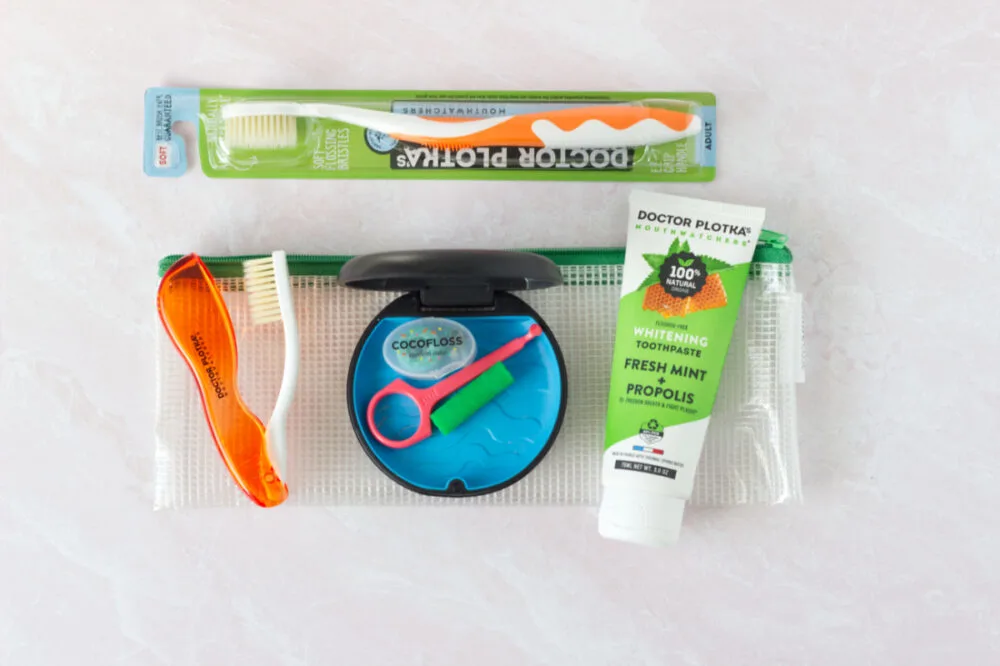 Travel Case
My orthodontist also gave me a little pouch with a travel-size toothpaste and floss in it. Hopefully, yours does too. If not, you definitely need a nice little on-the-go setup to care for your aligners properly while you are out. Even though I am home a lot, I've used this setup quite often.
Here's what is in my Invisalign to-go pouch:
Doctor Plotka's travel toothbrush
Aligner case which holds a:

Pul aligner removal tool
Chewie
Travel CocoFloss

Doctor Plotka's Fresh Mint + Propolis toothpaste
Travel mouthwash (not pictured, but I usually include it)
All of these items fit in my narrow pouch which fits nicely in my purse. When I go out and want to eat or drink anything, a quick trip to the bathroom with these items makes it easy to properly care for my aligners while I'm out.
Summary of Products
Pin this image to your board to save and share!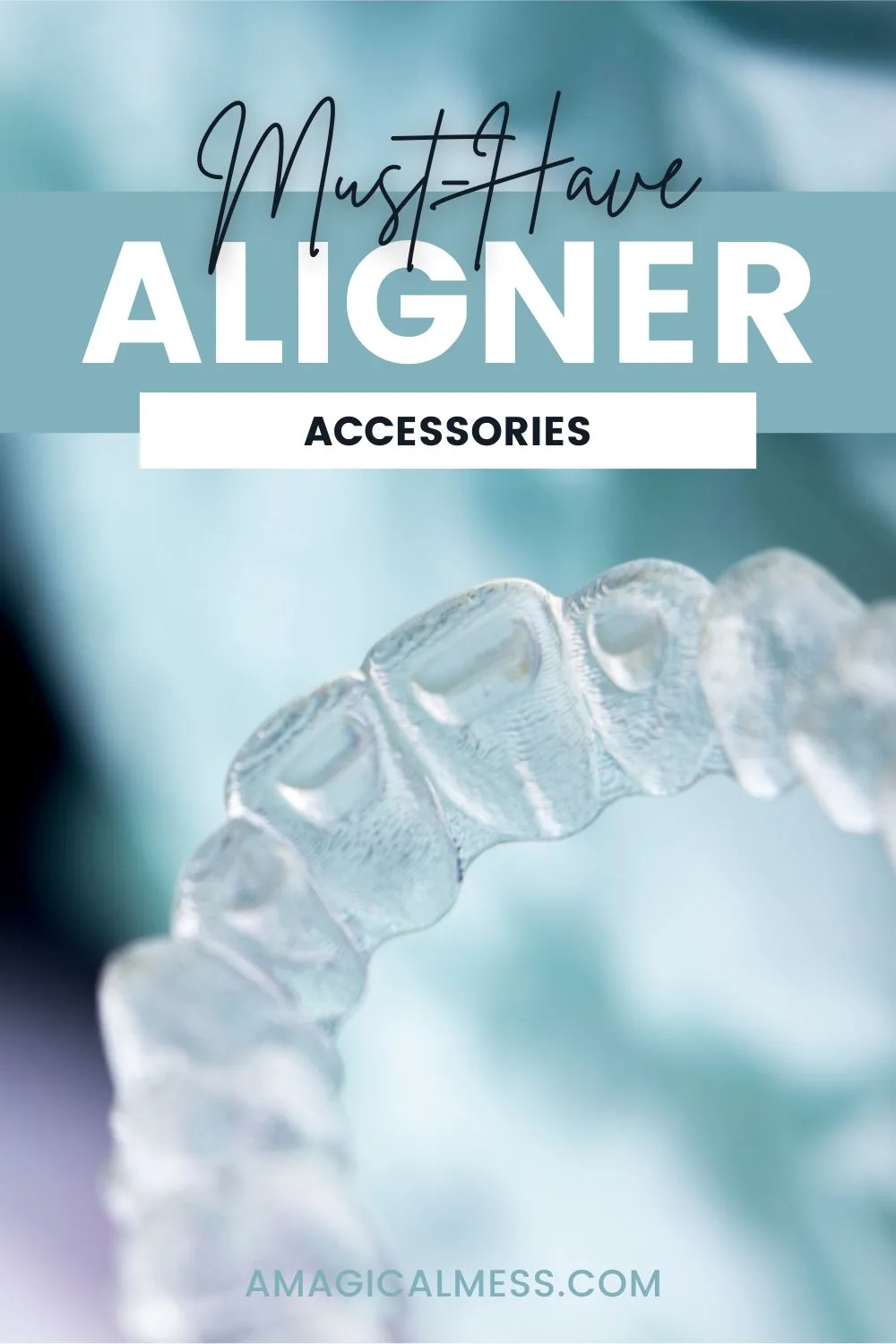 Hopefully this list of Invisalign accessories helps you. If you're just starting out, know that you really do get used to the aligners. At this point, it feels weird when I am not wearing them.
Although I am looking forward to the end of this teeth-straightening journey, I am grateful to be on it and that I'm not wearing braces!
Do you wear Invisalign aligners? Do you have any tips or products to suggest that I missed?