Most of our homes are loaded with cleaning supplies, air fresheners, and many other products that contain harsh chemicals. I think every one of us would love to eliminate harsh chemicals from our homes, but it feels like an overwhelming task.
I received Force of Nature cleaner for review, and I am an affiliate. All thoughts and opinions are my own. #ForceofNatureClean #ad
Due to health issues, I was forced to push this problem towards the front of the list last year. I'd love to share just three simple tips that have helped me. Is my house free of chemicals? Not at all, but the small changes have made a big impact.
A bonus is that these changes are also saving me money. With the prices of everything skyrocketing, I'm happy that I've already made a few swaps that help me save.
I'm also not making all these changes at once. When I run out of something, I simply replace it with a choice that contains fewer harsh chemicals. No need to waste the things you have; just buy better choices when you need them.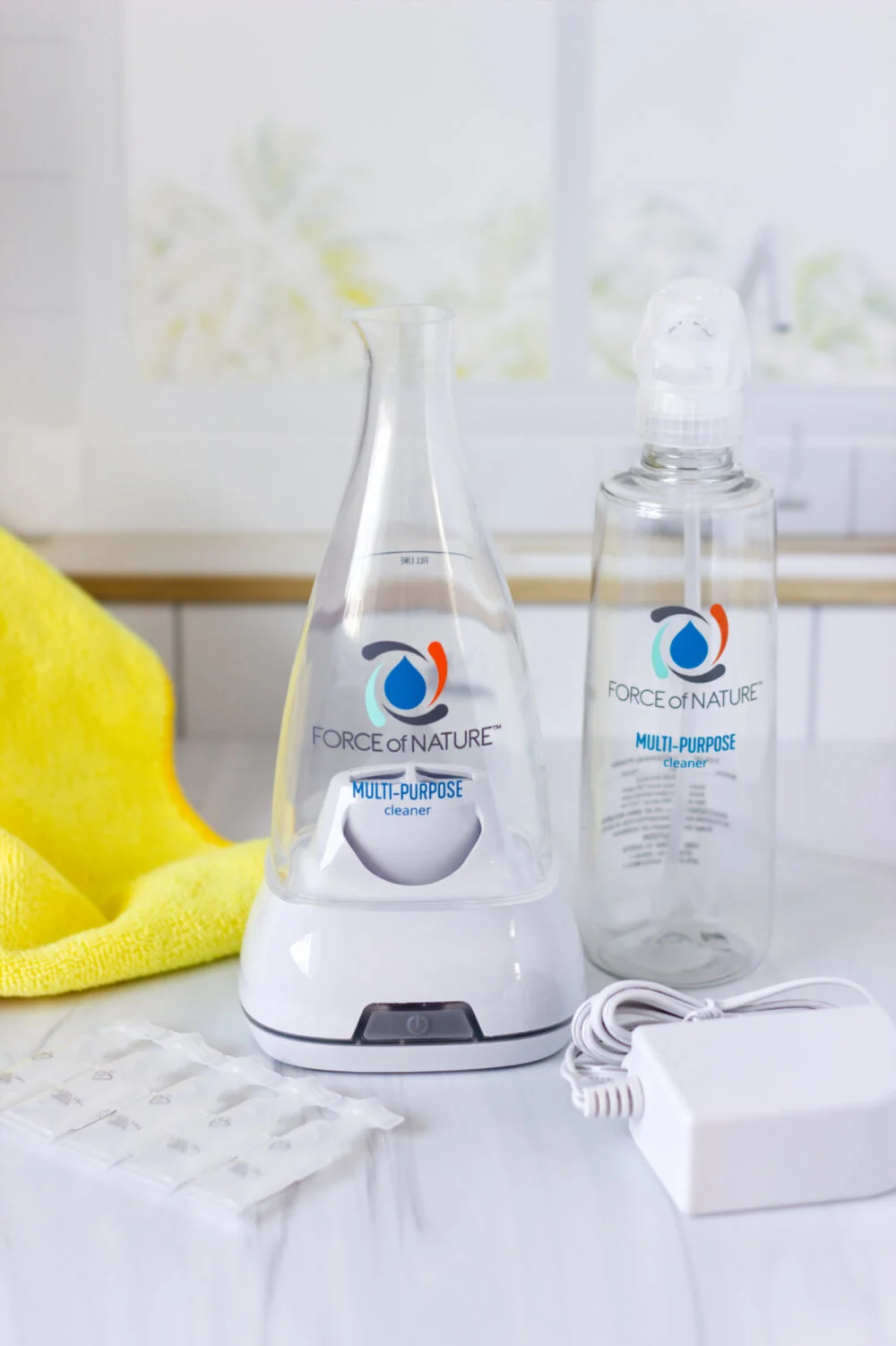 Here are the Three Swaps I've Made So Far
Started Using Non-Toxic All-Purpose Cleaner and Disinfectant
How do you know when you've reached peak adulthood? When you're legitimately giddy to try a non-toxic multipurpose cleaner. Yep, that's me as I eagerly explore the Force of Nature starter kit!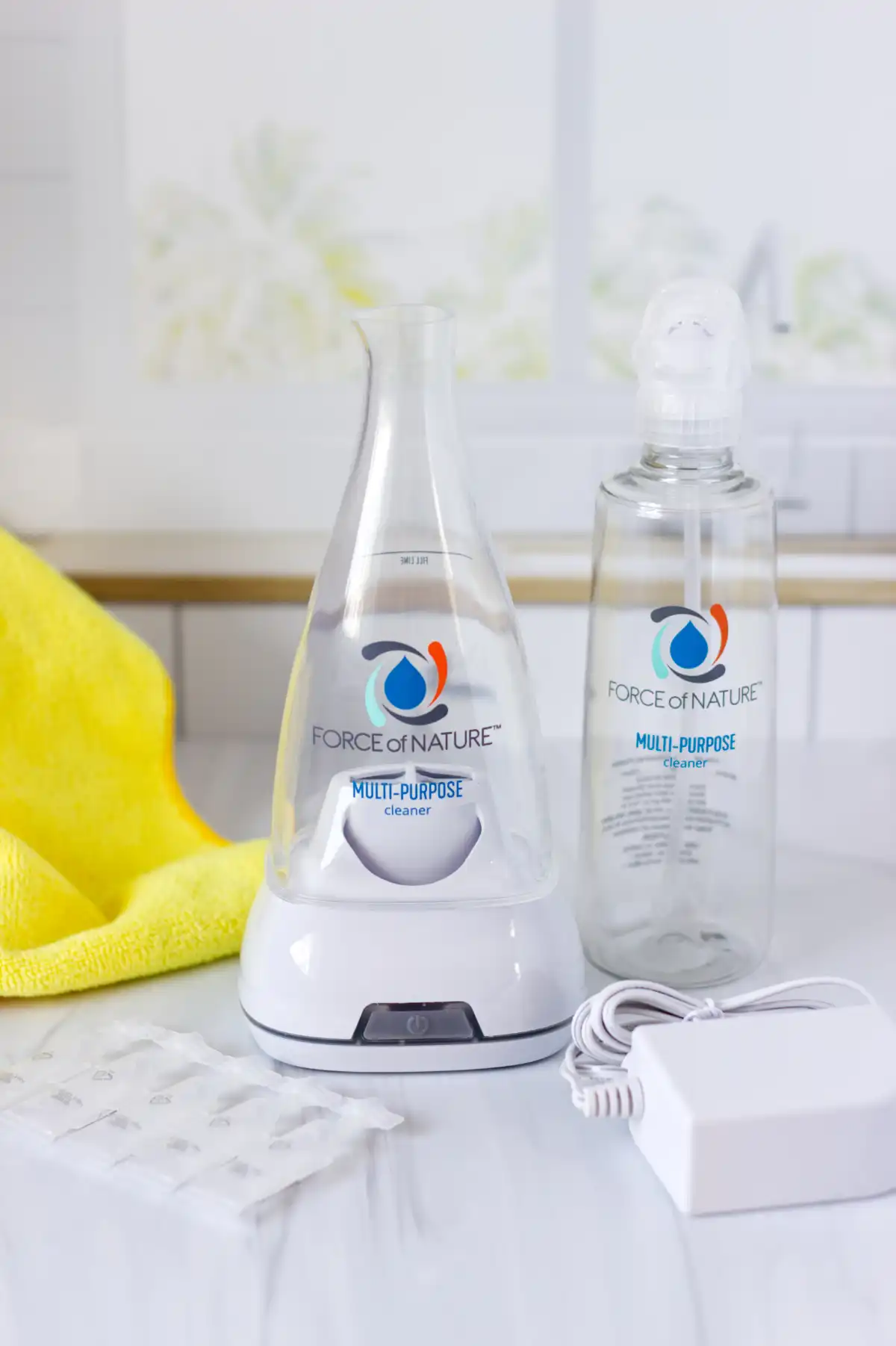 Force of Nature Cleaner
Powerful multi-purpose cleaner with no toxic chemicals.
Pros:
EPA registered hospital-grade disinfectant.

EPA approved to kill COVID-19 and Mpox.

Replaces kitchen, bath, glass, and floor cleaners, disinfectants, and deodorizers, making it a space-saver.

Up to an 80% savings per ounce compared to top brands.

Recyclable activator capsules.

Reusable 12 oz bottle (that sprays nicely!)

Light, fresh scent.

No harsh chemicals.

Pet and kid-friendly.

Cuts through grease, grime, soap scum, messes, and odors.
Cons:
Replace every 2 weeks. But, you can use it on everything, so not even a real con!
Buy Now
We earn a commission if you make a purchase, at no additional cost to you.
Having an efficient all-purpose cleaner that's free of harsh chemicals was high on my list. I was nervous to ditch chemicals in this category, thinking they were needed to kill all the germs out there. WRONG.
Force of Nature is registered with the EPA as a hospital-grade disinfectant that kills 99.9% of germs, mold, and mildew. It's even on the EPA's approved list for all the major germs that cause flus and viruses.
This rinse-free disinfectant replaces so many cleaning products, which also excites me due to lack of storage. I can use Force of Nature as a kitchen, bath, and glass cleaner, disinfectant, and deodorizer. That's going to free up a lot of space under my sink.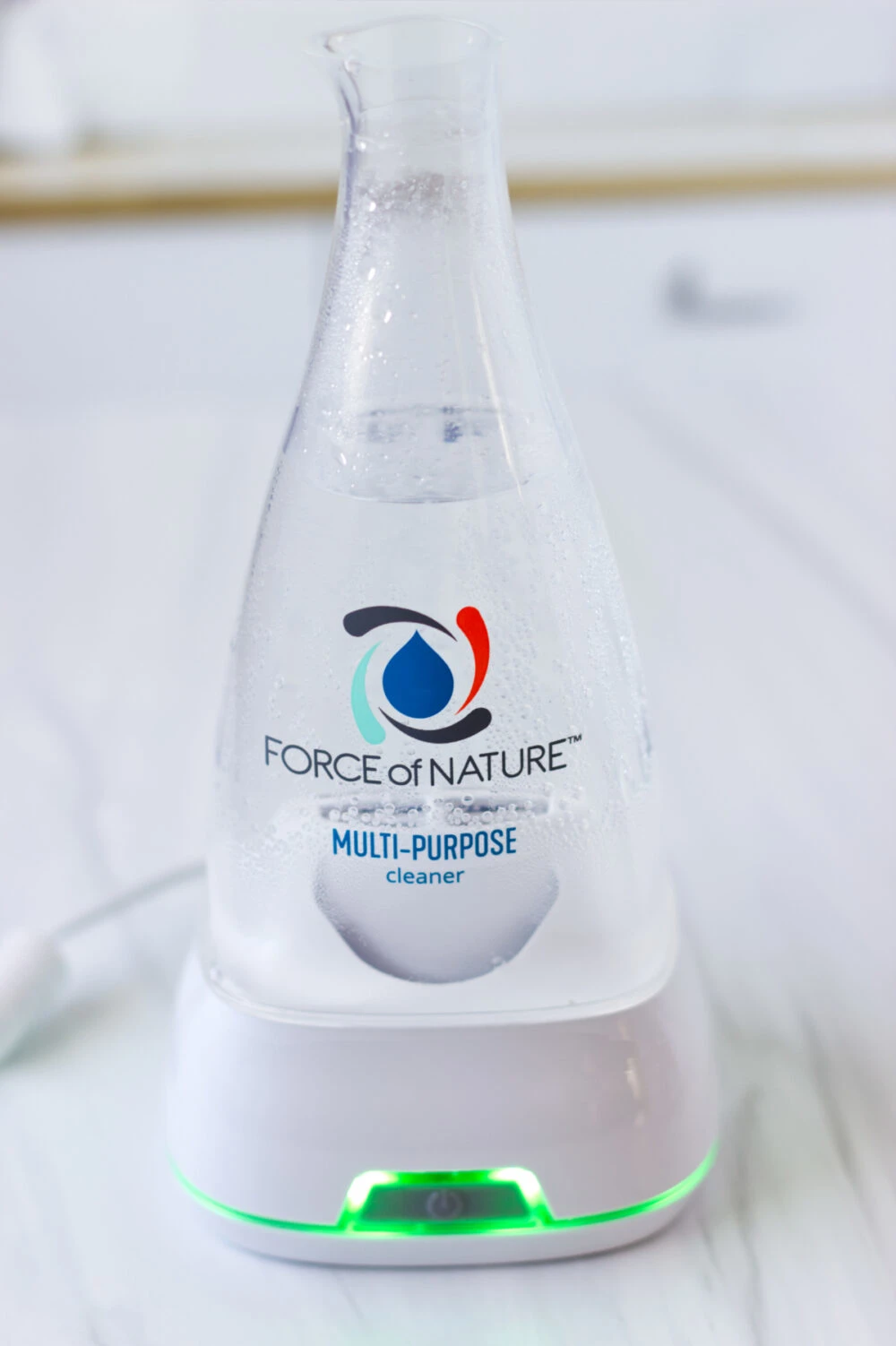 All three of our dogs are floor-lickers. They seriously patrol the kitchen tiles like little truffle pigs. When I realized this, I knew I had to stop using floor cleaners with harsh chemicals!
Force of Nature only contains salt, water, and vinegar, which are non-toxic to us all.
Okay, so I've raved about Force of Nature enough, how does it actually work?
Over the past couple weeks I've tried the Force of Nature spray around my house. Here are my thoughts in each area:
Scent
Force of Nature contains no added fragrances, but it does have a light scent. I notice a hint of vinegar, but it's not overpowering. I find the scent to be clean and refreshing–a little like a pool–and I prefer it over strongly scented cleaners.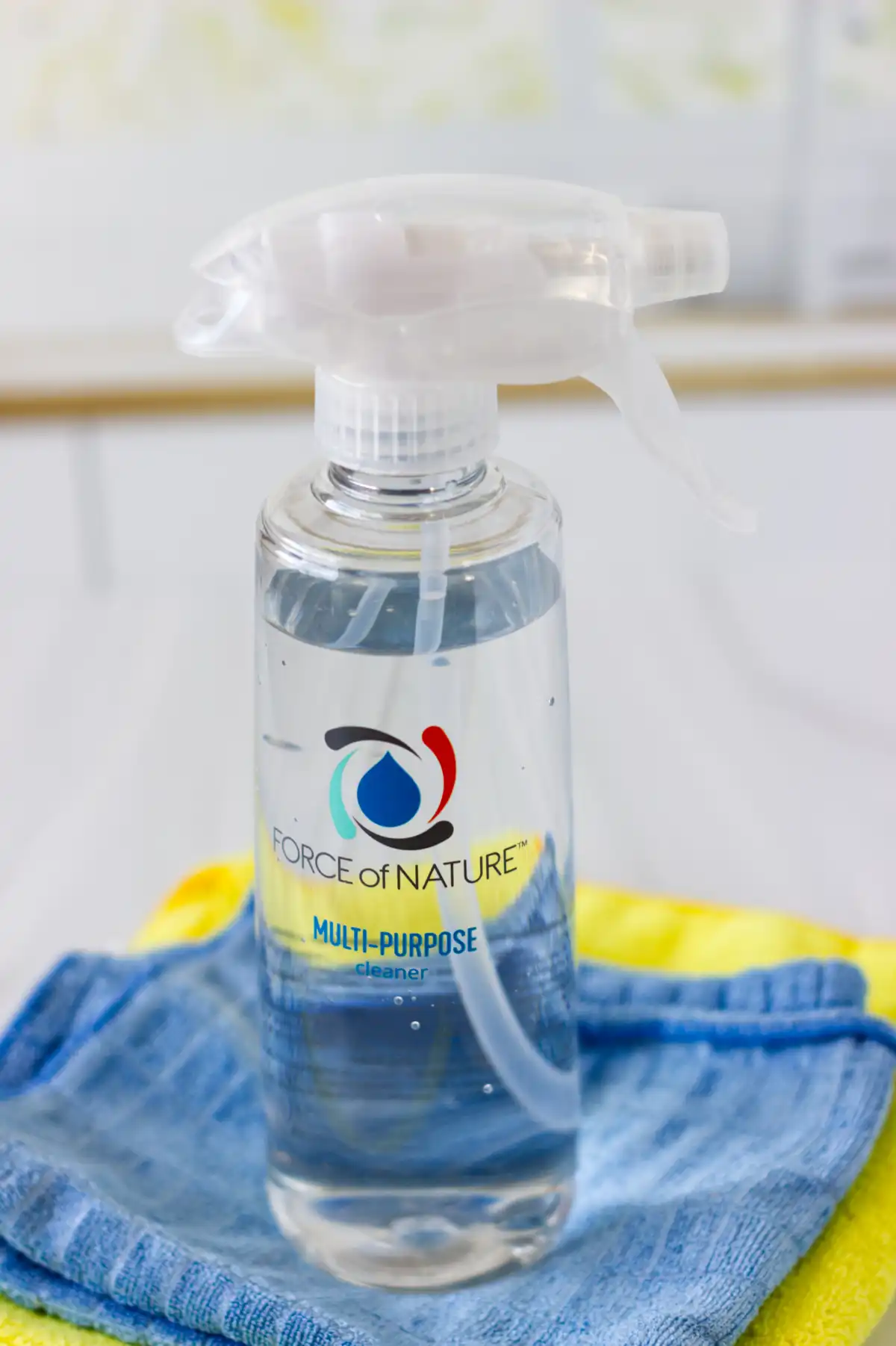 Feel
Since Force of Nature does not contain drying agents, you do have to wipe it down a bit more. After letting it set for 10 minutes to do its thing, I use a microfiber cloth to wipe it away and it works nicely. There's no residue or anything, and you're left with shiny, clean surfaces.
Look
Everything looks shiny and clean after using this non-toxic multipurpose cleanser. I've used it on my stainless steel appliances, mirrors, windows, countertops, and even sinks, and everything is left sparkling.
Ease of Use
If the starter kit looks like a mini science lab, don't be intimidated. In fact, it's fun to create the electrolyzed water. My inner 8-year-old was thrilled to mix solutions to create a bubble potion! However, it's incredibly simple and ready in minutes.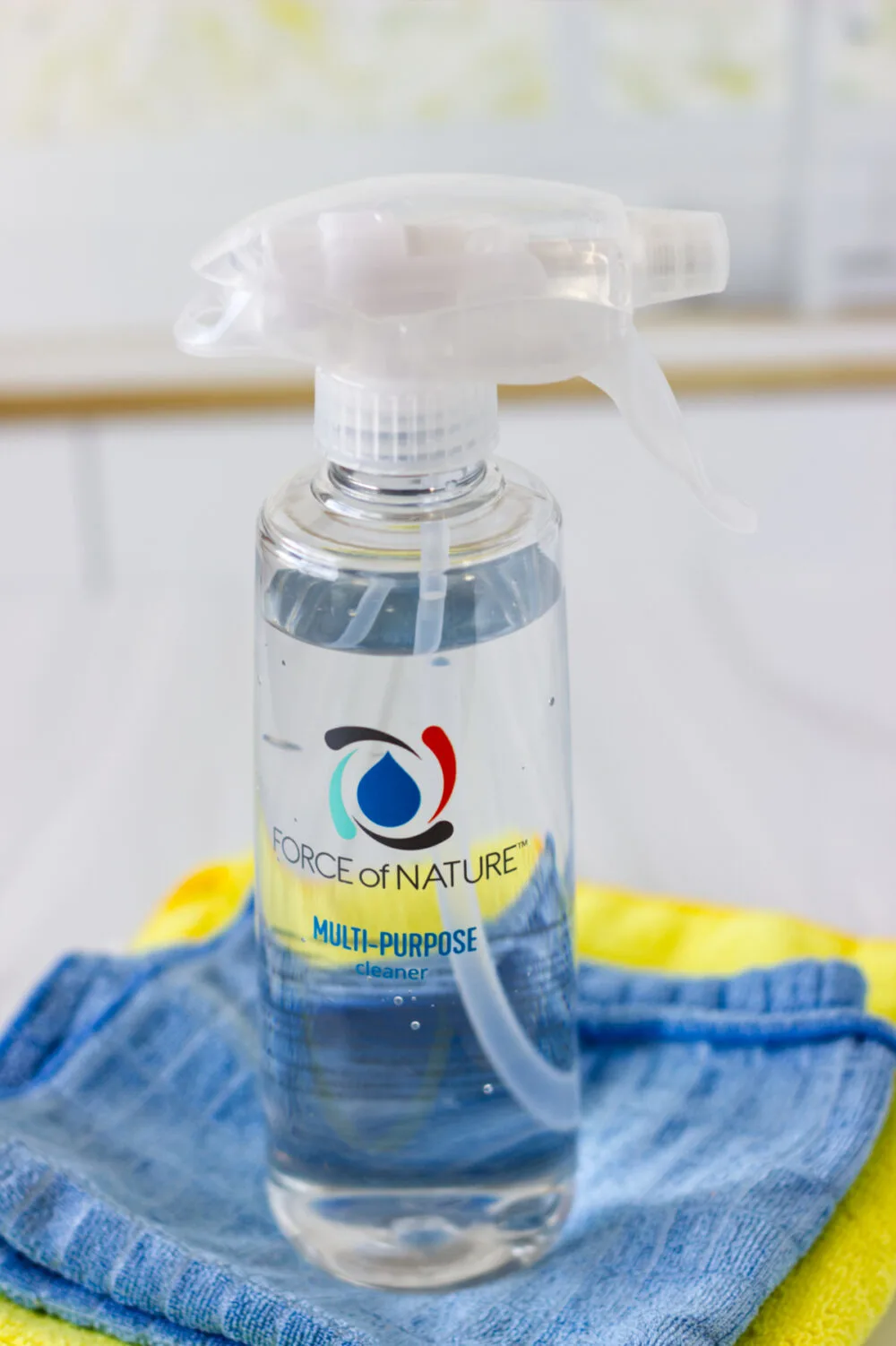 Expiration
The solution lasts for 14 days. Originally, I didn't like this, but now I see how quickly I can use it. I mean, you can even use this cleaner on floors and to clean makeup brushes, so it's not hard to use a batch within the two-week period! Click here to see all the ways you can use Force of Nature disinfectant.
Cost
At $80, the starter kit feels like a pricier up front cost, but after that it's a savings. Force of Nature is up to 80% cheaper per ounce compared to popular name brand options.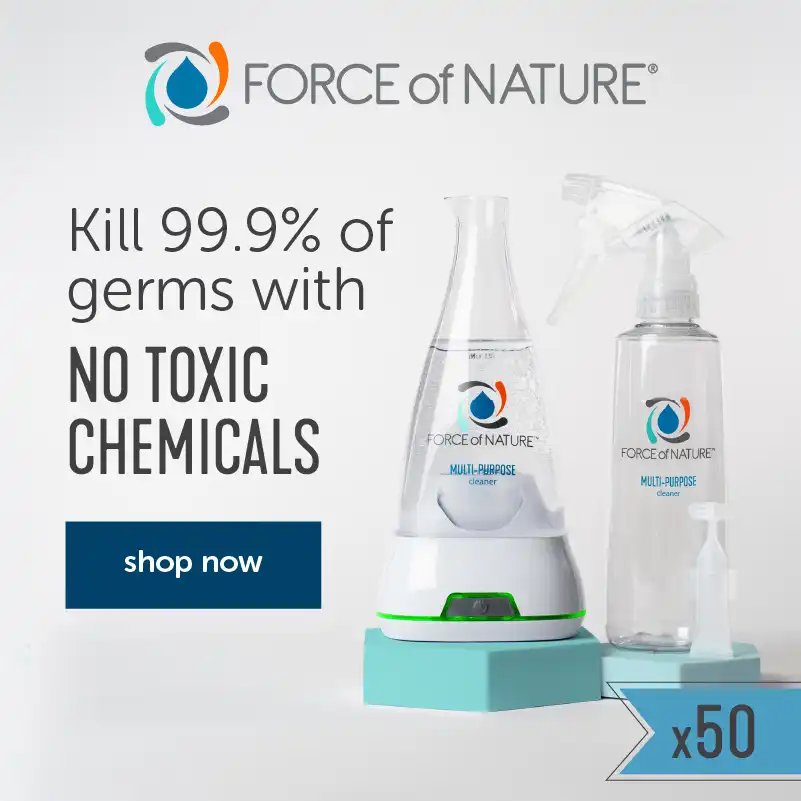 Force of Nature Bundle
Stock up and save with the Force of Nature best value bundle!
Buy Now
We earn a commission if you make a purchase, at no additional cost to you.
Ditch Laundry Beads and Fabric Softener
I haven't gone into detail about all of my health issues of 2022, but a big one was rosacea. My skin was an inflamed disaster, and I'm still struggling to keep it under control.
Am I blaming laundry beads for my rosacea? No. But, with my skin already inflamed and in pain, why add additional irritants? My body was fighting enough battles, it doesn't need extra toxic chemicals on top of it all.
I have used fabric softener and scented laundry beads for years. Of course, I knew somewhere in my brain that they were loaded with chemicals, but I just brushed it off. Our clothes smelled great and apparently that was enough to keep me in denial.
My new laundry routine, which I'm actually quite happy with, includes wool dryer balls instead of dryer sheets, vinegar instead of fabric softener, and a fragrance-free detergent.
To use vinegar instead of fabric softener, add 1/2 cup during the rinse cycle. I just add it to that little slot in my washing machine. I also add a few drops of essential oils for a little fragrance boost. Right now, I'm using eucalyptus essential oils, but this is optional.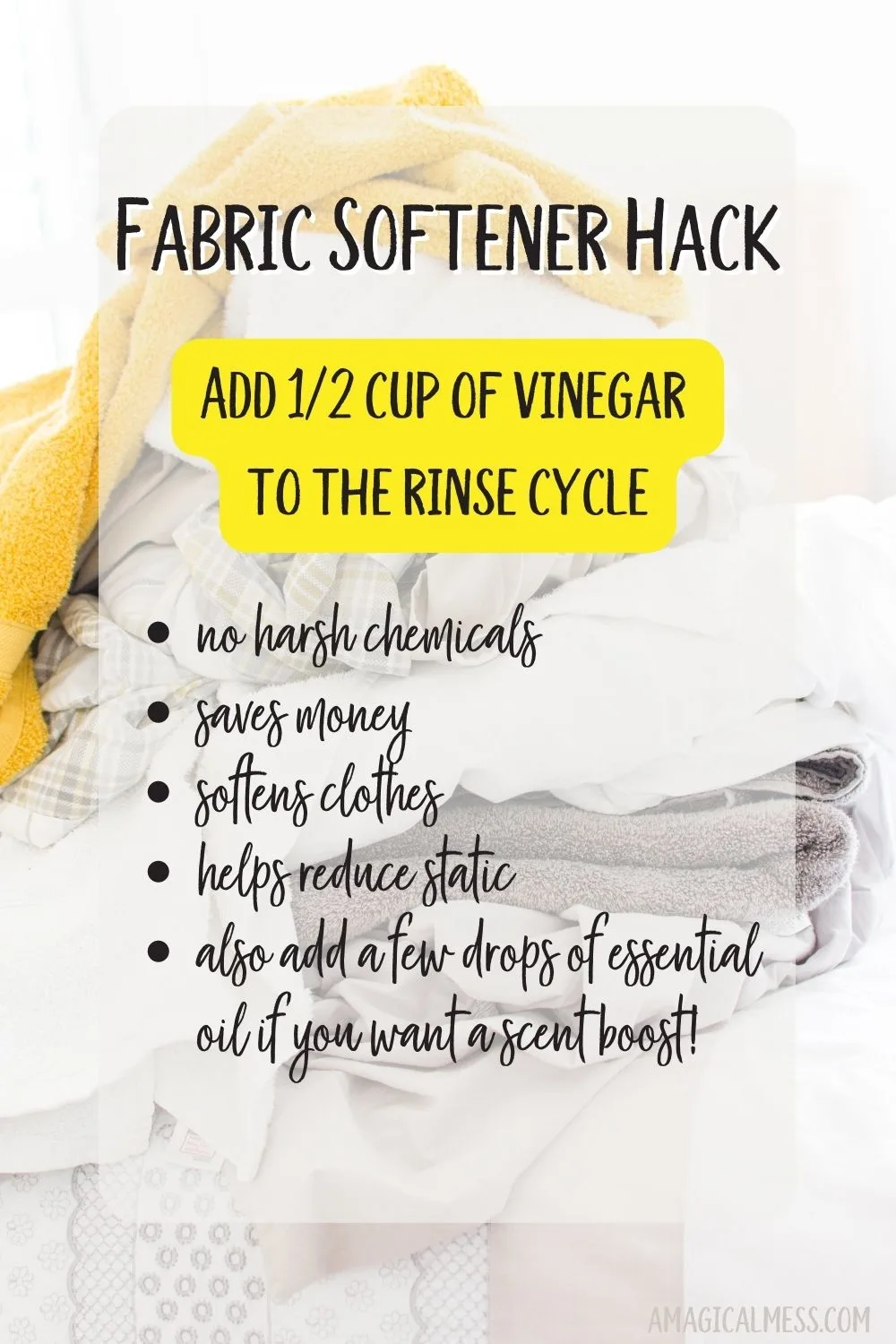 Using dryer balls instead of dryer sheets is presenting a bit of an issue in the winter. In the colder weather, we are frequently staticky messes. So, please let me know if you've conquered this battle without chemicals!
Stop Using Plugins and Candles
The last time I lit a candle in our house, I got a ferocious headache and a sore throat. The last time I used a wall plugin air freshener, I got a migraine. Am I an overly-sensitive over-reactor? Most definitely. However, if you look at the chemicals in most of these products, you'll want to get rid of them regardless of your reaction.
So, how do you keep your house smelling fresh when you have three dogs? My new favorite way is boiling things. It's as easy as boiling a pot of water and tossing in cut-up fruit and herbs. I like to do this as I clean the kitchen, so I don't leave the stove unattended.
Here are some ingredient suggestions for boiling your way to a fresher home:
Citrus fruits
Fruits like lemon, lime, grapefruit, and oranges are my favorite. They leave the house smelling fresh and even help to eliminate bad odors.
Herbs
You can use fresh or dried herbs, but if you use fresh herbs, be sure to double or triple the amount. Good air freshening herbs are lavender, mint, rosemary, sage, and thyme.
Spices
Spices like cinnamon, nutmeg, and clove can fill your home with a pleasant aroma without the use of harsh chemicals.
Experiment with different combinations to find a scent you love! I prefer this method to heavily-perfumed and unnatural chemicals, so this was an easy swap.
Pin to your household board to save and share!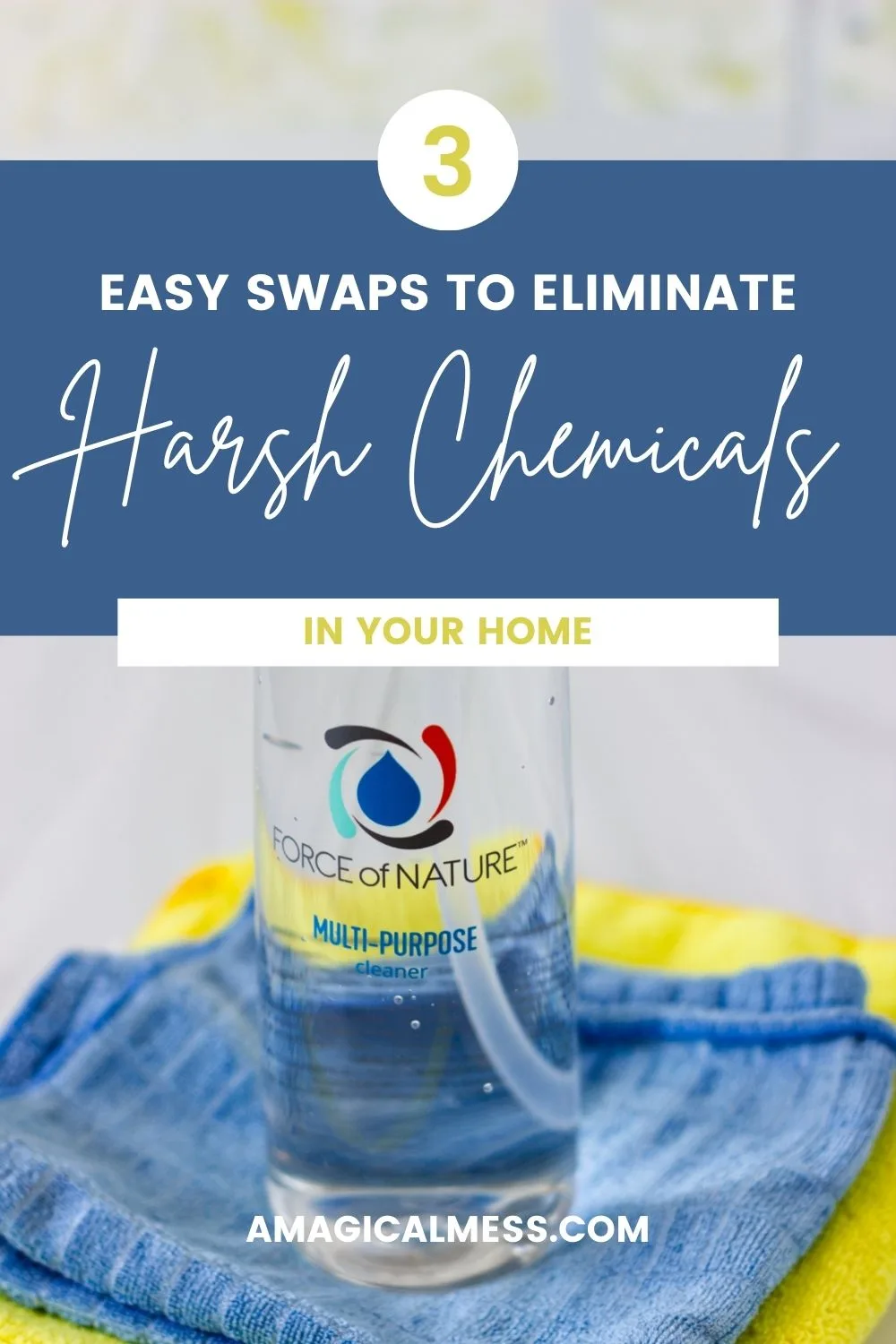 I now know that I can effectively clean and disinfect my house and NOT walk away feeling dizzy and light-headed.
I hope these three simple swaps help you start to eliminate harsh chemicals in your house. I feel so much better about my cleaning routine, and it even makes me want to clean more often!
Have you made any changes to your cleaning products? Let me know which swaps you've made to start eliminating harsh chemicals.