I participated in a campaign on behalf of Mom Central Consulting for NESCAFÉ Dolce Gusto. I received product samples to facilitate my review as well as a thank me for my participation.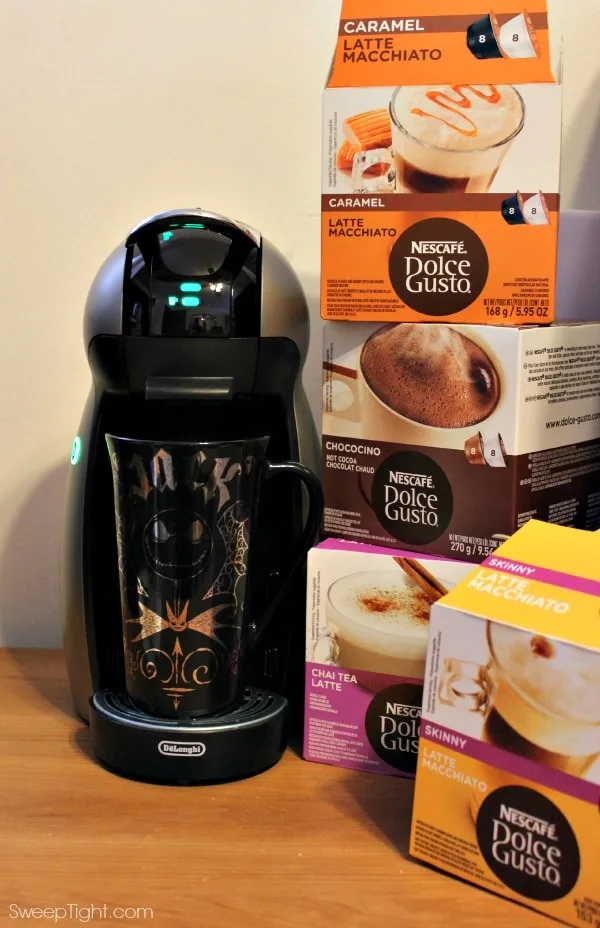 This time of year you will often find me with a hot beverage in my hand. After my morning coffee routine, I like to mix it up with different beverages. The NESCAFÉ Dolce Gusto is full of coffeehouse-like drink possibilities.
NESCAFÉ Dolce Gusto is the only machine that truly delivers delicious, coffee house quality creations every time with patented smart capsule technology delivering up to 15 bars of professional pressure and espresso technology.

Some of my favorite features of the NESCAFÉ Dolce Gusto:
The Size: This machine is quite small. I appreciate this due to our lack of space in our house. I actually have it in my office, so that's even a more tight area. It's cute and compact and doesn't require too much valuable real estate.
Ready Fast: It turns itself off over time, but when you turn it back on it's ready to go in seconds.
Very Versatile: Makes hot or cold beverages.
Customization: You can basically choose the strength of your beverage by adjusting the brew bar.
Easy: It's super easy to use and very self-explanatory. The boxes that the coffee capsules come in have clear guides on them showing you which settings to use for each one.
A couple tiny downfalls to the machine would be that you have to refill the water after almost every drink. This is a small price to pay for it taking up so little space. Also, I get a pang of guilt every time I throw away the two coffee capsules. I realize that having the two different capsules is what creates such tasty beverages, but I still feel slightly bad for the extra waste.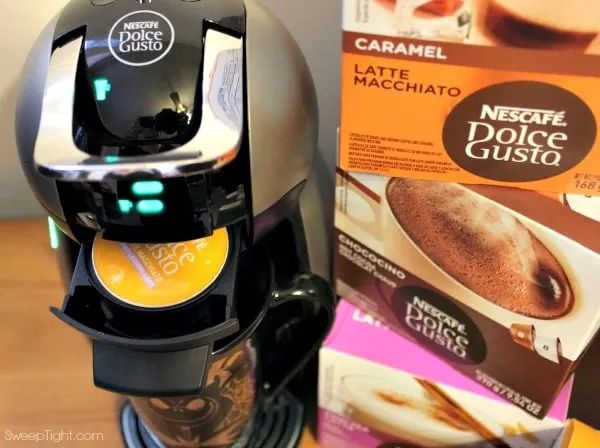 So many flavor possibilities are available with this coffee machine. Not only do they have amazing flavors like, Chococino, Caramel Latte Macchiato, Chai Tea Latte, and Skinny Latte Macchiato, but you can also combine them to create your own favorites. How about a caramel latte chococino? Just make a double using both of the flavors. Be your own barista and have fun with it.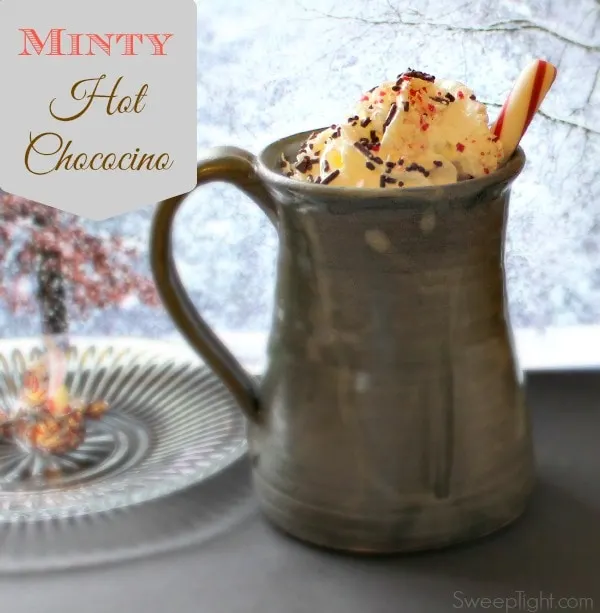 I made myself a Minty Hot Chococino and it was delicious! Perfect for the holiday season.
Creating these specialty drinks at home is awesome. It's a great way to entertain and offer your guests something unique and delicious easily. I have a hard time choosing my favorite flavor, but I definitely like the Skinny Latte Macchiato for a tasty treat with less guilt. They are all super scrumptious, though!