Anything free is obviously great by default. But, saving money around the holidays is just plain awesome. Doesn't everyone hate spending money on something that just gets thrown away anyway? I am happy to bring you this holiday life hack all from my own green/OCD/hoarder/frugal self. 🙂
Free Wrapping Paper
Anyone else receive 14 miles of packing paper due to online shopping? I think Wal-Mart was the biggest culprit. What a huge waste of trees!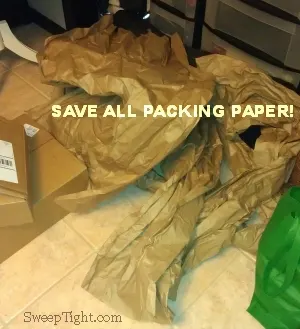 I have been obsessively saving this stuff for a long time knowing someday it would come in handy. And, well… yeah, I'm a bit of hoarder too. 🙁 But, this time it paid off! This packing paper is actually quite perfect for use as holiday wrapping paper. Pictured above is just from ONE order. I wrapped all my presents using just what's shown!
Why This Packing Paper is Perfect for Wrapping Presents:
It's perforated (which means very little cutting, if any)
Two sections are perfect for a small size clothing box (NO cutting)
Great way to recycle
Save a few trees
Simple classy classic look
Easily decorated

This can be really fun if you do so in advance with the kids, think bubbles of paint, glitter, stickers, crayons, markers…

IT'S FREE!!!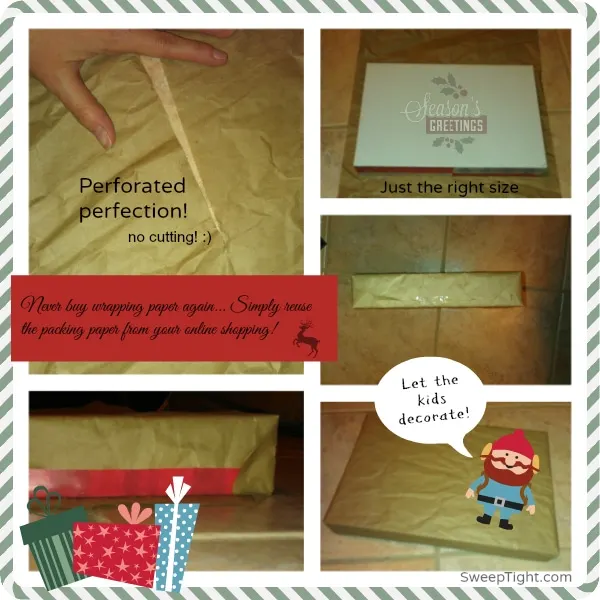 Every year I also confiscate all the bows and ribbons for future use. I simply throw them all into a box or bag and store them with my Christmas decorations. Some of these silly bows or ribbons cost like $5 each! I am certainly not going to let those just get tossed in the trash.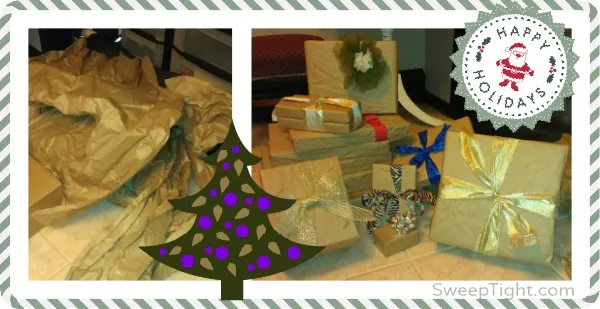 Between all the packing paper (I still have a ton left over) and my hoarded bows, I spent ZERO dollars on wrapping supplies this year!
I guess I can't take all the credit. Stewie was barking orders like an angry elf to ensure top quality results from start to finish.