A coffee soap recipe is excellent to have for so many reasons.
Making homemade soap is fun, not as intimidating as it looks, and is great for DIY gift giving.
Exfoliating coffee soap is an invigorating way to start the day.
It's starting to stay darker later, so I think we can all use a little more caffeine all over the place. 😉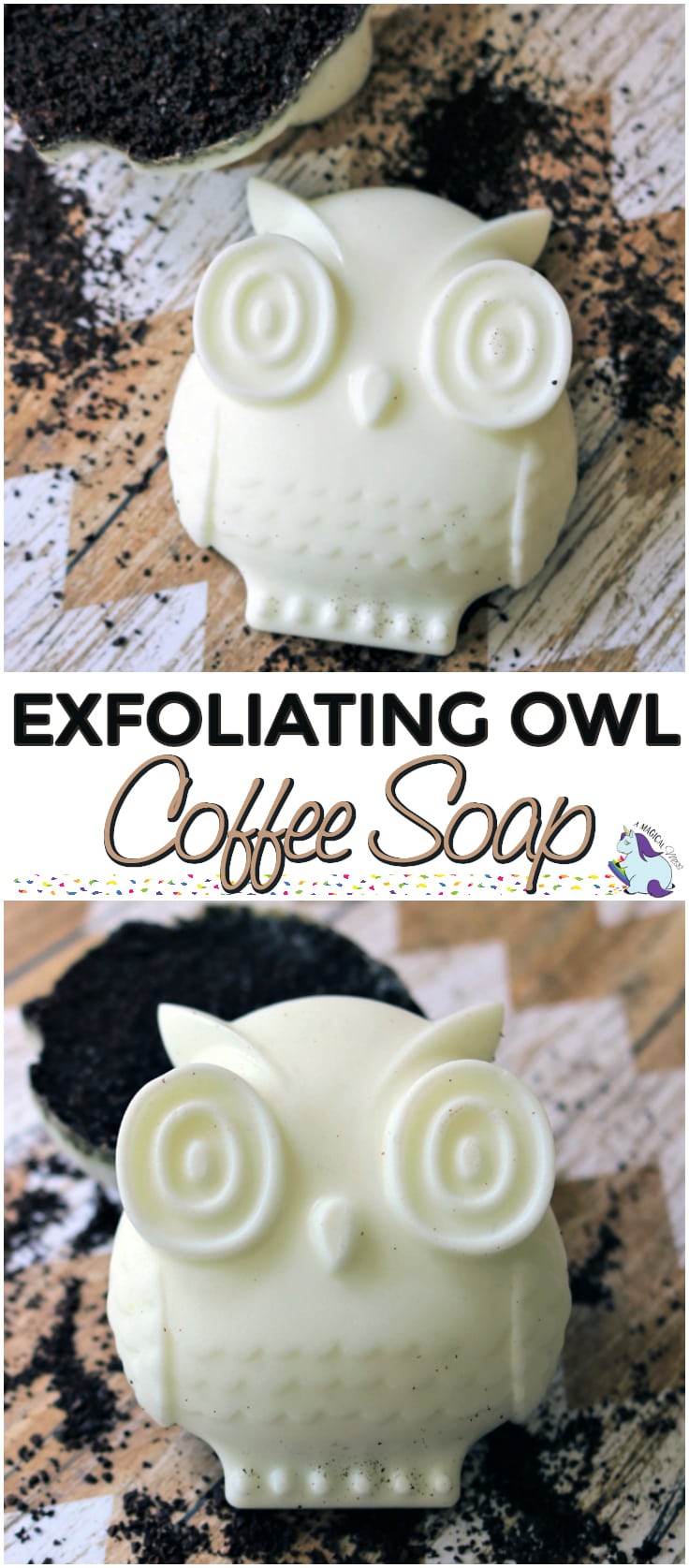 Never did I think I would make soap at home.
Somewhere along the line I received misinformation and thought you needed to mix dangerous chemicals and risk possible explosions from soap making. What the heck was I watching?
Turns out, all you need is a soap base that's easy to find, and most of the rest is all up to your creativity.
Ever since I made crystal soap that looks like gemstones, I am hooked.
Pretty sure everyone is getting soap creations for Christmas now that I know how to make homemade bar soap.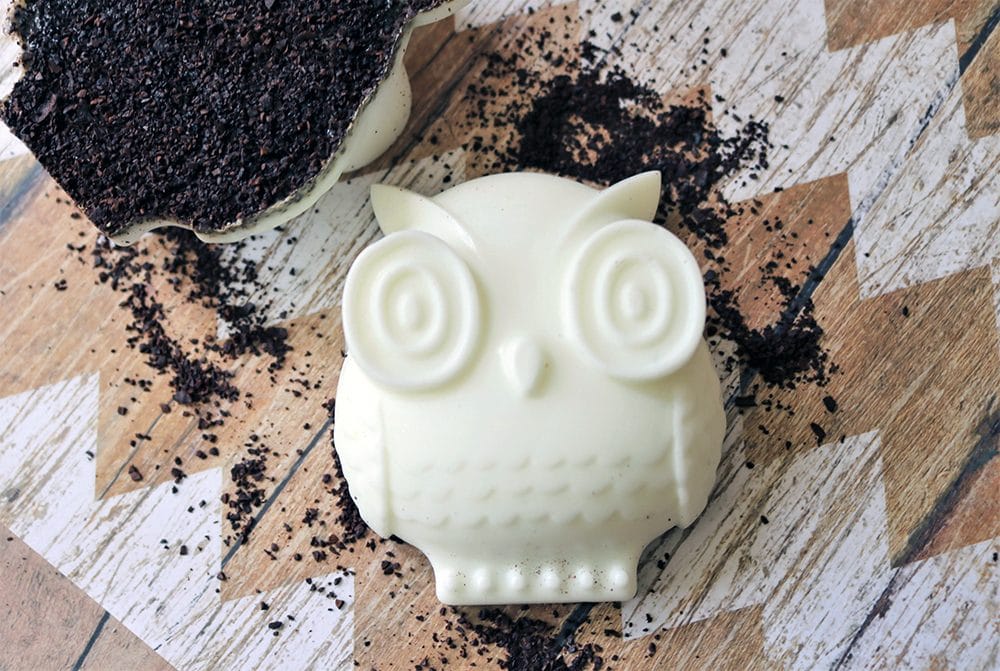 If you purchase a soap base in a suspension formula, it helps keep the ingredients spread throughout the soap instead of rising to one side.
Add a little sweet almond oil or jojoba oil to soften it and help nourish the skin.
Then, any of your favorite essential oils that go with the blend you plan to create.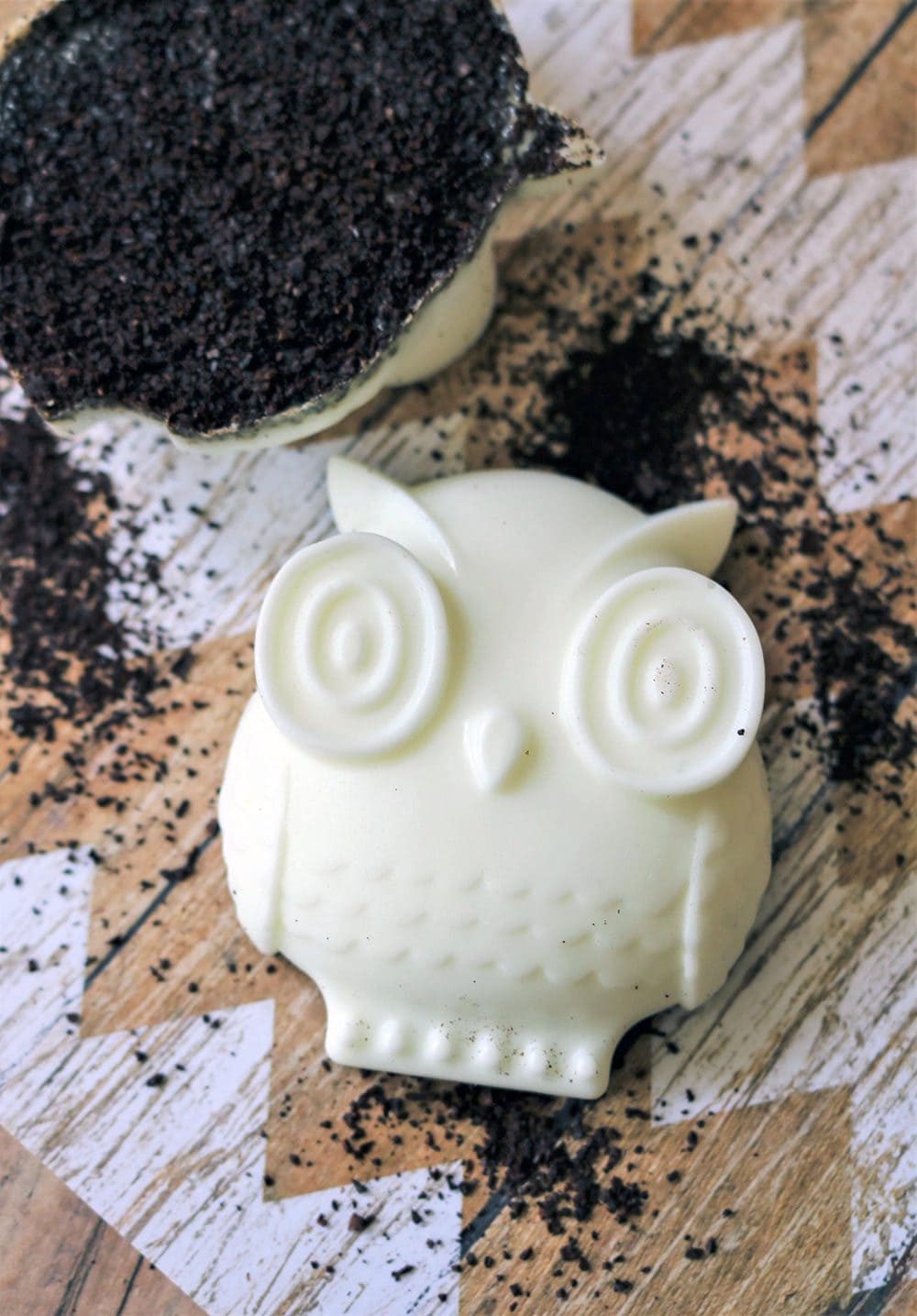 This shea butter soap with coffee, cardamom, and lime is for exfoliating and designed to help reduce the appearance of cellulite. As a bonus, it smells great and looks adorable.
Be sure to use fresh coffee grounds. Recycled grounds are too wet and can mold.
Coffee and the two essential oils – cardamom and lime – are commonly used for "cellulite busting," plus they smell amazing together.
Of course, this coffee soap recipe isn't an excuse to skip the gym, but an extra scrub down on our cellulite doesn't hurt, right?
Exfoliating Coffee Soap Recipe with Cardamom and Lime
Supplies Needed: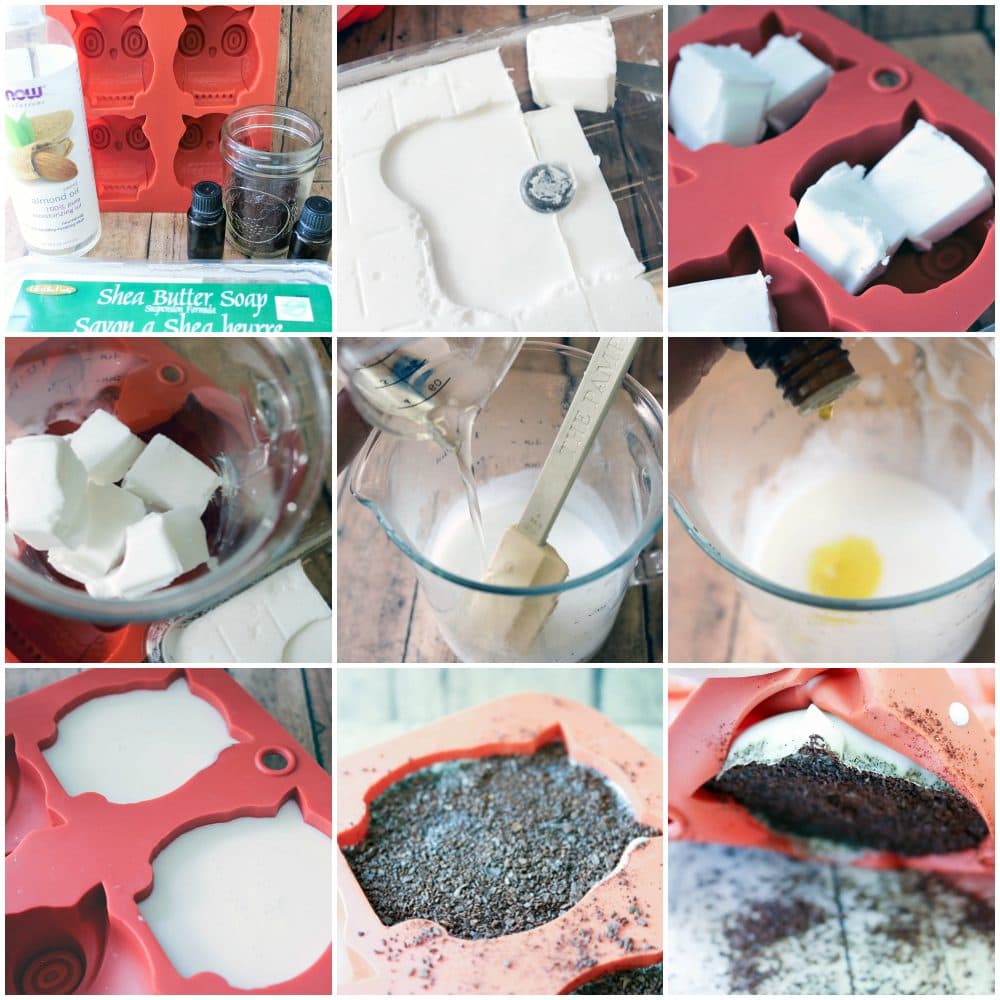 Directions:
Cut the soap into the amount of squares you need. They are pre-scored already in the package and fairly easy to cut with a sharp knife. I like to lay them on the molds to help me guesstimate how many I need each time because I use several sizes of the molds and each is a little different. It is better to add one more than you think you will need, to be safe, and every time they come out to be just about right.
Place the squares into a microwaveable glass measuring cup and microwave for 30 seconds.
Use a rubber spatula and stir the soap well to help melt any thick chunks that are still in it and to scrape any off the sides, and then put back in the microwave for 20 more seconds.
Measure out the almond oil and add to the soap, and then stir to blend well. Add in the essential oils one at a time. The cardamom is a thicker oil than the lime, but both can easily pour out faster than you may expect so be cautious. Stir the oils in thoroughly and then microwave for about 15 to 20 seconds. Get ready to pour into the molds.
Check the soap for any lumpiness and scrape the sides and bottom of the bowl well, and if it needs to go in microwave one last time to be sure it is all melted, go ahead and do another 15 seconds. It is better to be sure it's all melted than have lumps in it.
Slowly pour into the molds, leaving a slight space at the top to add on the coffee grounds.
Once you have it all poured, get a good pinch of coffee in your fingers, or use a small spoon and sprinkle it across the top of the soap bars until they are covered all the way across. Gently press the coffee down into the soap just enough to make the grounds stick, but not completely covering them.
Let the soap sit out at room temperature for an hour and a half, if you are doing the large bars, or closer to an hour for the smaller ones. Then check to see if they are totally cooled.
How long they will take depends on the thickness of the molds you used. Feel the bottom middle of the mold to check them. If it's still warm in the middle, give them a bit longer.
Once they are ready, carefully pop them out of the molds. They will come out easier than you may expect. Bend back one corner of the mold with one hand and press on the back center of the bar with the other and that should do it.
To store, use cute little bags with ties to secure, or put in a glass jar.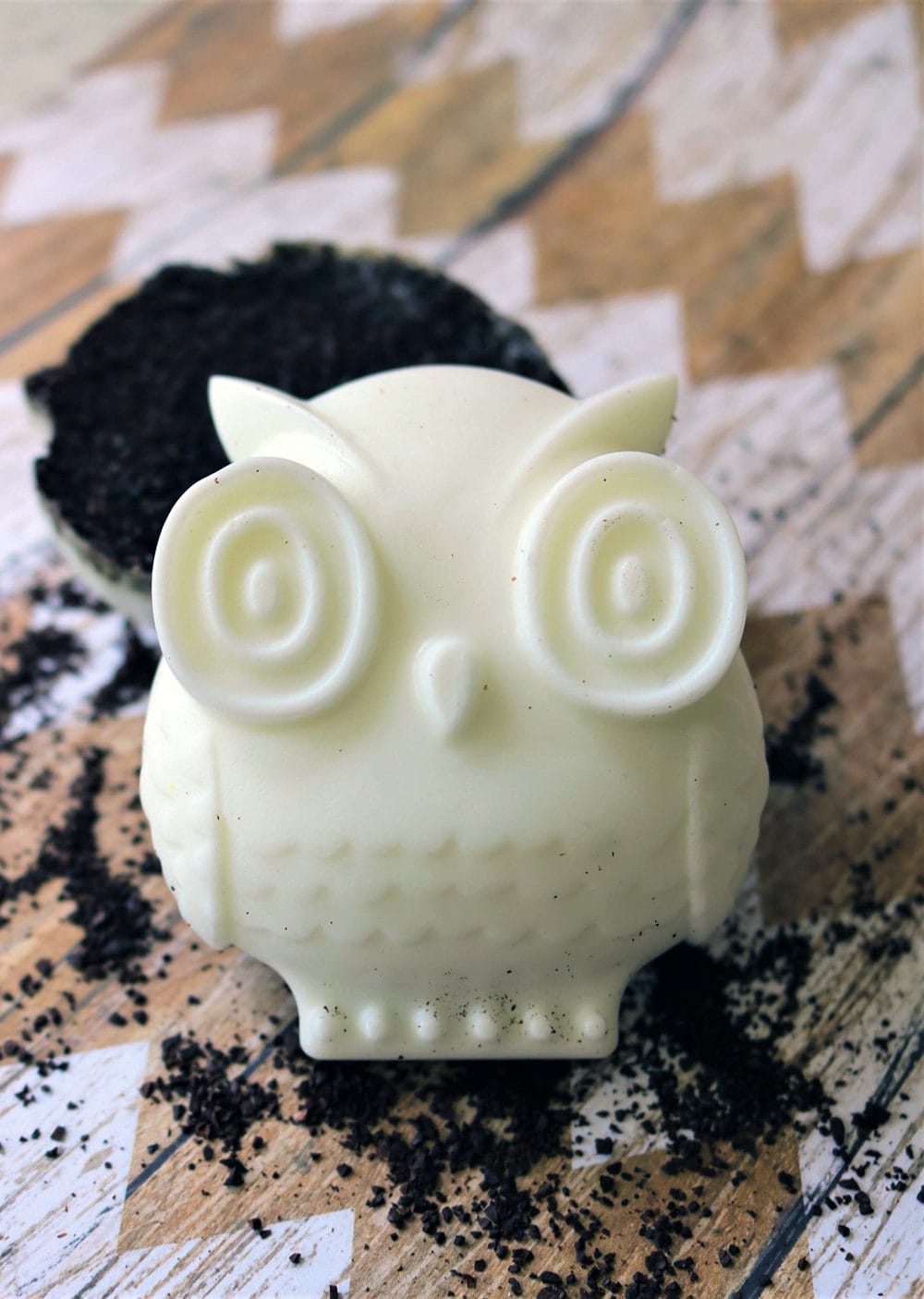 Do you think you would like this coffee soap recipe?