Spring is here! The icy Hell that was the winter of 2014 is on its way out, and that means it's time for Spring arts and crafts activities.
For a day filled with laughs and quality time, you can't beat making something with the kids. Post contains affiliate links, all opinions are my own.
Spring Arts and Crafts Activities for Kids of all Ages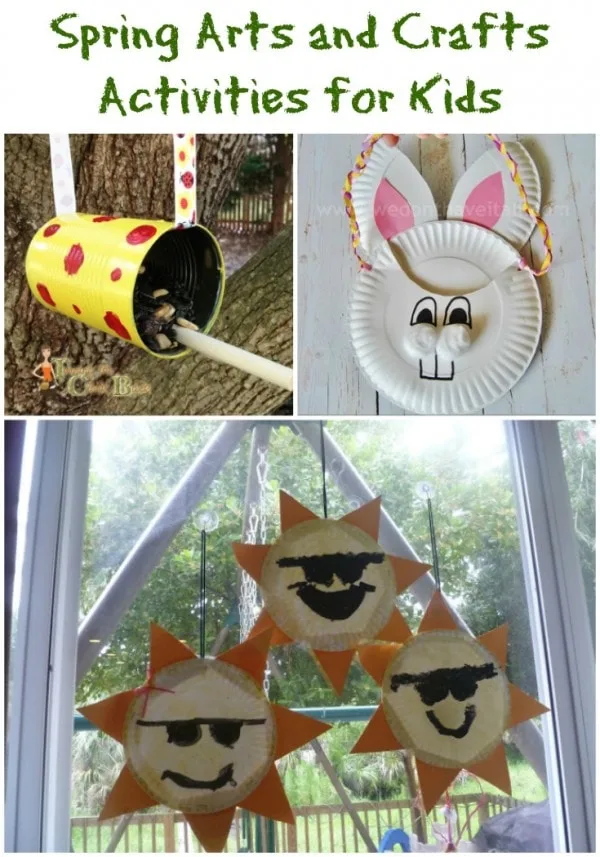 Paper Plate Anything
When it comes to getting crafty with the little ones, nothing beats paper plates. You can make anything from funny faces to big, fat chickens, to hand print art. It's simple, easy, and fun. It's all about imagination with this one. Do you want to make a bear face?
Get some construction paper, kid-safe scissors, and a glue stick. Feeling artsy? Get some kid-safe craft paint and sponges and go to town. It's all about creativity. Get some ideas from my blogger friends: Paper Plate Pilgrim, Easter Bunny, Soap Bubble Monster Mask, DIY Easter Basket, and Paper Plate Suns.
Bird Houses
Bird houses or bird feeders are a classic when it comes to Spring arts and crafts activities for kids. You can buy birdhouse kits online, or if you're feeling brave, you can use scrap wood to make your own.
Either route is super fun. I personally prefer birdhouse kits, because they come with everything you need to make the birdhouse. All you need after that is craft paint. Here's a great tin can bird feeder from Turning the Clock Back.
Disney Crafts for Kids – Beauty and the Beast Enchanted Rose Printable!
Painting a Room
I know painting sounds more like a home improvement project than arts and crafts, but hear me out. Do your kids have a playroom? After the dreary, gray winter, it might be fun to get some craft paint, sponges, and stencils and let the kids make the room more their speed.
You can get all sorts of cool stencils, and it's a ton of fun for kids to feel like they have a say in their areas.
Painting a Canvas
Paint by numbers is a great choice for Spring arts and crafts activities. What makes this so great is that there are paint by numbers kits out there for all ages.
They have simple kits for young kids all the way up to super intricate designs for adults. With all the variety out there, you'll always find a paint by number kit that your child will enjoy.
Moana Crafts and Recipes for the Best Movie Night!
Make Your Own Board Game
This is the ultimate in Spring arts and crafts activities. It's fun to make, and it's fun to play. Bust out the card stock and make a board. Make board tokens with decorated construction paper glued to craft sticks for a base. The possibilities are endless.
You can find all sorts of craft accessories online. They have everything from craft paint to beads to stencils and more. And you can use any or all of it to make the most awesome board game out there.
When it comes to Spring arts and crafts activities for kids, there's really no end to what you can do. That's why my list of 5 was so generic. I've found the best activities are the ones you make up as you go. Sure, they may not always be pretty, but they're always the most fun!