I am a huge fan of Pinterest, but instead of just pinning things, I try to make the things I see! I had seen some small succulent terrariums on Pinterest, and decided that might just be something I could handle. Thanks to The Succulent Source, I was outfitted with a variety of succulents for some DIY Christmas gifts.
DIY Christmas Gift – Succulent Terrarium
I write about my DIY home renovation and projects on my blog, but rarely do I venture into making things for my friends and family. This Christmas I decided I would try to make something small for some of the people on my list. Of course, I needed to find something that would pique the interest of multiple people on my list. These succulent terrariums are easy to care for and easy to make. To make mine I used mason jars that I already had sitting around the house, cactus potting soil and a mix of small rocks. Most of the items to make these could be found at a dollar store if you do not already have them. I also plan to attach a small tag with care instructions for the plants.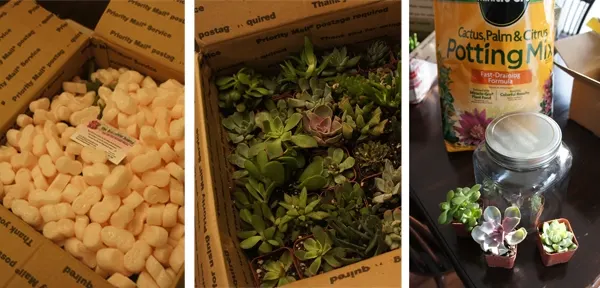 At The Succulent Source, you can find a beautiful variety of plants. Not having much experience with the plants, I was amazed at the variety of these cute little plants. Their versatility makes them even better because they do not require too much care. Mixing just a couple of the plants (I tried to do a short one with some color along with a taller one) in a small glass container provides color and texture. I even saw on The Succulent Source (and their new site SayIDoSucculents.com), you can buy succulents for your wedding. You can use them in floral arrangements or as a wedding favor. What a unique way to bring something living into the décor at your wedding! They even have cute buckets you can purchase along with the plants for an even easier wedding favor.

You can find succulents, cacti, and more at The Succulent Source website, and they have an etsy store (which had a ton of options for shapes, sizes, quantities, and more).
What's your favorite DIY Christmas gift to give or receive?