Tennis balls are of course great to play tennis with, but did you know that you can use them for so much more? Take a look below at seven creative uses for tennis balls that are sure to make your life a little easier.
Tennis balls are simple to find and easy to afford, so take a look at how you can put them to use in your own home.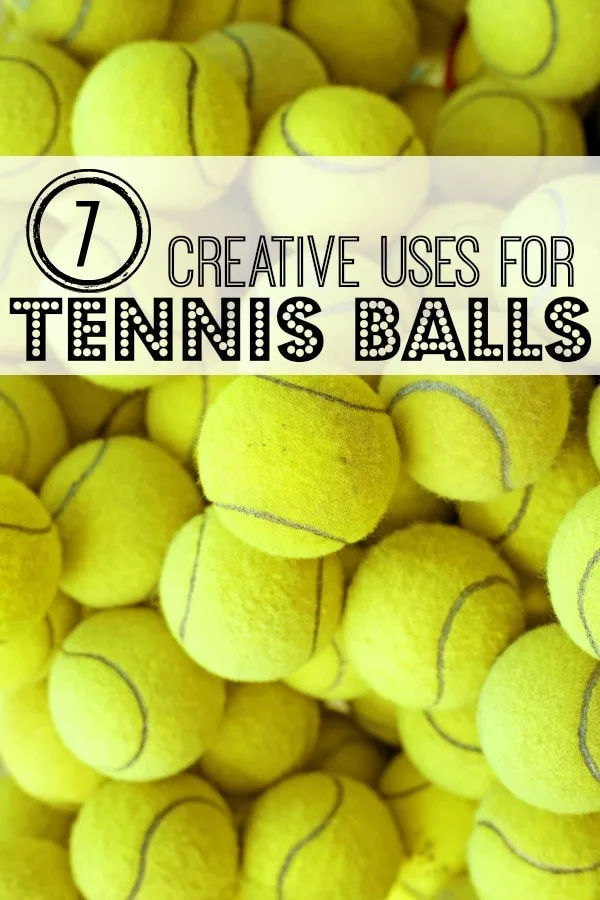 Uses for Tennis Balls Other Than Playing Tennis
1. Clean away spider webs and dust.

Want a cleaner home? Try using tennis balls. Keep the corners of your home clean with a tennis ball. Cut a slit in it and slide it over the end of a broom handle.

Use it to reach up into high and tight spaces and clean out the webs and dust that might be present.
2. Get softer clothes.

Tennis balls are perfect for helping you do laundry. You can use a few tennis balls in place of dryer sheets or wool dryer balls.

Just toss a few into your dryer and as they tumble about they will keep clothing soft and prevent any stiffness that tends to happen. This is a great way to get clothing soft while saving money on dryer sheets.
It's also helpful if you are trying to cut down on the chemicals you use in your home like I am.
3. Remove floor scuffs.

Tennis balls are perfect for removing floor scuffs. Simply buff them over the area where scuffs are present, and they will gently remove them without doing further damage.

Keep a tennis ball with your cleaning supplies for this use.
4. Make an easy back massager.

Have a sore spot you can't reach? Place a tennis ball in a tube sock. Then, tie the end closed, so the ball can't come loose. Simply toss the tube over your back while holding onto the end.

The ball will hit your back and offer some pressure as you do. Swing the ball over 8-10 times to apply pressure to your back where needed. It is the easiest way to get a back massage ever!
5. Park your car easily.

Do you hate pulling your car into the garage because you aren't sure about how much room you have? Hang a tennis ball from the ceiling and position it so it hits your windshield when it is time to stop. This way you don't tap the back of the garage.

Plus, the ball is gentle and won't damage your window. To attach the ball to the string, just make a knot in the string and a hole in the ball. Press the string in, and it should stay in place.
If my husband hadn't done this trick, I am quite confident that I would have plowed into the back of our garage with our big truck by now.
6. Keep windshield blades from sticking.

When it is icy out, tuck a tennis ball under each windshield to keep it from sticking to the glass. The ball is soft and will give a little, so you don't need to worry about overextending the wipers. When you are ready to drive off, just remove the balls and go.
7. Make hiding spots.

Slit a tennis ball open and use it to hide spare keys. To anyone else it will look like a ball, but a simple squeeze will reveal whatever is inside. Kids can also use this trick to hide coins, tokens, even their small toys such as Mochi Squishy Toys.
If you already have a tennis ball that's slit, the hiding spot hack is a great way to repurpose the ball.
8. Dog toys.
Bonus number 8! How did we forget our fur friends? Tennis balls make great toys for dogs. Play fetch in the yard or a park. The bright yellow ball provides hours of fun.
Of course, watch your dog carefully in case they are strong enough to bust the ball open. It might seem impossible, but our old German Shepherd could bite through a tennis ball in seconds.
Are you ready to put some tennis balls to use in your home? Give these creative uses for tennis balls a try and see how purposeful they can be.