DIY crystal soap that looks like gemstones is the first of, hopefully, many magical projects to come. I don't do a ton of DIY projects, so I am easily intimidated. However, I was forced challenged encouraged by my friend, Dawn at Cutefetti to do some magic-like creations.
I headed on over to Google and found this DIY gemstone soap tutorial. It seems a little advanced-level for me, but her video makes it looks easy enough. Well, here was my experience.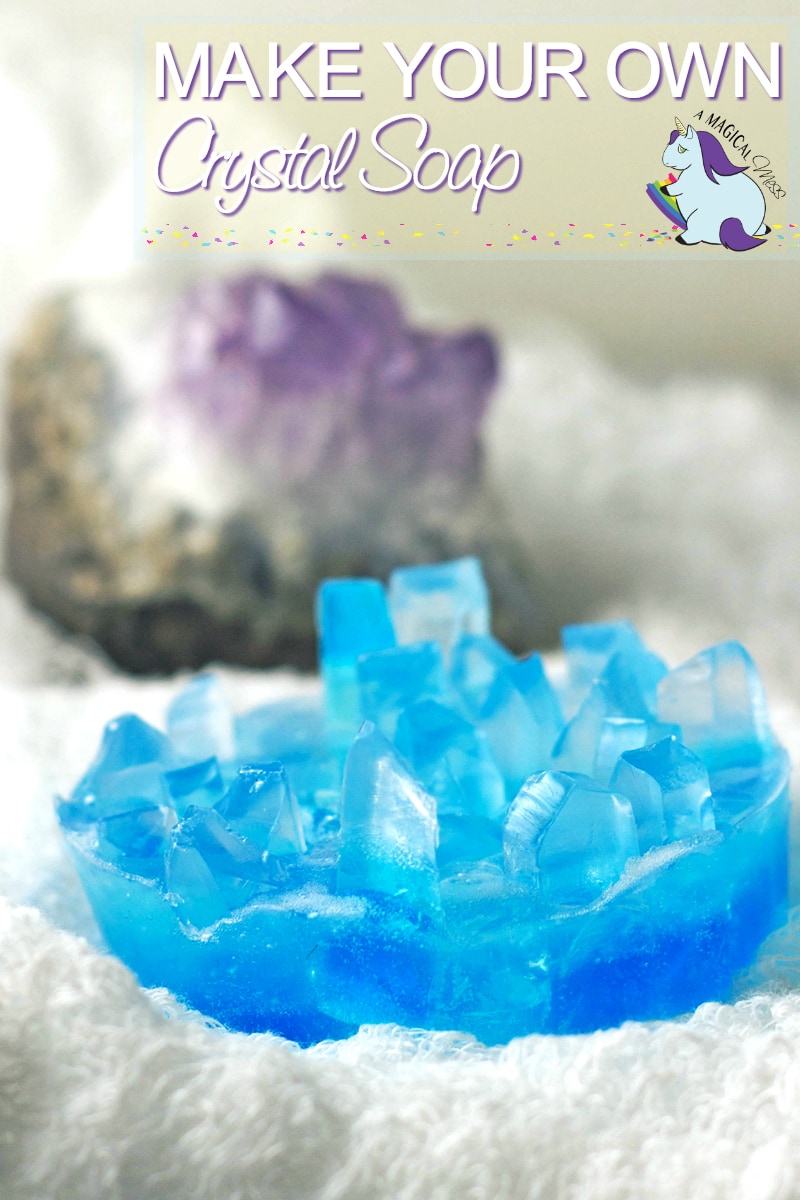 First off, I need to dig deep to find the patience for crafts. I try to tap into the therapeutic benefits of working to create something beautiful, but my mind likes to quickly shut that down.
Second, I did this away from home, so of course, I forgot a bunch of things I needed. For example, I didn't have a good tripod to create the video. But, I promised I was going to post all of this no matter how it turned out – magic or mess.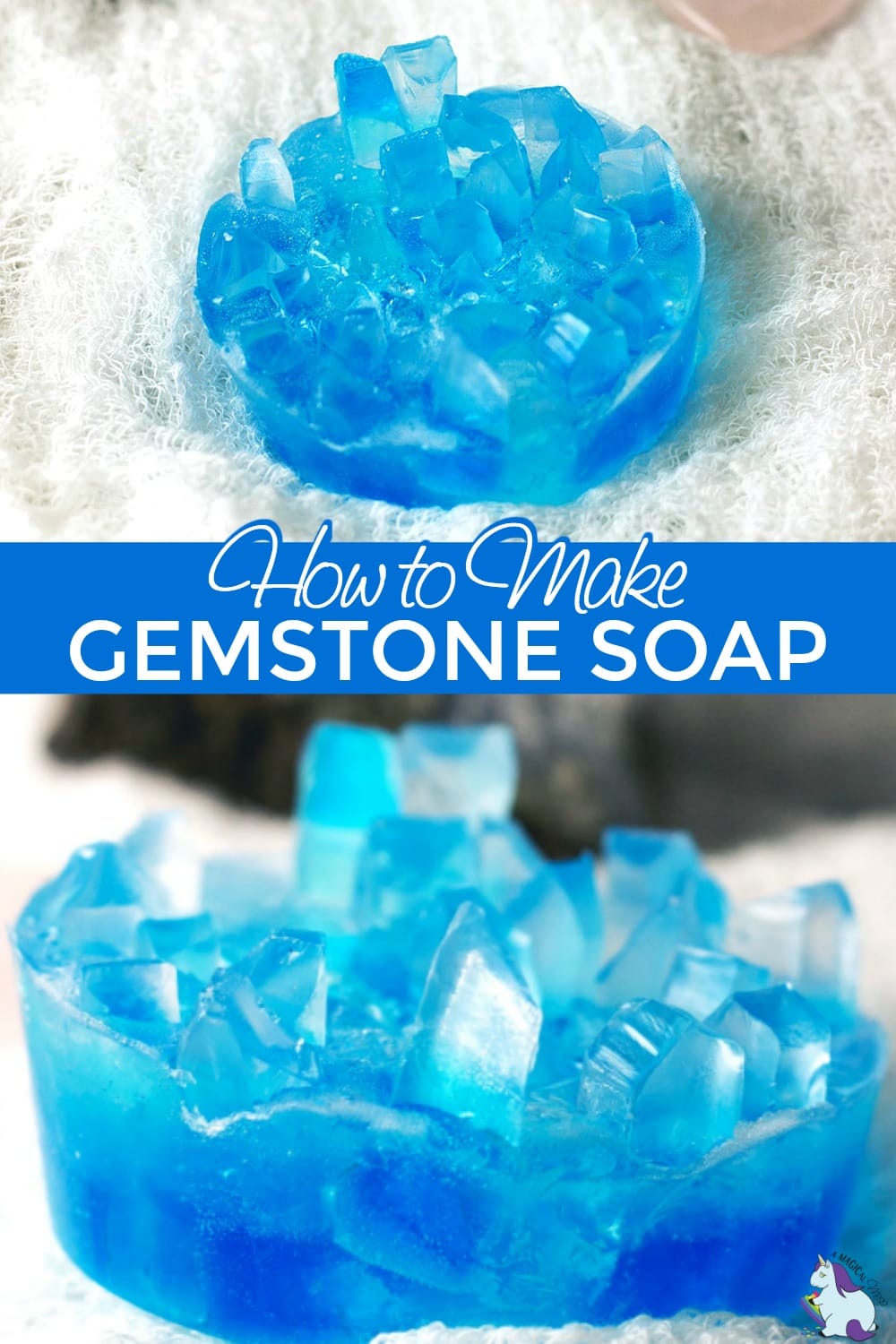 After I had finished the crystal soap, I have to say it wasn't difficult. It was a bit time-consuming, but that was partly my inexperience. I would love to do it again with other colors. I used soap coloring, but next time I will use food coloring for more vibrant colors.
Homemade crystal soap makes an excellent and unique gift idea for anyone, especially if they are into crystals and gemstones. Play around with colors and even add some luster for shine.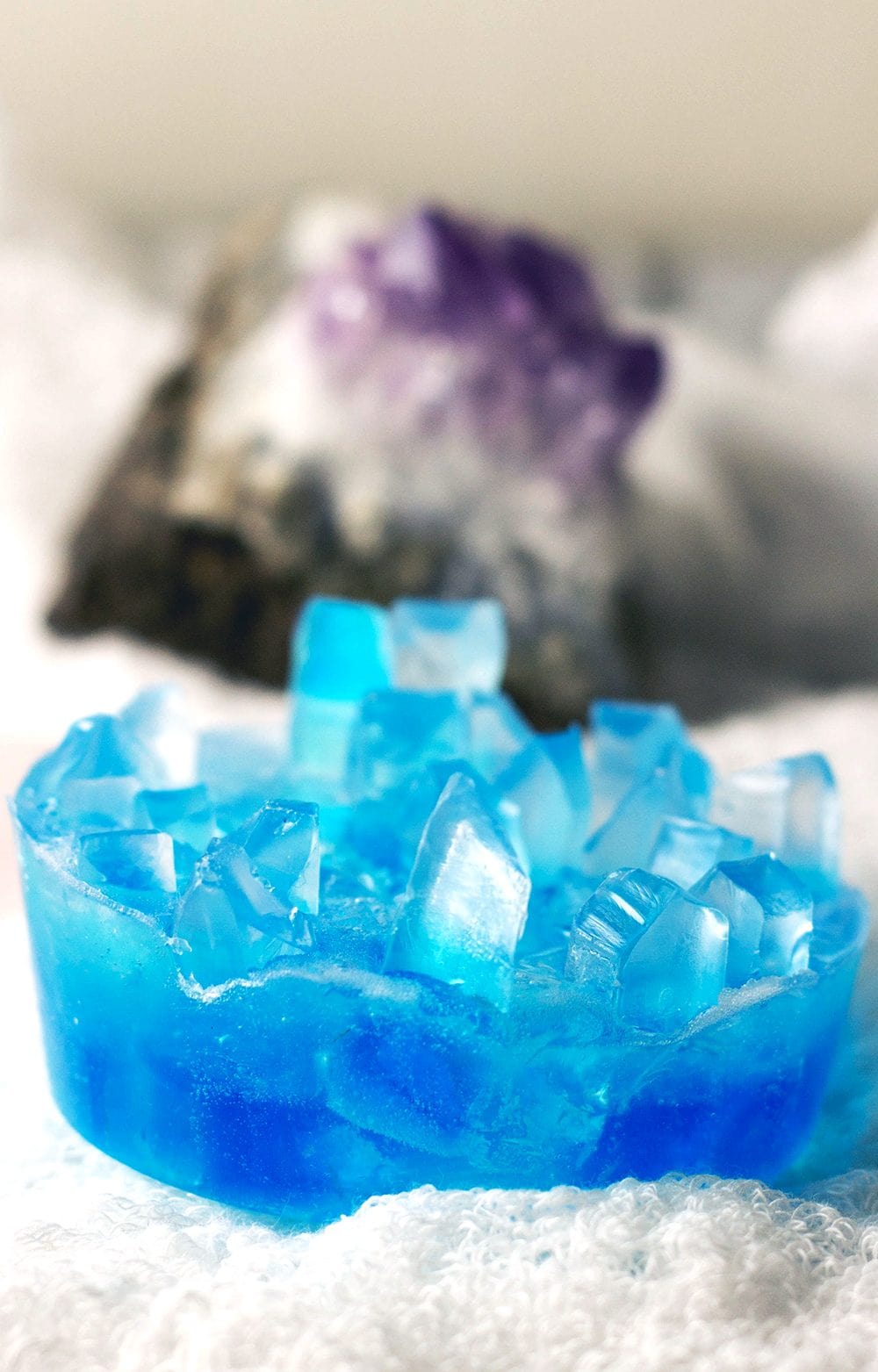 How to Make Crystal Soap that Looks Like Gemstones
What you need to make crystal soap
Soap or food coloring
Spray bottle of rubbing alcohol
How to make the crystals for the crystal soap
Carefully cut the block of transparent glycerin into chunks with a sharp knife.
Put pieces into a microwave-safe bowl and heat. Keep an eye on it since it only takes seconds.
Pour a thin layer into your mold, and leave the rest of the liquid in the bowl.
Let the soap harden and cool in the mold.
Texturize the surface of the hardened layer by lightly scratching with a fork. This helps the layers stick together.
Reheat the bowl with the glycerin since it's probably started to thicken at this point.
Stir in your choice of essential oils and food coloring. This will be your second layer, so don't make it too dark.
Spray rubbing alcohol on the first layer before pouring the second layer.
Pour the second layer and let harden.
Reheat the leftover soap again if needed. Add more coloring to deepen the color. This is your third and darkest layer.
Scratch the surface of the second layer and spray with alcohol before pouring the third layer.
Allow to cool completely before popping out of the mold.
Take your three-layer soap creation and cut it into slices.
Cut the clear ends at an angle to create triangle shapes.
Slice into smaller pieces that start to resemble crystals.
Continue cutting to shape your crystals into unique pieces.
Save all of the tiny soap scraps. Cut them into even smaller pieces.

How to create crystal cluster soap that looks like gemstones
Take more chunks of the clear glycerin and heat it.
Pour a thin layer into the mold.
Quickly add in the tiny scrap pieces of soap first.
Add the crystal pieces before the soap hardens.
Let everything cool and harden completely before removing from the mold.
This is where I lack artistic ability. I freaked out when the pieces fell down in the mold when, really, this is not something you want to look perfect. If you see a real gemstone, the stones are jutting out every which way. So, add the pieces in however you like. If some fall, it's meant to be.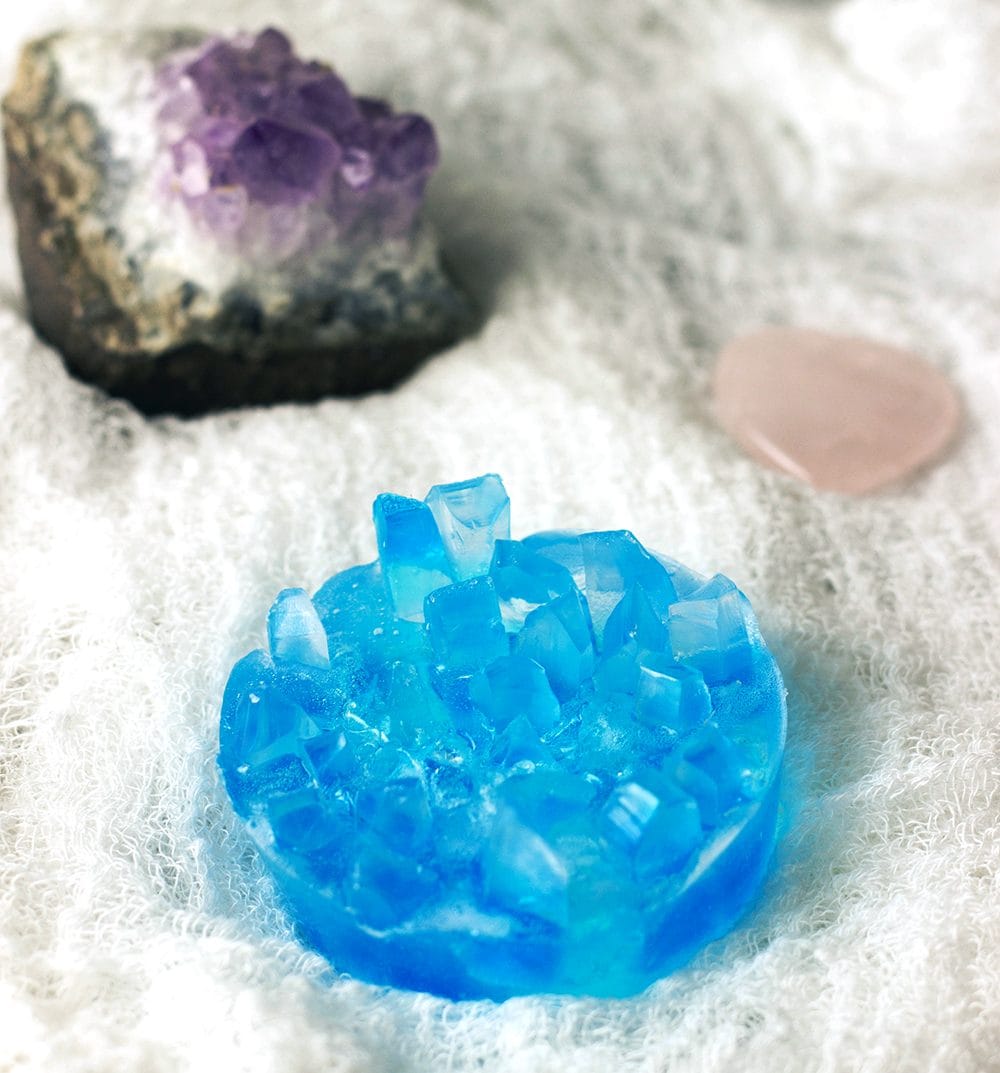 If you are gifting the soap, consider brushing it with a little luster dust. It will wash away quickly but looks nice for gifting.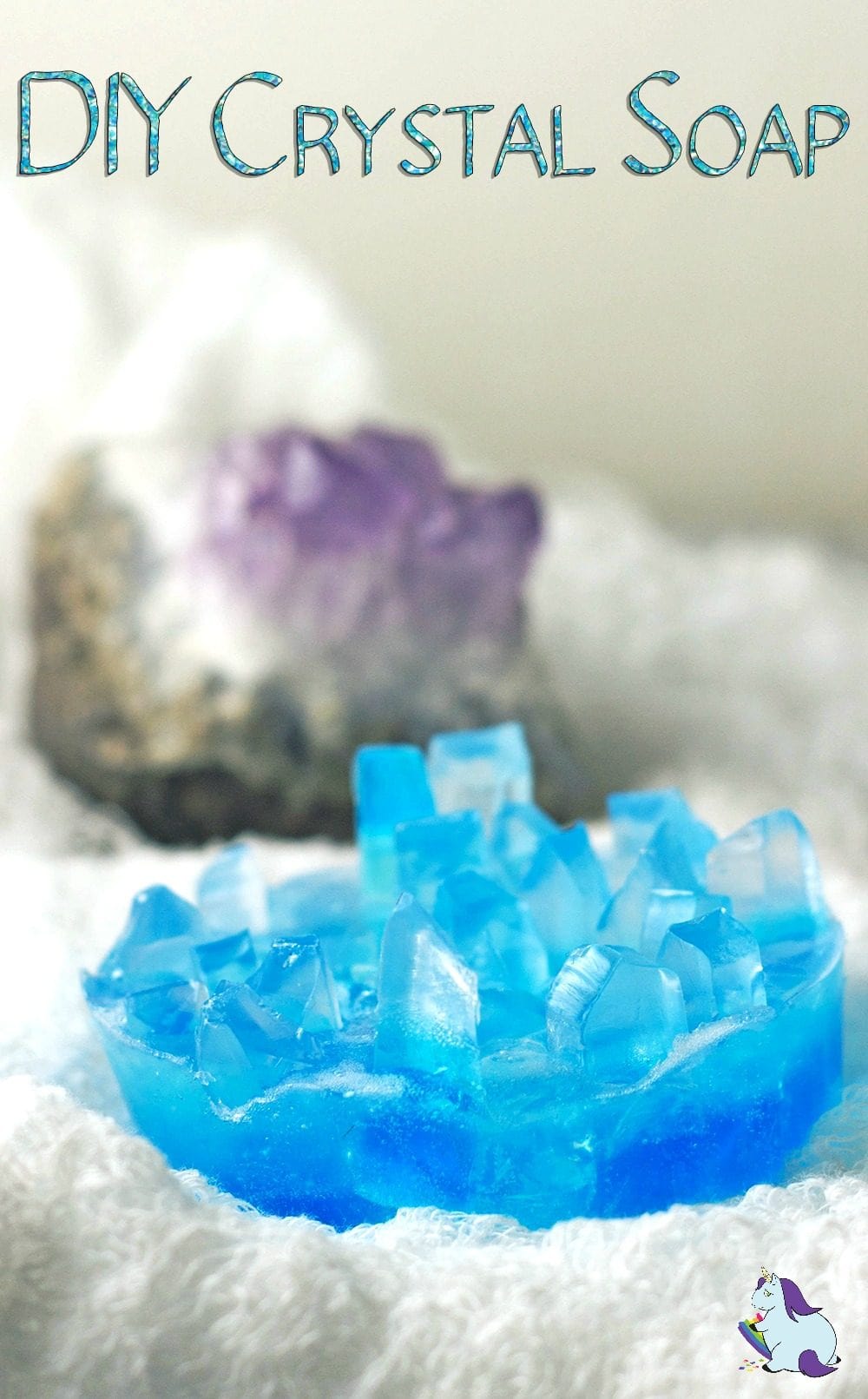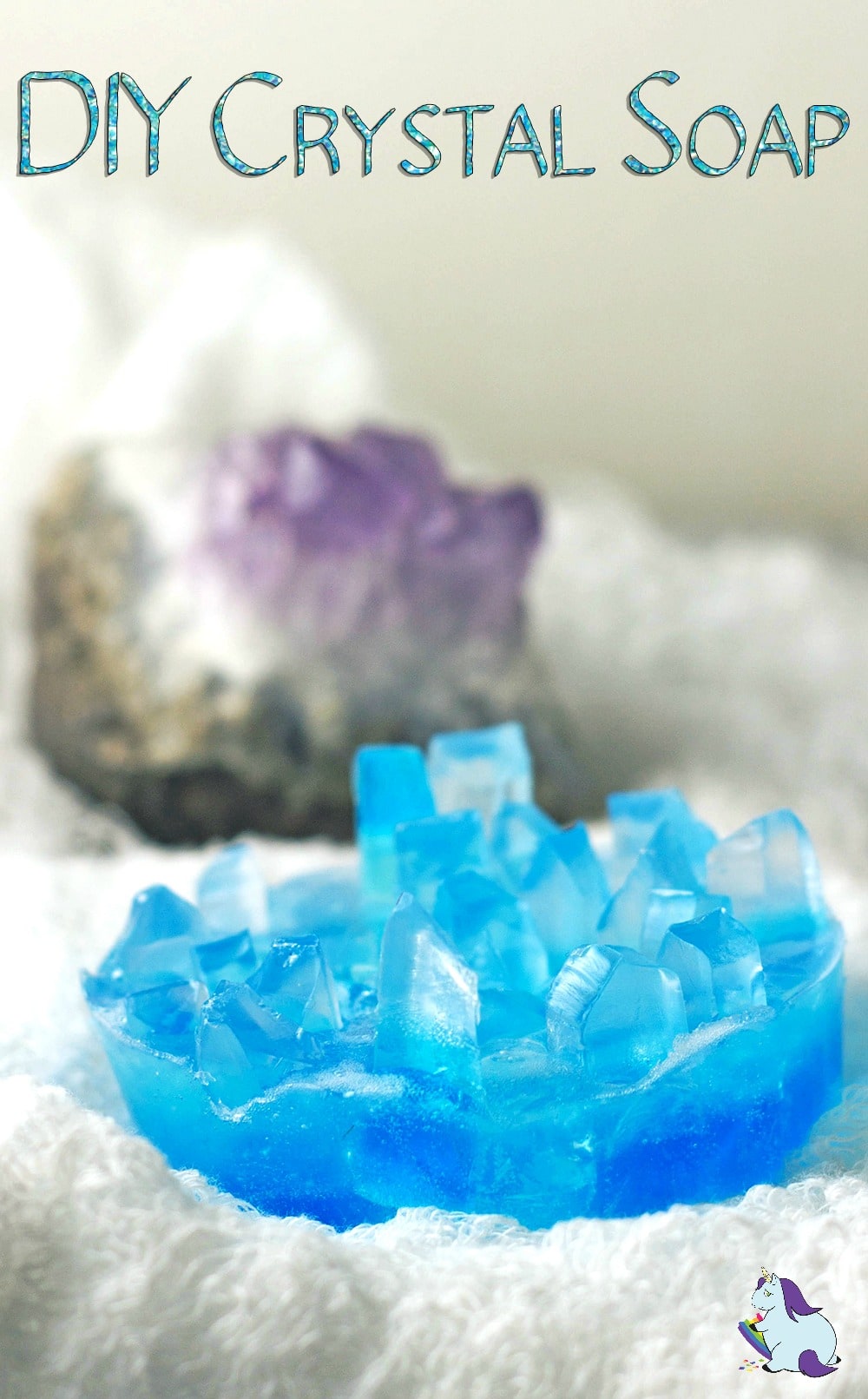 More DIY Bath & Body Projects to Make:
So, I guess my color looks like aquamarine. What kind of DIY crystal soap would you like to make?