Sacrifice nothing! I cannot believe how luxurious this vehicle is with a price tag under $25,000. (Model shown MSRP: $24,086.00) This 2017 Toyota Corolla XLE has all the bells and whistles, rides smooth, and looks like it would have a hefty sticker. I was given this car for a couple of weeks to facilitate this 2017 Toyota Corolla review. All thoughts and opinions shared are entirely my own.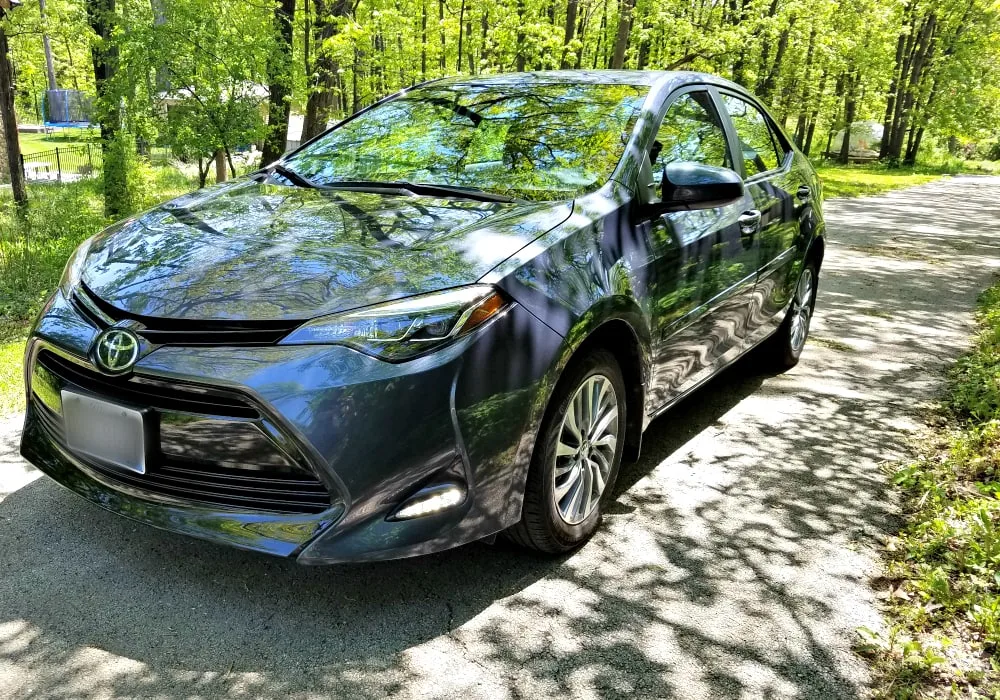 2017 Toyota Corolla Review
My first car was a Toyota, and I've been kind of partial to the brand ever since. My experience has always been great, and the quality in Toyota vehicles has never been anything but top notch solid construction.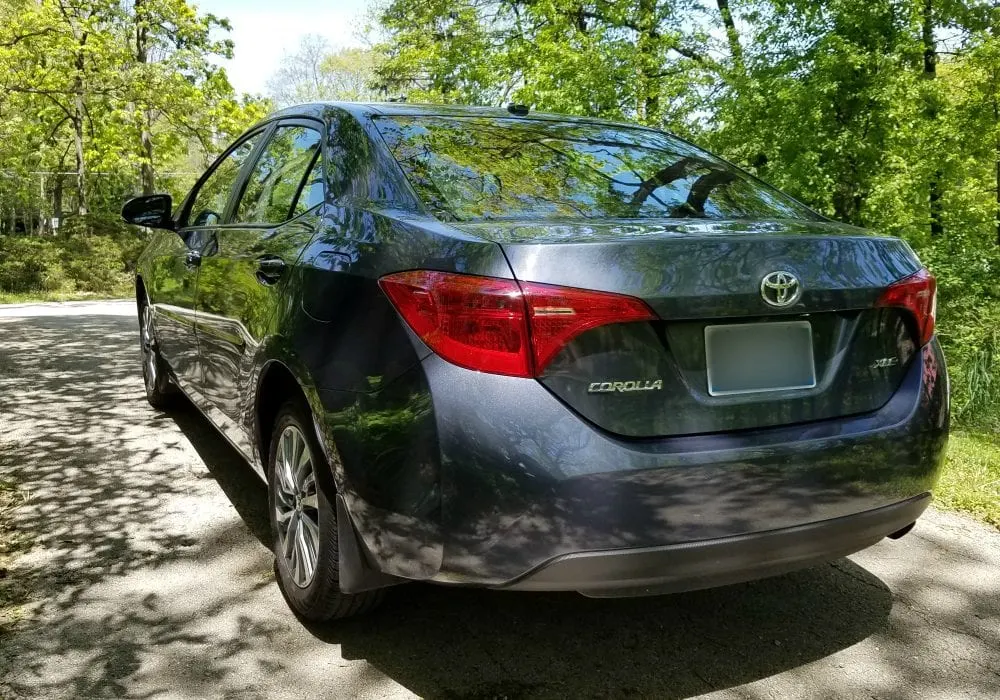 Fave Luxury Features
Let's just acknowledge right now the appearance of this car. It's not screaming for attention, but classy and elegant. The moment you sit in the driver's seat, that's exactly how you feel–chic and dignified.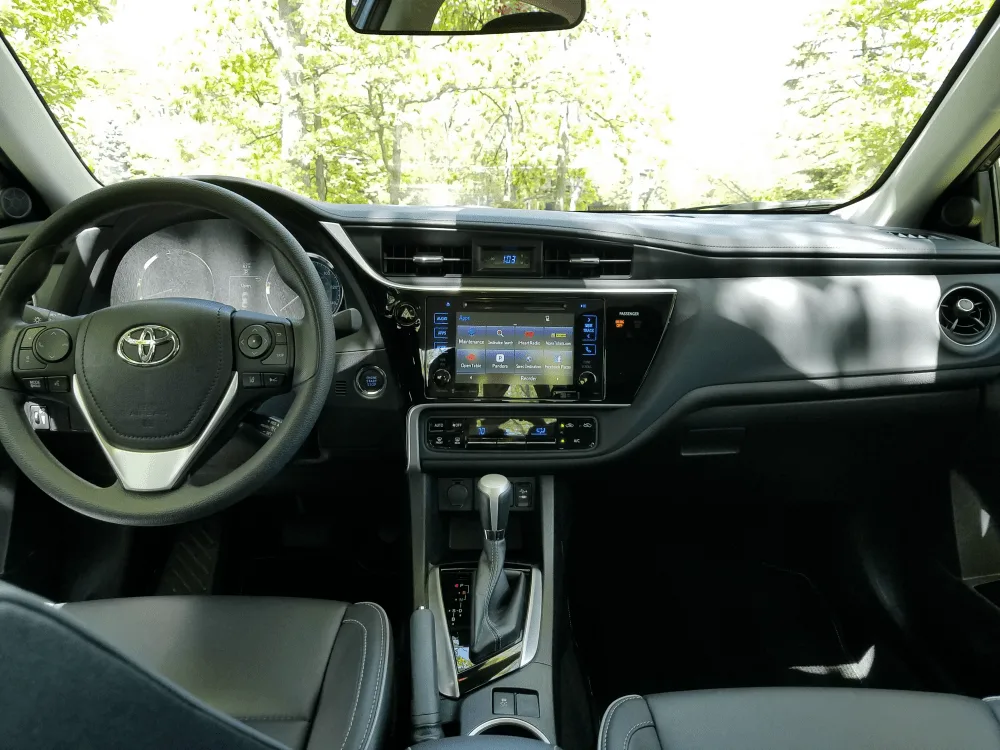 This 2017 Toyota Corolla XLE is equipped with:
Safety features
Pre-collision System with Pedestrian Detection
Dynamic Radar Cruise Control
Lane Departure Alert with Steering Assist
Brake Assist and Smart Stop Technology
6 Airbags
LATCH (for car seats)
Whiplash-injury Lessening Front Seats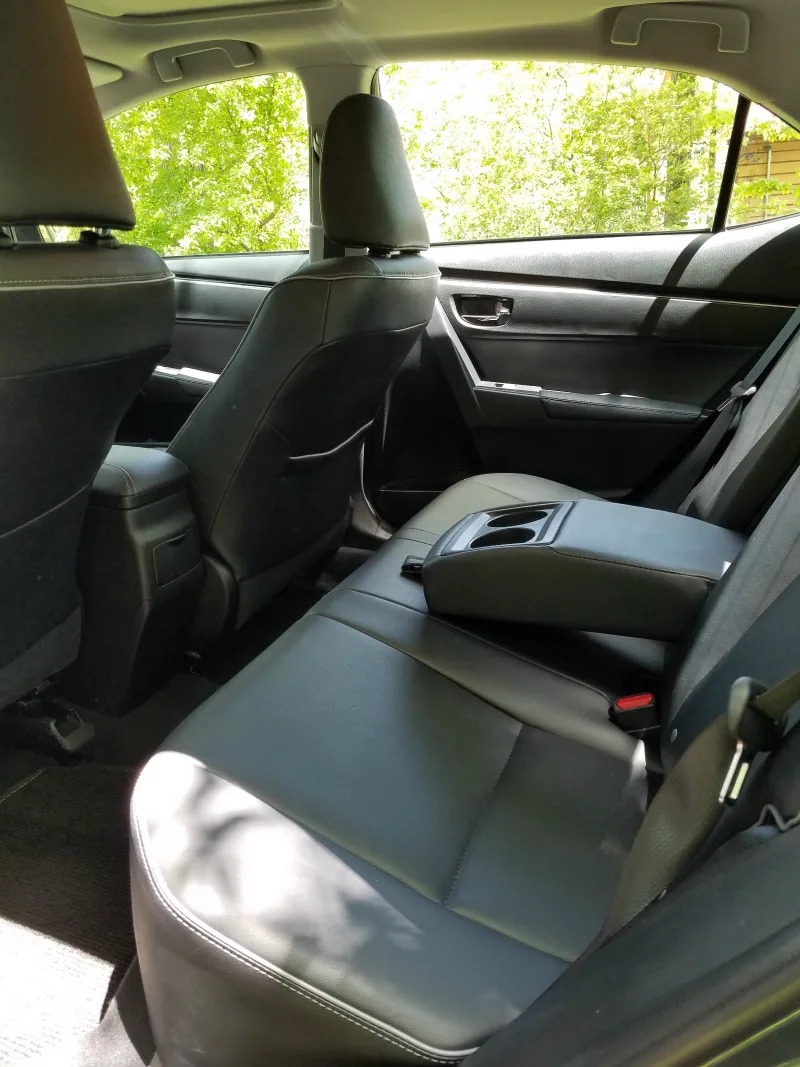 Power Tilt/Slide Moonroof
Heated Power Outside Mirrors
Heated Front Seats
Entune Premium Audio with Integrated Navigation and App Suite
7-inch High-Resolution Display
Auto Climate Control with Pollen Filter
USB port
10 cup holders
So much more…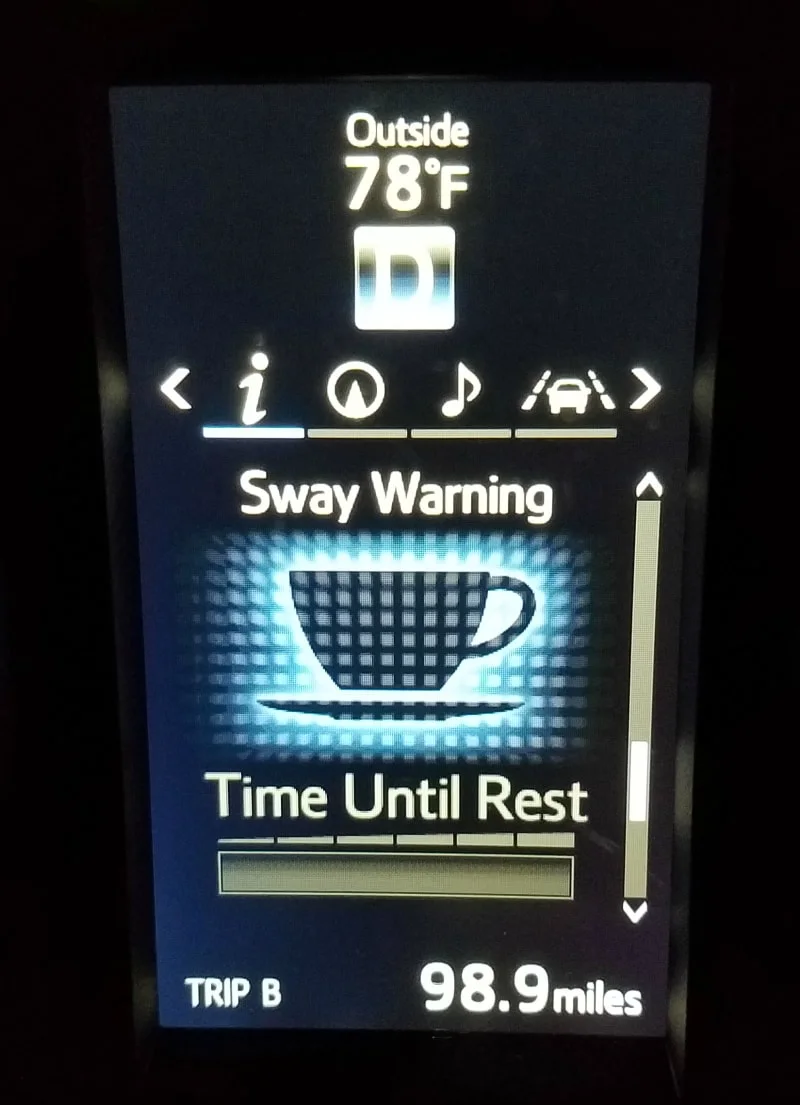 The Safety Sense System will even warn you if you start to nod off. If it senses you swaying in your lane, you'll get an audible alert and a coffee cup icon suggesting you take a coffee break.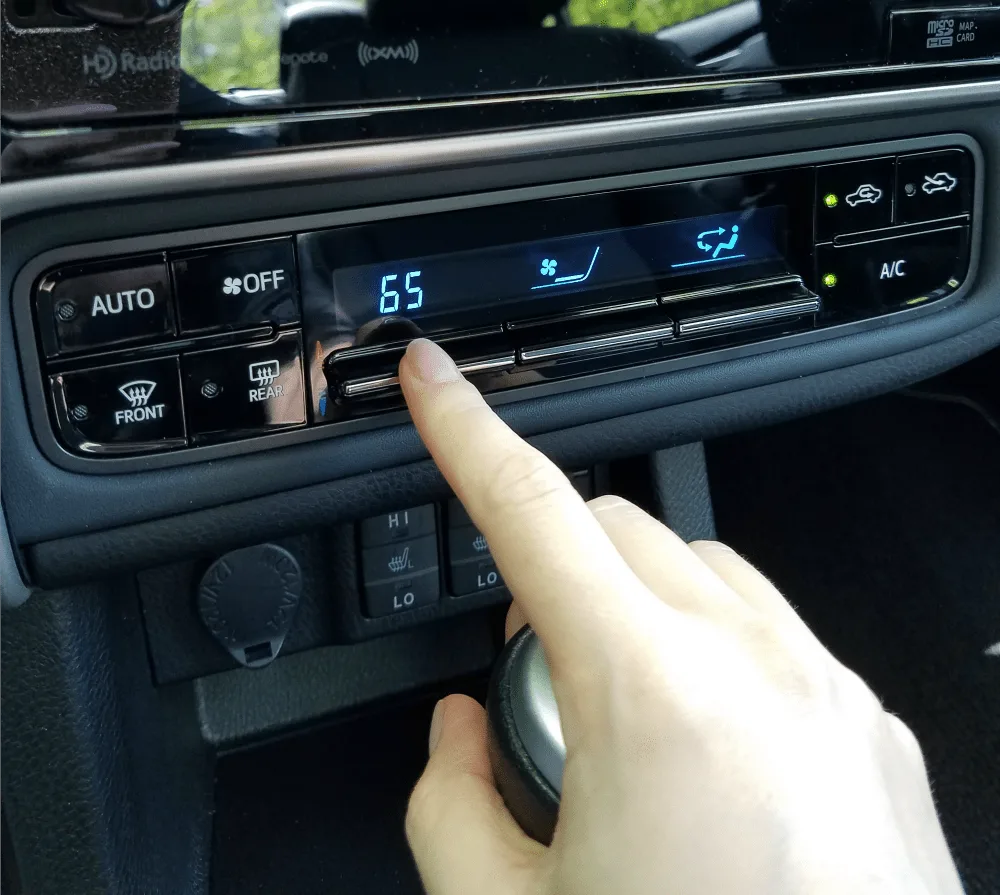 It's always the little things that make me the happiest. I love the climate control buttons. They're flat and easy to push up or down.
Human Cargo Comfort
There is a lot of room for humans and groceries. A tall friend of mine, he's 6'5, sat in the front passenger seat and adjusted the seat until he was comfortable. Meanwhile, my 5'4 daughter was sitting behind him and still had plenty of leg room.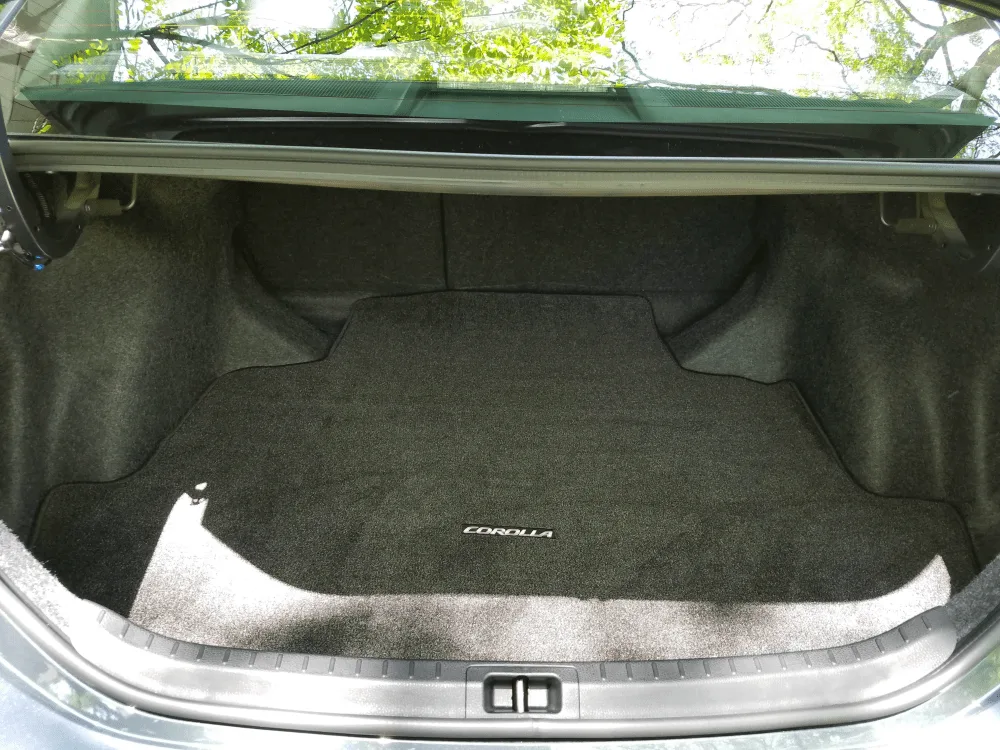 The trunk is as big as can be and the back seats can fold down if needed for more room. The spare tire is within easy reach under the trunk mat.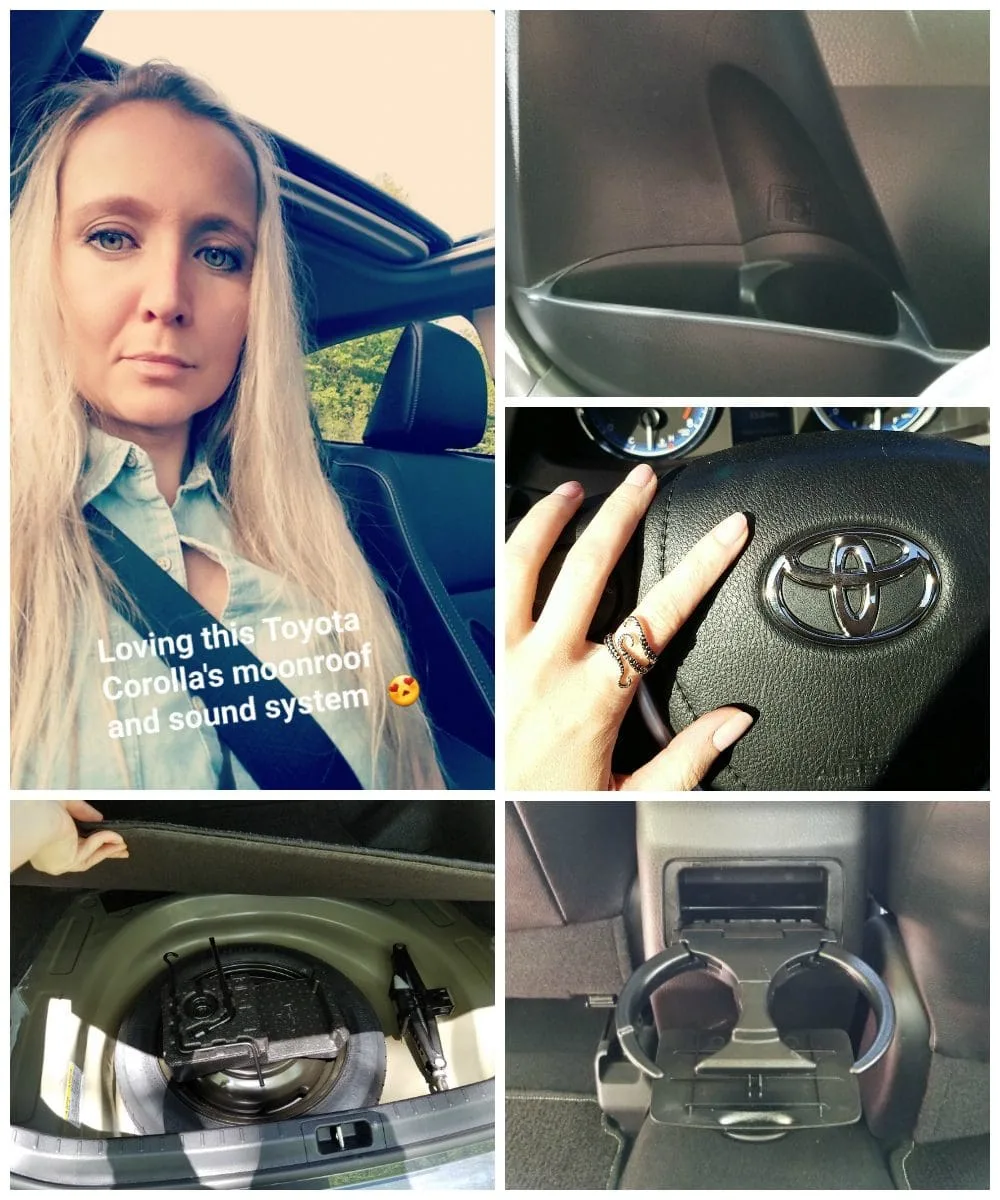 Jumping for Joy at the Gas Pump
I drove all over the place and had to stop for gas. I figured I'd just throw $20 in there and that would get me to the city and back. I'm used to my truck–which, let me tell you–$20 barely registers on the gas tank meter. In the 2017 Toyota Corolla? It was just shy of a full tank! I was floored. I was in high school the last time it cost so little to fill a tank. This baby gets an average of 32 miles per gallon. (28 city/36 highway.)
After almost two full weeks with this Corolla, I was genuinely sad to see her go. Build your own here!
Check all the other Toyota vehicles we've reviewed:
2017 Toyota Sienna
2017 Toyota Camry XLE
2016 Toyota Highlander XLE
2016 Toyota Avalon Touring
2015 Toyota Camry Hybrid