Hammock-ing is one of my all-time favorite activities. Outdoors, indoors, high in the trees, on the beach–I keep a travel hammock in my truck for such opportunities. I read, work on my laptop, or take some of the best naps of my life in my hammocks.
It suddenly dawned on me that the only one of our family members not hammock-ing is Stewie. So, I went in search for the best hammock for cats. I was sent this cat hammock bed free of charge to facilitate this post. Everything here is based solely on our experience.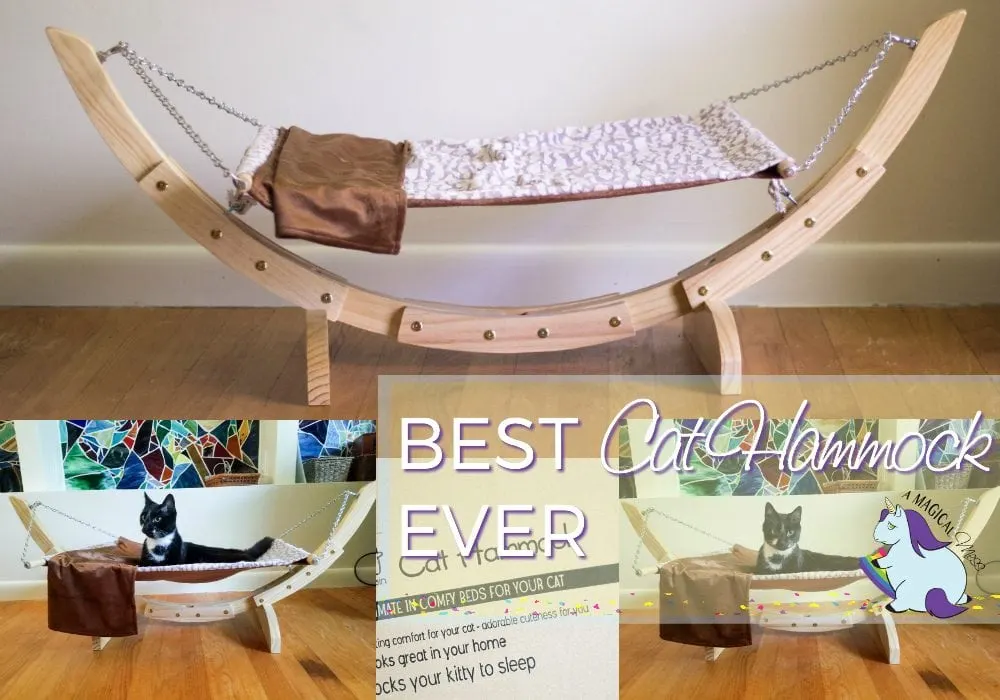 Best Hammock for Cats
When shopping for hammocks for cats, there is a lot to consider. How much room do you have? How skittish is your cat? Will this be outside or inside? How much do you want to spend?
This luxury cat hammock with wood stand from Pet Magasin is high quality, adorable, and affordable. It took me about 15 minutes to assemble and about a day and a half for Stewie to fall in love with it.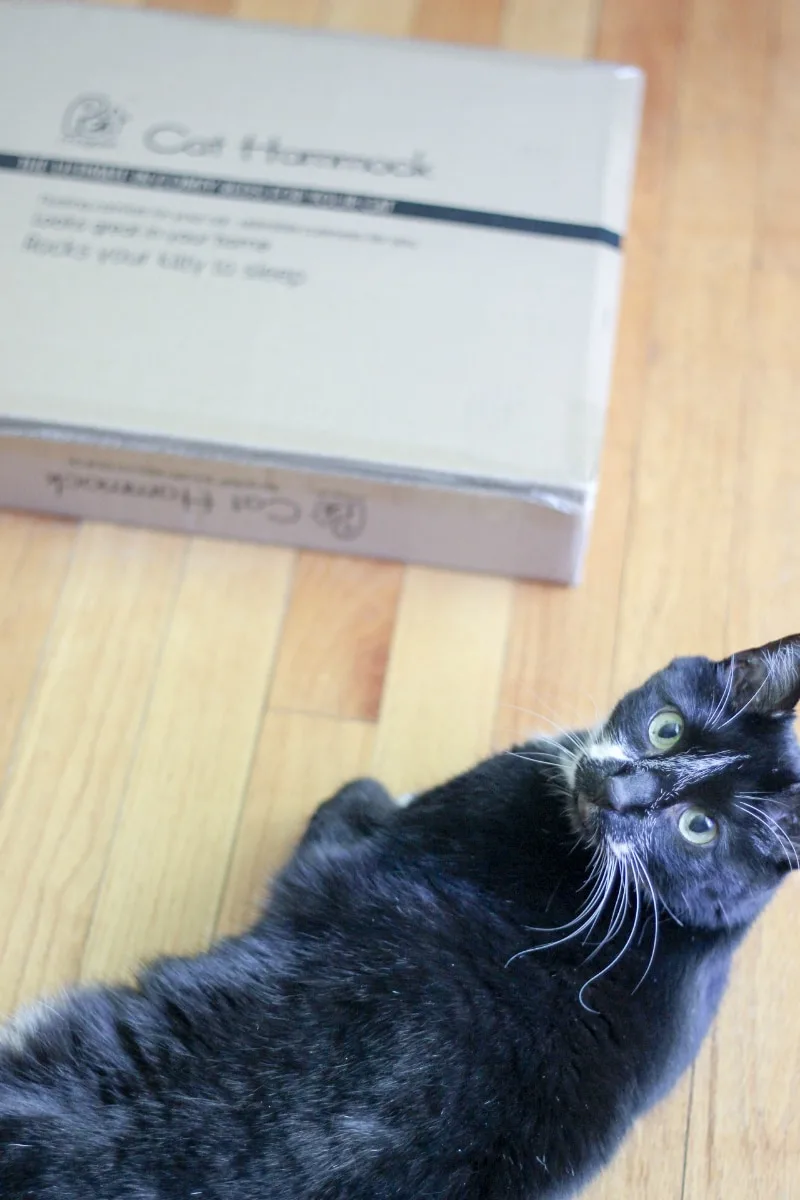 How to Get Your Cat to Love this Hammock
There's nothing worse than buying and assembling something like this, and your cat hates it. This hammock for a cat is designed for even the scardiest of cats. Here's what I did: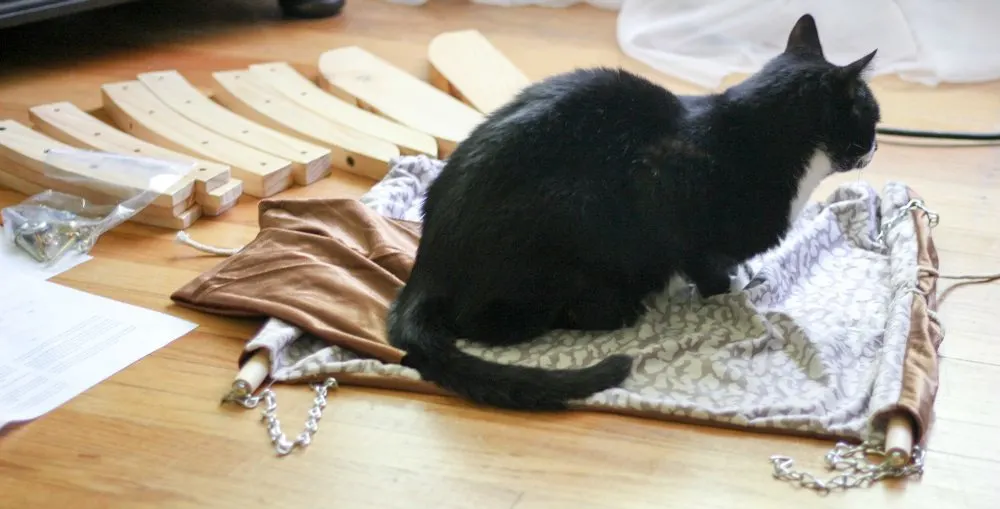 Stewie was allowed to lay on the hammock before it was assembled. In typical cat fashion, as soon as I laid it on the floor he plastered his body to it. This gave him the opportunity to get his scent on the fabric and get comfortable with the new material.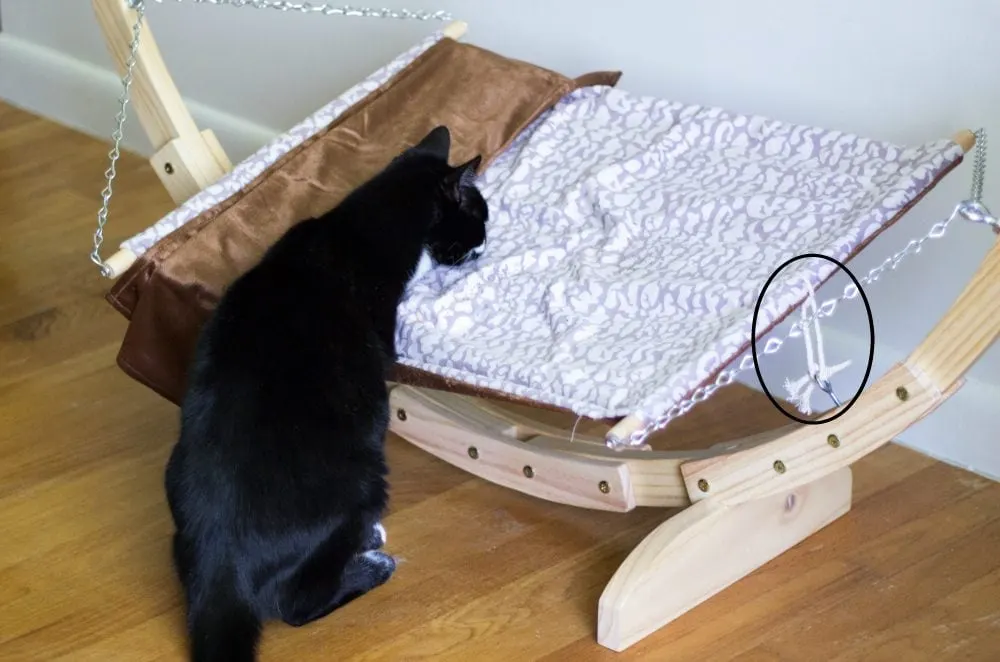 After assembling this hammock for cats, I put some of his favorite treats on the hammock. (Note: I hadn't tied the stabilizing strings very tight yet.) I just wanted Stewie to associate this new bed with happiness.
Later, we tried to get him on it, and it was a bit too wobbly for him, and he'd just jump right off. So, I tied the stabilizing strings (circled in the photo above) on each side really tight. This way the hammock barely moves at all.
I sprayed a bit of Feliway Spray (one of the best cat calming products out there) on the hammock and let Stewie investigate on his terms.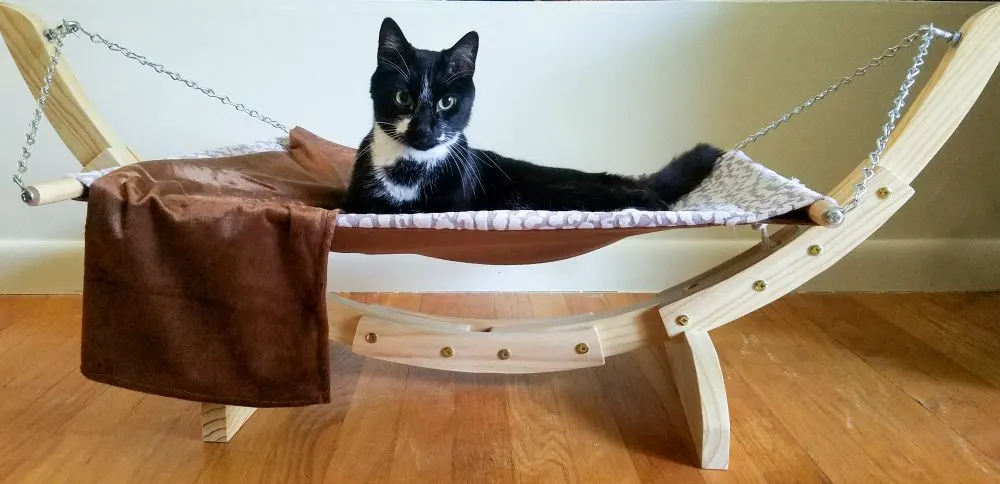 A couple of hours later–and with the strings tied super tight to prevent wobbling–I put Stewie in the hammock while continuously petting him and encouraging him to lay down.
Stewie is a super affectionate cat and loves to be pet, so it only took a minute before he was so into his massage that he forgot he was even in the hammock. Viola! He laid there for about 45 minutes totally relaxed.
We did this a couple more times, and he now gets in his luxury hammock bed all by himself. Right now we have it in the living room but plan to put it on the back screened-in porch to let him enjoy the fresh air and the sun.
He's definitely one spoiled cat, but he deserves it after what he's been through.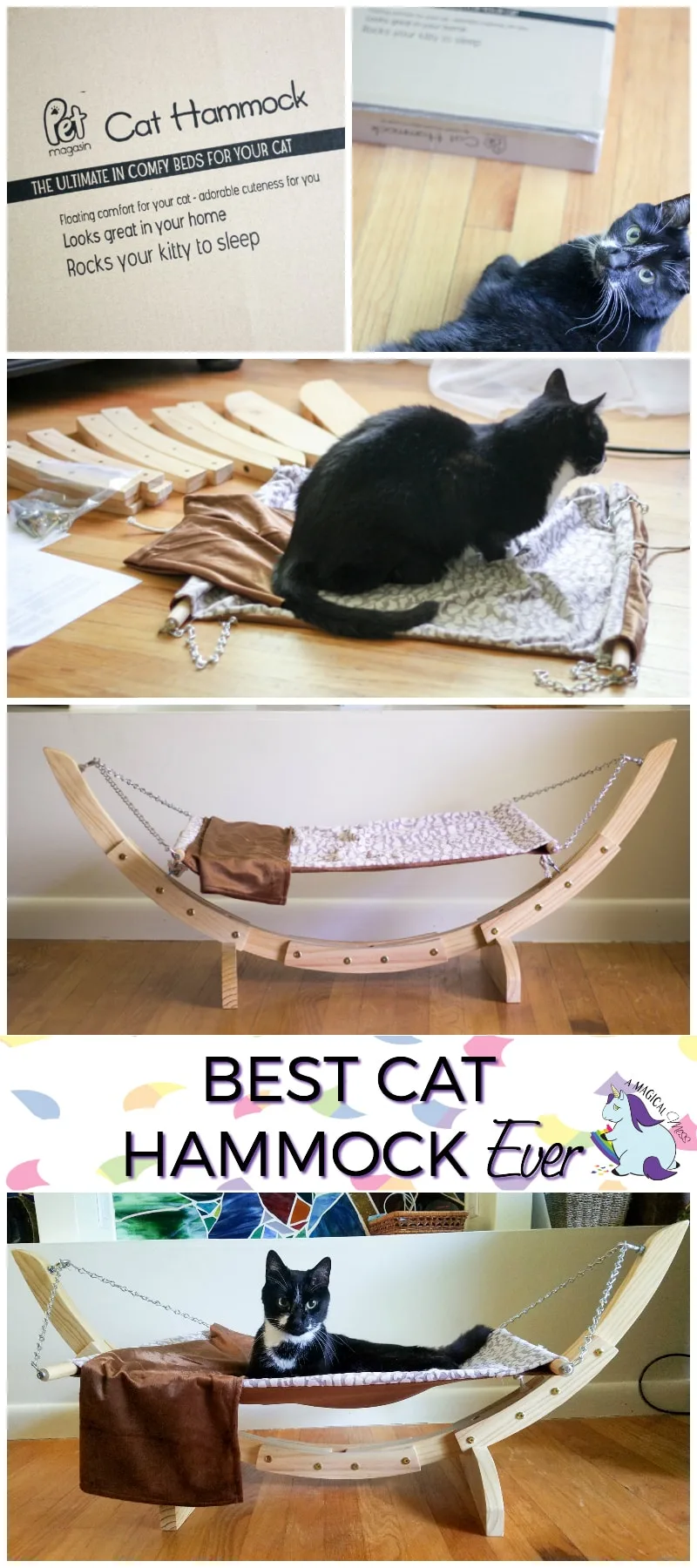 Cat Hammock COUPON CODE
This luxury cat hammock is already on sale on Amazon and Pet Magasin, but you can also save an additional 30% off that! Just use code: 5F2WSQO4 on either site.
Have you ever gotten your cat a hammock?