With a whole new show including a revamped castle, feast, musical scores, lights, effects and performances this night is one to remember. I was absolutely honored to be invited to a VIP night at the Chicago-land Castle where we were treated like royalty. This kind of family fun is hard to describe–it's exciting, exhilarating, emotional and completely entertaining.
Family Fun at Medieval Times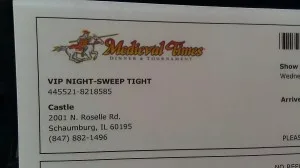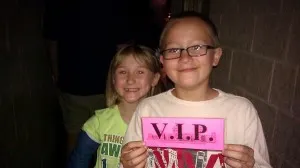 We began our evening touring the castle. We went through the dungeon and learned about all sorts of awful torture methods from the past. The kids loved seeing all the strange devices and hearing the gory details of how they were used.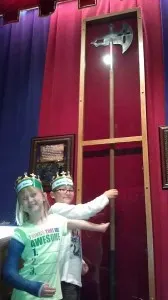 The entire staff was so friendly. The kids even got to hold a real sword!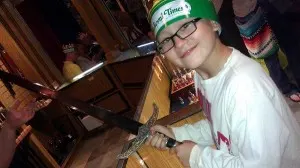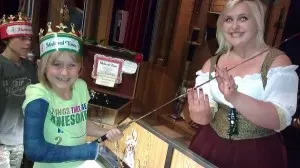 The ambiance was incredible from the moment we entered our seats.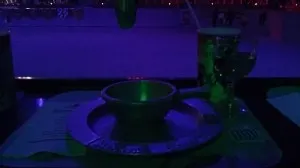 Then, the show began. The lights were amazing and the music was so dramatic everyone was anticipating what was going to happen. The most beautiful and talented horses I have ever seen captivated the entire audience.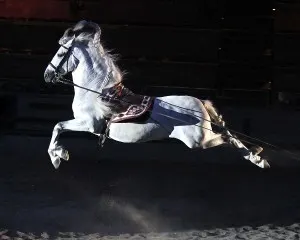 Then the real action began. We were seated in the green section so we cheered for the Knight clad in green. We screamed and clapped and waved our flags feverishly. The sounds of the real weapons splintering and smashing made every moment so intense.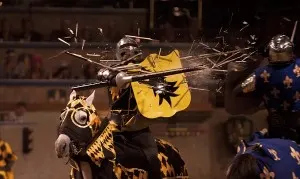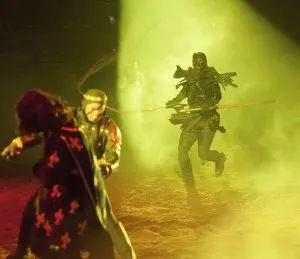 On top of the incredible entertainment, the food was delicious. We ate authentically with our fingers as they did in the 11th century. The feast consisted of tomato bisque, Focaccia bread with olive oil and seasoning, oven roasted chicken, large BBQ spare rib, herb-basted potato split into two quarters, and a braided apple strudel for desert.
We had more than enough food and drink and our "man-wench" was very attentive. He supplied us with warm towelettes to clean up our messy hands and faces and even came by after the show to empty our souvenir cups for us so we could take them home without a spill.
The looks on my kids' faces during the entire evening were priceless. We went to Medieval Times a few years ago for a birthday party and loved it but my kids didn't really remember too much since they were so young.
Now, (they are 10 and 7,) they were screaming with excitement and delight. My daughter even received a "Queen of the Tournament" sash from our Green Knight. He valiantly rode his horse over to her and extended his joust to present her with her green satin sash. She was beaming. At the end of the evening, he even signed her cast, and we had all lost our voices from all the cheering.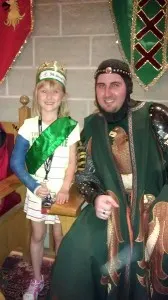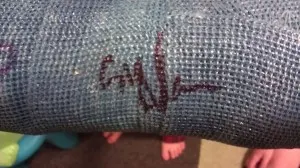 Treat your family to a night of fun and royal treatment! Medieval times has 9 locations in the US!