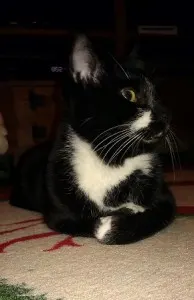 Pardon my attitude, but I know any animal lovers will understand…
Some scumbag abandoned these poor cats in a house she was renting from my grandpa. Not only was the house destroyed, but how could anyone just leave their beloved pets behind?! Here are just a couple pictures of the conditions we found them in: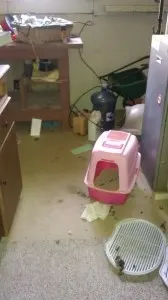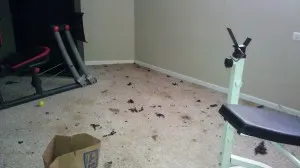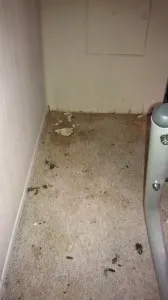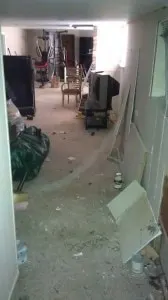 Poor little guys had nowhere to go potty as their litter boxes were completely overflowing. The smell was indescribable. We were informed that there were three cats, but only found two. (The third was later found hiding in ceiling tiles and taken to a no-kill shelter.)
My sister, Jennifer, and I went in and were instantly greeted by the most lovable, cuddly cats which I named Stewie and Brian.
Brian, has been adopted by a friend of the family, also named Brian… His new name is now Jake. 🙂 Brian and Jake are very happy and enjoy watching movies on the couch.
I had the intentions of keeping Stewie, but my daughter and I are becoming more allergic everyday. I'm terribly sad and disappointed. But, I know that this guy needs a home where he will be able to snuggle with his owner all the time as he is an extremely affectionate cat. In an attempt to reduce our allergy symptoms, we are not allowing him on the furniture or in our beds and he is crushed. He wants nothing more than to be a loyal lap-cat. He's fantastic with the kids–I really can't even believe how much he tolerates! I am so sad that we are not going to be able to keep him.
If anyone is interested in adopting this wonderful animal please contact me at [email protected]
He is declawed on his front paws, neutered, up-to-date on all shots and approximately 6 years old.
Snuggling up for movie night: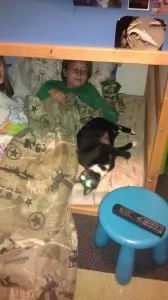 He's a big help in the office: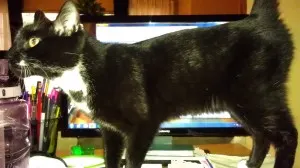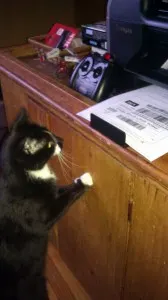 Such a great friend: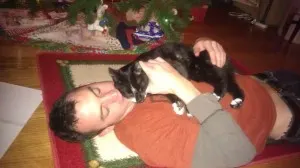 I'd like to extend a huge thanks to all the wonderful companies who helped supply toys and supplies for these great little cats!
Panic Mouse, for the Undercover Mouse Cat Toys
Automated Pet Care Products, Inc. for the Litter-Robot
Doctors Foster and Smith, for the Fish Cat Tunnel