This is a sponsored conversation written by me on behalf of The J.M. Smucker Company. The opinions and text are all mine.
Wholesome dog foods just got a lot easier to find.
Not that we don't go to extreme measures for our pets, but saving a trip to get their food is a convenience I appreciate.
Nature's Recipe fans will be happy to hear that the brand is now available at Walmart.
The brand's exciting new launch at Walmart stores makes shopping for wholesome dog foods even easier for pet parents.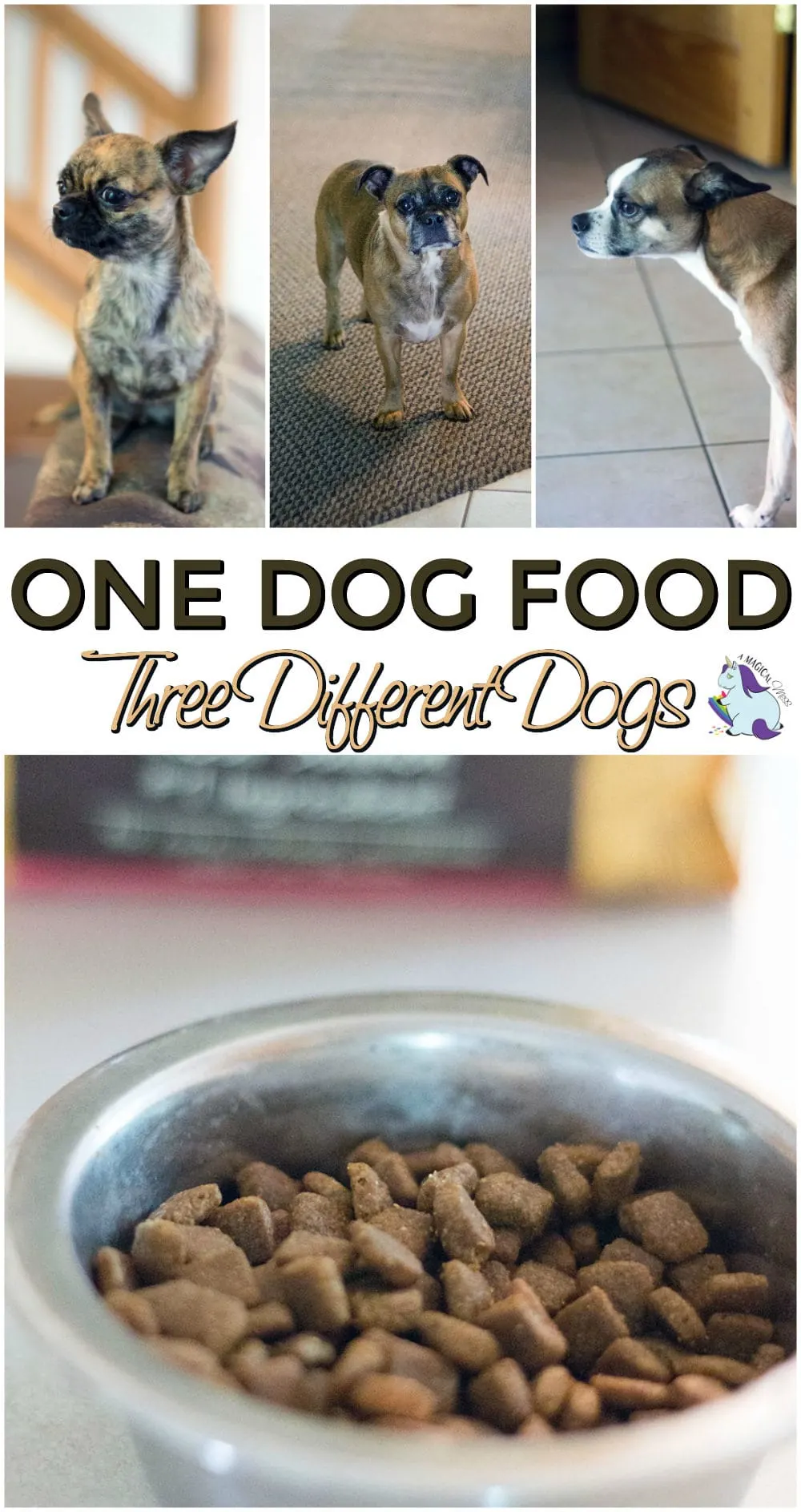 Easy to Find Wholesome Dog Foods
Nature's Recipe has been sold solely at specialty pet food stores for the past 35 years.
As much as we don't mind a trip to the pet store, sometimes it doesn't fit well into the schedule.
It's so much easier to grab a bag of dog food during our Walmart shopping trip.
Since we are back up to three dogs, buying dog food happens more frequently.
I'm sure all busy people can agree that purchasing dog food while grocery shopping for human food is ideal.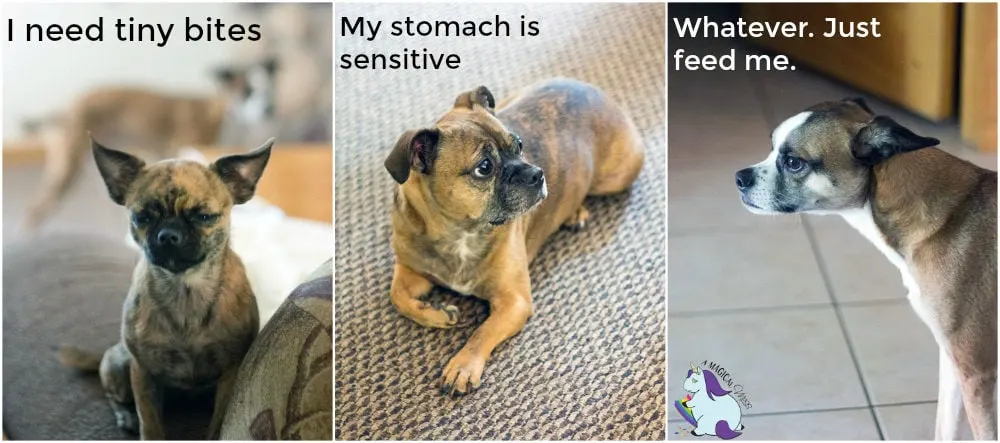 Now that our new little Bea is fully settled in, she's eating the same food as the other two guys.
Our vet assured us that it's perfectly fine that all three eat the same food as long as we don't notice any issues.
After some observation of my own, I noticed a few things about their dietary needs.
Both The Grump and Bea tend to have sensitive stomachs. Bea also does better with tinier bites since she's so small.
Franklin can eat whatever the heck he wants.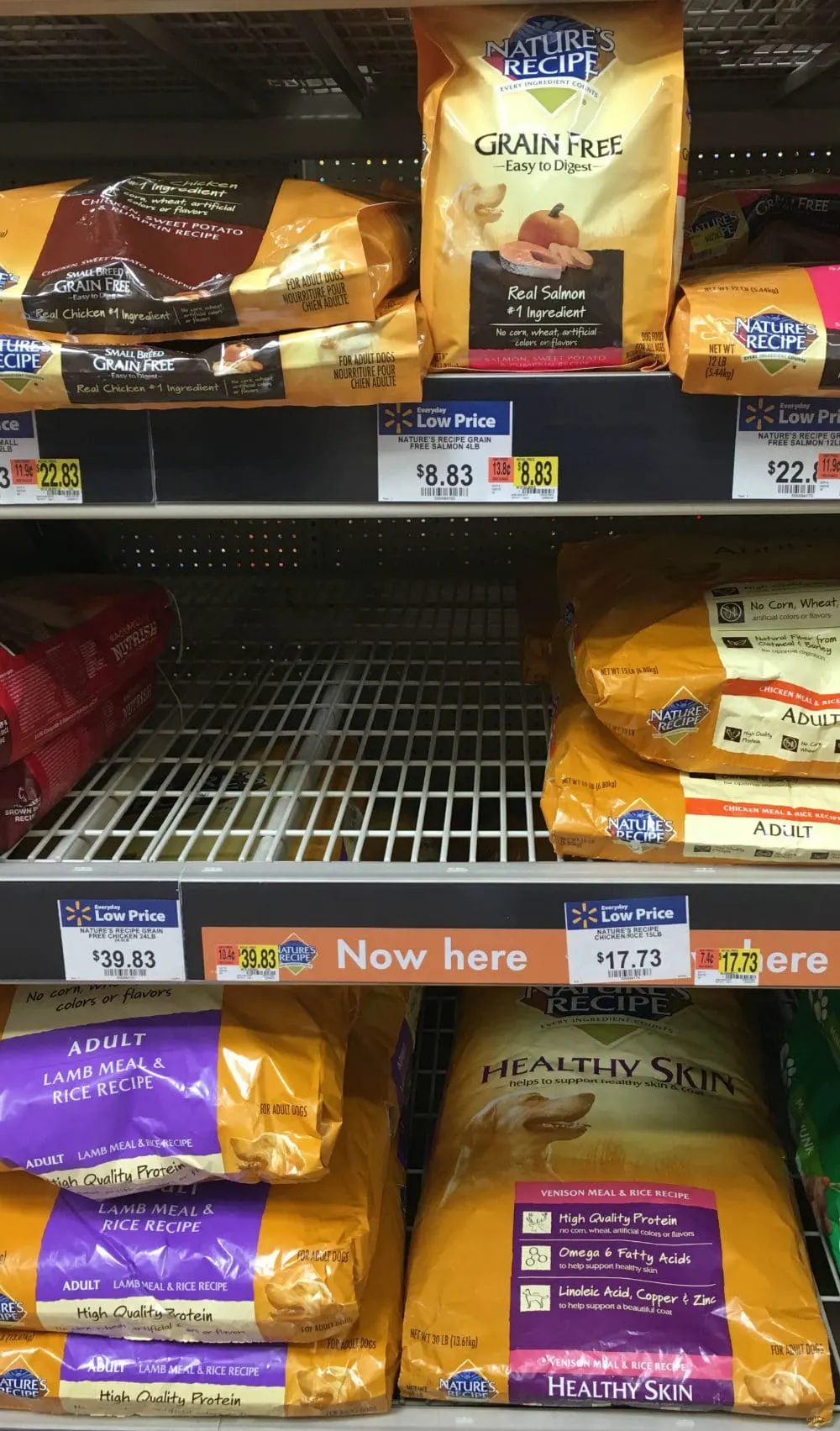 As you can see, the Walmart shelves are packed with choices of Nature's Recipe.
I chose Nature's Recipe Grain Free because it is perfect for sensitive stomachs.
Once I got it home, I was happy to see that the bites are tiny, making it the best choice for all three dogs.
The dogs got excited as soon as they saw the bag of dog food. Everyone wanted to sniff it out to investigate.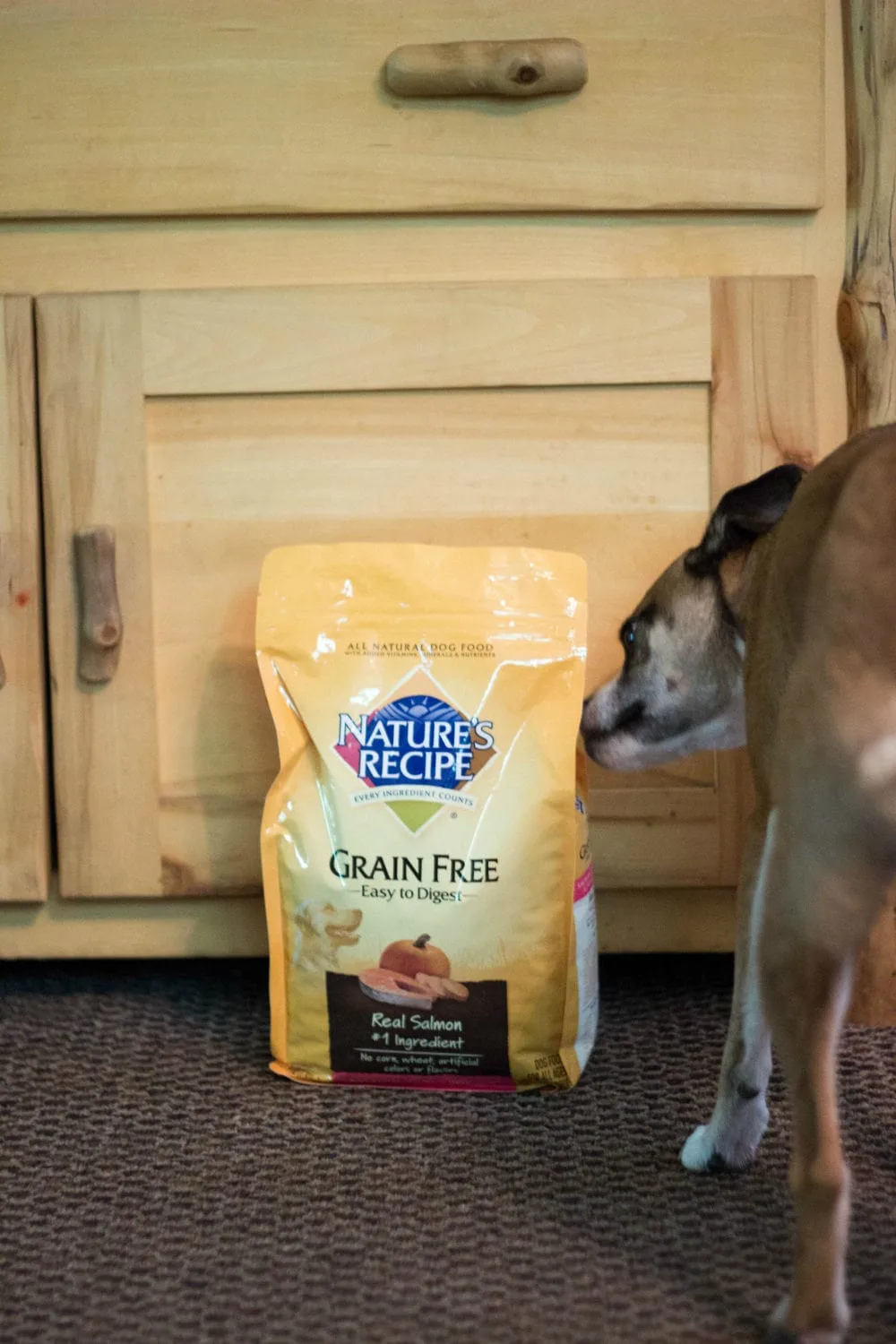 We want our pets to thrive and live their best lives. It makes us happy when we see our dogs running, playing, and displaying clear signs of happiness.
Wholesome dog foods are key when it comes to letting your dog live their most vibrant lives.
As humans, we know we feel better when we eat better. The same goes for pets.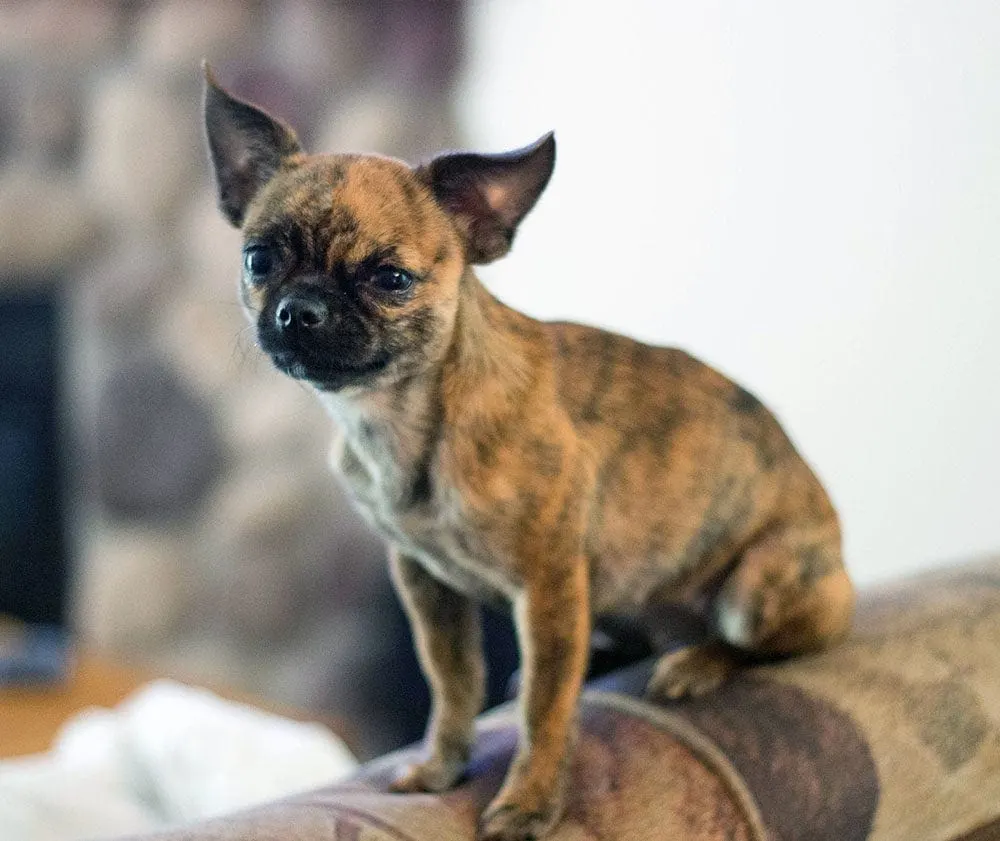 About Nature's Recipe Dog Food:
High-quality protein
No corn, wheat, or soy
No artificial colors or preservatives
No poultry by-product meal
Several grain-free options exclusive to the brand
Now conveniently available at Walmart for an affordable price!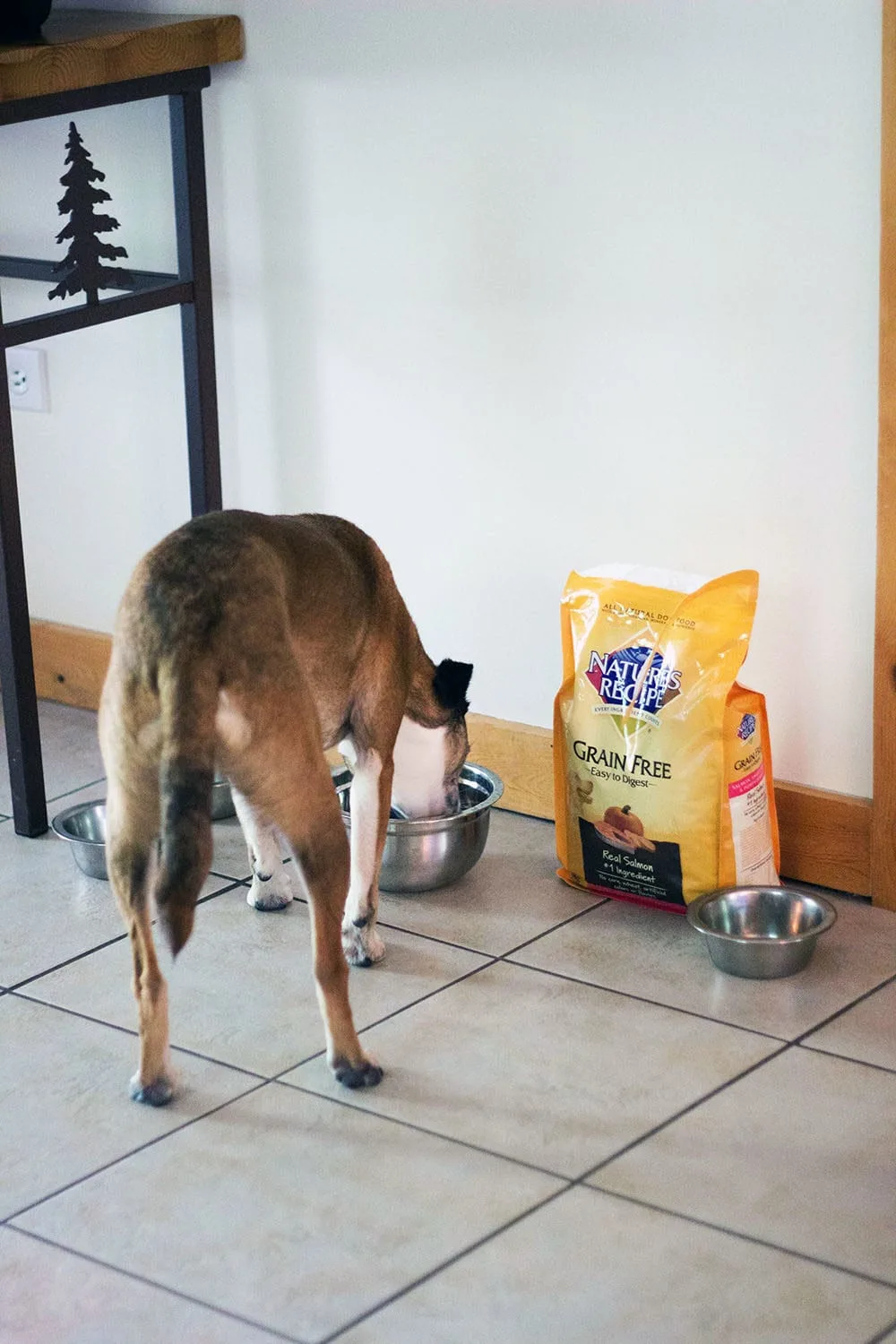 If you're already a Nature's Recipe user, know that you can possibly save a trip.
Just grab a bag at Walmart instead of making a special stop. If you'd like to try Nature's Recipe for your dogs, remember to slowly introduce any new food.
Give them half of their old food with half Nature's Recipe to avoid tummy upsets.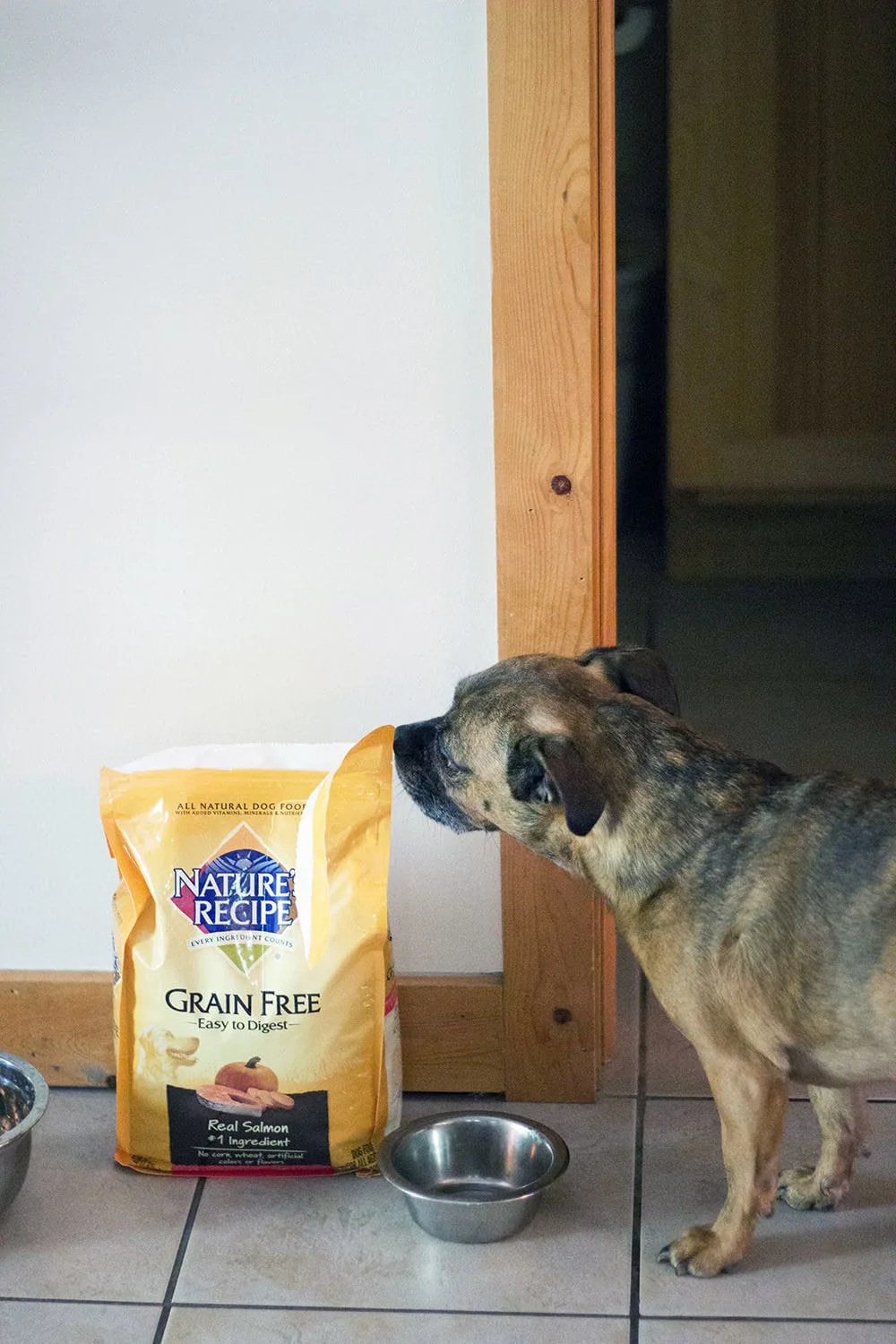 The weather might be cooling down, but that's not slowing our pets down at all.
They can't wait until we let them run free in the yard. It's hilarious to watch Bea try to keep up with Franklin. She's impressively fast with those little legs.
Franklin slows down a little to keep it fun for her. Grump doesn't even try to keep up with those two speedsters.
He just gallops around at his own pace.
Watching them play is one of our favorite things to do.
Our dogs bring so much joy to our lives.
The least we can do is give them the nourishment they need to feel their best.
How do you choose nutritious dog foods for your pets?
You can learn more about Nature's Recipe at Walmart.com.