When I first saw the Bliss Hammock I immediately fell in love. I have been wanting a hammock to add to our backyard sanctuary for the longest time now. The Soothing Company carries many amazing hammocks, but this one was definitely my favorite. Product was received for review purposes.
Bliss Hammock from The Soothing Company
Upon viewing the description for this hammock, I thought that the stand was included. I have never really researched hammocks before this, so I didn't know that stands are usually sold separately.
I was shocked when only the hammock showed up. There is nowhere in my backyard to hang it without a stand. I will take responsibility for this misunderstanding, however, I am mentioning it because I highly doubt that I will be the only person to ever make this mistake!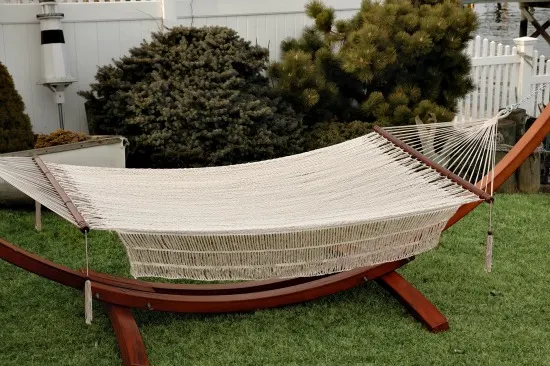 This issue was cleared up and I now have this glorious hammock in my backyard. Setting it up was very simple. The hammock itself comes enclosed in a reusable package that can be used as a cover. It also comes with S-hooks and chains to hang it.

Since we ended up with a different stand the hammock laid pretty low to the ground. We found a way around this. We just flipped the loop used to hang it around the back to provide more of a lift to it. Now Mike can lay on it without his butt touching the ground.
The hammock can hold up to 300 pounds. Mike is about 220 and causes some major dipping. Maybe with the suggested stand this would not happen.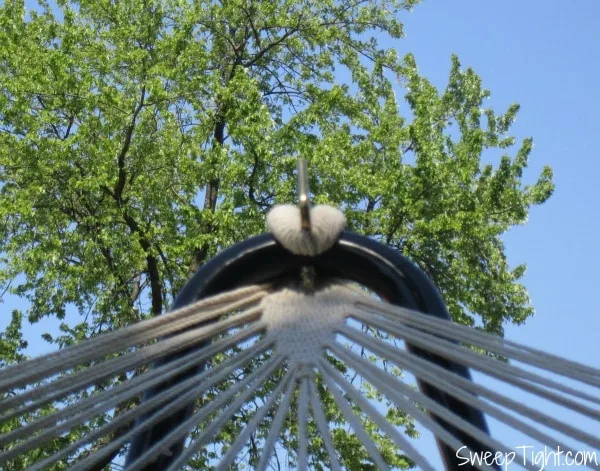 The hammock itself is very well made. It has beautiful hardwood spreader bars, strong cotton handwoven rope and decorative beaded tassels. It is quite large at 6′ 5″ long and 48″ wide. Plenty of room to really sprawl out and get comfy! It's island-like appearance makes it even easier to relax and pretend you are on vacation!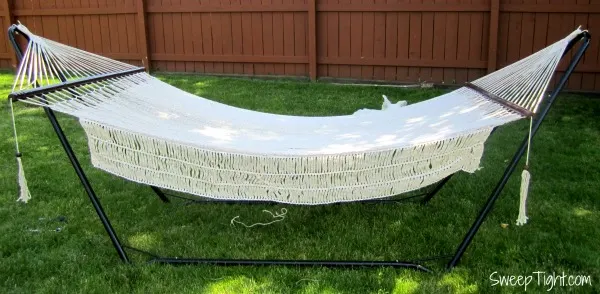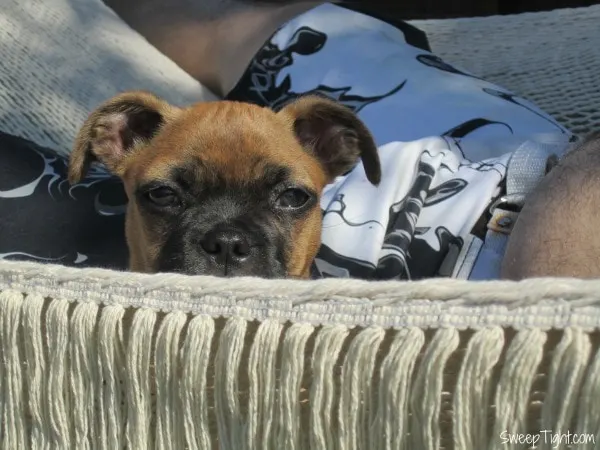 The puppy just loves to hang out with us in it! Or, both dogs run around and play while one of us relaxes.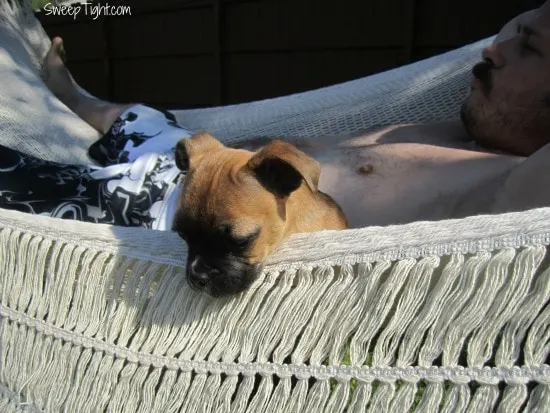 Mike and I both take turns laying in it. I definitely got it longer this weekend! I was able to catch up on some reading while deeply relaxing. It is truly amazing how comfortable hammocks are. What a treat! I am so glad that we now have one in our backyard.
If you are on a mission to create backyard bliss like me, this is a must-have item! I don't even feel like we need a summer vacation. With the help of companies like The Soothing Company, we are quickly creating our own little convenient "staycation getaway"! 😉
This hammock comes from The Soothing Company, an online retailer, that offers outdoor fireplaces, sofa bean bags, gel fireplaces and more.
What is your favorite way to relax in the summer?