It's that time of the year again: Tax time! This can be a nightmare if you are unorganized. We actually just went through this in our household. I wanted to rip my hair out while trying to find all the necessary paperwork to go to the tax man.
I vowed to change that! This Master Lock opportunity came at the perfect time for me to have a fresh start for this year.
Tips to Get Organized for Taxes
Master Lock has come up with some great tips to making things go a little smoother by organizing with better storage.
Purge the paperwork
First things first – clear the clutter. Go through all paperwork and eliminate anything you no longer need, shredding identifying documents to protect against identity theft.
Get rid of expired warranties and year-old receipts and bank statements.
Safely store crucial records
Designate a specific storage space for vital documents including birth certificates, marriage licenses, passports, wills and social security cards.
We earn a commission if you make a purchase, at no additional cost to you.
These items, as well as any important memorabilia, should be stored in a locked, fire retardant box such as Master Lock's 7142D storage box. Not only will you always know where these items are, they'll be safe from home mishaps.
Create a tax file
Create a separate file for all of your tax documents. We recommend a customizable, portable filing solution such as Master Lock's 7148D storage box for simple and easy transport to and from meeting with your accountant or tax advisor.
Organize this file into 10 categories:
income (pay stubs, W-2s, interest statements)
medical (medical expenses and health insurance out-of-pocket)
donations (cash and non-cash donations)
real estate (interest statements from mortgage, tax assessments)
child care (payment receipts)
tax correspondence (important IRS or state revenue service letters)
student loans (statements of payment)
miscellaneous receipts (any receipts that might be needed for deductions)
payments (records of advance payments)
old tax papers (old tax returns)
Continue to use your tax file year-round, and you won't have to scramble for these documents when it comes time to file next year.
Back up everything
Make digital copies of important documents and store them in your fireproof box on a zip or thumb drive. Use a secure online organization and security solution, such as the Master Lock Vault (www.masterlockvault.com) to store log-in and password information for bank accounts and credit cards as well as lock combinations or key numbers to your file boxes.
Consider appointing a guardian as an additional security measure who knows where and how your records are stored for easy access in your absence.
Make it a tradition
Select a specific time of year (perhaps when tax time rolls around again) and make your review of these records an annual occurrence. This will ensure your information is streamlined and up-to-date and that finding or organizing this information is never an overwhelming process again.
By following these suggestions, you can avoid some headaches for sure! I have realized that I can shred my bank statements from 2001 and that is okay! My inner-hoarder needs to be tamed once in a while.
We have now used our Master Lock storage box to safely store our important documents and followed some of these tips to organize further. I also plan to take advantage of some features at the Master Lock Vault to store passwords and other confidential data.
Master Lock Storage Security No. 7148D
Product Features:
Locking file box
6″ (15.2cm) x 13-1/2″ (34.3cm) x 10-1/2″ (26.7cm)
Durable steel construction stands up to daily use
Key lock to protect and secure your personal documents
Includes 2 keys
Best Used For:
Cash Handling & Document Storage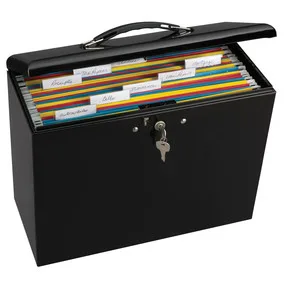 Hey, maybe our refund will even be bigger next year because we will have everything so organized!