We received a Genie PowerMax 1500 Garage Door Opener for review. The first of a few DIY of reviews from me – my husband and I just purchased a foreclosure (yes, our first home is going to be a BIT of work). In foreclosure situations, you really never know what the previous owners are going to take, and what they are going to leave behind. And in our garage – we have this: Product received for review.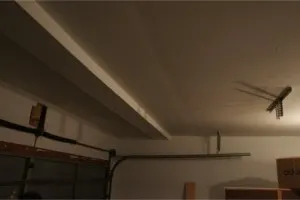 Can you tell what is missing? Yes, they took the time to take out the garage door opener. Lucky for me, Genie was able to send me one to review and install – so we could get our garage door up and in use quickly! They sent their PowerMax 1500 AND their Closed Confirm Remote System. It has a motion detector for the lights, an opening speed of 12in/sec – so it is open and closed quick, and is assembled in the USA.
Installing the Genie PowerMax 1500 Garage Door Opener
When we first opened the box – it was QUITE intimidating. The instructions were on a POSTER. Once I took a couple minutes to look it over, I realized there were only 9 (LONG) steps, so it seemed like something I was ready to take on.
The assembly of the motor and drive screw was easy, but most of the steps from there were quite labor intensive. Getting it up on the ceiling should take at least two people – luckily my husband was there to help me! Once that is on the ceiling, you need to install the sensors that keep it from closing if something is in the way. The wiring from those needs to go back to the motor on the ceiling, so be prepared to use tiny wire holders to attach it to the wall and out of the way. Once installed, we plugged it in and TA DA! It worked! Programming the remotes was REALLY EASY – just push a program button and a button on the remote, watch for lights, done! Overall putting it together and installing it took about 4 hours – had we been more experienced with this kind of thing, I am sure it would have cut the time in half if not more.
I think my favorite part of it will be the Closed Confirm Remote, it is clipped to my sun visor in my car, and beeps as I drive away to let me know the garage door actually closed. It is nice in the morning when I am not usually paying attention to anything other than getting to work on time 🙂
If you have a missing garage door opener (which I would doubt) OR your garage door opener is getting to be quite loud (does it wake up the neighbors when you open it?!) installing a new one would be a great solution. With many model options, it doesn't cost too much for the update, and it is a project I would think most people could tackle – but just in case, having a handyman on speed dial wouldn't hurt. Genie also offers installation.
Purchase a Genie Garage Door Opener
You can find out more about their products at GenieCompany.com and you can buy your new Genie garage door opener at Home Depot or Canadian Tire.