It's hard to know how to declutter your house when you have hoarding tendencies. My side of the family seems to have a hoarder gene. I honestly saw nothing wrong with my behavior until I met my husband. Mike is the complete opposite of me in that way. Where I just see our belongings in the house, he sees clutter.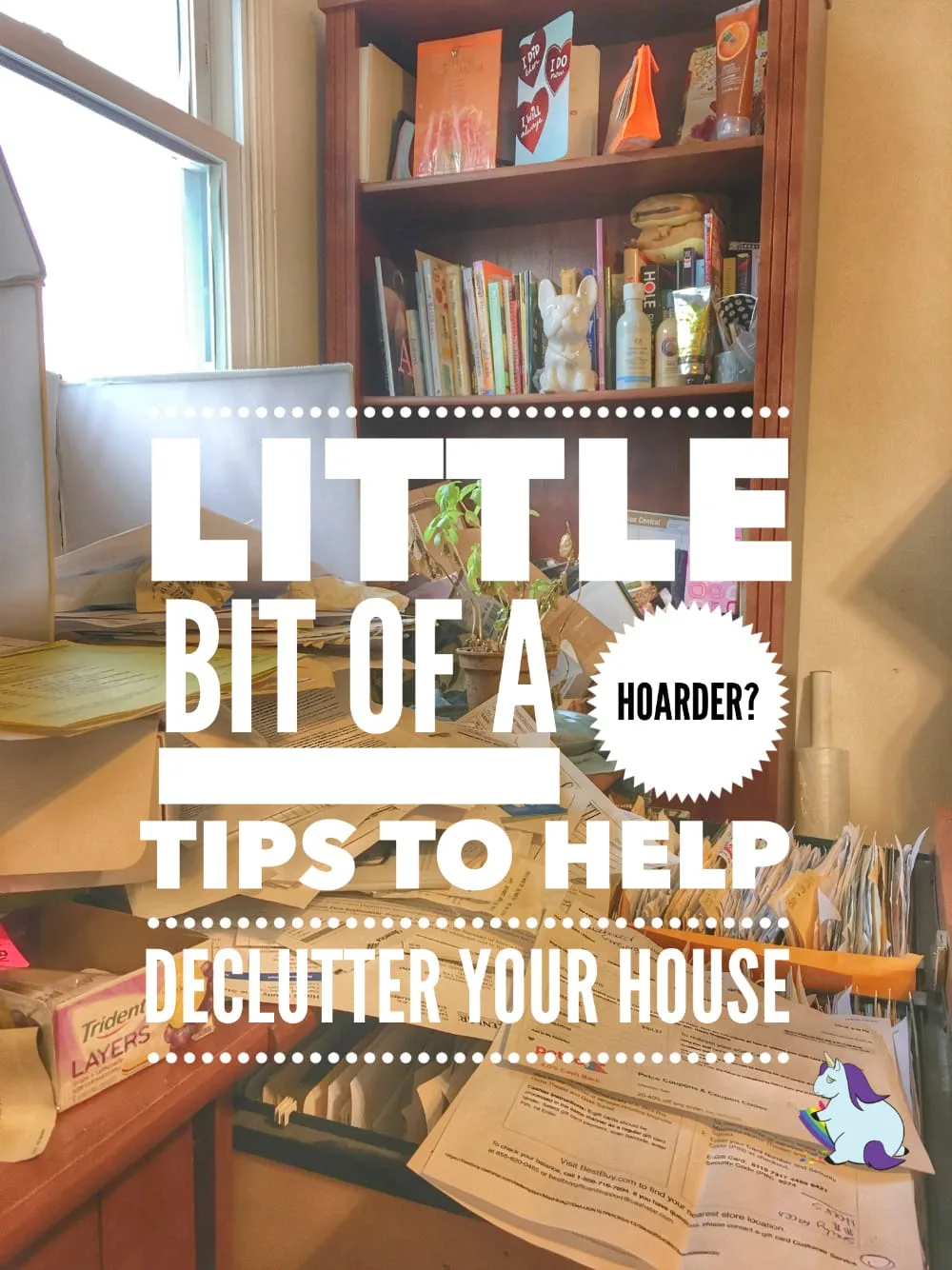 First, let me clarify that I am not hanging on to my sandwich bag from 1983. I'm not on my way to a reality show. However, I find it very hard to get rid of some things. I feel like it's wasteful to throw anything that might be of use someday in the garbage.
My Grandparents were this way my whole life; they just had more space to store stuff. We have a tiny house, so anything I save quickly turns into clutter since it doesn't have a spot. (We won't even talk about my office – that's another monster of disorganization altogether.)
I've been working to break this habit for years now. This year I vowed to do a serious purge. Here are some of the things that are helping me part with items. Hopefully, they can help you learn how to declutter your house.
Hoarding Tendencies? Here's How to Declutter Your House
Donate
Obviously, donating is a great way to declutter. I usually take three boxes around the house. One box for each – donate, toss, and sell. My donate box usually goes to my sister so she can go through it first. Anything she doesn't want, she donates accordingly. If you have a ton of boxes to use up, request a free shipping label. You can stuff the box with items and ship it off to Goodwill free of charge. If you do a lot of online shopping, you accumulate boxes, and this is a way to reuse them. Get rid of your stuff and feel good that it might go to a home that can use it.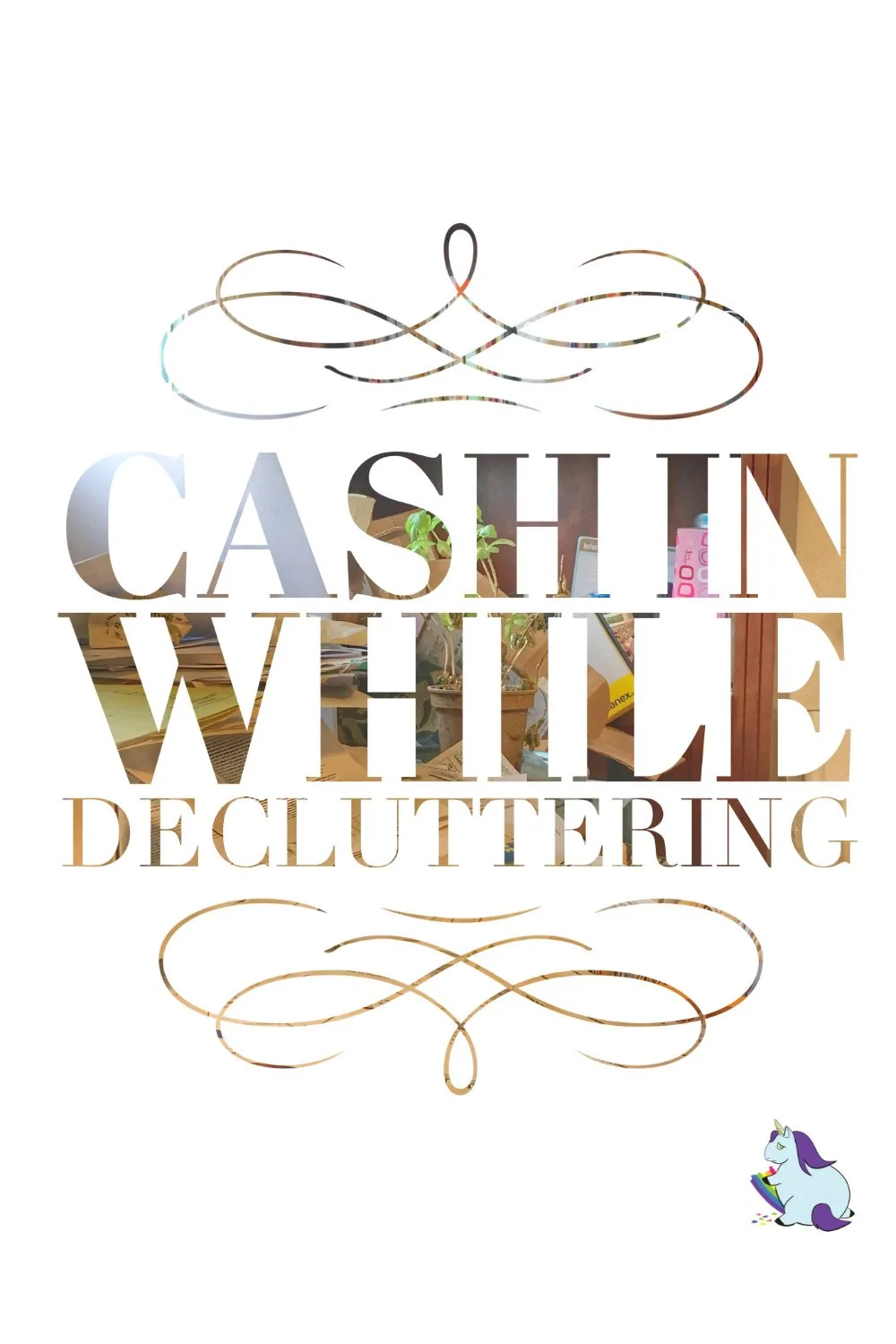 Sell
Money is always a motivator. If an item has value, it's much easier to part with when you can cash in instead of throw it away. Lately, money has been tight, so I've been mercilessly scrapping it all. Normally, I hoard all my gift cards. Not now — I'd rather pay the bills.
Sell or Trade-in Gadgets – Smartphones and gadgets are easy to liquidate. Gazelle is a good one for smartphones and devices. Choose which device you want to sell and get a quote. If you accept, they ship you a prepaid package to send it back. After Gazelle receives and inspects, you get paid. Choose cash or get extra if you choose an Amazon gift card. Sell your iPod since you probably just listen to music on your iPhone anyway. A long time ago I traded in a device at Best Buy for a gift card. Amazon also has a trade-in program. <– Whoa. It tells you what you can trade-in right now based on your Amazon purchases. Also scan items using Decluttr – use my link and we'll both get $5.
Scan for Amazon – Selling on Amazon is quite simple. Download the Amazon Seller app, and you scan anything with a barcode to see what it sells for if it's on Amazon. This is addicting let me tell you. Last year I was using Amazon FBA (Fulfillment by Amazon) which some people do full-time. You ship everything to Amazon, and they fulfill the orders for you. This allows sellers to sell a ton more than if they had to ship from their homes. I had a lot of fun doing it, and definitely made some money, but I was spreading myself too thin. Between all my blogs and that little side gig, I was losing focus. I decided to stop FBA for now, but here's a great course if you want to know more about it.
Garage Sale – Make a pile of items to save for a garage sale. This option is discouraging since it's winter right now. You'd have to find a spot to store everything until garage sale season, and that takes away from the clean sweep effect.
Facebook Groups – I know we have several local Facebook groups to buy, trade, and sell items. Most of them have a quick turn around. Check for groups in your area or just use Facebook Marketplace to possibly unload some goods for fast cash.
Offer Up – Another app that I see my Facebook friends using is the Offer Up app. I believe it's the same concept of buying and selling locally. If you go this route, check for safe places in your neighborhood to make the trade. Our village has spots set up that are monitored for safe Craigslist or online selling type deals.
Sell on eBay – Obviously, you can list your items on eBay and other online selling platforms. However, it will take time to list the items, and then even more time to sell. If you can designate a place to organize items for sale, go for it. If you are cramped on space this plan may backfire. In our small house, all of the eBay items listed are smashed into my office space.
Sell Gift Cards – Gift cards are great, but when you are on the verge of paying your mortgage with a credit card, they need to turn into cash pronto. I just sold a bunch of gift cards on Raise.com. Most of them sold in under an hour. I took a bit of a hit on the value, but it's cash. They send you a check or direct deposit into your bank within days.
Toss
After a lot of mental work, I can now feel good about throwing some things right in the garbage. They are things, and they don't have feelings. It's cleansing to part with some of the past, as well. However nostalgic some things might be, sometimes it's good to let go and focus on the future. I keep some things, though. I mean, I am not a monster.
A book that I started and haven't finished yet is The Life-Changing Magic of Tidying Up: The Japanese Art of Decluttering and Organizing. It helped me see clutter a different way. It also taught me a game-changing folding technique. I'm not even done with the book, and it's already helped me tremendously.
Once you learn how to declutter your house without feeling emotional emptiness, it's very rewarding. I am nowhere near my organizing goal, but my husband is already happier, I feel lighter, and the house just feels brighter.
Do you have any tips on how to declutter your house?