True confession time. I've been living like a slob in my office for an embarrassingly long time. The room I spend the most time in is the most shameful room in the house. It's not a mystery that I'm stressed all day when you see the clutter that's assaulting my peripheral vision.
Thank you to Facebook Marketplace for sponsoring this post. All opinions are my own.

The Office of Shame
Truthfully, we've wanted to remodel the office for ages. It's just one of those things where the stars never aligned. No time, no money, too busy to be without an office for a few days…you name it, we had an excuse.
Under the atrocious amounts of clutter in the room, you'd find the most disgusting carpeting. It's the carpet that came with the house when I moved in about 15 years ago, and it was not in great shape even then!
Why didn't we replace it right away? There was just always something ahead of it on the priority list, I guess!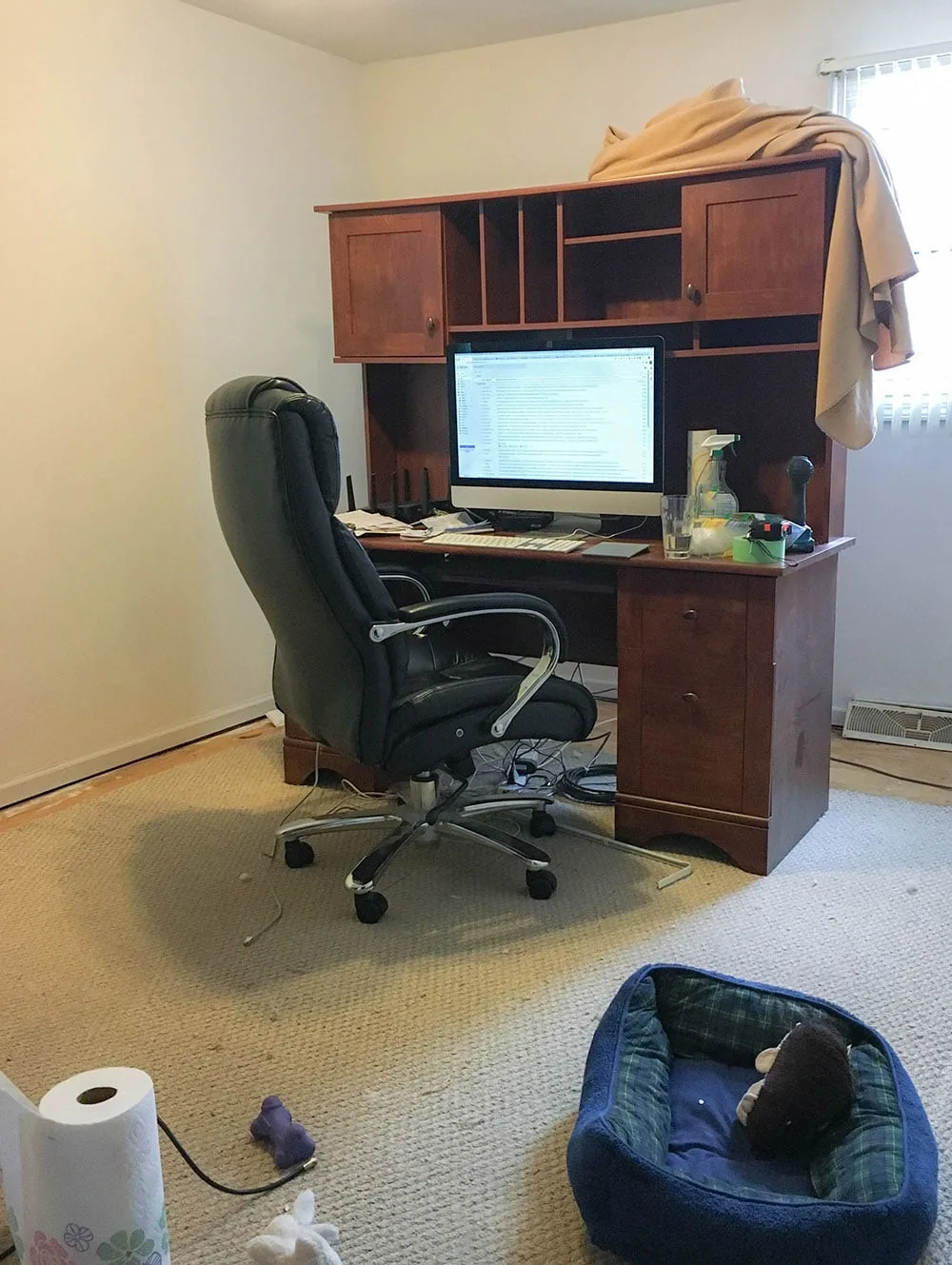 The paint on the walls was another major pain point. I don't believe we painted since living here either. To get to the point, the room needed a complete remodel, and it was time.
Between my cluttering up the office with all my projects and the general lack of upkeep in the room, a total gutting was in order. We removed almost everything from the room so that Mike could rip up the carpet and paint.
New Floor!
I started to explore Facebook Marketplace since it's such an easy and convenient way to buy and sell items.
Right away, I found possible furniture that might make a great addition to the office. But, after refreshing my browser a few times, I found the most important piece to the puzzle – the flooring.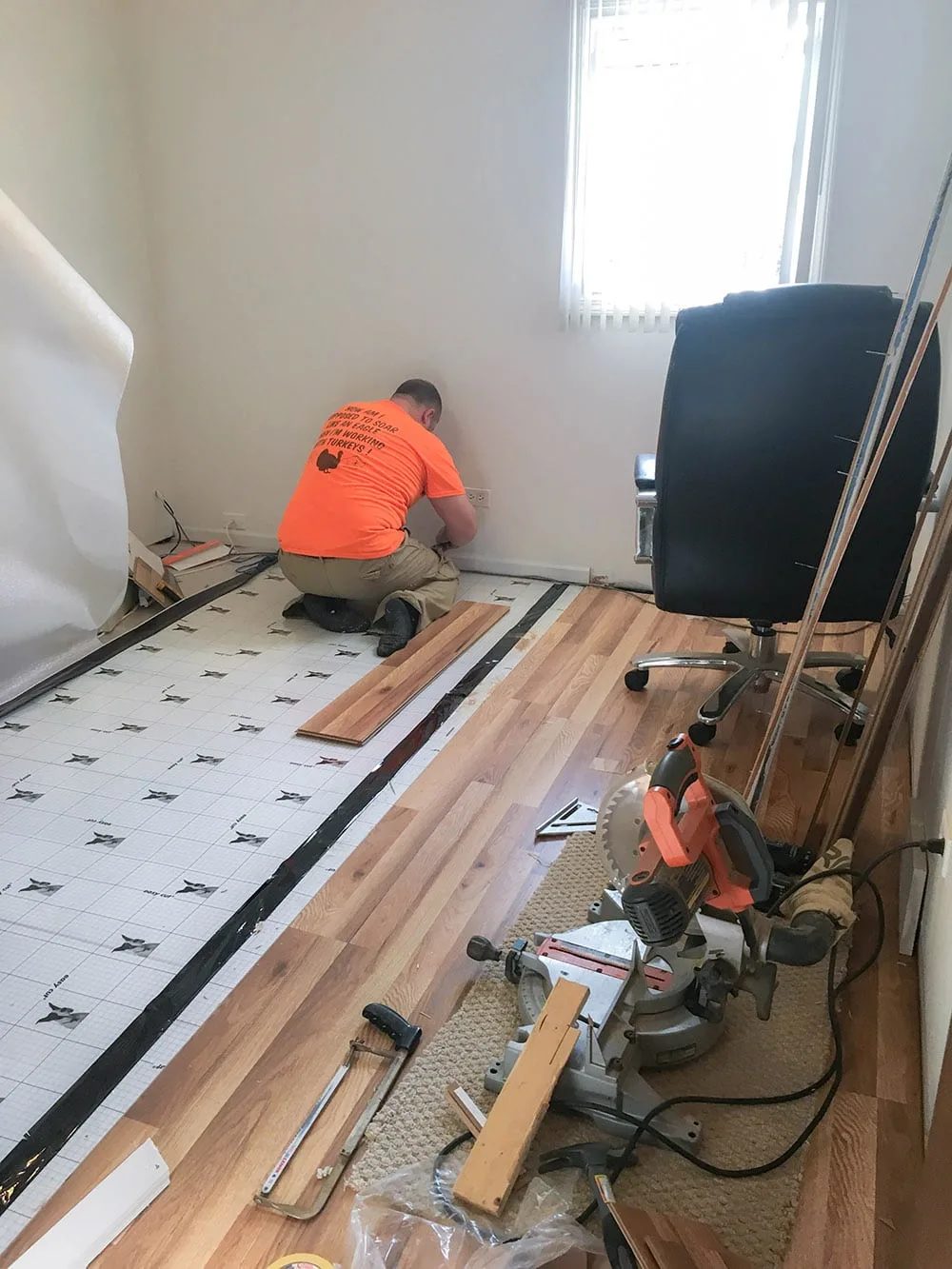 As I said, the carpet was the main target of this operation. We had to rip it out and replace it with something more up to date and easier to keep clean because we have dogs.
I was floored (haha) when I found someone selling vinyl plank flooring on Facebook Marketplace. Perfect. I contacted him, and Mike was able to meet him and pick up the flooring that same day. It was a smooth and effortless transaction that happened at just the right time.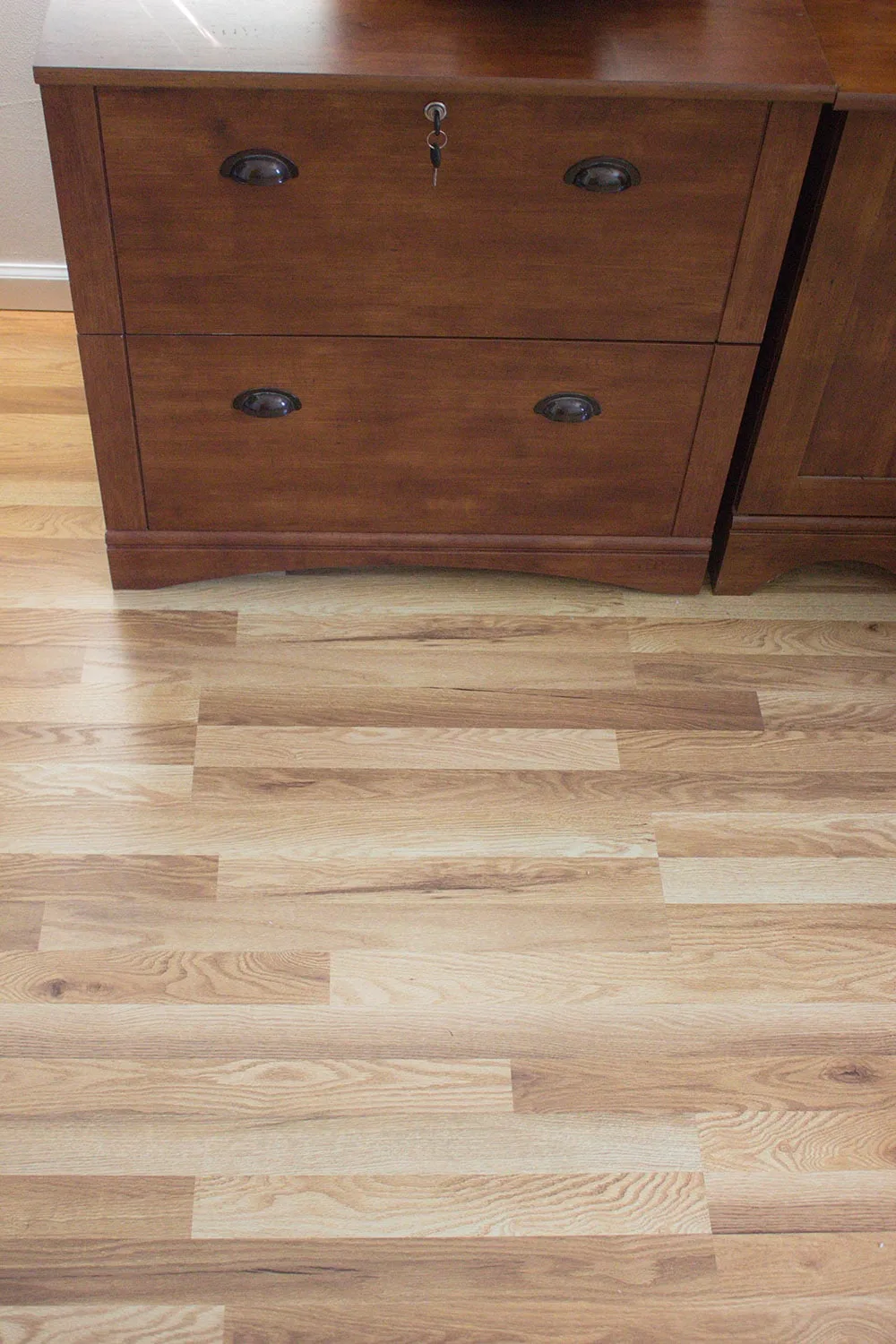 When I looked on Facebook Marketplace, it wasn't to find flooring. I was browsing for organization items, or possibly some decorations.
Finding the perfect floor was a bonus. I still plan to check Facebook Marketplace daily to add more to the room. As you can see from the before picture, this isn't a quick project!
Now that I have fresh, bright paint, and a brilliant new floor, there's no way I want to clutter the room back up. So many things didn't make the cut while adding items back.
I donated a lot, threw away quite a bit, and I even have a pile to list for sale on Facebook Marketplace myself!
The room isn't completely finished yet. I have big plans to create a designated photography section for blog projects.
I've been taking pictures in our living room bay window for far too long. I cannot wait to have a setup in my office where work is supposed to be done.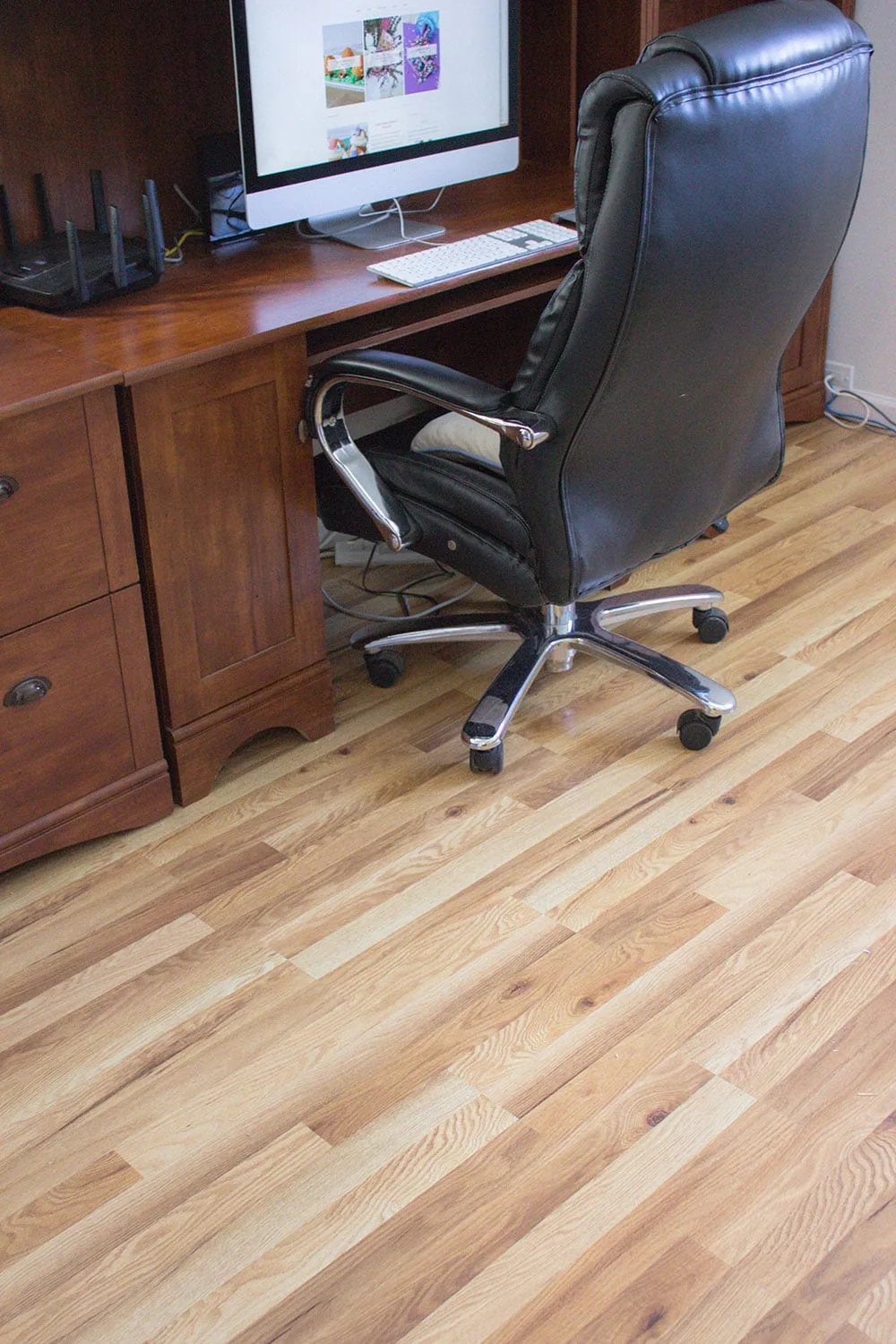 Declutter for Sanity
I want to point out how magical decluttering your space is. I talk about my struggles with my mental health often. While a lot of it is chemical, so much is situational, as well.
The hoarding scenario I was trying to work in every single day was absolutely contributing to my daily anxiety.
Sometimes it's hard to realize that while you're in it. Now that I have a spacious, clean room, everything is clear. I can never let that happen again!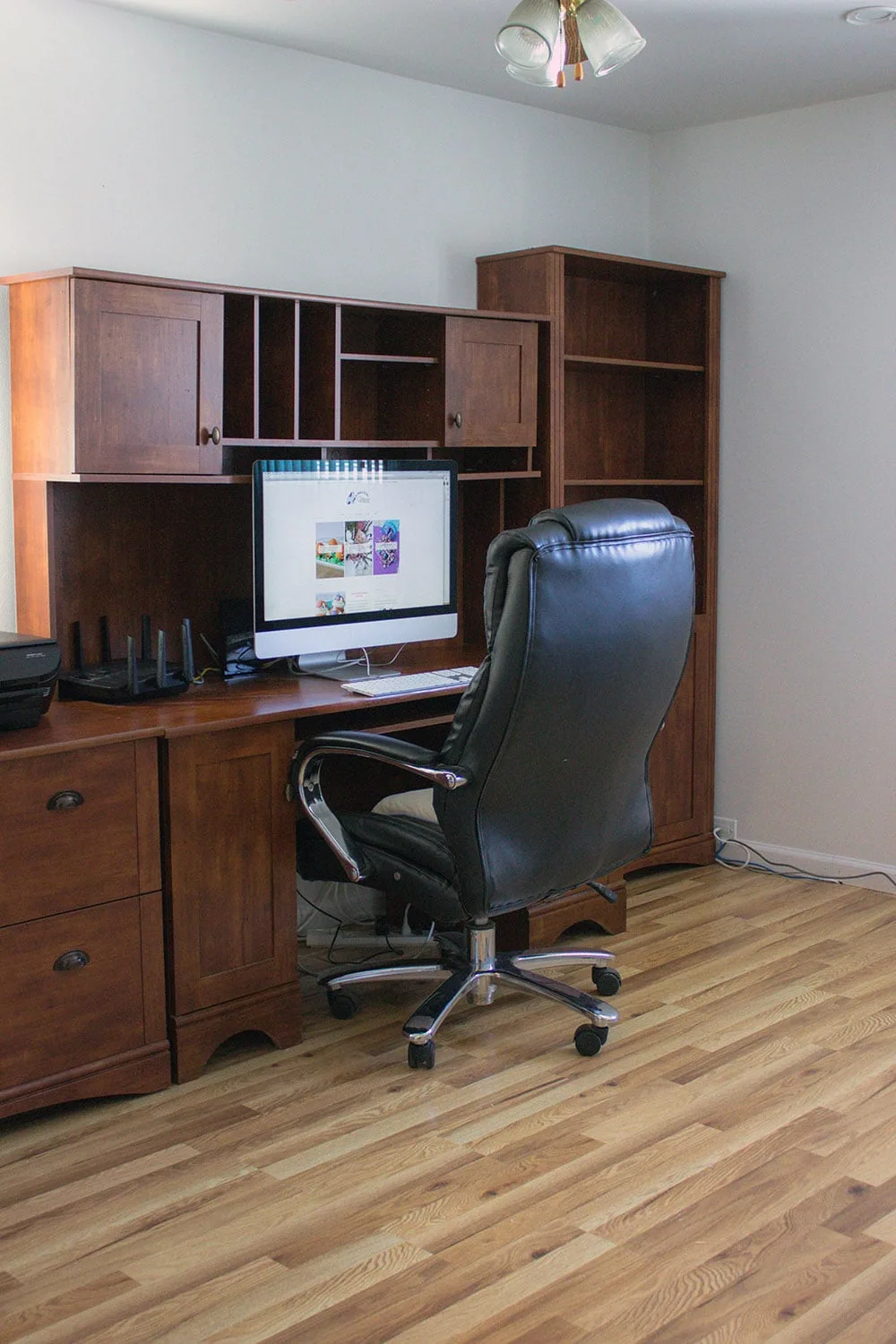 So, please, if you find it hard to focus in a room in your house, take a step back to see if decluttering is in order. If you have an emotional attachment to stuff like I do, please know it's worth a little pain to part with it for your sanity.
Listen, I just said goodbye to my childhood stuffed animals – I am forty years old! I literally bawled my eyes out, but now it feels freeing.
As you spring clean this year, declutter for peace of mind! Explore Facebook Marketplace for new ways to spruce up your area.
Have you shopped or sold using Facebook Marketplace yet?