Navigating the world of gifts can often feel like a maze, especially when you're looking for that perfect gift to ease the mind and soothe the soul. Whether it's for someone grappling with the hustle of daily life or managing the symptoms of anxiety, a simple gift that offers a slice of tranquility can be a beacon of comfort. This post contains affiliate links.
For those who find themselves entangled in the web of adult responsibilities or just the general stressors of life, the items on this list are more than mere objects; they're a warm embrace to an overworked mind.
If you're on a quest for a great gift that speaks to the heart of an anxious friend or family member, these thoughtful gift ideas are tailored to wrap them in serenity.
As someone who dances daily with anxiety, I understand the delicate balance of mental health. While my sister gallivants across the globe, rubbing shoulders with the glitterati, I'm over here mastering the art of keeping my heart rate steady during a simple trip to the local CVS.
So, believe me when I say, each of these suggestions comes from a place of personal experience and a deep understanding of that inner yearning for a moment of peace. These aren't just good gifts; they're handpicked lifelines for those days when the world feels a bit too heavy.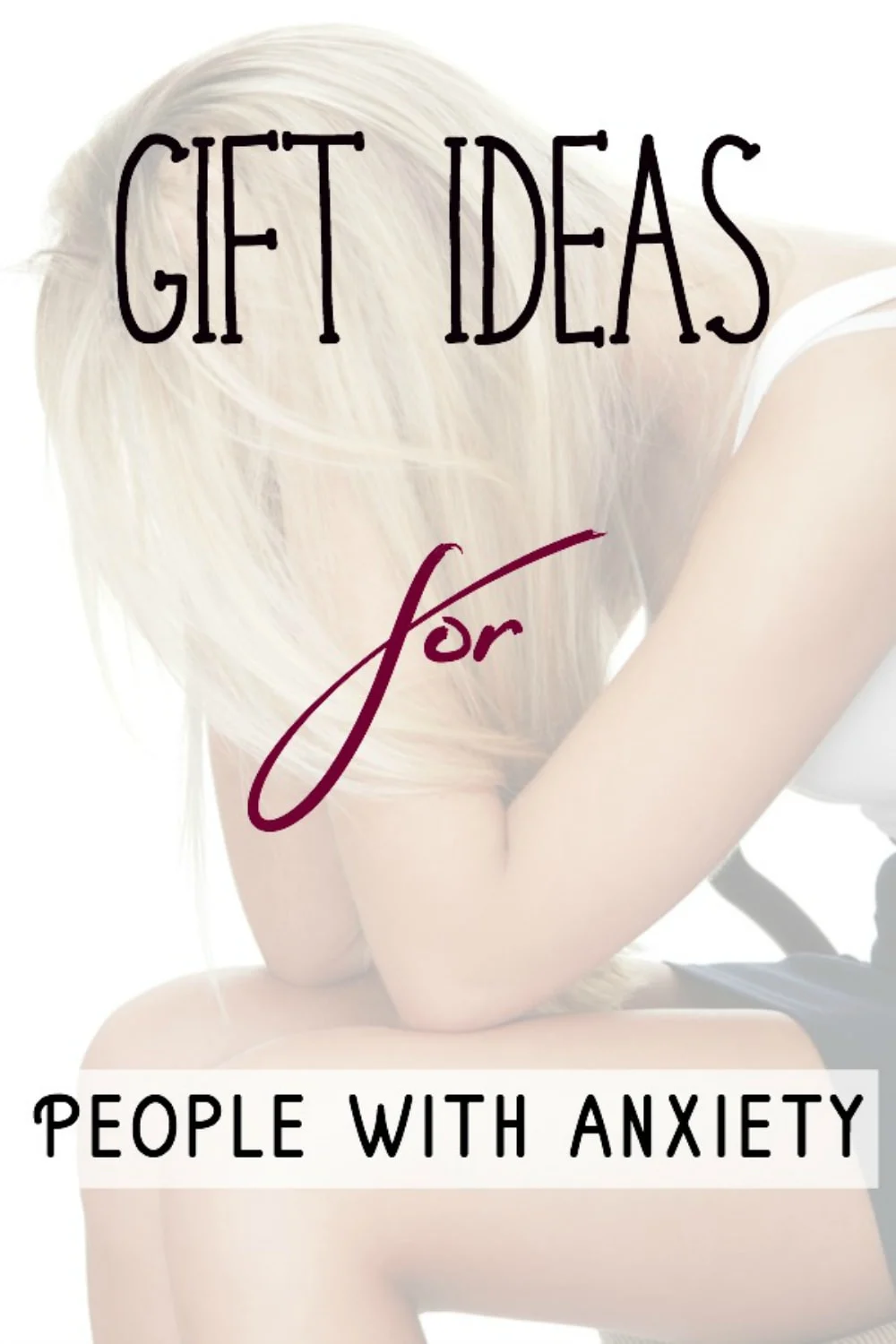 Great Gifts for Anxious People
Comforting Items for Stress Relief
A whiff of the right scent can be a powerful ally against anxious thoughts. Aromatherapy isn't just about pleasant smells; it's a gateway to a calmer nervous system and a more relaxed state of mind.
Transform any room into a haven of serenity with the innovative Aera Diffuser. Picture this: your living space enveloped in the aroma of oven-fresh cookies or the crisp purity of snowflakes. It's not just a gift; it's an experience that can help melt away stress.
And for the holiday season, Aera's limited-edition fragrances are a great way to infuse the air with the spirit of the season. It's a thoughtful gift that keeps on giving, offering a daily dose of comfort and a calming effect that's much needed during the festive rush.
You can even choose a mini diffuser for stressful car rides.
While the Aera essential oil diffuser fills your space with calming scents, it's worth noting the power of internal support too. A variety of vitamins and herbs (including herbal teas) can naturally aid in relaxation.
Always remember to consult with a healthcare professional before starting any new supplement regimen.
Looking for an extra layer of calm? The stress-relief spray supplement featured next is a great option for those seeking a natural approach to stress management.
In today's fast-paced world, it's easy to get caught up in the whirlwind of daily tasks and forget to take a moment for ourselves. But what if your accessories could nudge you towards tranquility?
The latest in wearable tech isn't just about tracking steps or sleep; it's about recognizing tension and gently reminding you to pause and breathe deeply.
This innovative approach to wellness keeps calmness just a wrist flick away, making it a unique gift for anyone who could use a discreet, tech-savvy companion in their quest for peace throughout the day.
I've been eyeing weighted blankets for a while now, intrigued by the amount of praise they've received. They say the gentle pressure feels like a warm embrace, promising comfort and calm.
Yes, they're a bit of an investment, but isn't a good night's sleep priceless?
Stay tuned, as I'll be wrapping myself in one soon and will share my cozy findings with you. Update: The verdict is in on the weighted blanket experience!
Relaxing Items for Anxious Minds
Everyone has their own go-to's for chilling out, and when you're dealing with anxiety, finding what works for you is key.
My go-to's? They switch up depending on the day. Sometimes, zoning out to a TV show or getting swept up in a book does the trick. Other times, I've got this nervous buzz that I need to direct into something, like working on a puzzle, playing word games, or filling in adult coloring books.
Oh, and here's a fun tip: if you sign up for my newsletter, you'll get some cool unicorn coloring pages for free. Just print them out and start coloring to see how much it can help smooth out a rough day!
Noise-Blocking Goodies for Quiet Time
Ever have one of those days where everything just feels too loud? Like, you just want to crawl under your covers and turn the world off? Yeah, me too. Sometimes, even the little noises can feel like they're just too much.
That's where some nifty noise-blocking products come in. They're like a superhero's shield for your ears, keeping out sounds that most people might not even notice, but for someone who's feeling anxious, it's like turning down the volume on the world.
Fun Distractions for Busy Minds
What's the best way to keep a busy bee's mind off the buzz? It totally depends on the person.
For me, diving into work does the trick. But when it's time to switch off, nothing beats the escape into a good book with a warm cup of tea or the latest binge-worthy series on a streaming service.
Gift cards and gift certificates are a sweet spot – think Kindle Unlimited for the bookworms, Netflix for series seekers, Amazon Video for movie buffs, or Hulu for those who love a bit of everything.
And for the gamers? A new video game can be just the ticket to channel their focus into something fun and engaging.
Knowing what makes someone tick, their hobbies and happy places, that's the key to getting the best anxiety gifts. Sometimes, it's as simple as watching the tranquil swim of fish in a tank after a stressful day. It's all about finding that thing that lets them zone out and relax for a bit.
At-Home Pampering Products
Who says you need to step out to pamper yourself? Transform your home into a spa retreat where relaxation meets rejuvenation.
Sink into a hot bath with bath bombs or bath salts and let the day's anxious feelings melt away. It's all about emerging refreshed, with skin that feels baby-soft, muscles that unclench, and a mind that's as serene as a still pond.
Soothing Tools for Tense Muscles
Got a case of the jitters that just won't quit? I've been there, flexing muscles like it's an involuntary sport. But let me tell you about a couple of my secret weapons against tension.
The Bed of Nails isn't as scary as it sounds – it's actually one of my all-time favorites for melting away stress. And when it comes to tired feet, I've found the holy grail of foot massagers. Trust me, accept no imitations; this one's the real deal.
For anyone whose muscles are on constant high alert, these are the go-to gadgets. They're not just good; they're a little slice of heaven for anyone who's unintentionally been holding a day-long muscle flex.
Tight muscles? Oh, they just add to the anxiety pile-up. That's why anything that helps me shake off that tension is pure gold in my book.
And here's a nugget of wisdom: low magnesium levels can sneakily crank up the anxiety. I've got the lowdown on magnesium's superpowers right here.
For a pocket-friendly present that packs a punch, magnesium lotion is a winner. It's like a little bottle of 'calm' for anyone riding the anxiety wave.
Funny Gifts to Lighten the Mood
Laughter really can be the best medicine. If you've got someone who appreciates a good joke and won't get offended, a funny gift could be a hit.
We're all in this big, anxious world together, with plenty of introverts and stressed-out folks. Why not share a laugh about it? It's a great way to remind someone they're not alone and put a smile on their face.
Affordable Comforts Under $25
Who says you have to break the bank to show you care? There's a treasure trove of thoughtful gifts under $25 that are perfect for easing anxiety.
And guess what? Many gems are even under $15 – talk about a steal! (Prices accurate as of post date.)
If these gift ideas for those with anxiety have been a hit, you'll love our other curated collections. Discover unique gifts for the chronically late, self-care goodies for people who struggle with sleep, and the best picks for fitness enthusiasts.
Got any go-to gifts for soothing the anxious spirit? I'd love to hear what treasures you've found that help turn down the tension. Share your finds and let's make gifting for anxiety a little easier for everyone!