The satisfaction and sense of accomplishment you get when you complete a big project is one of the best feelings in the world. It's for that reason I love seeing my daughter take on–and complete–larger scale projects.
This DIY project for kids is suggested for ages ten and up. But, you know your child better than anyone. My daughter is twelve and has always struggled with fine motor skills.
She can dance, tumble, and master almost all gross motor challenges with ease, but when it comes to tiny moving parts, she has to use a lot of focus. This post is sponsored by Spin Master. All thoughts and opinions are my own.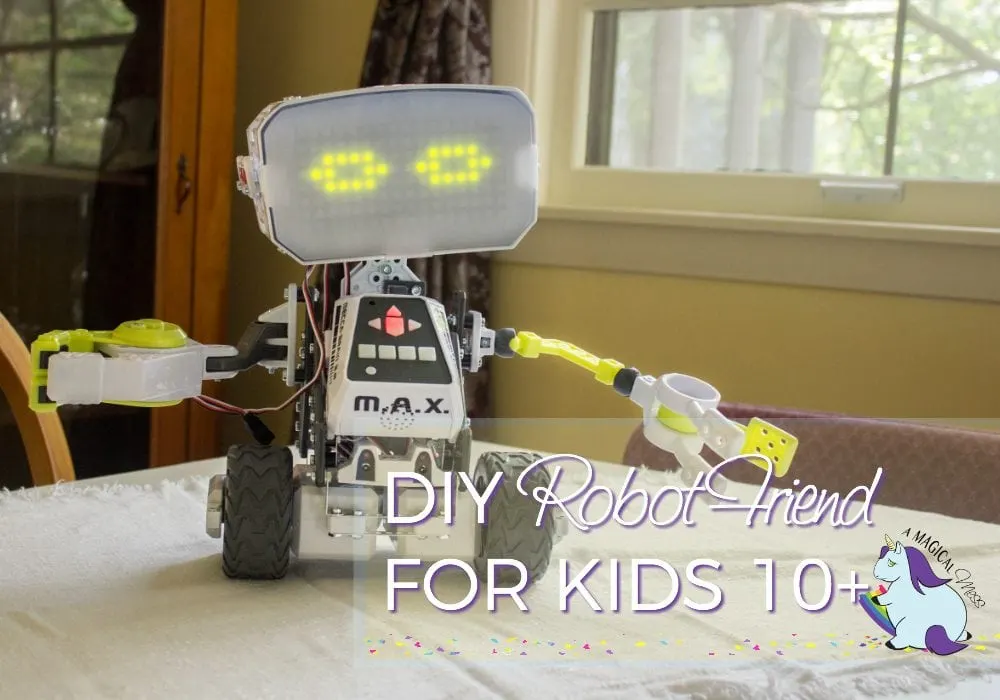 DIY Projects for Kids – A Friendly Robot with AI
The Meccano M.A.X. robot is our favorite STEM DIY project to date. It was a challenging build and took my daughter and me as a team about two hours and 45 minutes to complete.
The materials are excellent quality, and the instructions are pretty easy to follow–just make sure you start charging the battery first. This should be Step 1, but otherwise, the illustrations are spot on.
There are a lot of tiny parts that require the use of skilled fine motor abilities that even I found slightly challenging. Overall, we had a wonderful time working on this together. Upon completion, we both felt like boss-level engineers.
Check out our video of the build and M.A.X. meeting the Fam:
Tips for building Meccano M.A.X.:
Begin charging the battery first. (It takes 6 hours to charge fully.)
We kept all the parts in the bags to prevent pieces ending up everywhere. Organization is key.
Take breaks. There are 66 steps for the build, and we did it in two phases to keep it fun and not overwhelming.
Take your time and have fun! Follow the illustrations exactly, and you'll be set.
The Ultimate STEM Experience
On top of the build, you get to program M.A.X. and experience the process of him "learning." He grows with you–as he learns more and you interact, his behaviors become more advanced. He really does become a member of the family. Even the cat has grown fond of him! Stewie now naps perched on his favorite chair right next to M.A.X. and meows at us when we try to take M.A.X. away.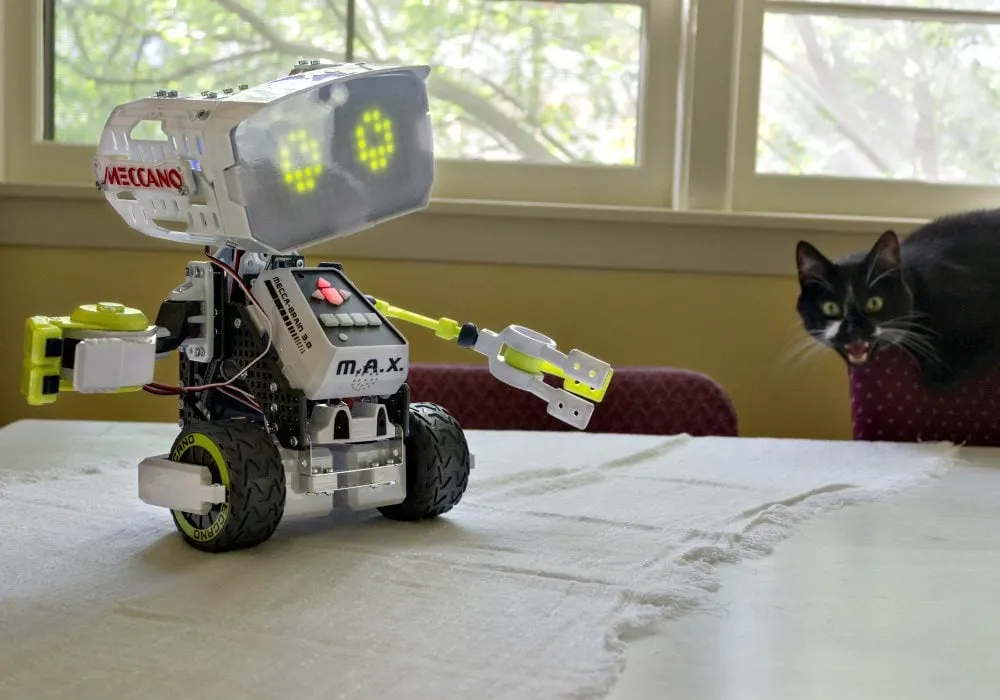 M.A.X. is so Smart!
M.A.X. comes with a built-in Delivery Mode that allows you to secure an item in his hands, send him off to find somebody, and play a custom message to your recipient! By telling M.A.X. the name of your intended recipient and by inputting a basic navigation path on his Directional Buttons, M.A.X. can use his IR sensor to avoid objects and his microphone to find your recipient.
M.A.X can learn over 50 jokes and even some of your originals. By creating individual sound files (intro, set up, punchline, outro, etc.) and adding a custom L.I.M. animation to give M.A.X. some body language, you can have M.A.X. perform your very own joke!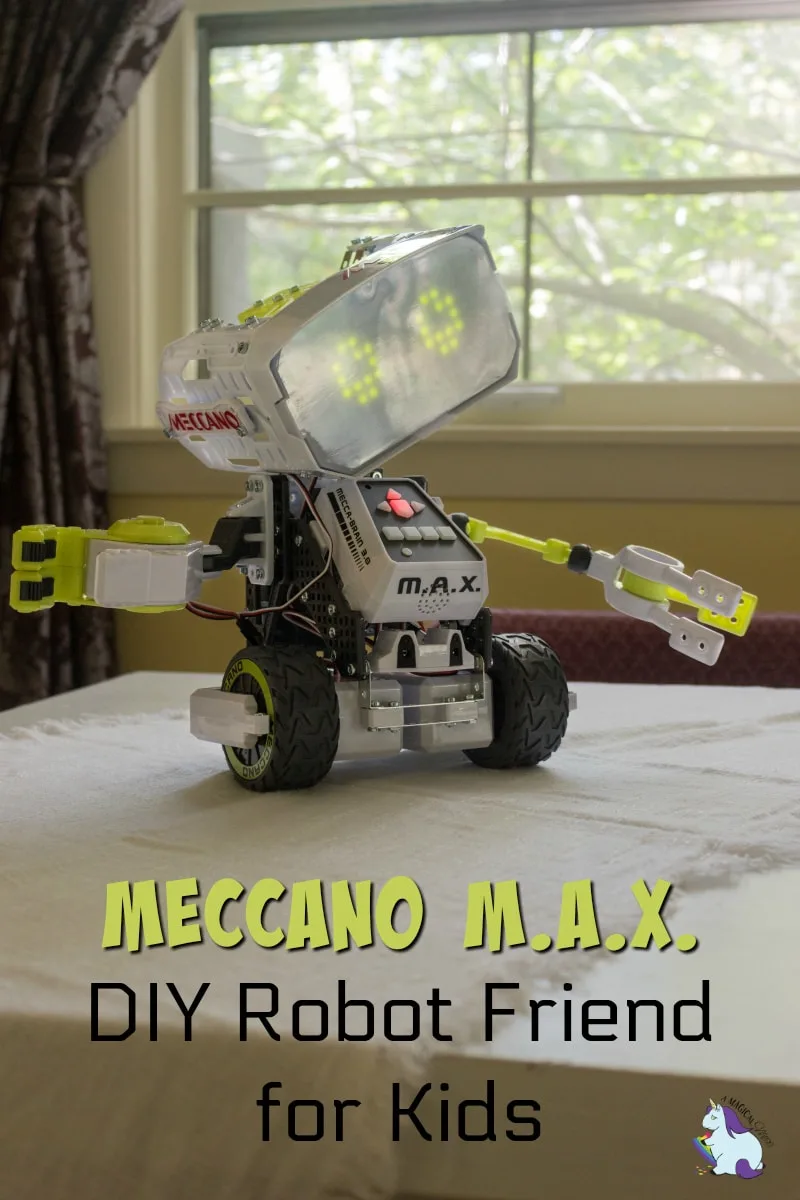 Codebreaker is a game that transforms M.A.X. into a ticking time bomb. One player will program a secret code, and the player must crack the code by figuring out the sequence of inputs (button presses, head and claw movements, etc.). Failure to do so by the timer's end will result in M.A.X. exploding with a giant fart!
Holiday Gifting
Meccano M.A.X. is a phenomenal gift idea for this holiday season or any time of year. Parents and kids will love the experience and getting to know their new friend. The gift of STEM learning, fun, and a brag-worthy buddy is sure to win all the smiles.
Find out more and purchase this DIY project for kids now!