This shop has been compensated by Collective Bias, Inc. and its advertiser. All opinions are mine alone. #MeowMixatMeijer #CollectiveBias
When you buy a new cat food and your cat loves it so much you know you need to buy it in bulk, the thought of where to put it all might pop into your mind. It's, for this reason, I decided to whip up a quick space-saving DIY cat food storage hanger. Using an old t-shirt, a hair tie, and a sewing machine, this project took under 30 minutes. We now have a super happy cat without sacrificing sacred cabinet space in the kitchen.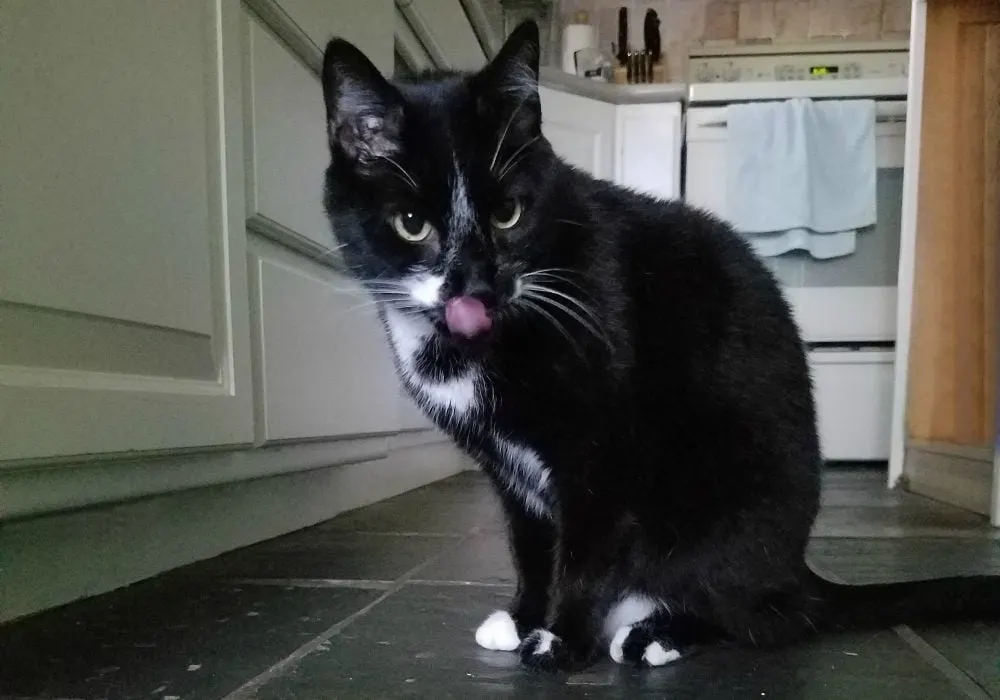 Meow Mix® Simple Servings™ at Meijer
Found in the cat food aisle, now is the time to stock up on this feline favorite. From 10/08/17 – 11/04/17, you can take advantage of the 30% off mPerks offer.
5 Reasons We Love Simple Servings:
No leftovers. If Stewie doesn't finish all his food we either have to refrigerate it–and he seems to despise eating it cold–or throw it away. With these Simple Servings, he cleans the plate every time.
Easy-to-open and easy-to-serve cup. No fork or spoon required. Which means less dishes being left to sit all night.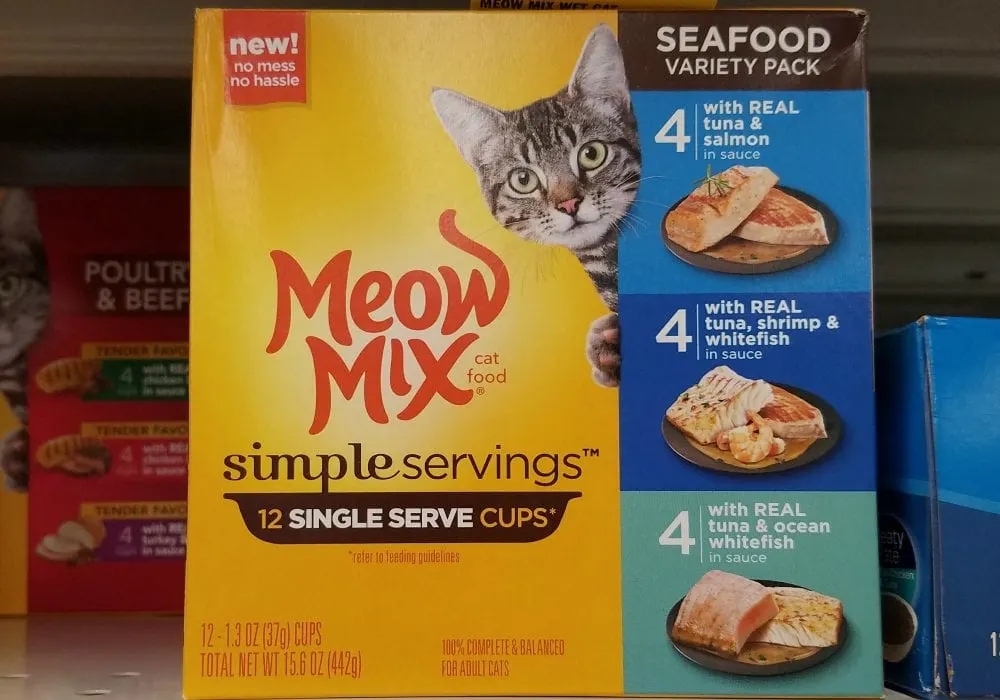 The little plastic cups can be reused in infinite ways. Crafts, sprouting seeds, storing office supplies, organizing your makeup drawer–the creativity is limitless.
Pieces of real seafood or poultry in a savory sauce or gravy. Knowing he's getting quality ingredients and enjoying every bite means a lot to all of us.
Available in a variety of flavors available at Meijer:
Tuna & Salmon (2pk)
Seafood Variety (12pk)
Seafood Variety (24pk)
Whitefish (2pk)
Chicken & Turkey (2pk)
Tuna & Whitefish (2pk)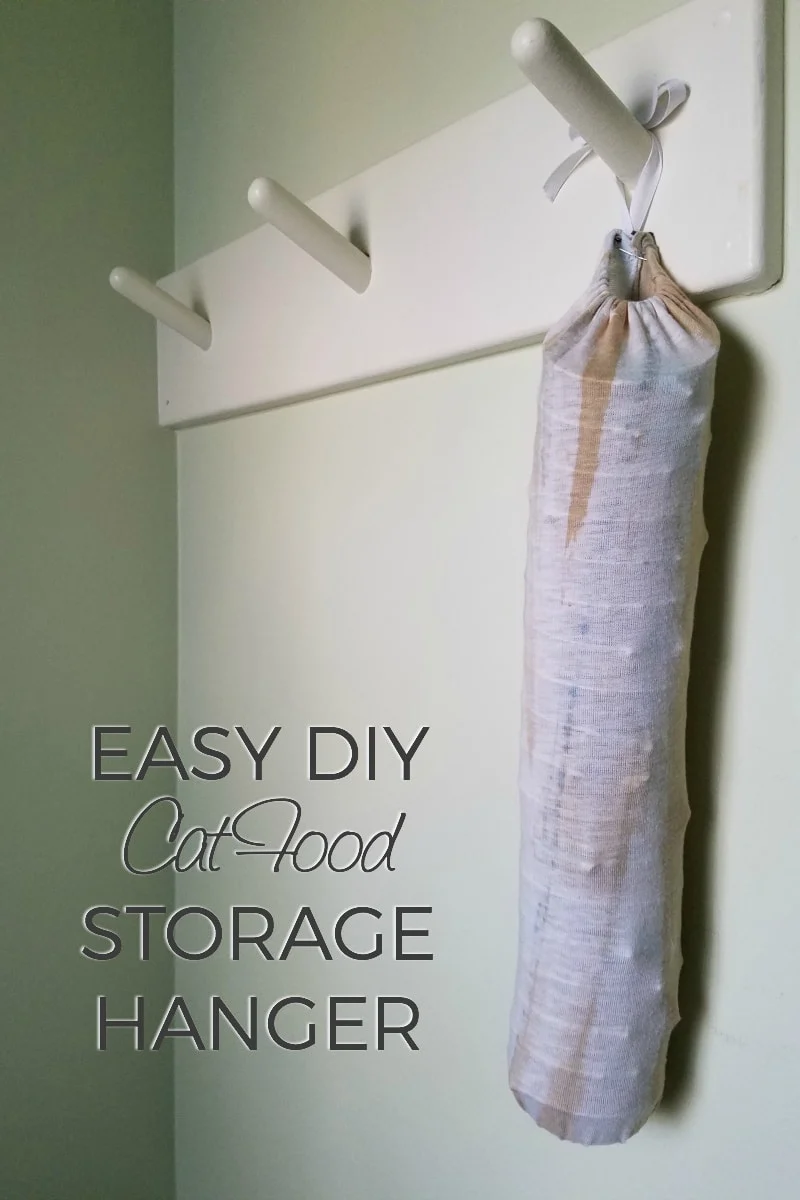 DIY Cat Food Storage Hanger
Since mess-free is the general theme here, this DIY cat food storage hanger makes perfect sense. We typically dedicate half a shelf in a cabinet to just Stewie's food. It's important he, and all cats, get wet food every day. When his vet noticed he is prone to kidney issues, I was told to make sure he gets wet food once or twice a day. It's imperative cats get as much water as possible from their food since they're not naturally heavy drinkers.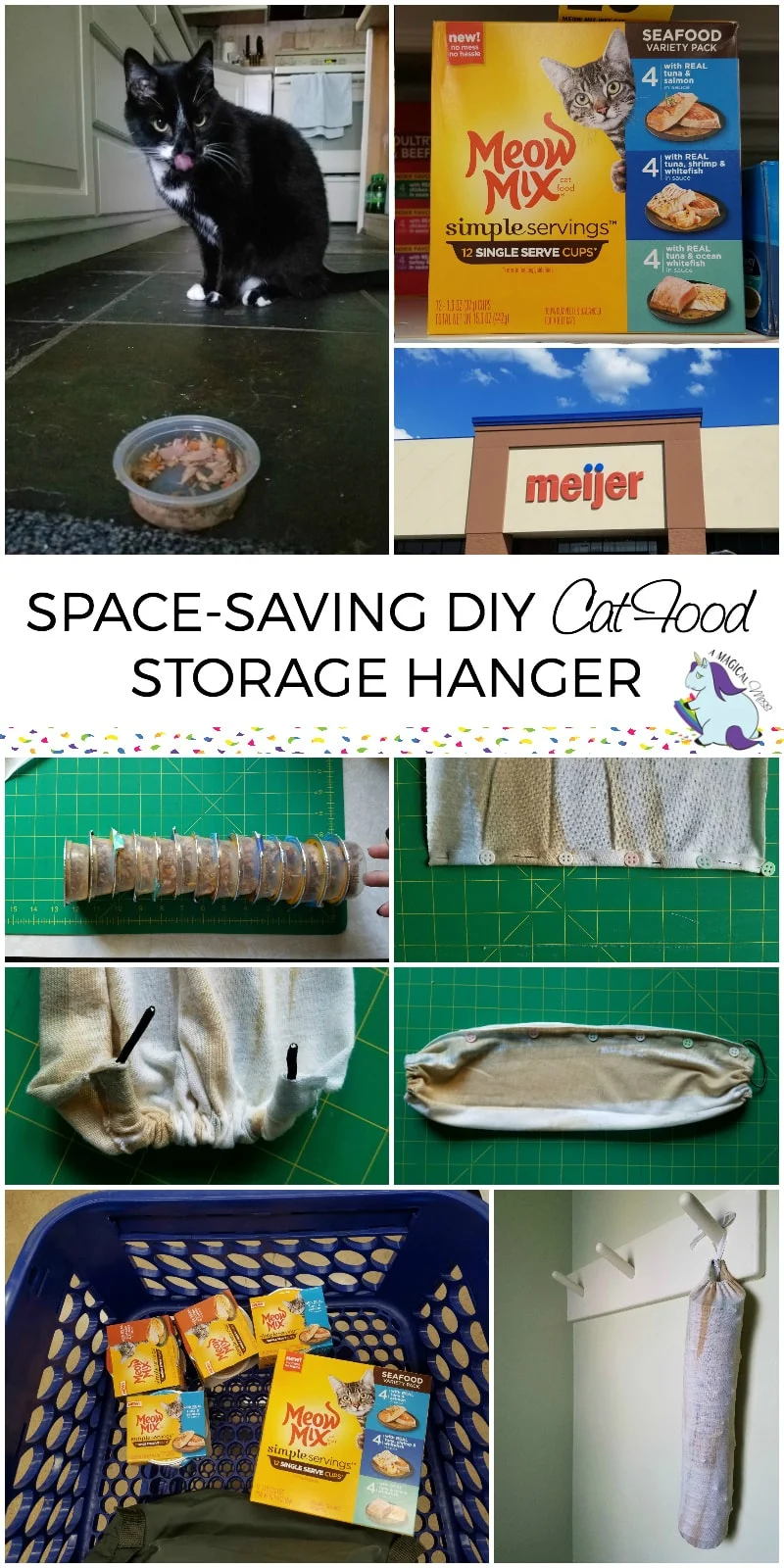 In an effort to reclaim a bit of kitchen space, we created this cat food storage hangers using:
10.5″ x 14″ piece of an old t-shirt (jersey knit for optimal stretch)
1 hair tie
pretty ribbon
sewing machine
Watch this quick instruction video:
Instructions:
Cut your fabric to measure 10.5″ x 14″.
Fold over half an inch on each 10.5″ side and sew a seam to form a tube-like opening on either side.
Cut a hair tie in half and fish through the tube at one end. (Use this safety pin technique for how to fix a drawstring. On the other end, fish a ribbon through.
Tie both ends to form a tube.
Folding in half long ways–right sides together–pin the long edges together and sew shut.
Turn the whole thing right side out and you can now fill it with your Meow Mix Simple Servings.
Use the ribbon at the top and tie to a hook wherever convenient in your kitchen.

Feed your cat and love his satisfied, happy belly!
Head over to Meijer now to enjoy the mPerks!