This simple lifehack will save you tons of time and frustration. Don't you just hate it when the drawstring comes out of your hoodies or sweatpants! I know we all must share this pet peeve. But I had no idea people didn't know this simple fix. All you need is a safety pin.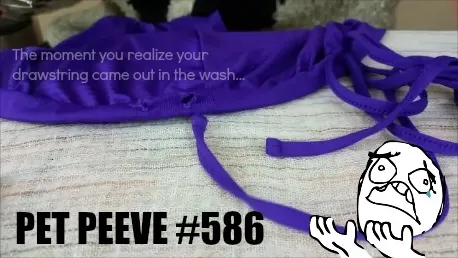 Lifehack – How To Fix A Drawstring that Fell Out
When I was little, my mom showed me this quick trick to fix a drawstring that came out of my clothes. If I recall it was my favorite bumble bee hoodie that lost its cord and I was devastated. She pulled out a safety pin and it was fixed in under a minute. I was convinced she was a magnificent sorcerer.
To my shock and slight disappointment, she's not an all powerful magician. She is, however, a kick-butt-awesome seamstress. (Thanks for always fixing my stuff and altering my clothes to perfection Mom!)
I put together this simple video to show you how easy it is.
This lifehack works on all types of drawstrings. I've used it on round cords, slippery material, thick drawstrings that have frayed ends… works every time. For really thin cords, you can use a smaller safety pin and it works the same, it just takes a little longer to fish it through.
If you've never heard of this trick to fix a drawstring, try it and let me know how it works for you! I'd love it if you'd subscribe to me on YouTube too. 🙂
What's your biggest pet peeve?
I'd love to see if we can find a lifehack to fix it! Do you have any lifehacks to share? If so, tell us in the comments below.