My kids are too old for room parties in school. <Insert sobs here.> But it's not stopping me from coming up with crafty ideas. I am way too young to be a grandma but it's stuff like this that actually makes me look forward to it. This DIY Trick or Treat game would be perfect for a Halloween classroom party but we are just going to use it for the trick or treaters that come to the door.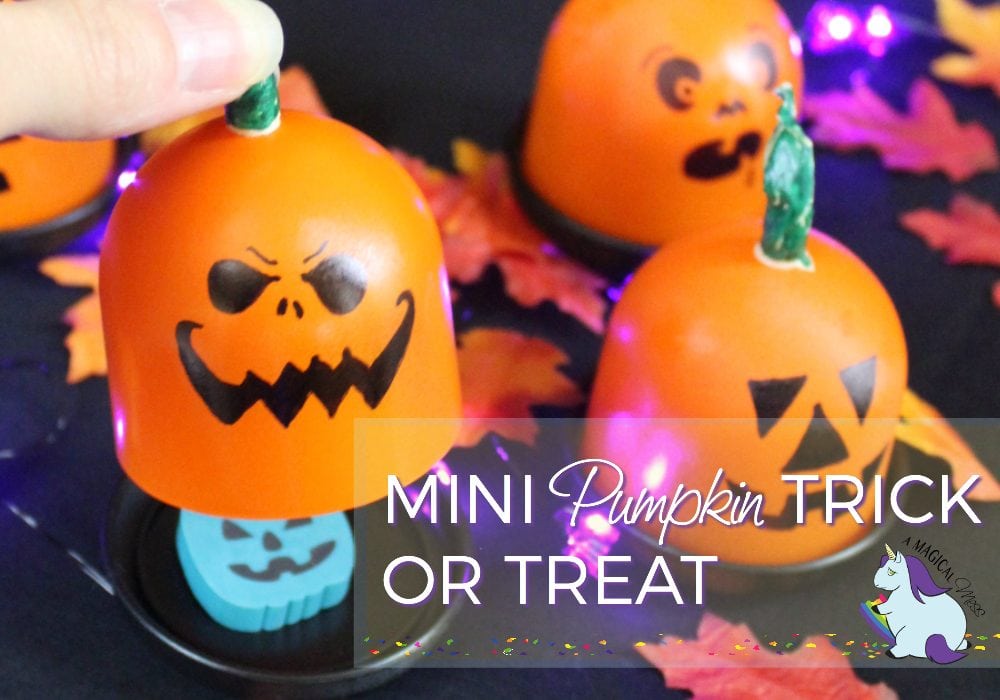 DIY Trick or Treat Game
It was these adorable mini acrylic cake stands that inspired this idea. When bought in bulk, they are under a buck a piece. They are perfect for shower, wedding, and birthday favors but I immediately saw them as little pumpkins.
Supplies needed: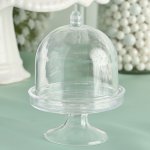 For the mini pumpkins-
10+ mini acrylic cake stands with lids
orange and black spray paint
black and green Sharpie markers
masking tape (or green tape)
For the "spooky pumpkin patch" base-
cookie sheet with lip (large enough to accommodate your preferred number of pumpkins and props)
black cotton fabric (enough to wrap the top of cookie sheet)
packing tape
seam ripper
fun spooky props (I used tiny gravestones, mini lights, and this great fall tree with loose leaves)
Find It Here
Find It Here
Find It Here
Find It Here
&
Tricks or Treats for inside each pumpkin (small candies, eyeballs, spider rings, pumpkin erasers, etc.)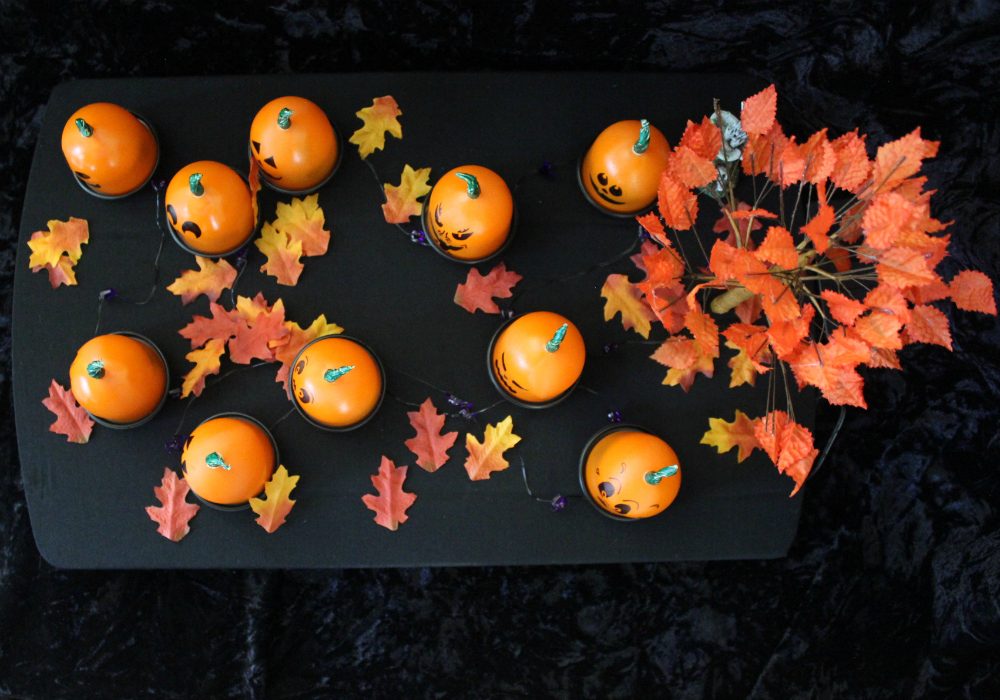 Instructions:
The easiest way to understand what I did will be to watch this video I put together. I will do my best to explain below as well. 🙂
Mini Pumpkins:
First, spray paint the tops of the mini cake stands orange, and the bottoms black. Make sure to follow the instructions on the can and do this in a well ventilated area. Let them dry.
Once totally dry, draw Jack-O-Lantern faces on each orange lid with your black Sharpie marker.
To make the stem, tear off a few inches of masking tape and wrap around the top point of the lid. Bend and twist it to look like a pumpkin stem.
Color the stem of masking tape green. If using green tape, obviously, skip this step. 🙂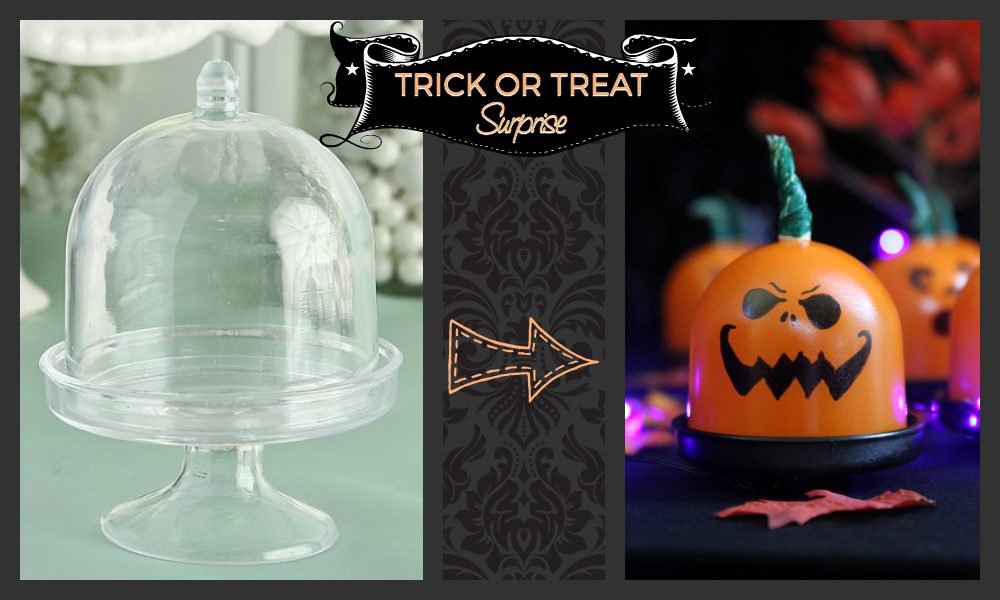 The Base:
Cut the black fabric so that you have enough to cover (and overlap to wrap the edges) or your cookie sheet.
Place the cookie sheet upside-down on the fabric and wrap the edges. Start with one edge, and tape the sides down. Do the opposite side next pulling the fabric as tight as possible. Repeat on other two sides.
Flip your fabric-covered cookie sheet over.
Place your mini pumpkins where desired.
Use the seam ripper to cut slits in the fabric under where you want each pumpkin.
Insert the base of each pumpkin into the slits. (This allows them to stay in place when lifting off the lids.)
Do the same for whatever other props you're using.
Add lights, silk leaves, decorative grave stones, or whatever else you can come up with.
Fill each pumpkin with a Trick or a Treat.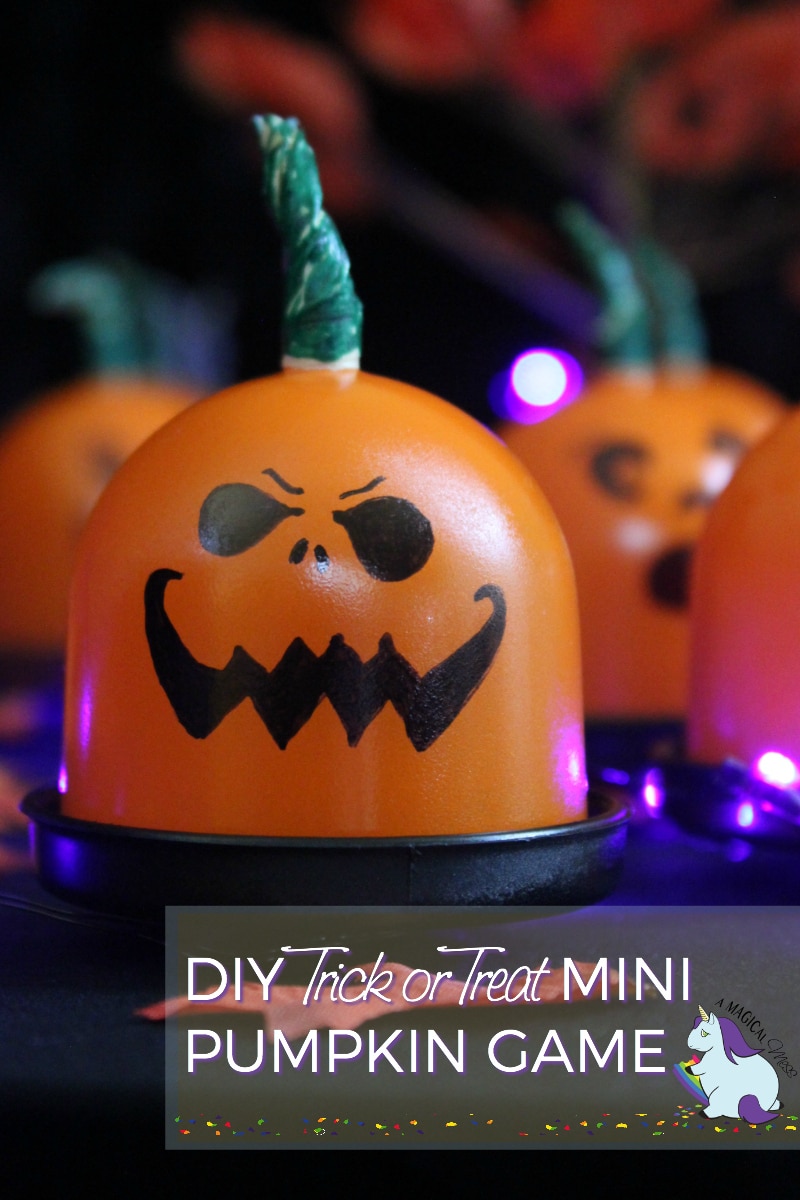 Alternative Ideas
This could easily be made into a fun matching game. Uncover two matching prizes and you win those prizes. And the more mini pumpkins the better! Otherwise, it's a fun Trick or Treat game to use in a classroom party or for the trick or treaters that come to your door.
Purchase the mini cake stands here: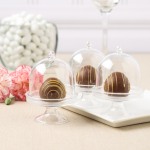 Acrylic Cake Stand with Lid
Do you play any sort of trick or treat game?