After countless hours whisking egg whites to soft peaks and meticulously measuring almond flour, we've perfected the ultimate French macaron recipe. But why stop there? We've taken these tiny treats to a whole new level of delightful by creating mini macarons. These tiny tasty bites are not just a treat to eat; they're a feast for the eyes too. This post contains affiliate links.
Displayed on charming mini cake stands, these mini versions of the classic regular size macarons add a touch of whimsy to any table setting. Whether it's a high tea affair or a cozy gathering at home, these perfect macarons are sure to be the conversation starter!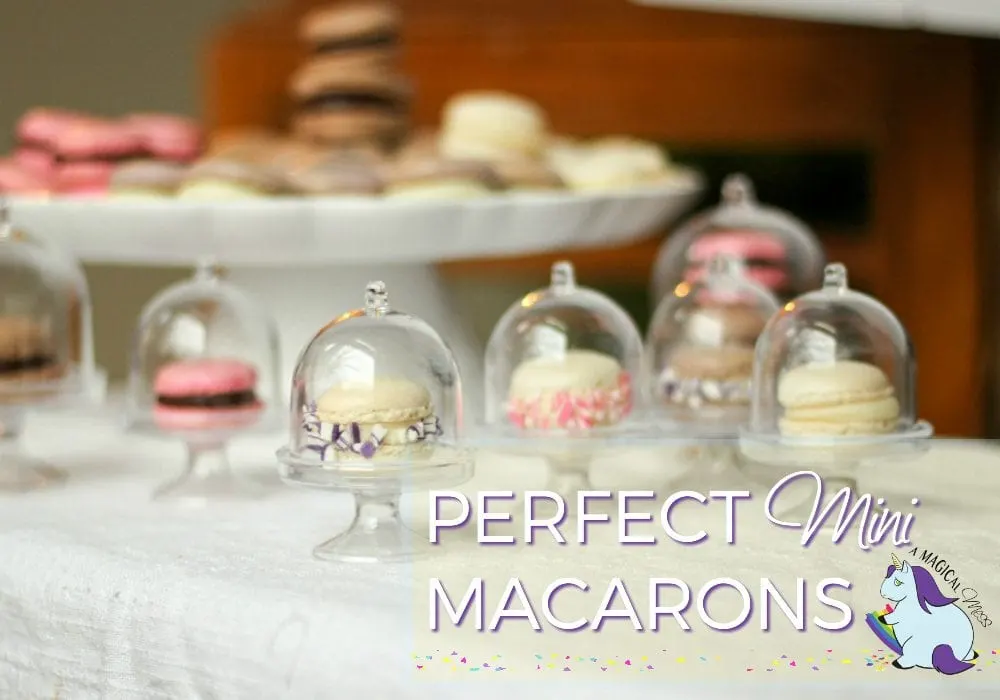 Tiny Treats, Mega Delight: The Magic of Mini Macarons
Everything is so much more fun when it's mini! Just like the enchanting mini worlds in Mario Brothers or the pint-sized thrills of Micro Machines, I've always had a soft spot for all things tiny. It's no surprise that this love easily translated into my baking adventures.
When it comes to cookies, especially these mini macarons, they give me that fun illusion that I can enjoy several hundred in one sitting—each bite a tiny tasty bite into a heavenly dream. It's not just about the quantity; it's the charm of crafting something so exquisite and small, like a little secret between the baker and the treat.
Plus, working with a piping bag to create those perfectly round macaron shells is like being an artist with a palette of sweet, colorful possibilities.
Why You'll Love These Mini Macarons
Bite-Sized Bliss: Their miniature size makes them perfect for sampling multiple flavors. Enjoy a little taste of heaven without the commitment of a larger dessert.
Elegant Presentation: They're not just delicious; they're also incredibly cute! Mini macarons make any dessert table look sophisticated and inviting.
Perfect for Parties: Whether it's a bridal shower, a fancy birthday, or a high tea, these tiny treats are sure to impress your guests.
Fun to Make: The process of making macarons can be a therapeutic challenge, and the satisfaction of creating these little beauties is unbeatable.
Customizable: With the option to change up the ganache flavors and colors, you can tweak these macarons to any theme or occasion.
Tiny French Macaron Essentials
Here's what you need to make this mini dessert recipe. The measurements are in the recipe card below.
Ingredients:
Almond flour (super finely ground)
Powdered sugar
Egg whites, room temperature
Pinch of salt
Superfine granulated sugar
Gel paste food coloring (optional)
Coconut and/or vanilla extract (for filling, not shells)
Equipment: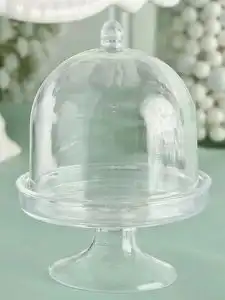 Mini Cake Stands
These Mini Acrylic Cake Stands with Lids are a versatile display for any celebration. Ideal for showcasing everything from cake pops to tiny cakes and cookies, their clear design and domed lids will complement your treats and impress your guests.
Buy Now
We earn a commission if you make a purchase, at no additional cost to you.
Steps to Create your Army of Mini Macarons
Trace Your Mini Template:
Grab the base of a mini acrylic cake stand or any small round object to trace your new mini template. Space out your circles on parchment paper, leaving a little room in between each for the macarons to spread.
Preheat Your Oven:
Set your convection oven to 300°F or 325°F if you're not using convection. Remember, convection is your best bet for getting those high, proud feet on your macarons.
Blend and Sift:
Whizz your almond flour and powdered sugar in a food processor for a super fine consistency. Sift the mixture, discarding any large bits, to avoid lumpy tops on your macarons.
Whip to Stiff Peaks:
Using a whisk attachment, gently start beating your room temperature egg whites with a pinch of salt. Gradually increase speed, adding superfine sugar and a hint of gel food coloring until stiff peaks form. Watch out – overbeating is a no-no!
Folding Fun:
Gently fold your meringue into the almond flour and sugar mix. This crucial step should be done by hand with a rubber spatula to keep the air in.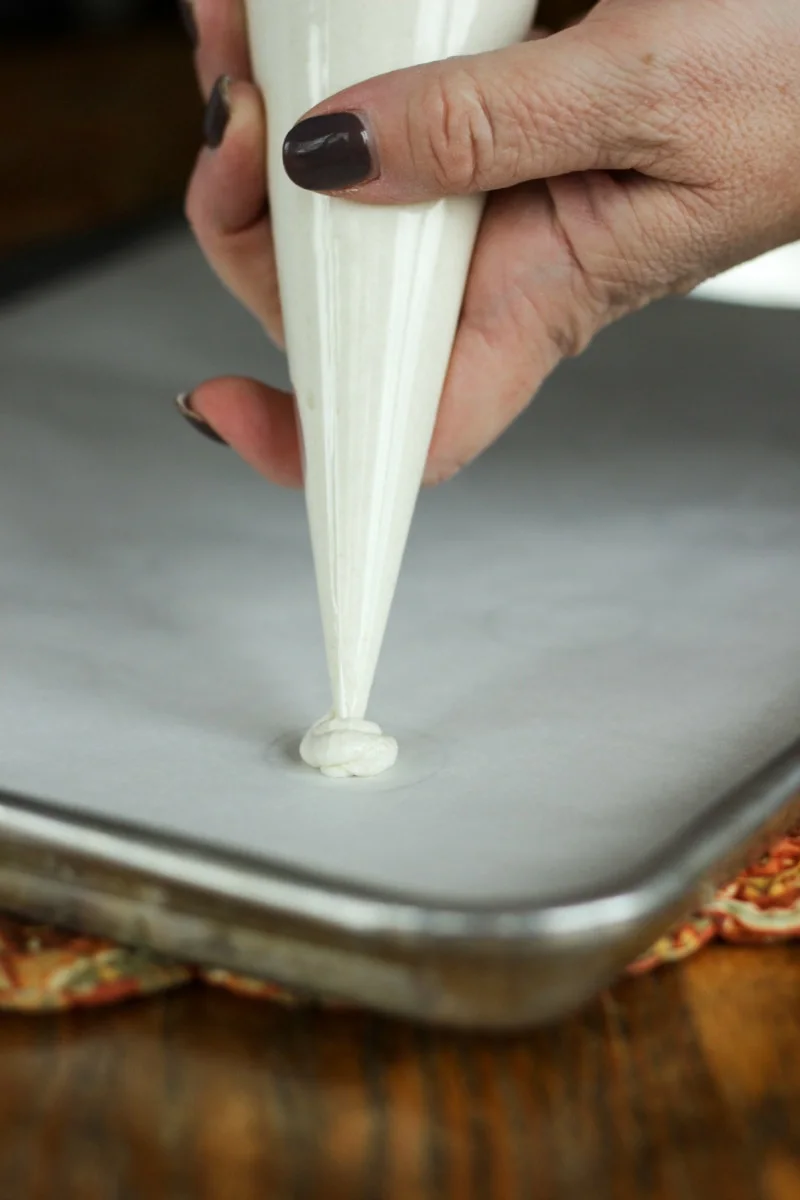 Piping Perfection:
Fill your pastry bag and pipe the batter onto the parchment paper over your mini template. Once done, slide out the template and let your macarons sit for about 15 minutes to settle any air bubbles.
Bake and Vent:
Pop them in the oven for 5 minutes, then quickly open the door to vent out steam. Continue baking for another 5-6 minutes. Keep a close eye on them, looking for a slight golden hue as your cue that they're done.
Cool and Pair:
Allow the macaron shells to cool completely before you even think about moving them. Then, play matchmaker and find each shell its perfect partner.
Ganache Galore:
Pipe your choice of ganache onto one shell of each pair. Gently sandwich them together, and voilà!
Final Flourish:
(Optional) Roll the edges in rainbow nonpareils, coconut flakes, or whatever tickles your fancy for that extra pizzazz.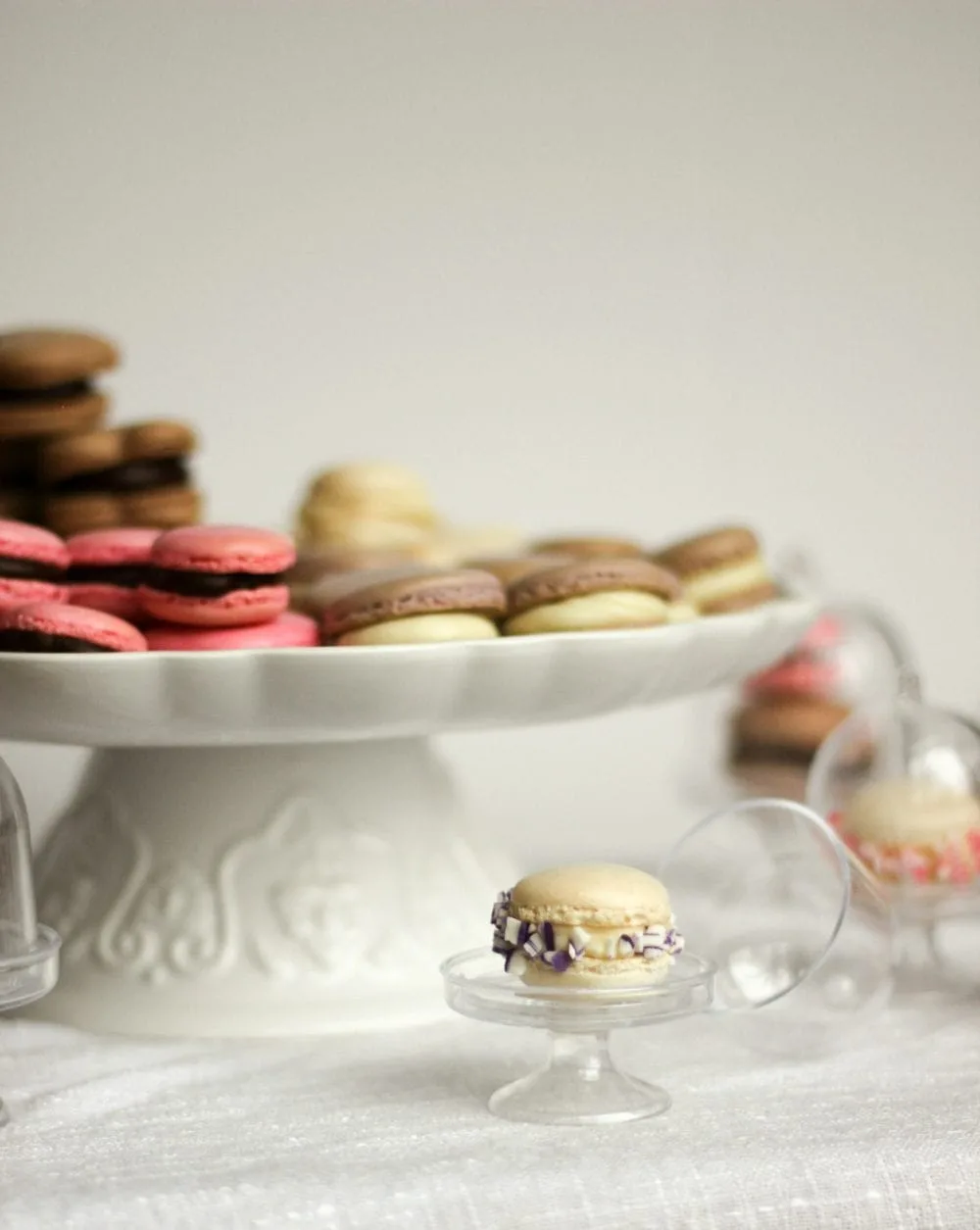 Don't forget to try the double chocolate French macaron recipe too so you can have the two tone effect with extra flavor variety.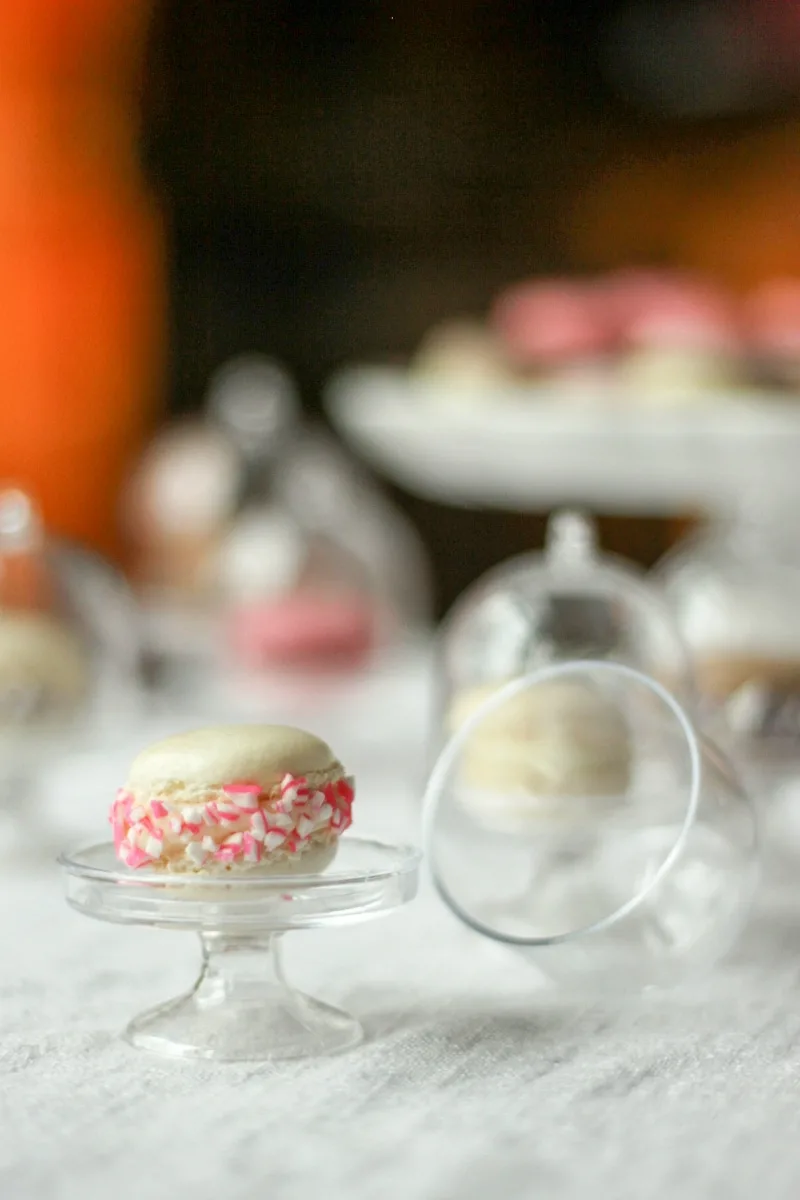 A Miniature Feast: Perfect Pairings for Your Tea Party
Imagine a table set under a canopy of twinkling fairy lights, each dish a miniature marvel in its own right. These mini macarons are the stars of the show, but what's a performance without a stellar supporting cast?
Fairy Shortbread Bites: Buttery and crumbly, these tiny shortbread cookies are dusted with magic (also known as sprinkles) and are the perfect tiny treat to include at your bash.
Mini Fairy Donuts: Adorned with pastel glazes and a sprinkle of fairy dust, these donuts are a dreamy match for the delicate crunch of macaron shells.
Tiny Fairy Cakes: With a dollop of frosting and a sprinkle of whimsy, these cakes will transport your guests to a world where everything is enchanting and bite-sized.
Whether you're throwing a fancy tea party for your child and their stuffed animals, or organizing a book club with a fantasy theme for your friends, these magical little bites are sure to be a hit!
Using a larger cake stand or elegant platter allows you to stagger the height of your beautiful gluten-free cookies and the result is excellent for the visual composition.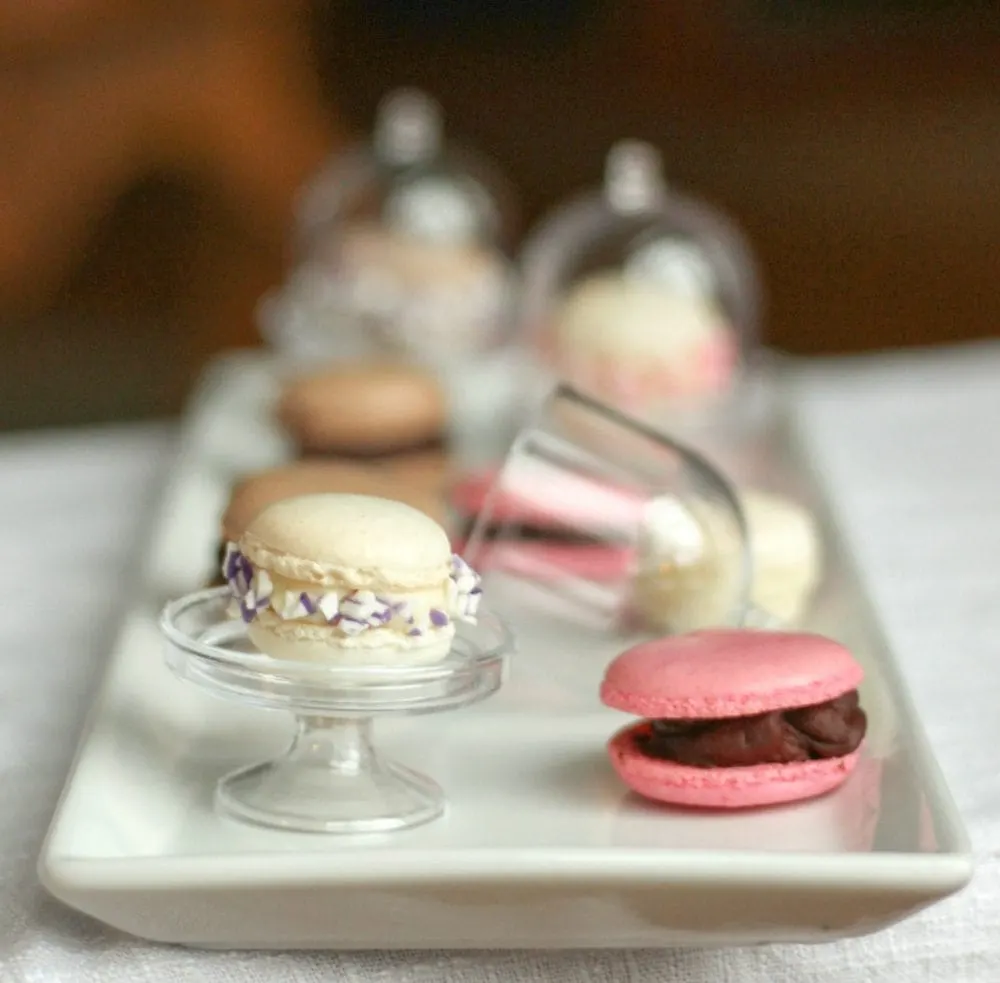 Filling Options
Begin with these classic chocolate ganache recipes as your canvas. From there, let your imagination take the reins:
Extract Extravaganza: Infuse your ganache with a splash of pure extracts. Think peppermint for a wintry touch, orange for a citrus kick, or raspberry for a fruity twist. Just a few drops can transform your tiny treats into a new flavor experience.
Colorful Creations: A dab of gel food coloring can turn your ganache into a vibrant surprise that peeks out from between those delicate shells. Match the colors to a theme or season to make your mini macarons the talk of the table.
Roll With It: Once filled, take those mini macarons for a roll through a wonderland of toppings. Sprinkles or rainbow nonpareils for a birthday bash, edible glitter for a touch of sparkle, crushed candy for a bit of crunch, or shaved coconut for a tropical escape.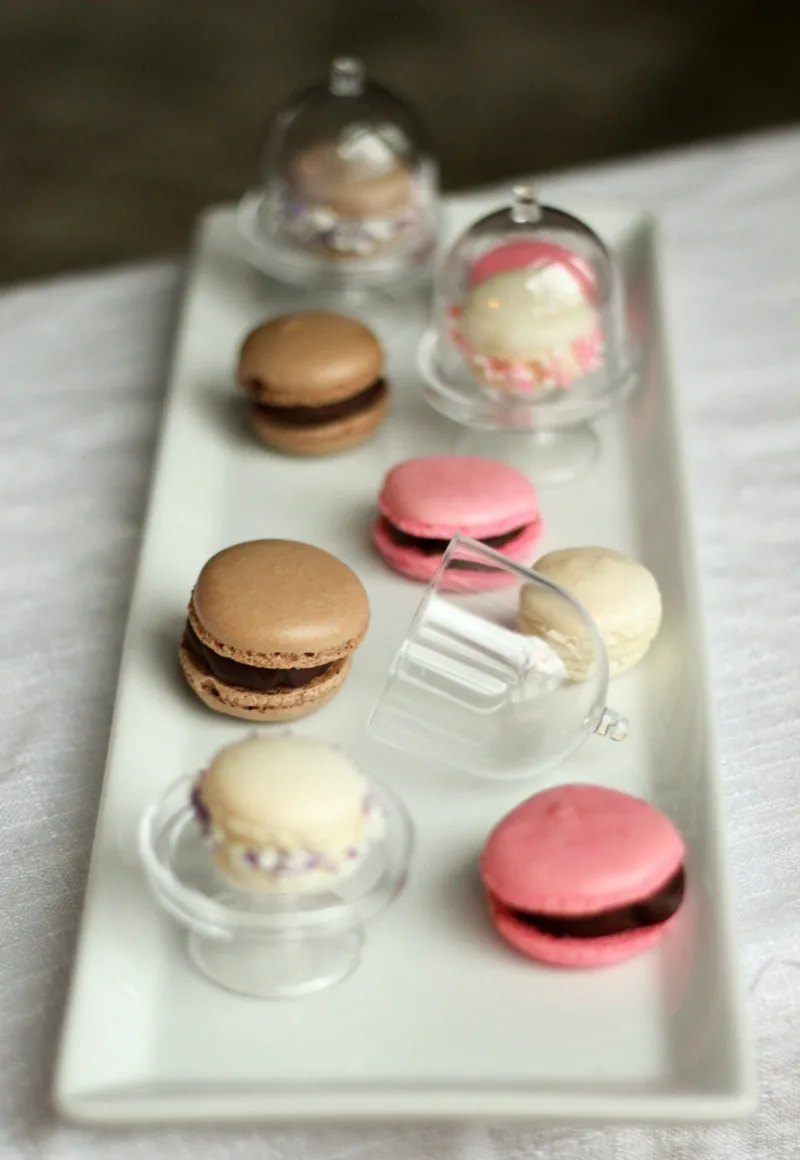 Storage
To store leftover mini macarons, place them in an airtight container with layers separated by parchment paper. They'll stay fresh in the fridge for up to a week or in the freezer for about a month. For the best flavor, let them come to room temperature before serving again.
Recipe Notes and FAQ
Notes:
Egg Whites: Make sure your egg whites are at room temperature to achieve the perfect meringue.
Macaron Size: Consistency is key! Use a template to ensure all your macarons are uniform in size.
Baking: Keep a close eye on your macarons as they bake. Slight variations in oven temperature can make a big difference.
Filling: Wait until your ganache reaches a thick, pipeable consistency before filling your macarons to avoid any runniness.
Can I make macarons on a humid day?
Humidity can affect macarons, making them tricky to work with. It's best to bake on a dry day or in a controlled environment.
Why do my macarons have no feet?
This could be due to undermixing the batter, not letting them rest before baking, or too low oven temperature.
Can I use regular sugar instead of superfine sugar?
Yes, but for best results, pulse it in a food processor first to get it as fine as possible.
My macarons are hollow. What went wrong?
Hollow macarons may be caused by overbeating the egg whites or too high of an oven temperature.
Yield: 90 mini macarons
Mini Macarons Recipe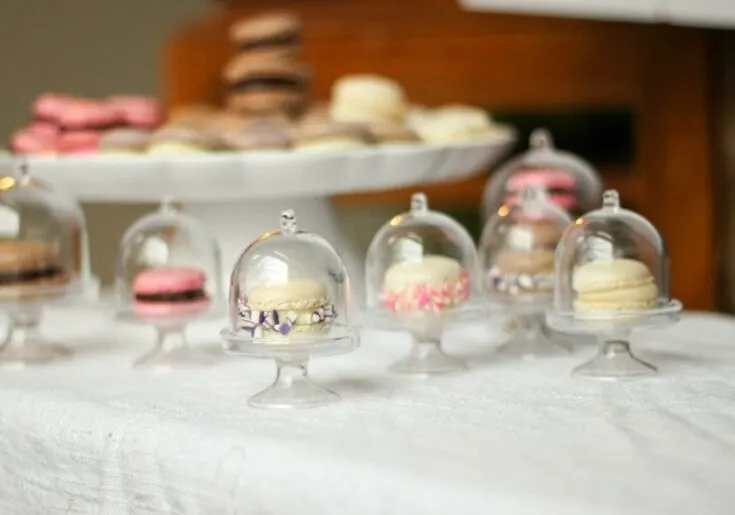 These mini French macarons are charming and perfect for any gathering. They're a hit at parties and special occasions, offering a pop of color and a deliciously delicate crunch that's sure to impress your guests.
Ingredients
2 3/4 cup almond flour, super finely ground
2 3/4 cup powdered sugar
1 cup egg whites, room temperature (from 7-8 eggs)
pinch salt
3/4 cup superfine granulated sugar, you can grind your own in a food processor
7 drops gel paste food coloring, optional–white is awesome
Coconut and/or vanilla extract, only flavor filling NOT shells
Chocolate ganache
Parchment paper
Pencil
Mini cake stand or something to trace to get the desired size template for your macarons
Pastry bags or plastic baggies
Instructions
Create a template for your mini macarons by tracing small circles on parchment paper, leaving space between each for spreading.
Preheat your oven to 300°F if using a convection setting, or 325°F for a standard oven.
Process the almond flour in a food processor to make it extra fine, then sift it to remove any large pieces.
Whip the room temperature egg whites with a pinch of salt, gradually adding granulated sugar until you achieve stiff, glossy peaks. If you're adding color, now's the time to fold in the gel food coloring.
Carefully fold the meringue into the sifted almond flour until the batter is smooth and flows like lava.
Fill a pastry bag fitted with a round tip with the batter, and pipe onto the parchment paper over your template.
Gently tap the baking sheet on the counter to release air bubbles. Let the piped macarons sit for 15 minutes to form a skin.
Bake for 5 minutes, then quickly open the oven door to let out any steam. Continue to bake for another 5-6 minutes until the macarons are set and have developed feet.
Cool the macarons on the baking sheet until they are completely cool to the touch and can be lifted without sticking.
Match macaron shells in pairs and pipe your chosen ganache onto one shell of each pair, then sandwich them together.
Optionally, roll the filled macarons in sprinkles, crushed candy, or coconut flakes for a decorative and flavorful finish.
Notes
Ensure egg whites are at room temperature for best volume.
Tap baking sheet to release air bubbles before baking.
Let macarons sit before baking to help form a skin.
Watch closely as baking times may vary by oven.
Recommended Products
As an Amazon Associate and member of other affiliate programs, I earn from qualifying purchases.
Nutrition Information:
Yield:
90
Serving Size:
1 macaron
Amount Per Serving:
Calories:

54
Total Fat:

2g
Saturated Fat:

1g
Trans Fat:

0g
Unsaturated Fat:

2g
Cholesterol:

1mg
Sodium:

14mg
Carbohydrates:

8g
Fiber:

1g
Sugar:

6g
Protein:

1g
Nutrition facts are an estimate only.
Pin this image to your dessert board to save and share!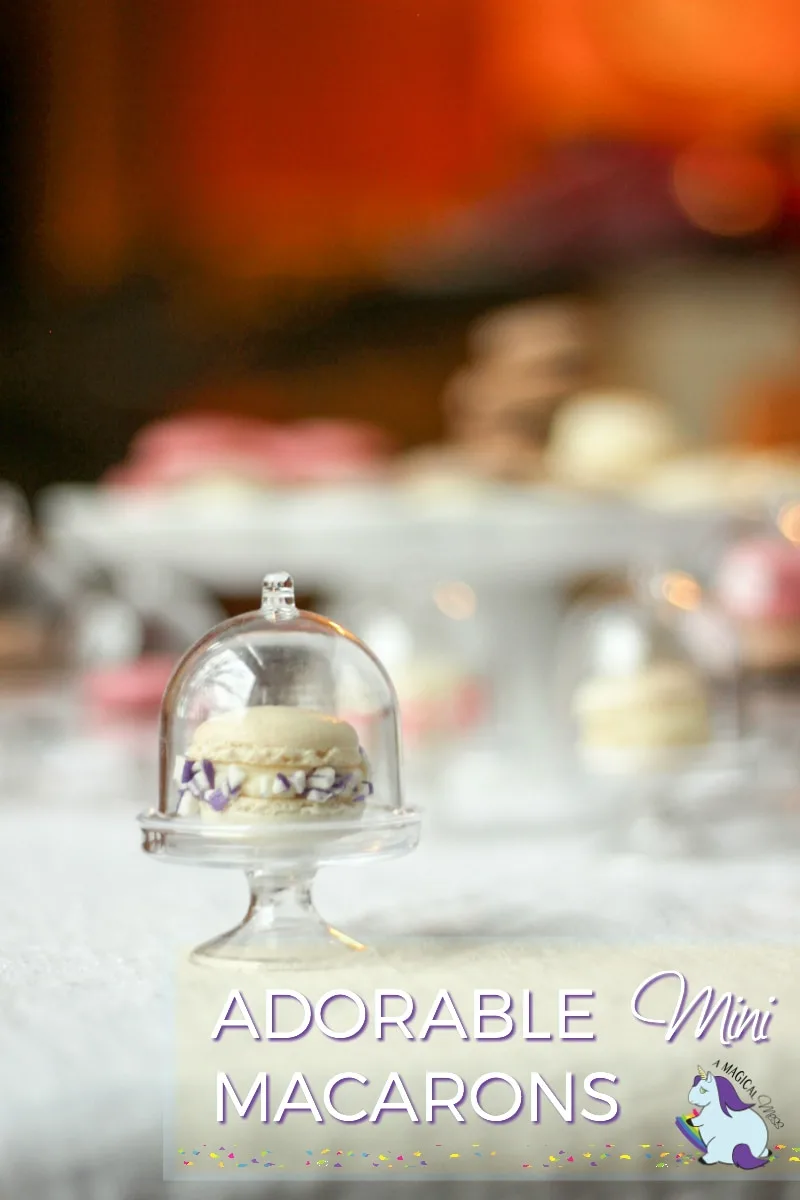 Craving more tiny treats and whimsical eats? If this mini macaron recipe has added a sprinkle of joy to your baking, pass that delight onto your friends and family by sharing it.
Make sure to subscribe to the newsletter for the latest recipes that'll make your life a little more magical.
And I'm curious, have you ever whisked up a batch of mini French macarons? Share your stories in the comments—I'd love to hear them!
P.S. I can't get enough of these adorable mini cake stands—they're not just for macarons. They've inspired a trick or treat game that's too fun to keep to myself.