Everything is so much more fun when it's mini! From the mini world in Mario Brothers to Micro Machines, I've always preferred tininess.
With cookies, it just gives me the illusion that I can consume several hundred–which is like a heavenly dream come true.
So, after perfecting the best French macaron recipe, we made mini French macarons, and they are so much fun.
They look adorable displayed in mini cake stands and make the perfect table setting for any occasion.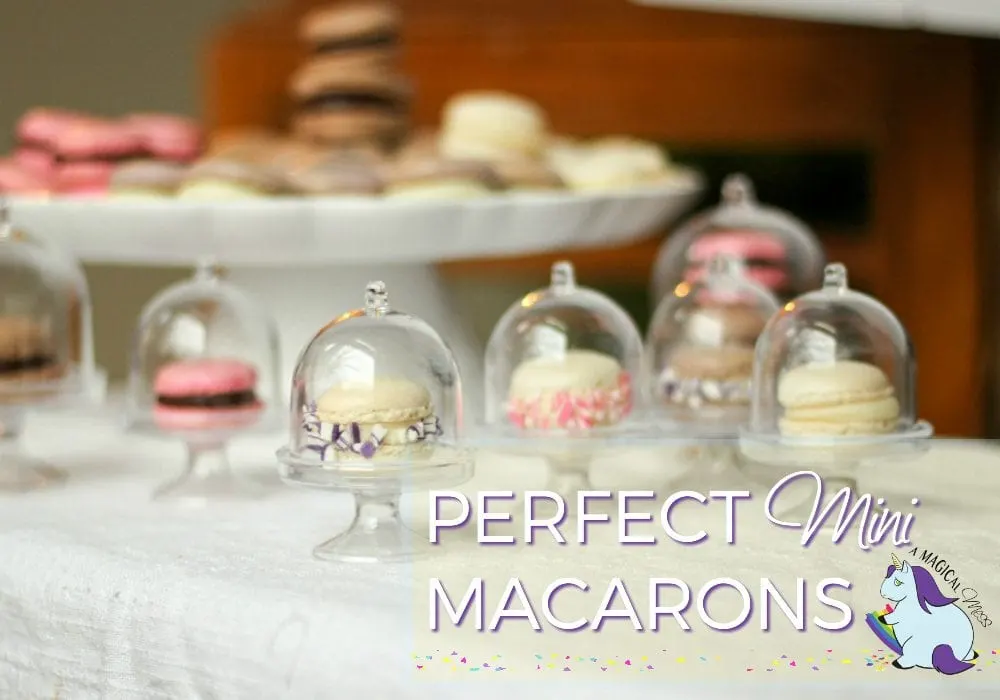 Mini French Macarons
Obviously, not much changes when you just shrink the cookies. The recipe is the same, but the technique is a bit different.
Find the best French macaron recipe at that link above.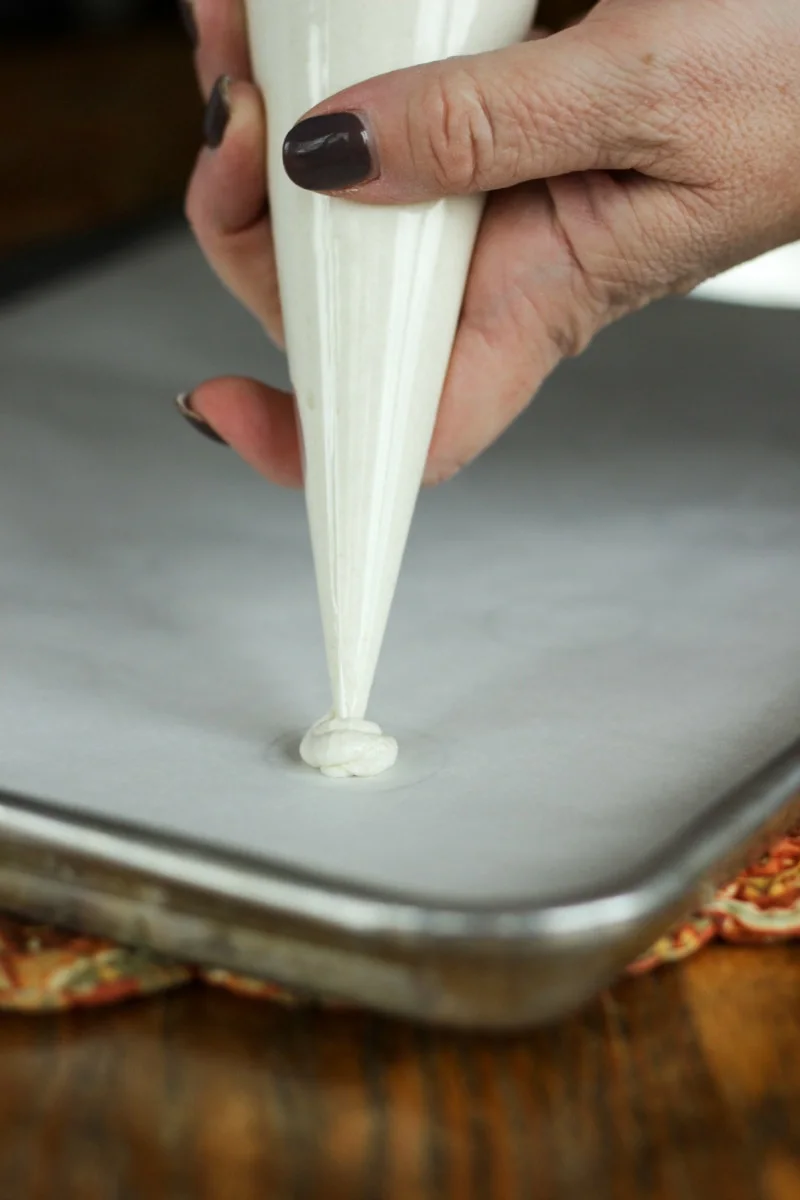 You'll need a new template for your shells. You can decide just how small you'd like to make them.
We used the bottom of the mini acrylic cake stand to trace our circles because we wanted to make sure the mini French macarons would fit.
The only other change is the baking time. You'll still want to vent the oven after 5 minutes, but then reduce the remaining baking time to about 5-6 minutes.
For the first batch, you should watch your shells carefully and remove when they have slightly golden edges.
If they're sticking to the parchment paper after baking, increase baking time by a minute or two.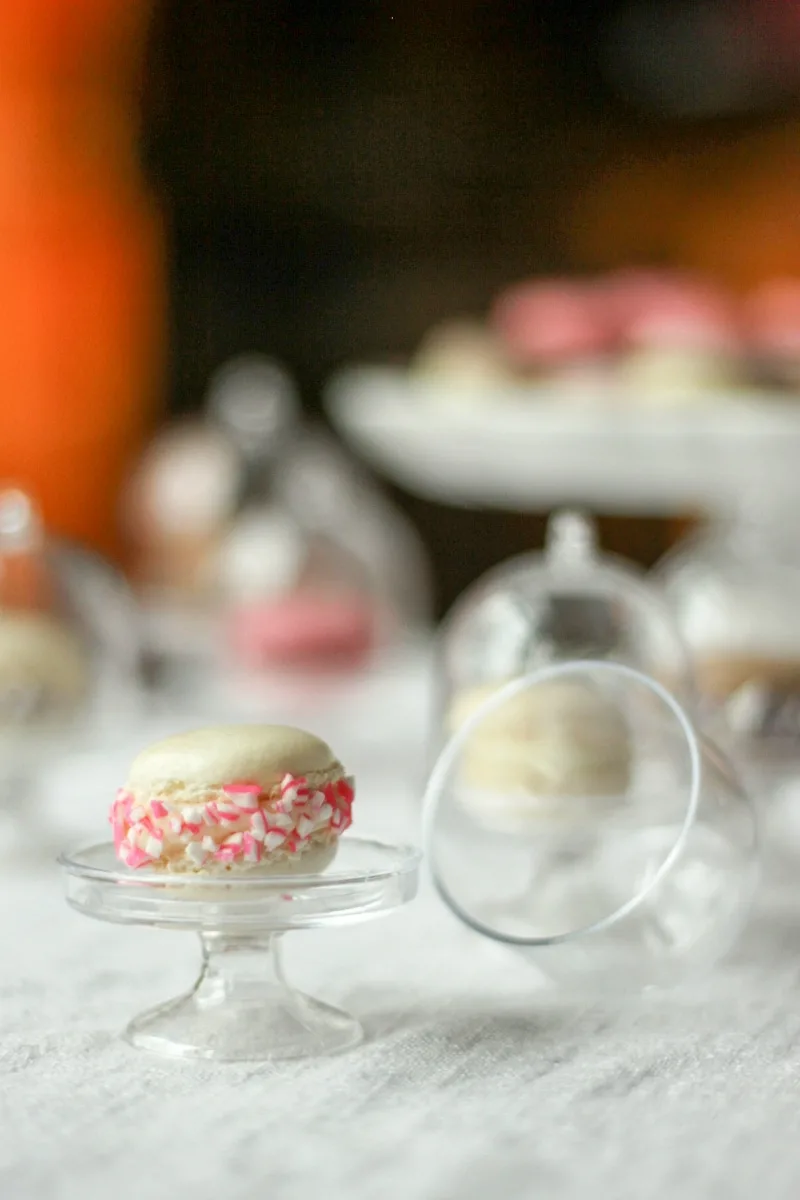 Don't forget to try the double chocolate French macaron recipe too so you can have the two tone effect with extra flavor variety.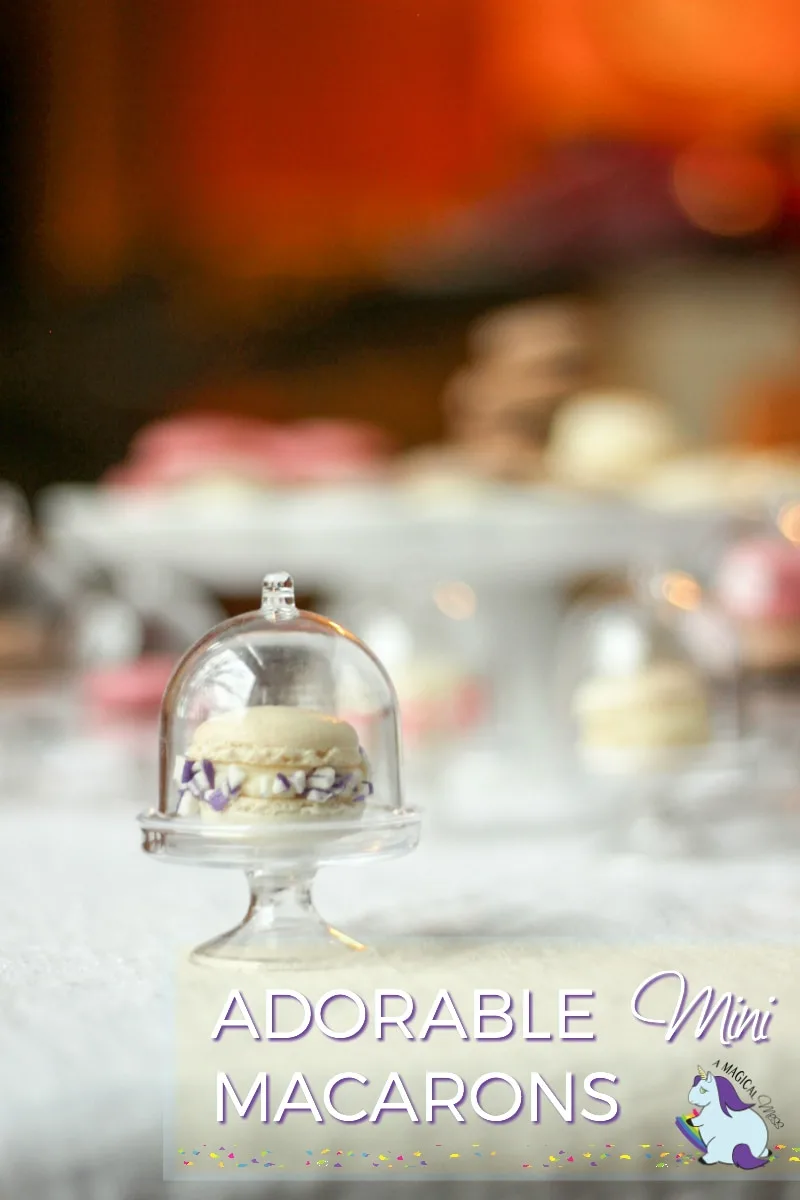 Fun Fillings
You'll want to start with these chocolate ganache recipes. They are so easily tweak-able. Add whatever extracts and food colorings you desire.
Then roll in anything from sprinkles and edible glitter to broken candy pieces or shaved coconut.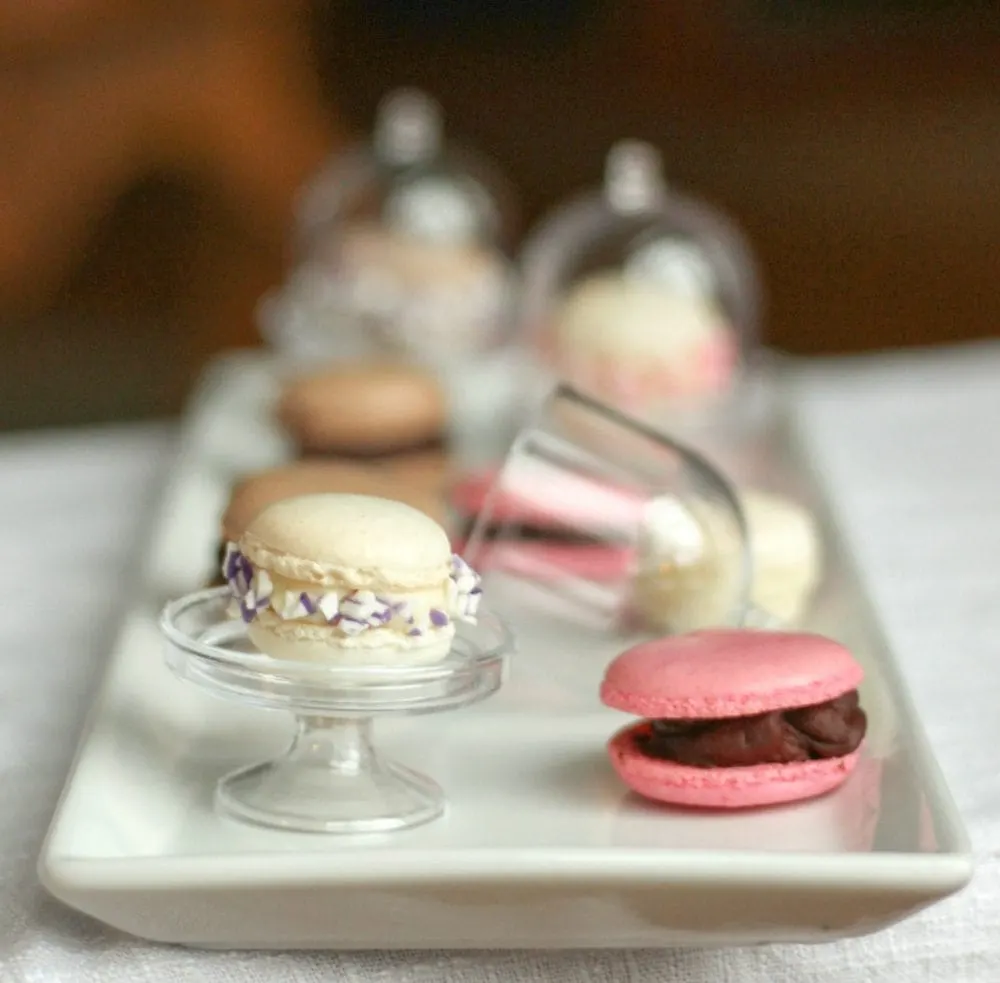 Anything you add will only make them prettier while on display in these precious little cake stands.
These are ideal for baby or bridal showers, weddings, or fancy birthday parties.
These mini macarons make me feel like a tea party is in order.
Like a fancy garden party where everyone dresses up, eats tiny sandwiches, and drinks tea from super classy cups.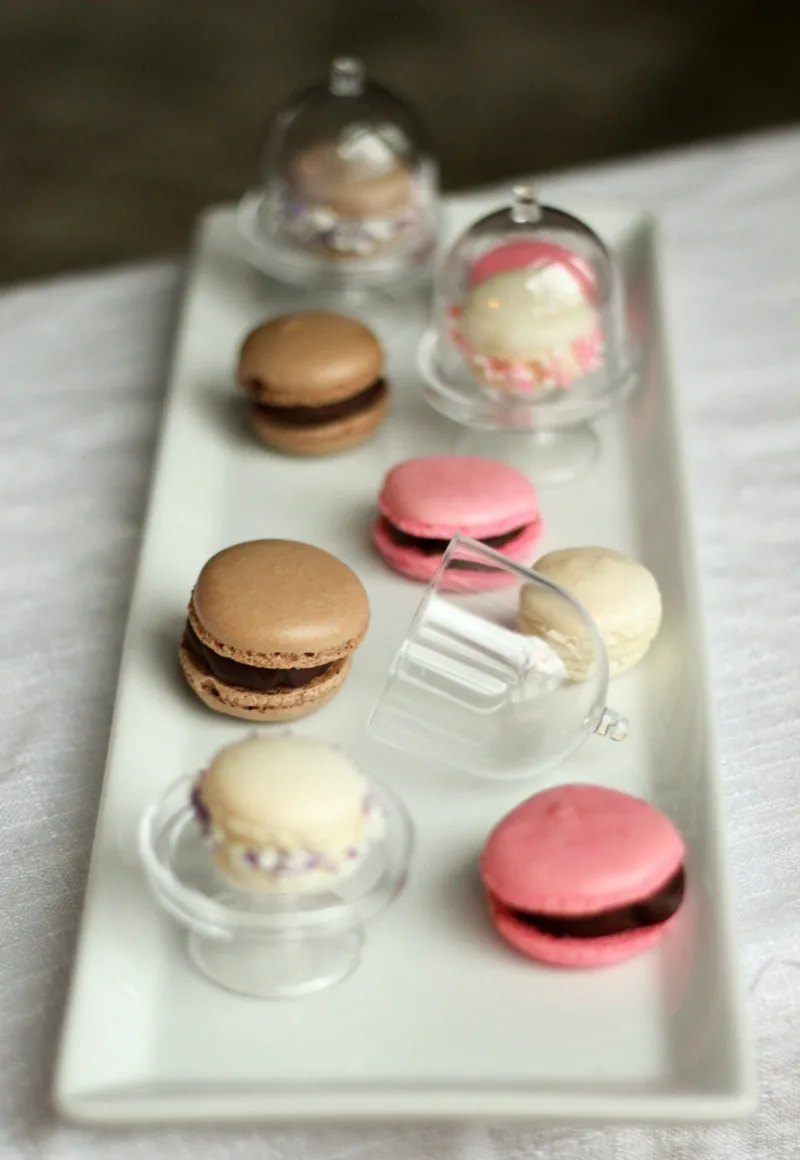 Using a larger cake stand or elegant platter allows you to stagger the height of your beautiful gluten-free cookies and the result is excellent for the visual composition.
Any occasion with this sweets table is sure to be a success.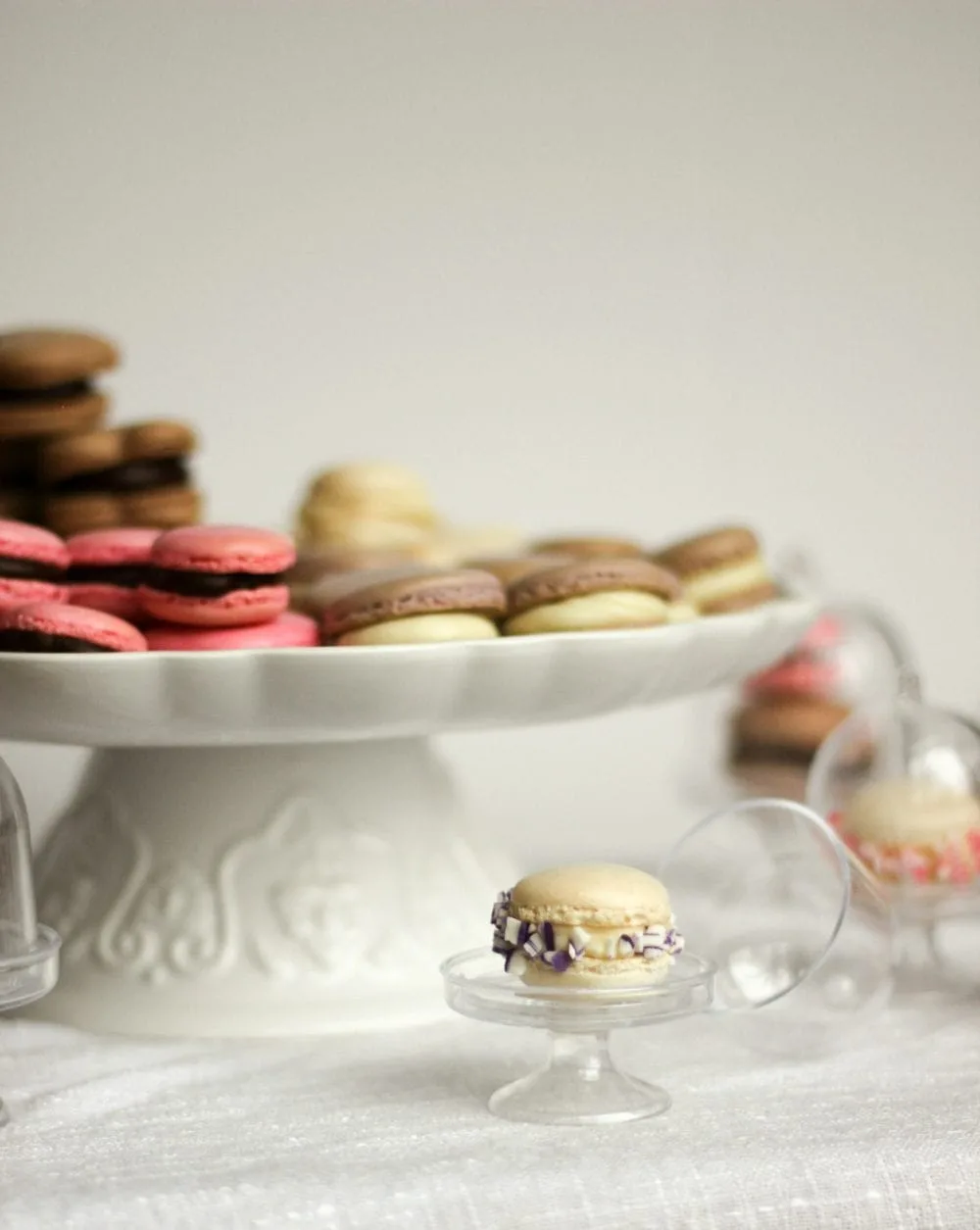 Yield: 90 mini macarons
Mini French Macarons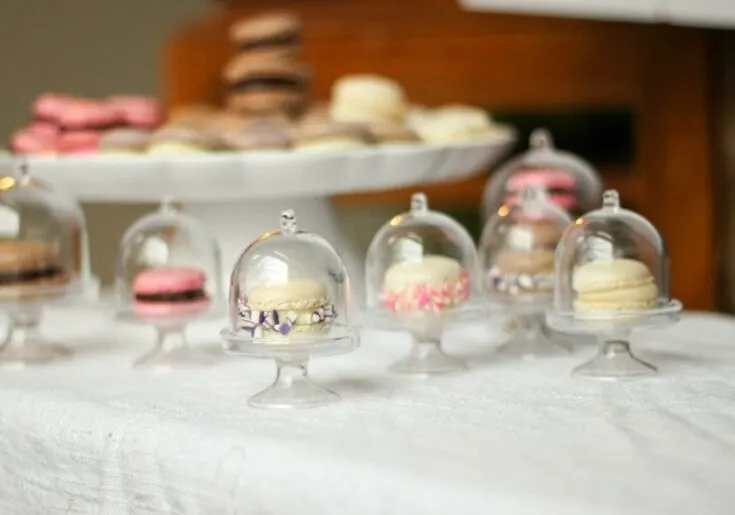 These mini French macarons are gorgeous little treats perfect for any event.
Ingredients
2 3/4 cup almond flour, super finely ground
2 3/4 cup powdered sugar
1 cup egg whites, room temperature (from 7-8 eggs)
pinch salt
3/4 cup superfine granulated sugar, you can grind your own in a food processor
7 drops gel paste food coloring, optional–white is awesome
Coconut and/or vanilla extract, only flavor filling NOT shells!
Chocolate ganache
Parchment paper
Pencil
Juice cap, or bottom of a cup the desired size for your macarons
Pastry bags or plastic baggies
Instructions
See blog post for directions.
Nutrition Information:
Yield:
90
Serving Size:
1 macaron
Amount Per Serving:
Calories:

62
Total Fat:

3g
Saturated Fat:

1g
Trans Fat:

0g
Unsaturated Fat:

2g
Cholesterol:

1mg
Sodium:

18mg
Carbohydrates:

9g
Fiber:

1g
Sugar:

7g
Protein:

1g
Nutrition facts are an estimate only.
If you like this recipe please share it with your friends and family.
Also, for more recipes like this mini macarons one, please subscribe to our newsletter.
Have you ever made mini French macarons?
Oh, and I'm so obsessed with these mini cake stands. Check out the trick or treat game I invented! 🙂