If you love the flavor combo of chocolate, marshmallows, and graham crackers, you have to try these s'mores pudding cups. The cool and creamy no-bake dessert is an excellent choice for summer parties.
Get ready to combine your love of fluffy marshmallows, rich chocolate, crunchy graham crackers, and creamy whipped topping. But, instead of warming s'mores up by the fire, we are eating them cool in individual little dessert cups.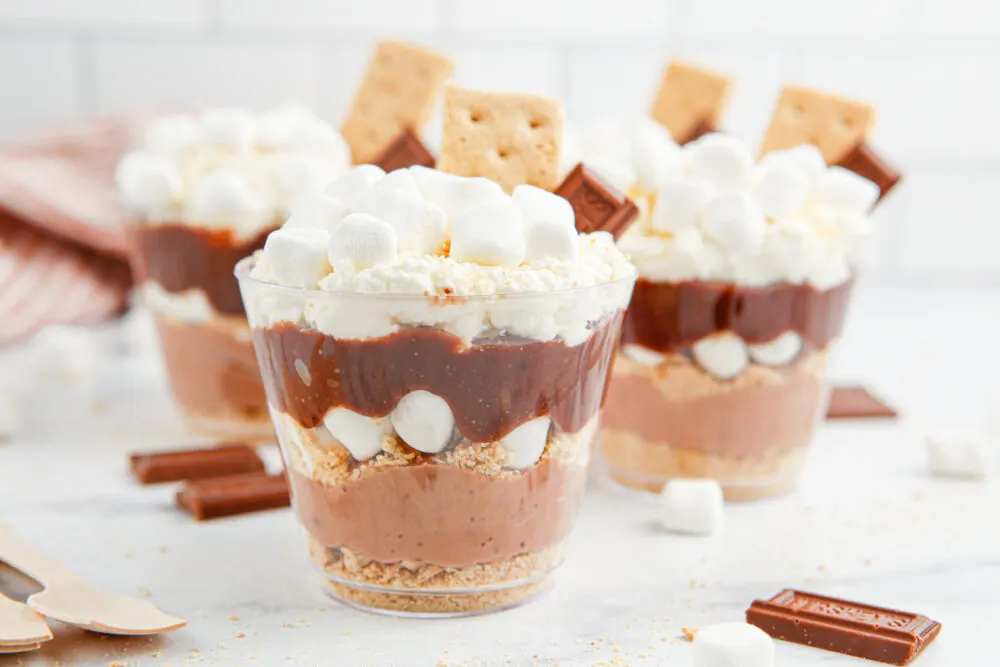 A Tasty Twist on the Classic S'mores Flavor
The flavors of s'mores whisk me back to my childhood at my dad's house. After long days of pretending I was a mermaid in his pool, a typical night would include s'mores by a bonfire.
Now, it's fun to combine those beloved flavors into other desserts, like these s'mores pudding cups. These are just like mini trifles, but conveniently served in little cups, so guests can grab the perfect portion at a party.
Make these all summer for BBQ's, graduations, birthday parties, Father's Day, and more. Make up an excuse to celebrate because summer flies right by! Don't miss these banana split pudding cups for a similar delicious treat.
Why You Will Adore S'mores Pudding Cups
Easy: Prepare the ingredients and layer the cups. This recipe is quite simple and hard to mess up.
Classic flavor: S'mores lovers will appreciate the twist on a classic dessert.
Customizable: You can easily tweak this recipe to make it your own. Add fewer marshmallows, more chocolate, whatever you prefer.
Convenient serving: Placing mini cups on a dessert table makes it so easy to serve dessert to guests. It's often cleaner, saves time, and more hygienic than having everyone scoop out of one bowl.
Flavor and texture balance: As with most of the trifles and pudding cups on this blog, the layers give you an irresistible balance of creamy, crunchy, sweet, and refreshing in each bite.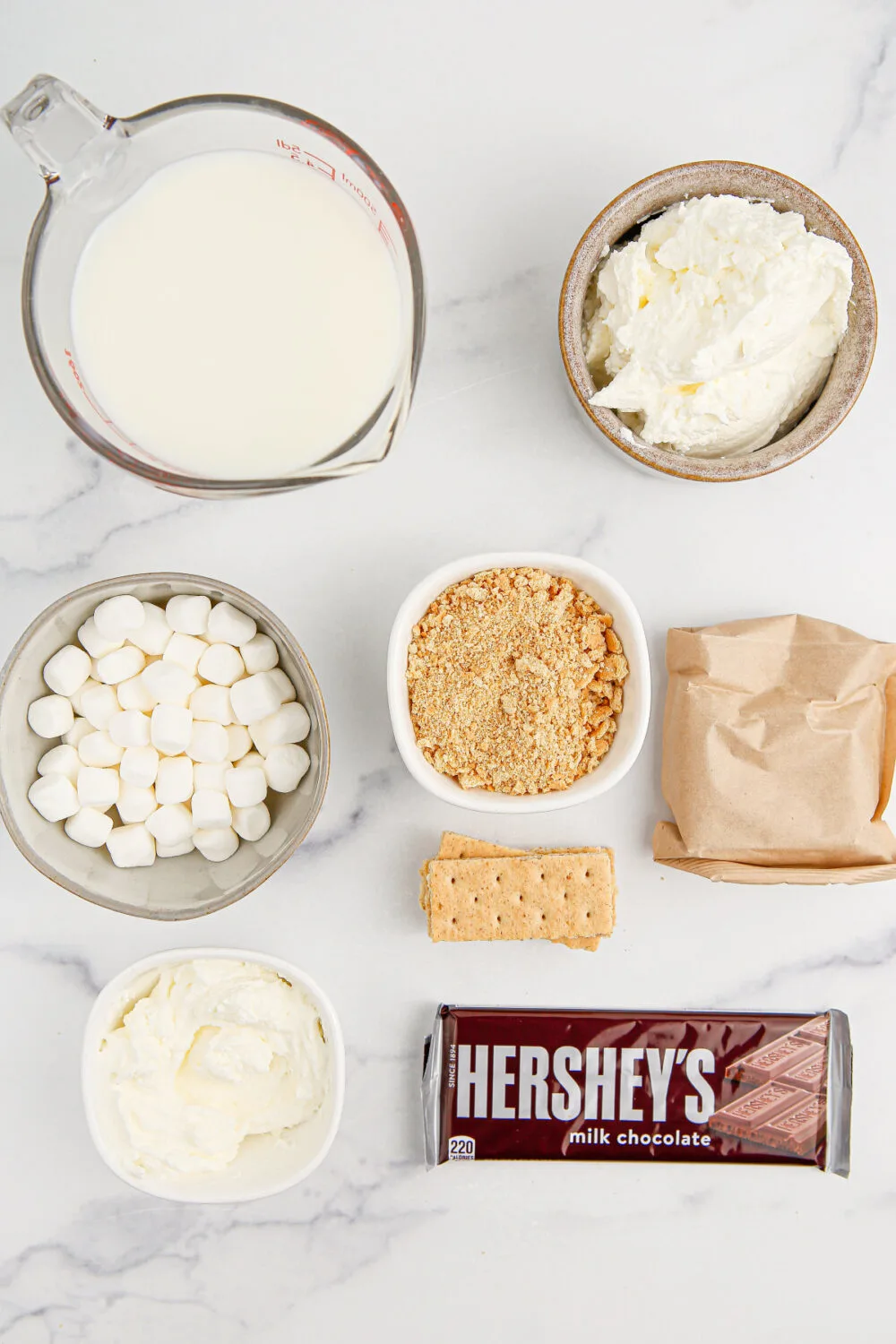 S'mores Pudding Cups Ingredients
Here's what you need to make this no-bake dessert recipe. The measurements are in the recipe card below.
Chocolate pudding mix
Cool whip topping
Marshmallow fluff
Crushed graham crackers
Mini marshmallows
Plastic cups
Hershey's chocolate
Graham crackers
S'mores Layered Dessert Cups Directions
Grab a large mixing bowl and add in the chocolate pudding mix. Pour in cold milk and whisk the two together. Make sure the mixture is well combined and smooth, with no lumps.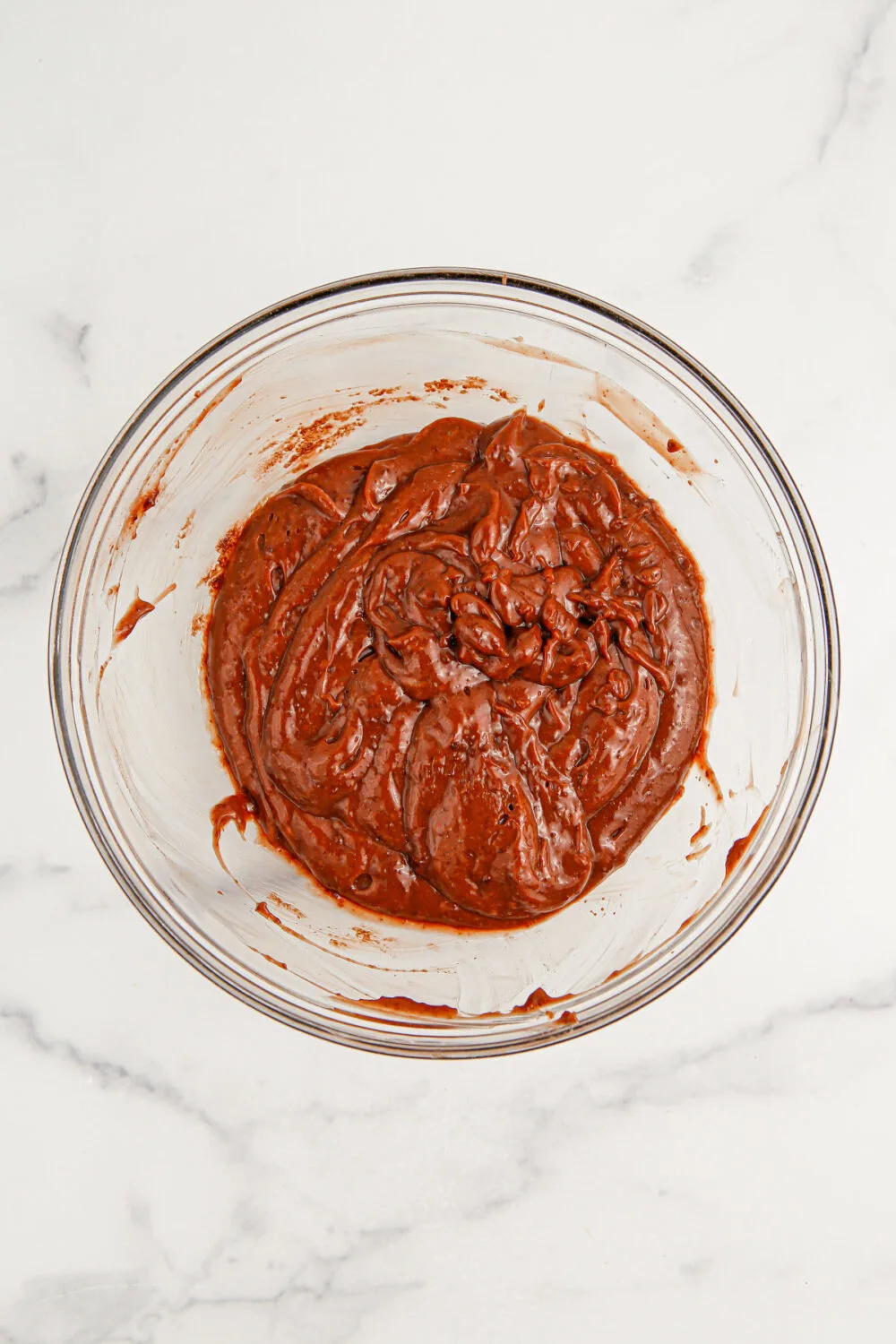 Put the bowl into the refrigerator. Allow it to chill for around 5 minutes – this helps the pudding thicken up nicely.
Once chilled, take half of the chocolate pudding and set it aside for later. Now, take the Cool Whip and fold it into the remaining pudding. You only need 4 ounces at this stage. Keep stirring until it's just combined.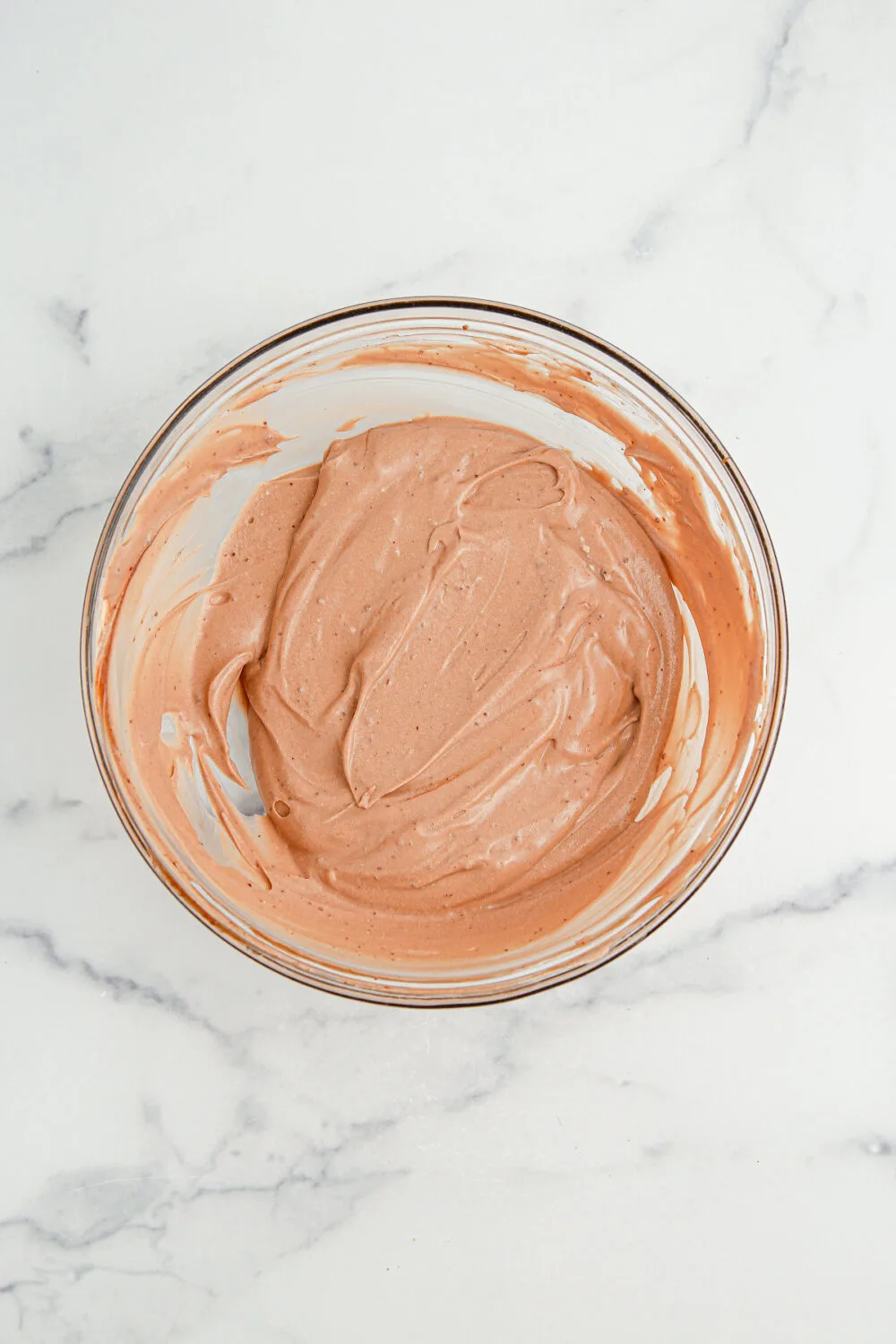 It's time to prepare the serving cups. Divide the crushed graham crackers evenly between the cups – this will create a tasty, crunchy base.
Now, divide the Cool Whip pudding mixture into each cup. The layering has begun!
Sprinkle the remaining crushed graham crackers over the top of the pudding layers in each cup. Now, take half of the marshmallows and divide them between each cup.
Grab the chocolate pudding you set aside earlier. Scoop it onto the marshmallow layers in each cup.
In another bowl, combine the marshmallow fluff with the remaining whipped topping. Once mixed, divide this fluffy goodness on top of each cup.
Place the assembled pudding cups into the refrigerator to chill until you're ready to serve.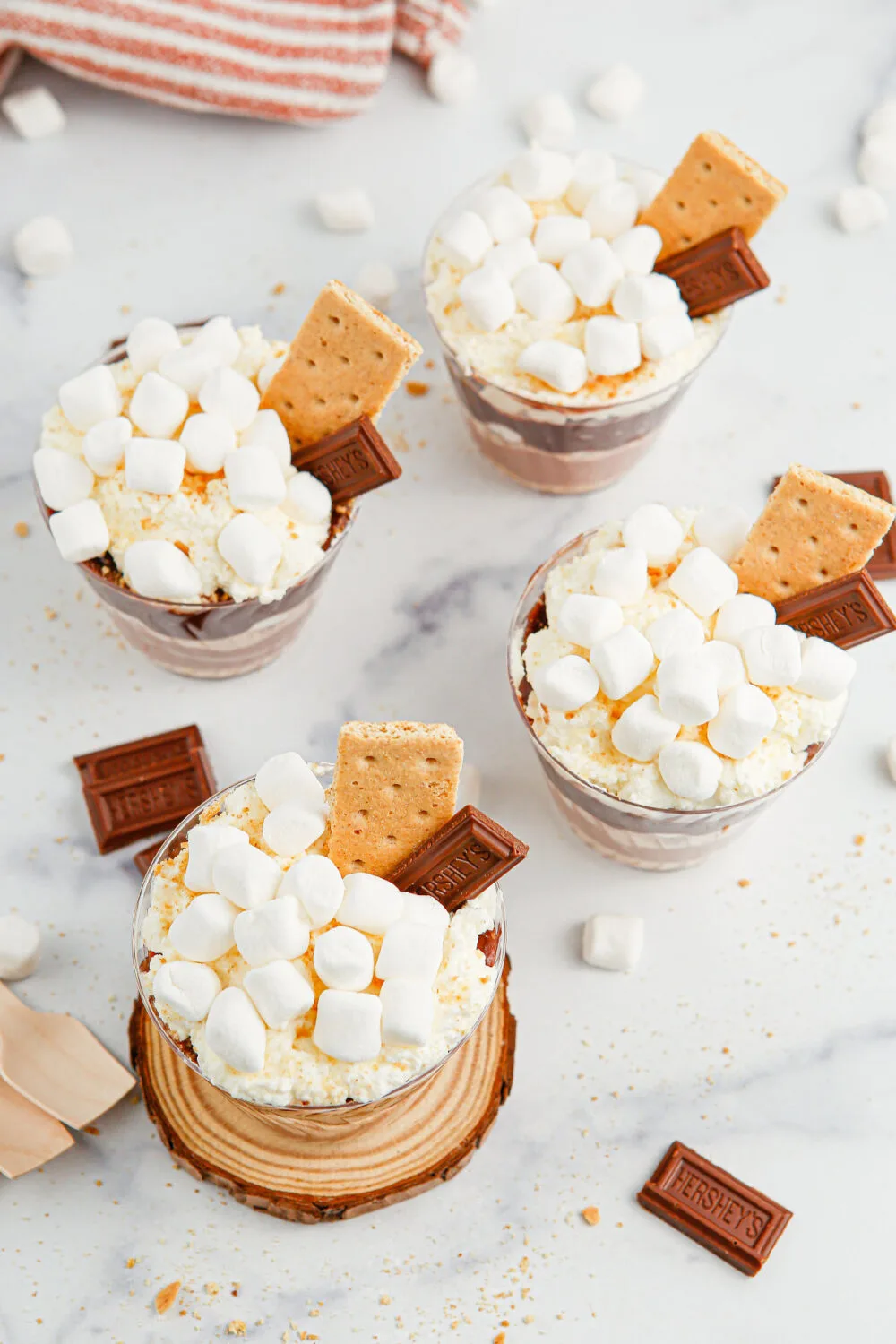 Once it's time to serve, finish up the toppings. Garnish the top of each pudding cup with the remaining marshmallows, a piece of Hershey's chocolate, and a graham cracker.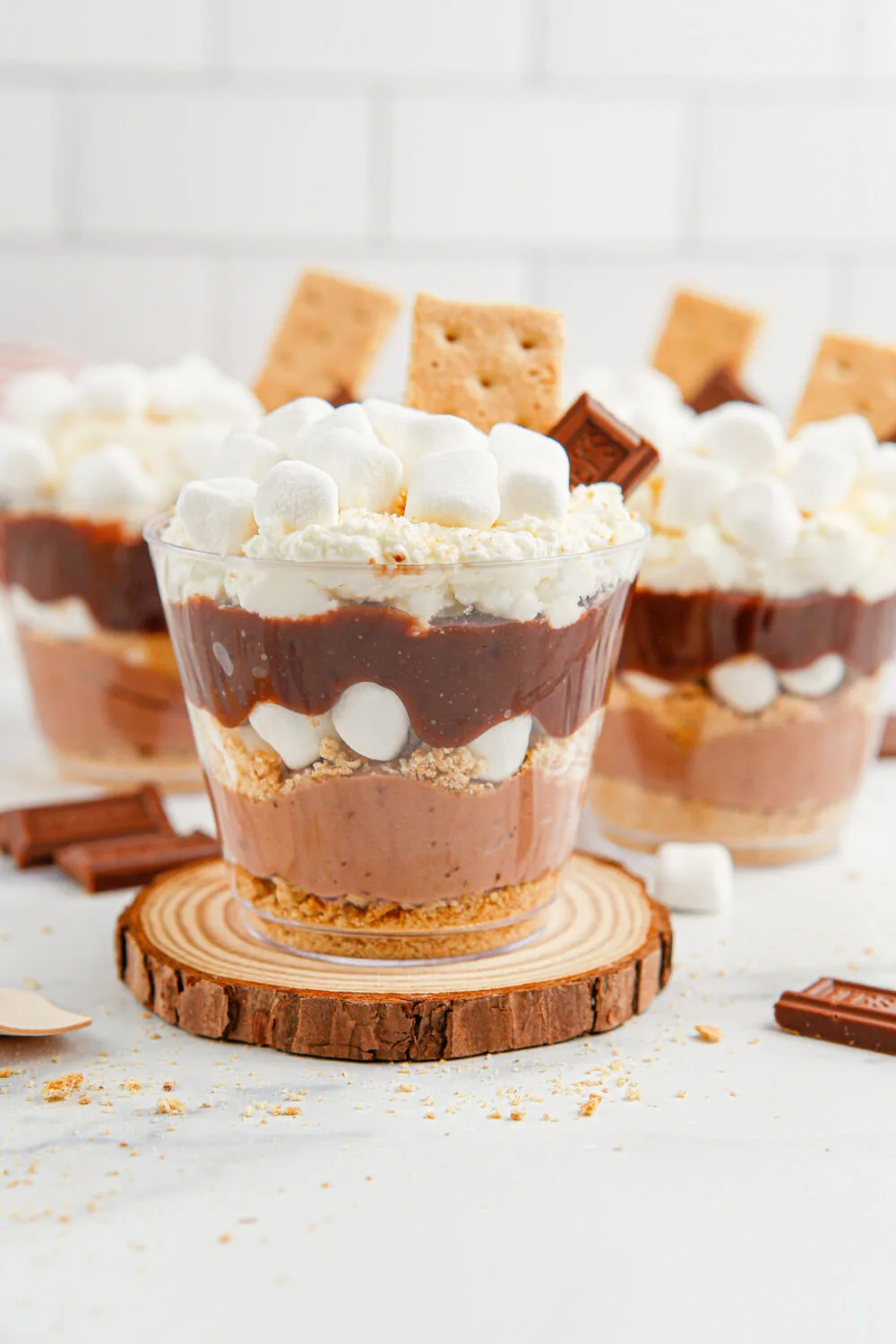 What Else to Serve
Loading up a dessert table? Consider these ideas that will go great with your pudding cups!
S'mores dessert dip: This edible cookie dough dessert can be eaten with a spoon or served with dippers. It's another s'mores-inspired treat that's always a crowd-pleaser.
Actual s'mores: If you want to include the OG treat, check out these toaster oven s'mores we made a while back.
Chocolate pudding trifle: For people who find marshmallows a bit too sweet, you can include this chocolate pudding trifle as an option. It can be made into pudding cups quite easily, too.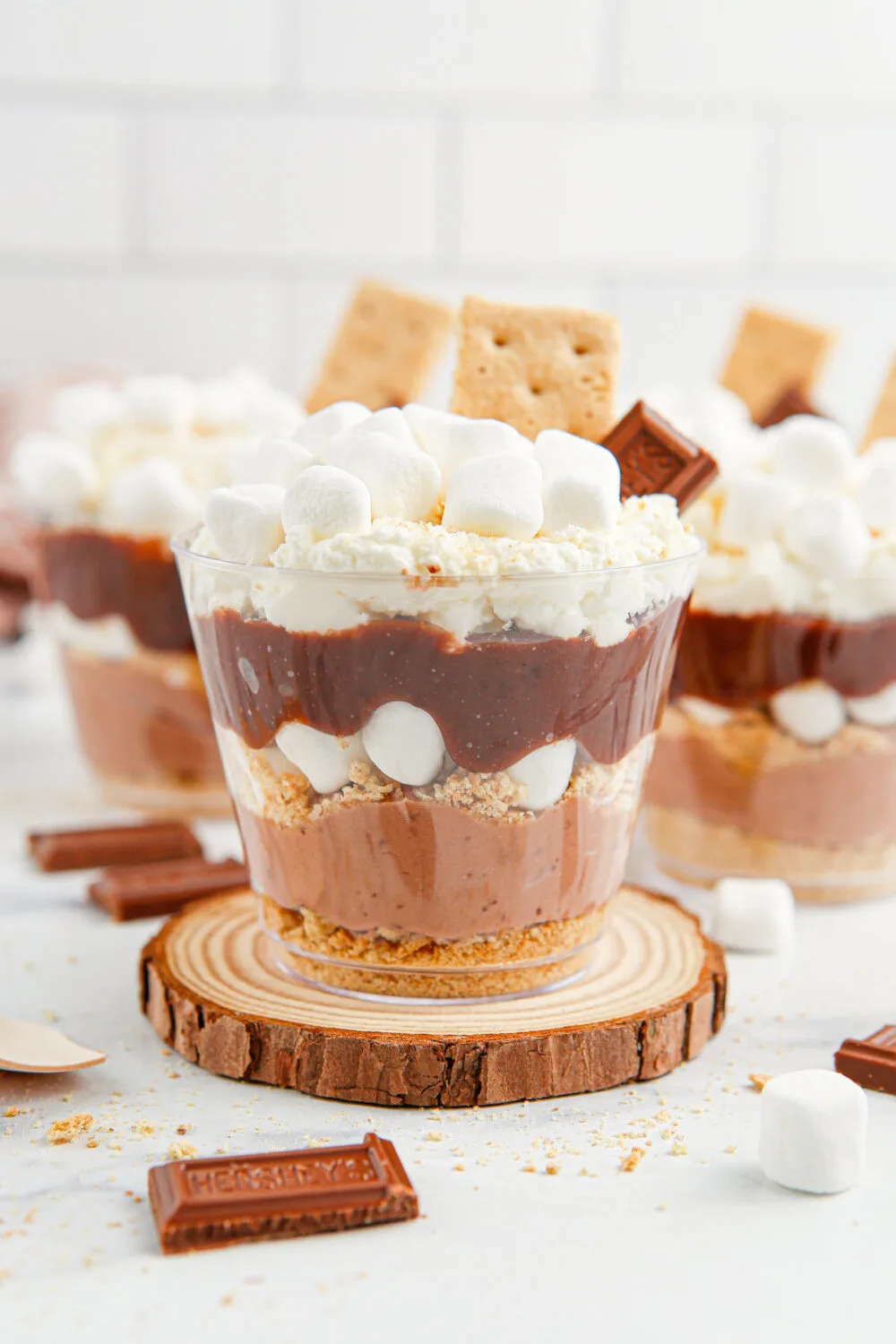 Recipes Swaps and Variations
Pudding Mix: Feel free to use a different flavored pudding than chocolate if you want. Of course, chocolate will give you the most authentic s'mores flavor, but it's fun to experiment with flavors like vanilla, butterscotch, or caramel.
Cool Whip: You can make homemade whipped cream if you'd prefer.
Marshmallow Fluff: If you can't find marshmallow crème, you can melt regular marshmallows to achieve a similar effect.
Graham Crackers: Other crumbly cookies can also work as an alternative to graham crackers.
Hershey's Chocolate: Use any type of chocolate you like for the garnish. Try dark chocolate for a less sweet option, or white chocolate for a different flavor profile.
Add Nutella: You could add a layer of Nutella in your cups for an extra hit of chocolate and a nutty twist.
Make it Vegan: To make this recipe vegan, use a dairy-free pudding mix, a plant-based milk, a vegan whipped topping, and vegan marshmallows.
Add Fruit: You can add a layer of fresh strawberries or raspberries to add a fresh, tangy note that contrasts beautifully with the sweetness of the s'mores.
Include Nuts: Add a layer of crushed peanuts, walnuts, or pecans for an added crunch and a bit of protein.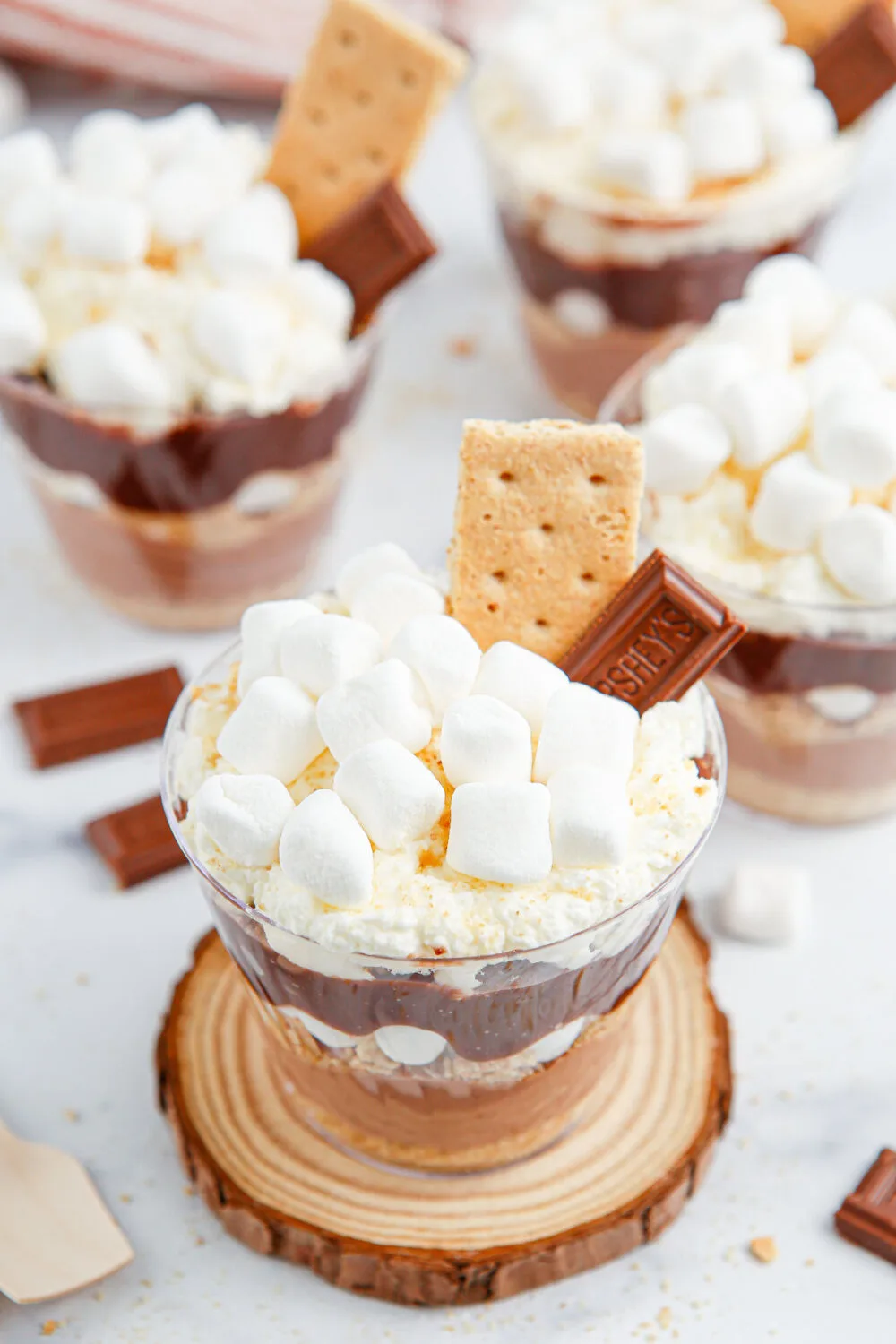 Equipment Needed
Large Mixing Bowl
Whisk
Measuring Cups and Spoons
Plastic Cups
Spoons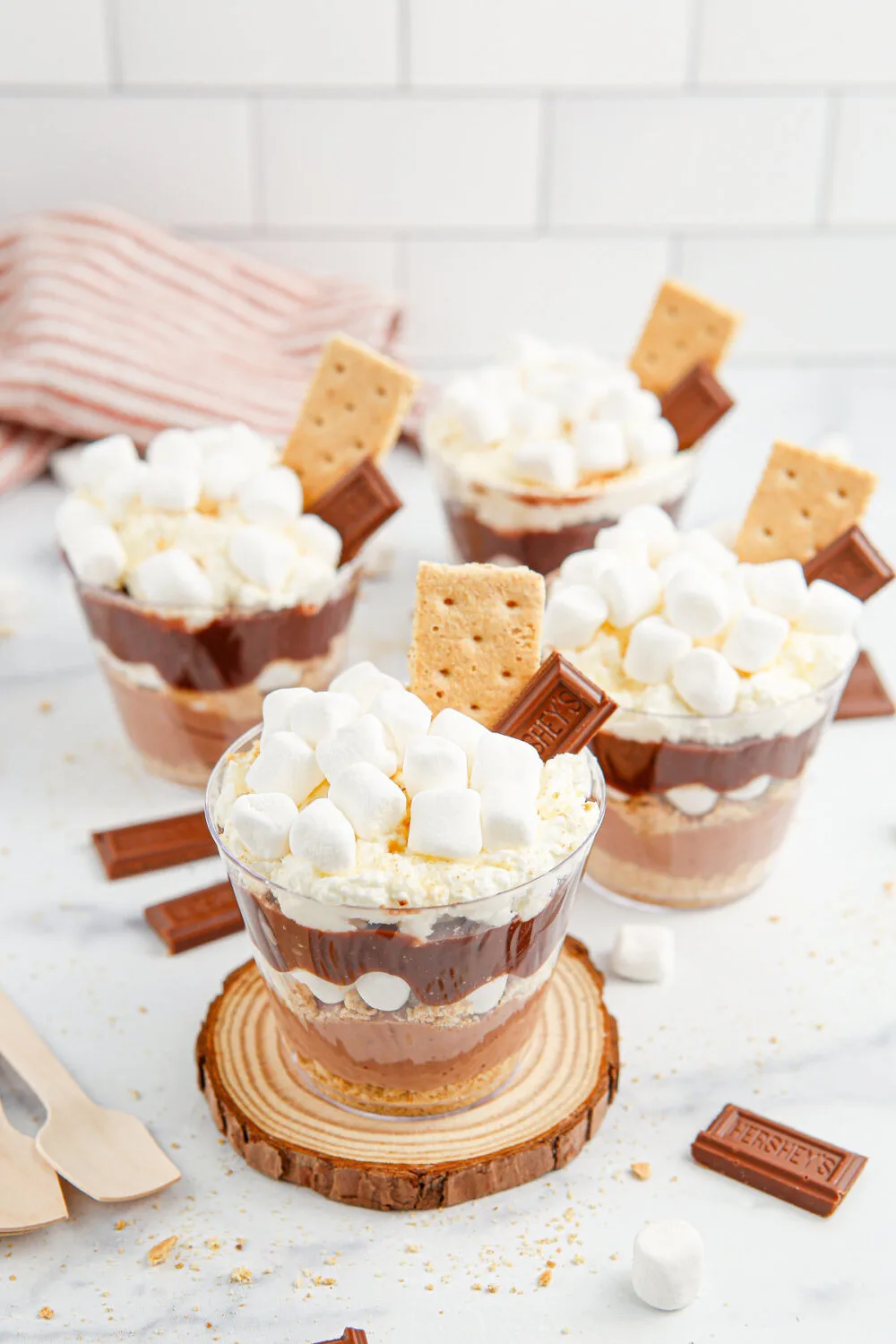 Storage
If you have leftover s'mores pudding cups, cover them with plastic wrap and store in the fridge for up to 3 days. If you can, add the toppings right before serving so the graham crackers stay crunchy.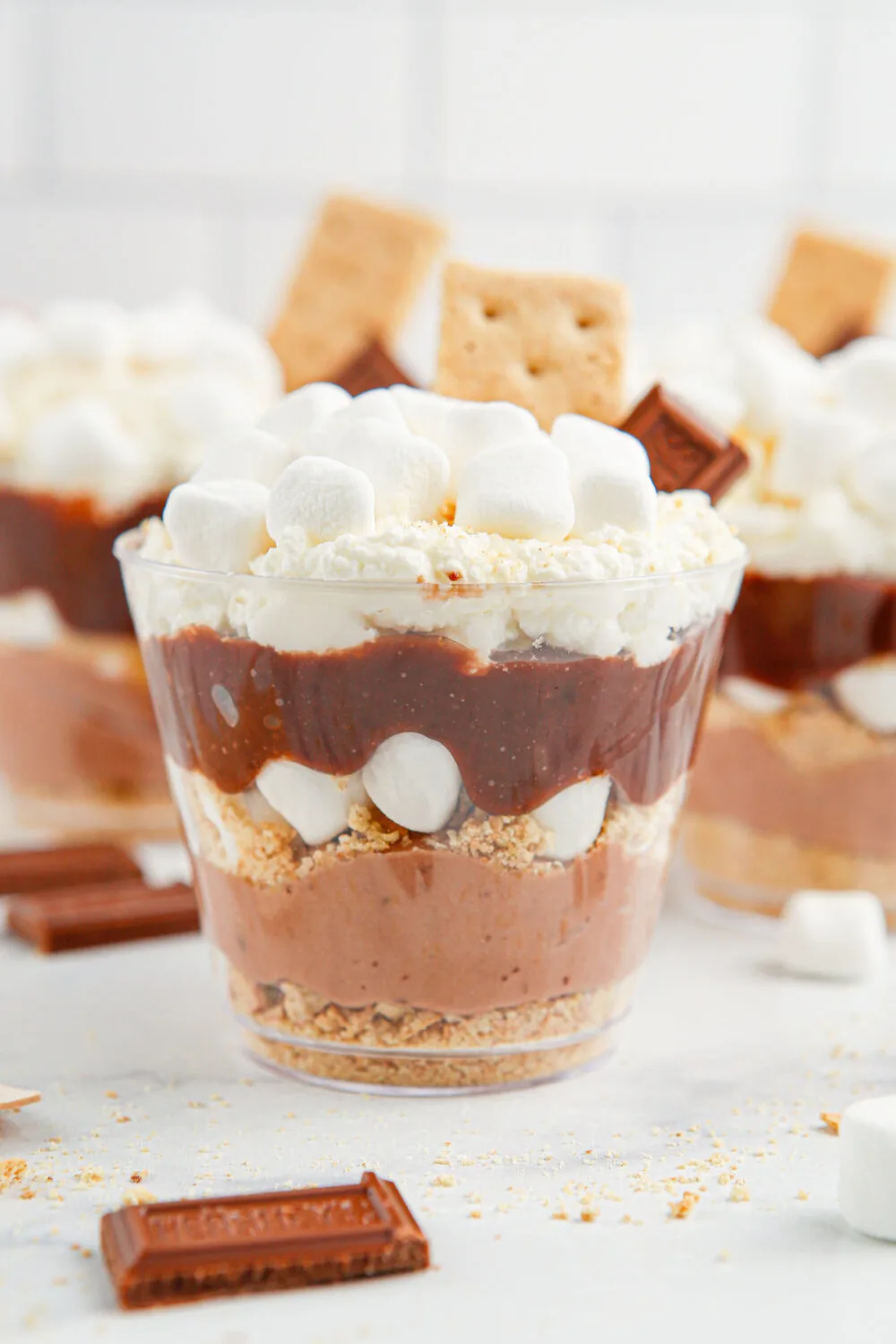 Recipe Notes and FAQ
Can I use homemade whipped cream instead of Cool Whip?
Absolutely, you can substitute homemade whipped cream for Cool Whip in this recipe.
Can this dessert be made ahead of time?
Yes, you can assemble the S'mores Pudding Cups and store them in the refrigerator. Just be sure to add the final garnish of marshmallows, chocolate candy, and graham cracker right before serving to maintain their texture and freshness.
How can I get a toasted marshmallow flavor in this dessert?
If you want a toasted marshmallow flavor, you can use a kitchen torch to lightly toast the marshmallows on top of the pudding cups right before serving. Be careful not to burn the marshmallows or the plastic cups!
Yield: 4 cups
S'mores Pudding Cups Recipe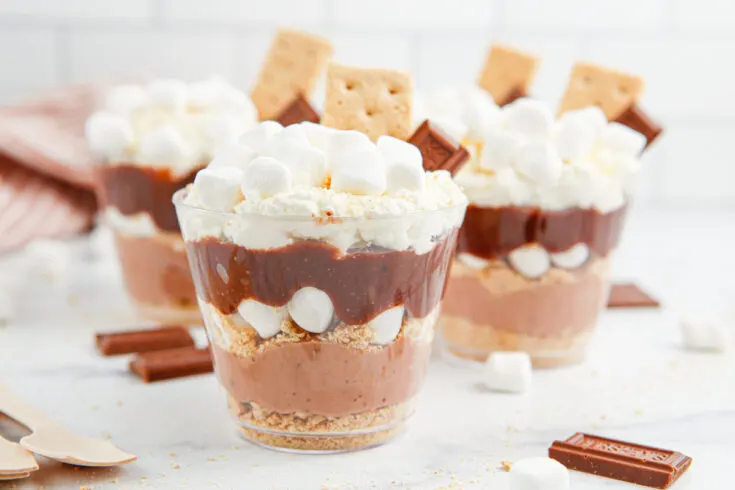 This S'mores Pudding Cups recipe is a delightful, no-bake dessert that combines the classic flavors of chocolate, marshmallow, and graham crackers. Perfect for summer gatherings or a sweet treat any time of the year, it brings a touch of nostalgia with every delicious bite!
Additional Time
5 minutes
Ingredients
1 3.4oz chocolate pudding mix
1 6oz container whipped topping, divided
¼ cup marshmallow fluff
1 ¼ cup crushed graham crackers
1 ½ cups mini marshmallows
4 pieces of chocolate, for garnish
4 pieces of graham crackers, for garnish
Instructions
Blend pudding mix and milk until smooth. Refrigerate for 5 minutes to thicken.
Combine half the pudding with 4 ounces of Cool Whip.
Distribute half the crushed graham crackers evenly among the serving cups.
Spoon Cool Whip and pudding mixture into each cup.
Top with remaining graham crackers and half the marshmallows.
Layer leftover pudding over marshmallows.
Stir marshmallow fluff with remaining Cool Whip and top each cup.
Refrigerate until serving.
Add final marshmallows, a piece of Hershey's chocolate, and a graham cracker as garnish. Enjoy!
Notes
Store any leftovers covered in the fridge for up to 3 days.
Recommended Products
As an Amazon Associate and member of other affiliate programs, I earn from qualifying purchases.
Nutrition Information:
Yield:
4
Serving Size:
1
Amount Per Serving:
Calories:

516
Total Fat:

18g
Saturated Fat:

11g
Trans Fat:

0g
Unsaturated Fat:

5g
Cholesterol:

2mg
Sodium:

647mg
Carbohydrates:

87g
Fiber:

3g
Sugar:

54g
Protein:

5g
Nutrition facts are an estimate only.
Pin this image to your dessert board to save and share!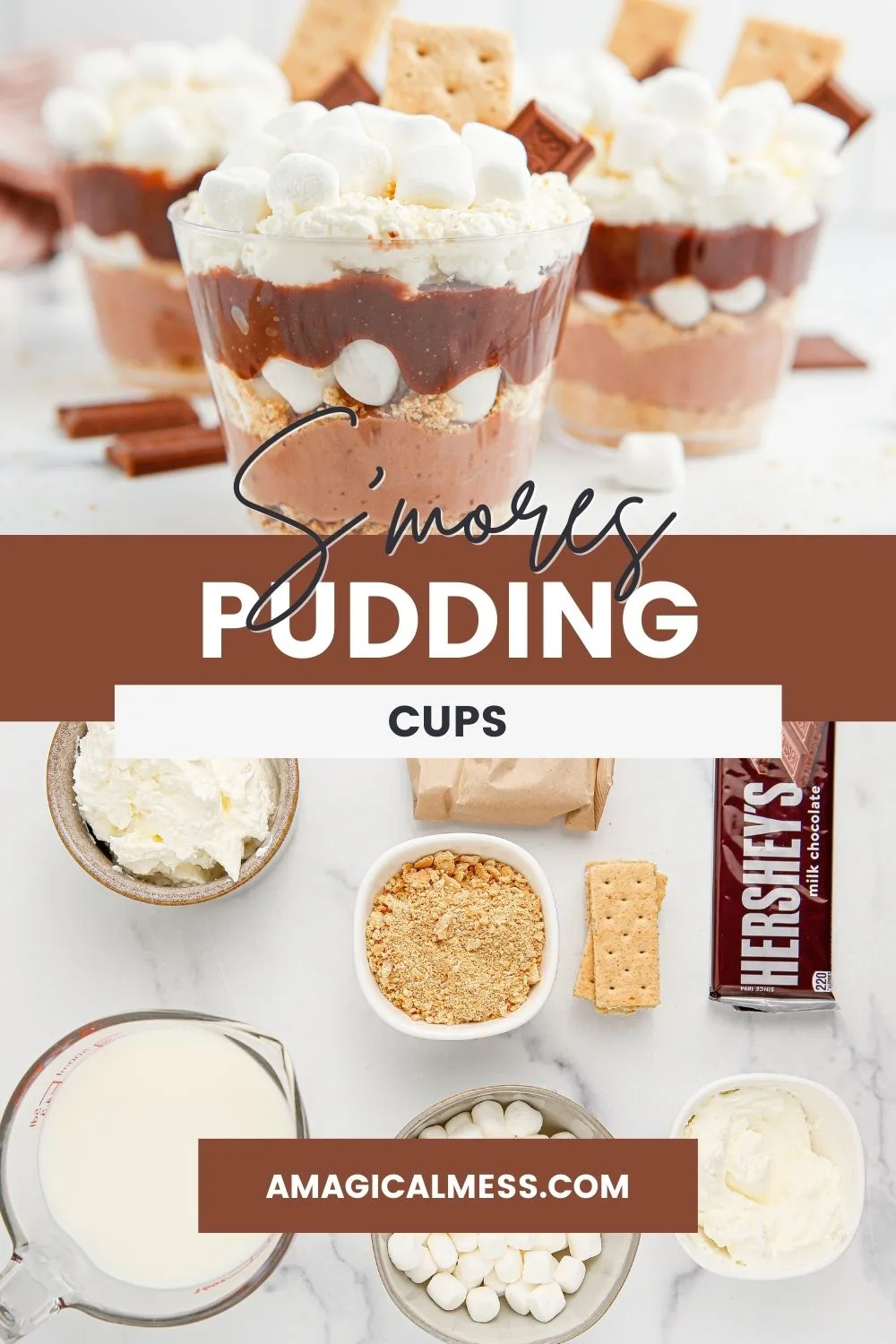 If you love the luscious layers of these pudding cups, consider subscribing to the blog. Be sure to share this recipe with your s'mores loving friends.
Tag me on Instagram @jensoltys, so I can see your s'mores pudding cups creations!