Keeping the disgustingly delicious unicorn poop theme going, let's make some piles of unicorn poop fudge! This colorful treat is fun to make and results in a tasty fudge that melts in your mouth.
Since everyone loves the unicorn poop cookies and rainbow unicorn fudge on this blog, this basically combines the two into another sweet treat.
The next time you throw a unicorn party or just want to have some fun experimenting in the kitchen, keep this funny fudge recipe on hand!
Full disclosure: this recipe experiment is not without its challenges. Please read through the notes and FAQ section before making it.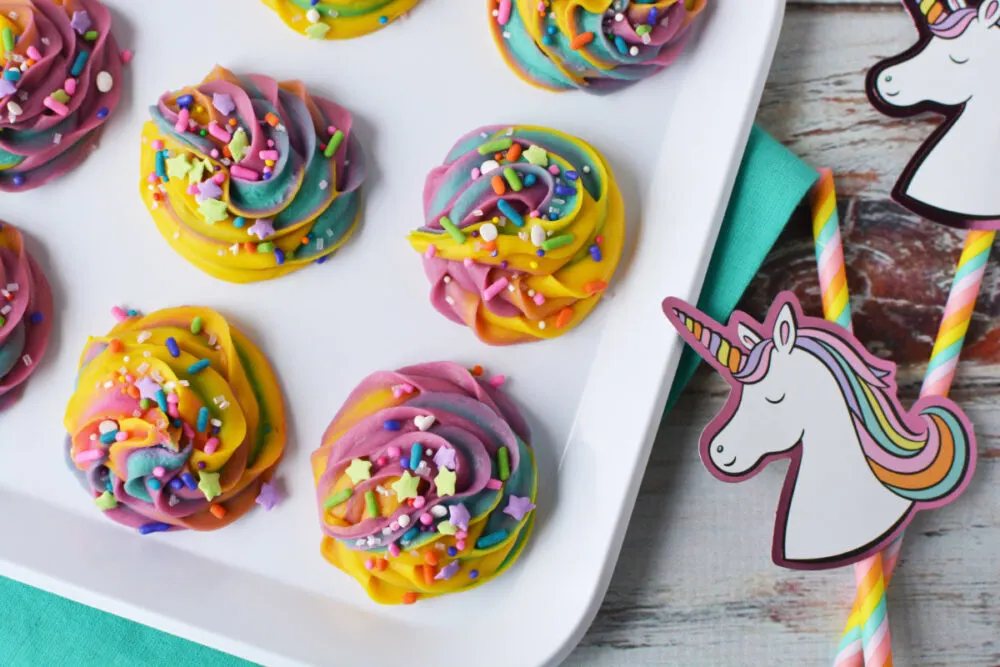 Swirly and Sparkly Unicorn Poop Fudge
I got the idea for this rainbow poop fudge when I saw this recipe on Facebook. The way she piped those adorable fudge Christmas trees is just the cutest, but the shape also made me think of the poop emoji.
Since kids and many adults get a kick out of that shape, it's the perfect addition to our growing lineup of unicorn poop desserts.
It's important to note that apparently different colors of candy melts behave differently. Using a piping tip like she does for the Christmas trees, was a tad more challenging with this one.
I actually prefer the look of NO piping tip for this. I think it gives more of the desired look, and it's also a lot easier to work with that way.
Reasons to Love this Fudge
Eye catching: The colors and sparkles of this fudge plus the shape will have everyone talking about it. It's a great addition for a pop of color on any treat table.

Fun to make: The process of making this fudge is as fun as eating it. Mixing the colors and shaping the candy is a fun activity, especially for kids.

Easy(ish): This is a relatively easy fudge recipe. Compared to some candy recipes that require thermometers or special tools, this one is pretty simple. There are some challenges while shaping which I will mention below.

Versatile: You can easily change the colors and even shapes to create a fudge that fits your theme.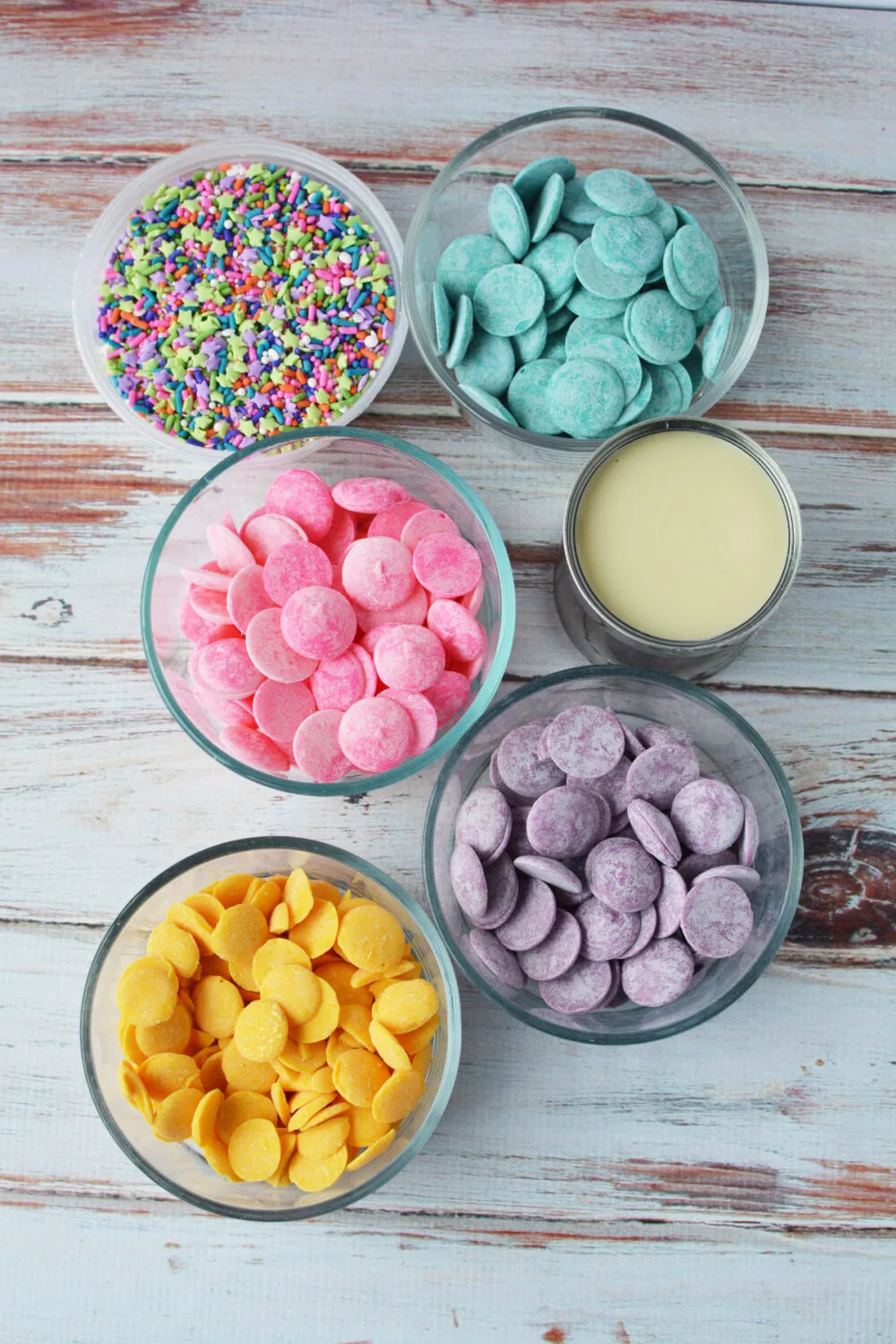 Unicorn Poop Fudge Ingredients
Here's what you need to make this swirly fudge recipe. The measurements are in the recipe card below.
Bright Pink Candy Melts
Turquoise Candy Melts
Lavender Candy Melts
Yellow Candy Melts
Sweetened Condensed Milk
Unicorn Candy Sprinkles
Steps to Make Rainbow Poop Fudge
Prepare the Candy Melts:
Divide the candy melts into four separate microwave-safe bowls, one for each color.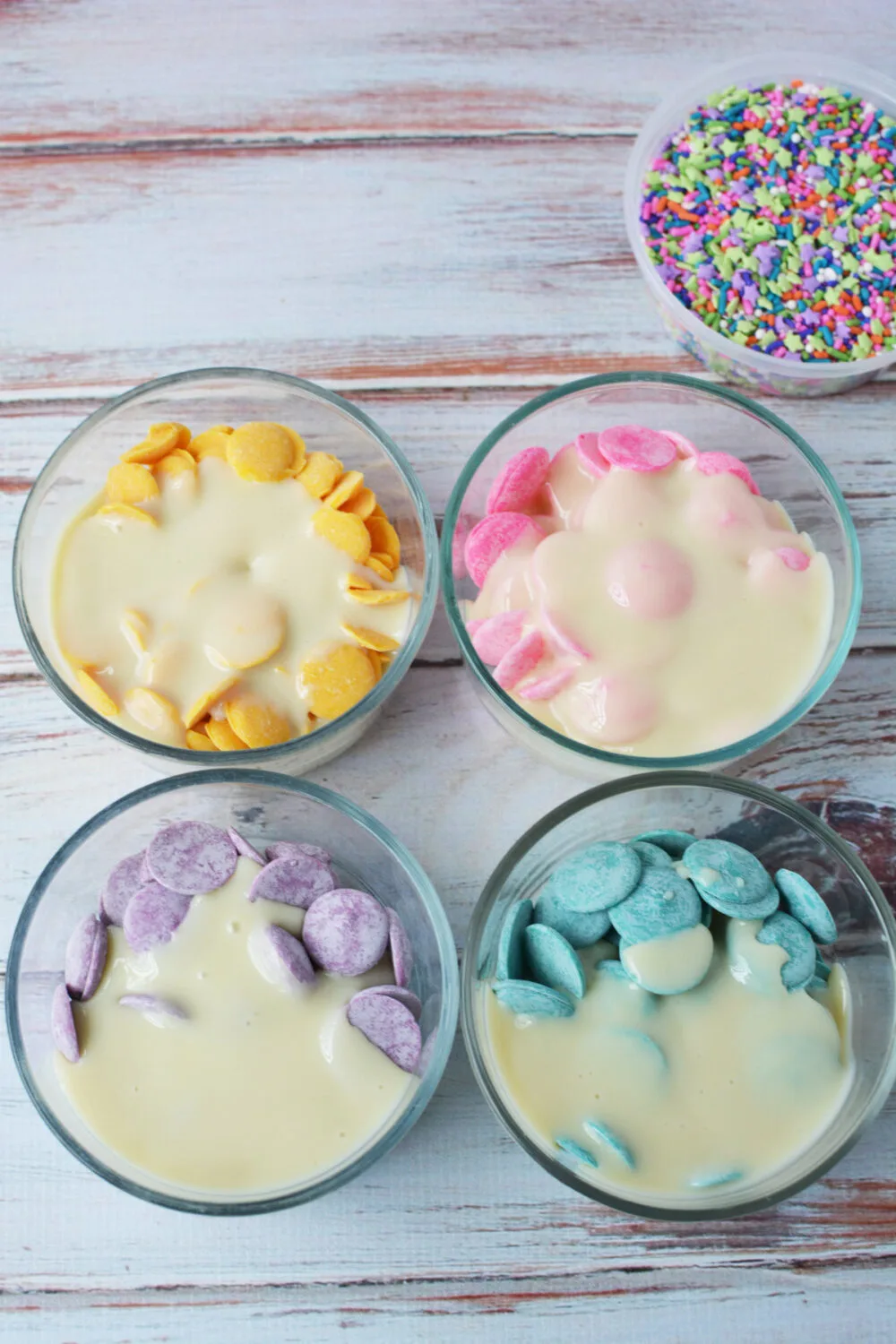 Add Sweetened Condensed Milk:
Pour an equal amount of sweetened condensed milk into each bowl and stir.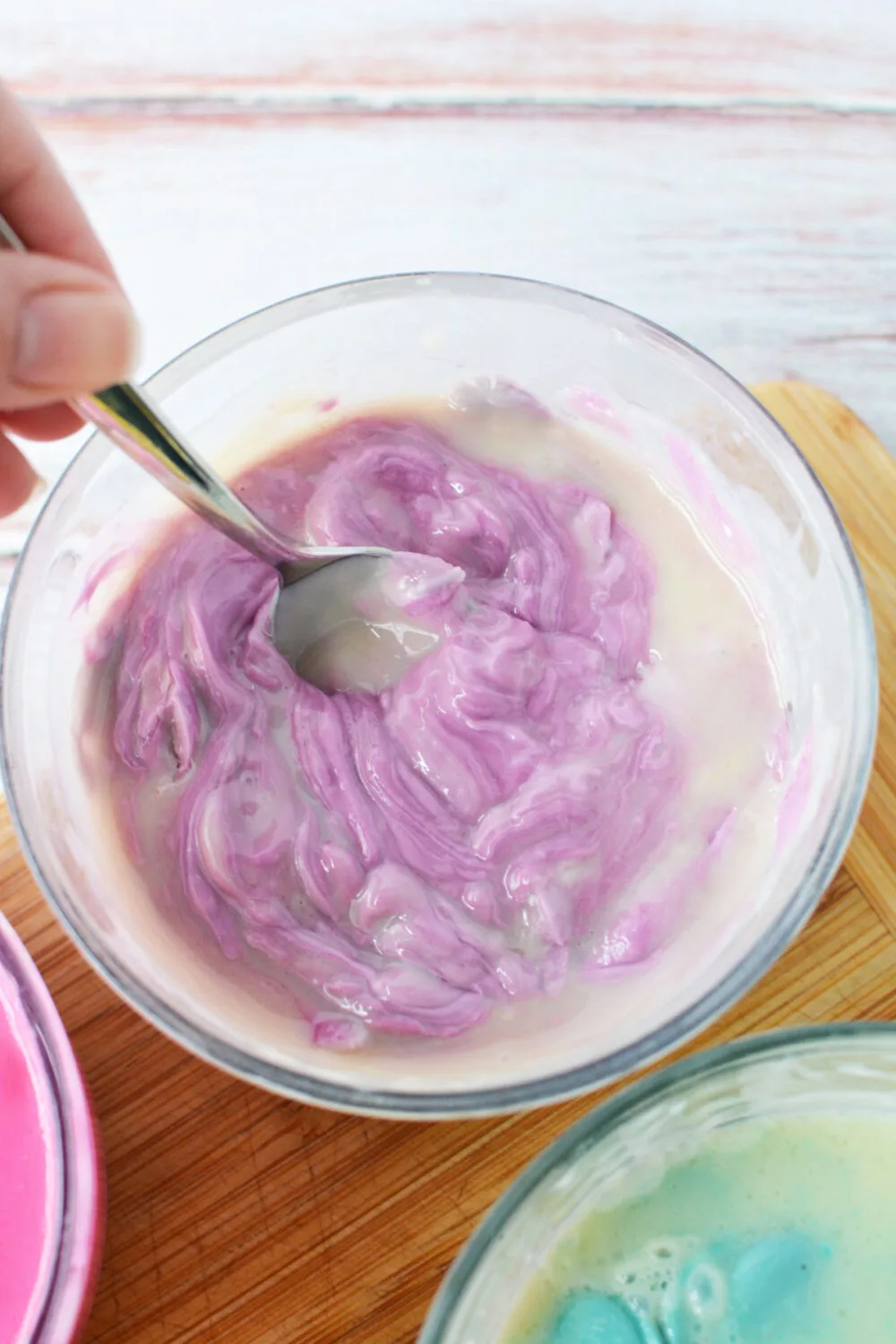 Microwave the Mixture:
Place all the bowls in the microwave and heat for 4 minutes. After the time is up, let the bowls stand in the microwave for an additional 4 minutes. Then, remove the bowls and stir each one until the mixture is smooth.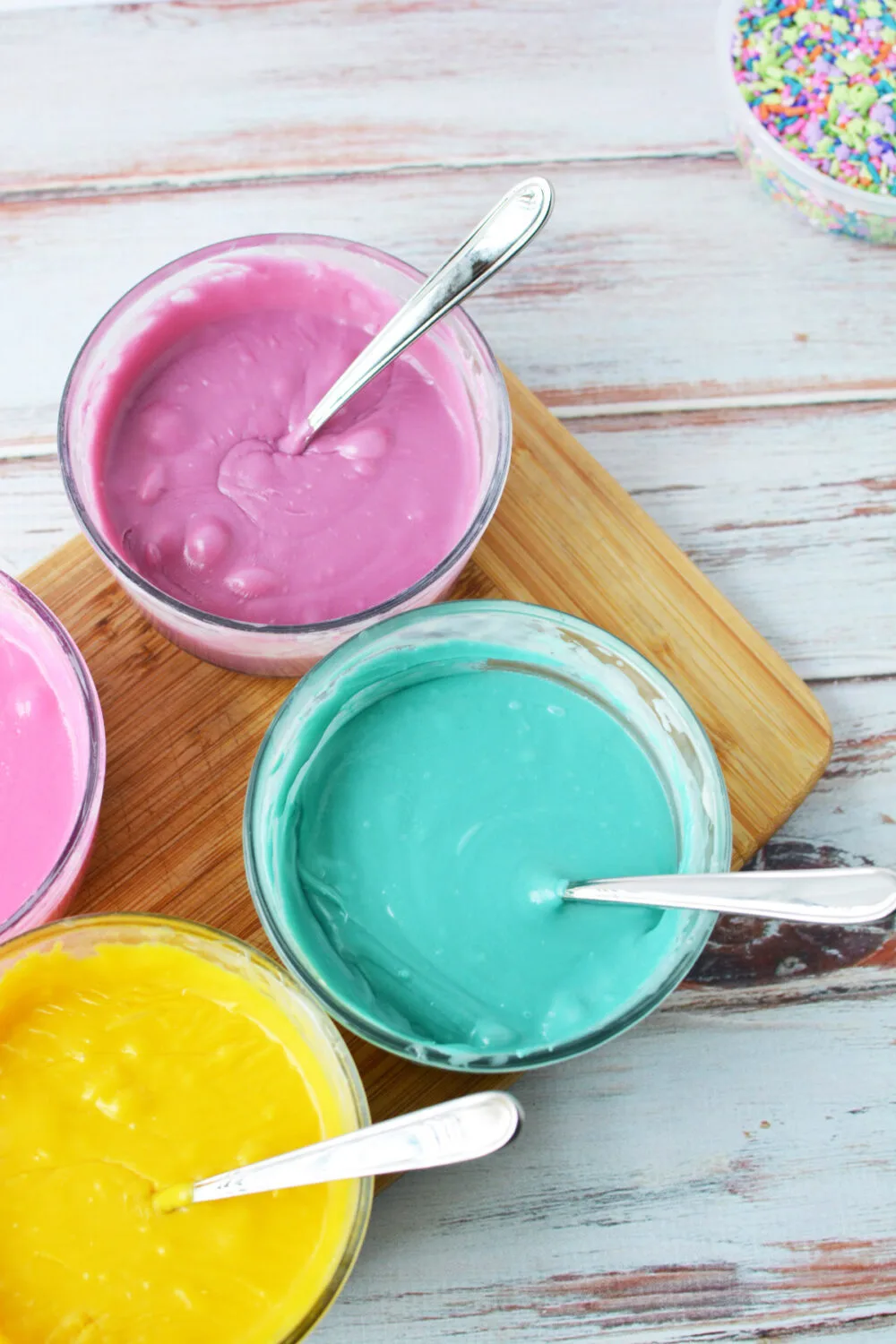 Let the Mixture Cool:
Allow the bowls to stand for 4 minutes, then stir. Repeat this process until the candy mixture reaches a frosting-like consistency.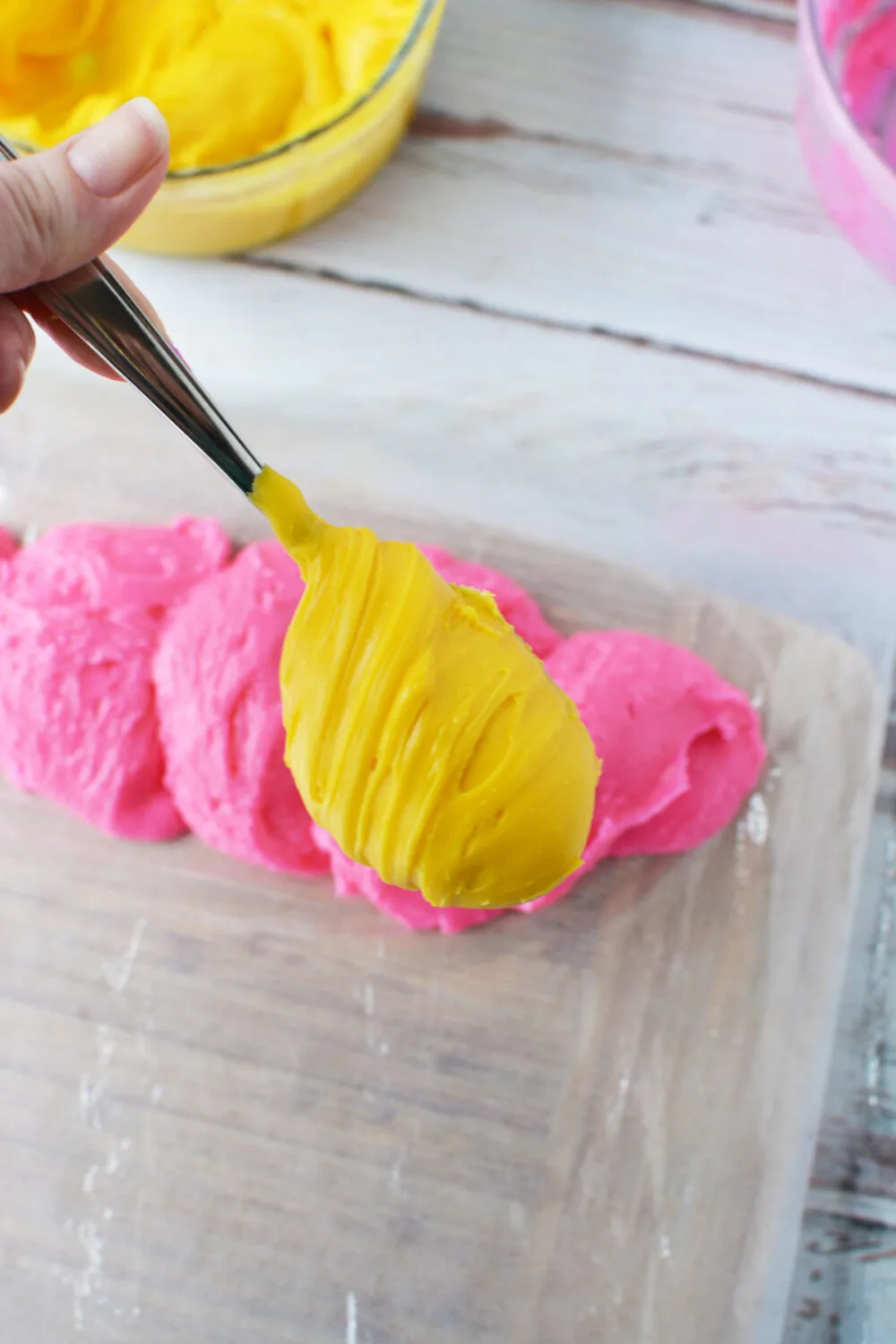 Prepare the Piping Bag:
While the candy mixture is cooling, prepare a piping bag with a large 1M piping tip, or cut a 1″ tip out of a piping bag.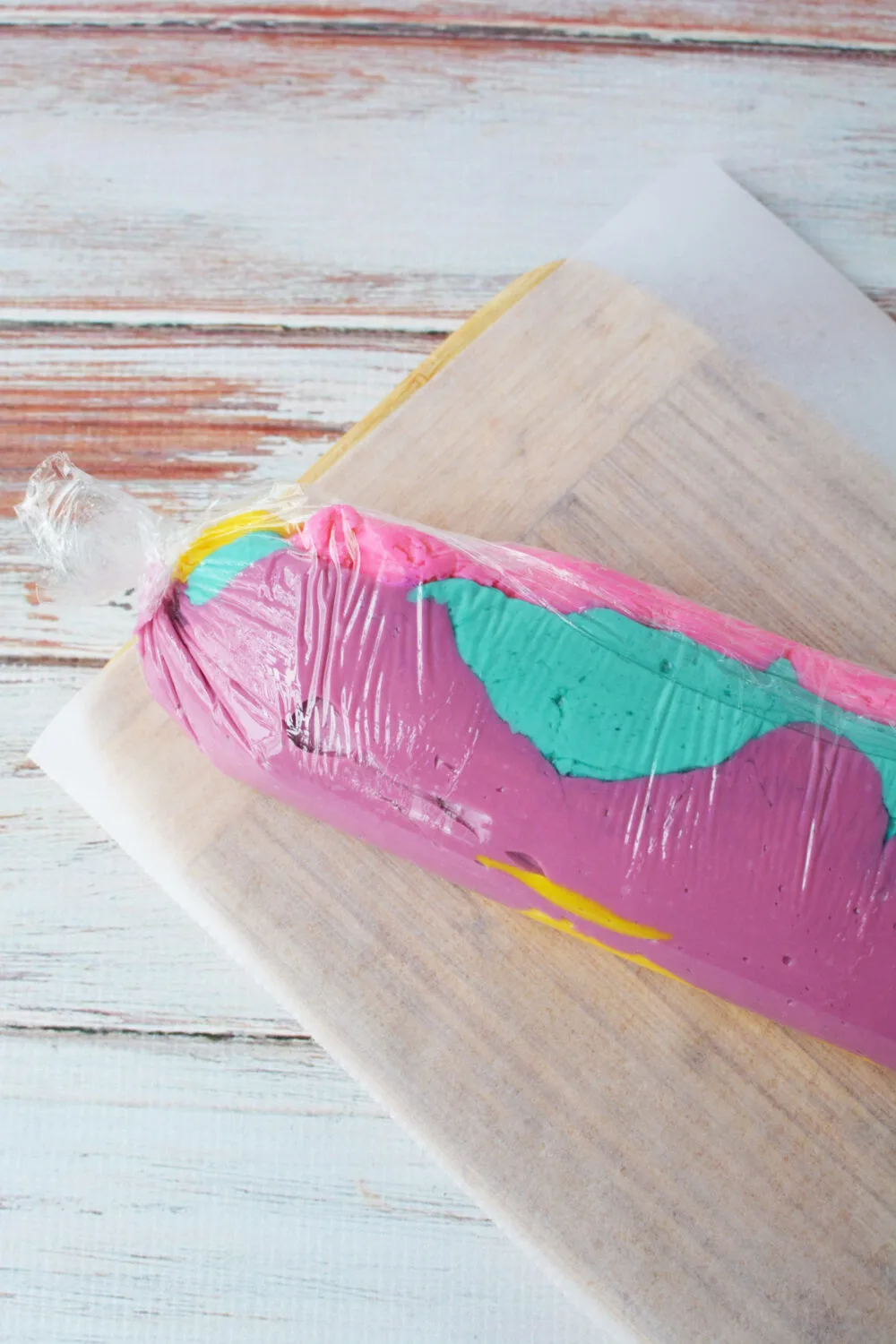 Combine the Colors:
Once all the candy mixtures are ready, lay out a long piece of plastic wrap. Place each color along the long edge of the wrap, next to each other. Roll up the plastic wrap to create a long log, twisting the ends together.
Fill the Piping Bag:
Cut one end of the twisted plastic wrap and place the candy log into the prepared piping bag.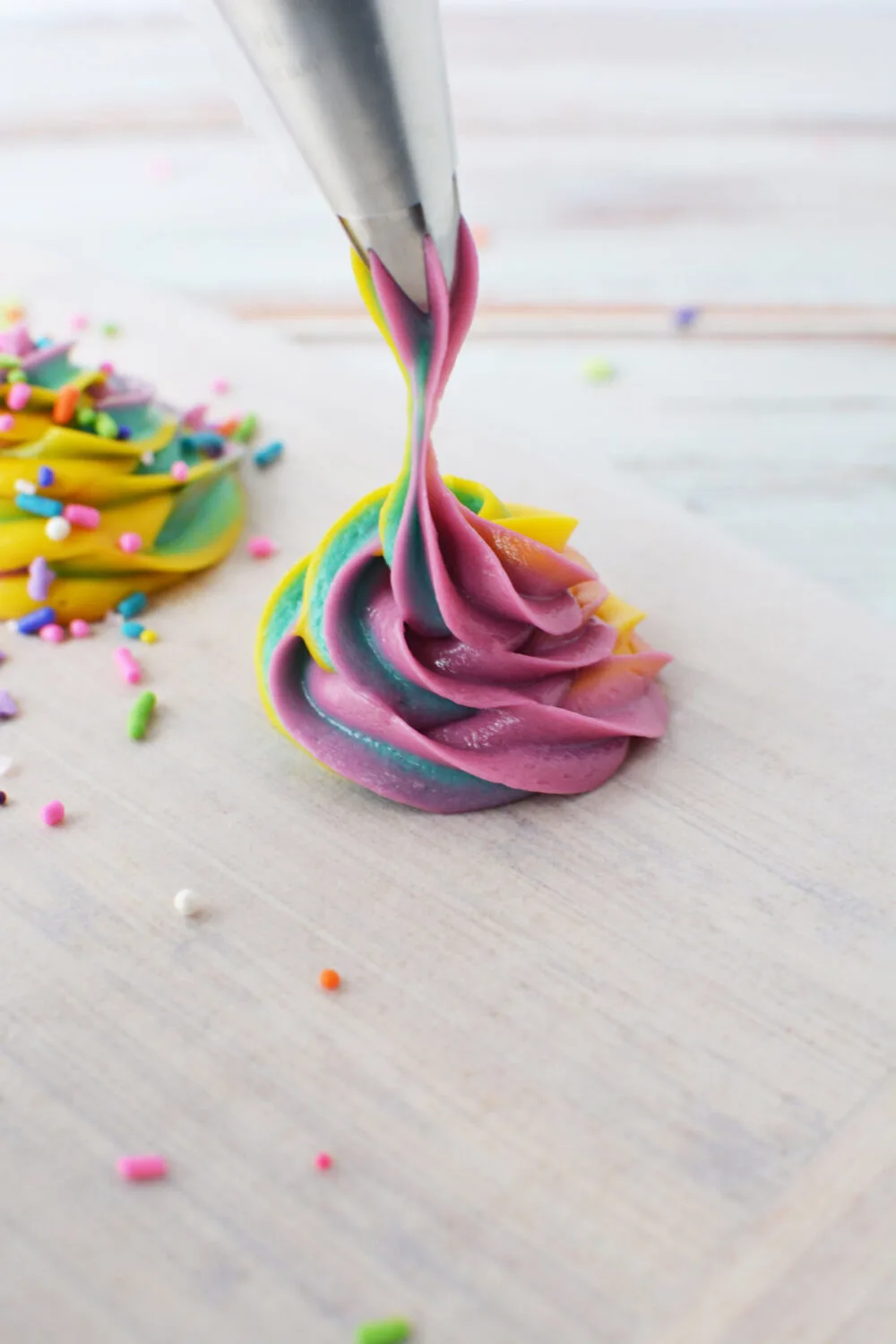 Pipe the Fudge:
Pipe the fudge onto wax paper in the shape of unicorn poop. Immediately after piping each piece, add unicorn candy sprinkles.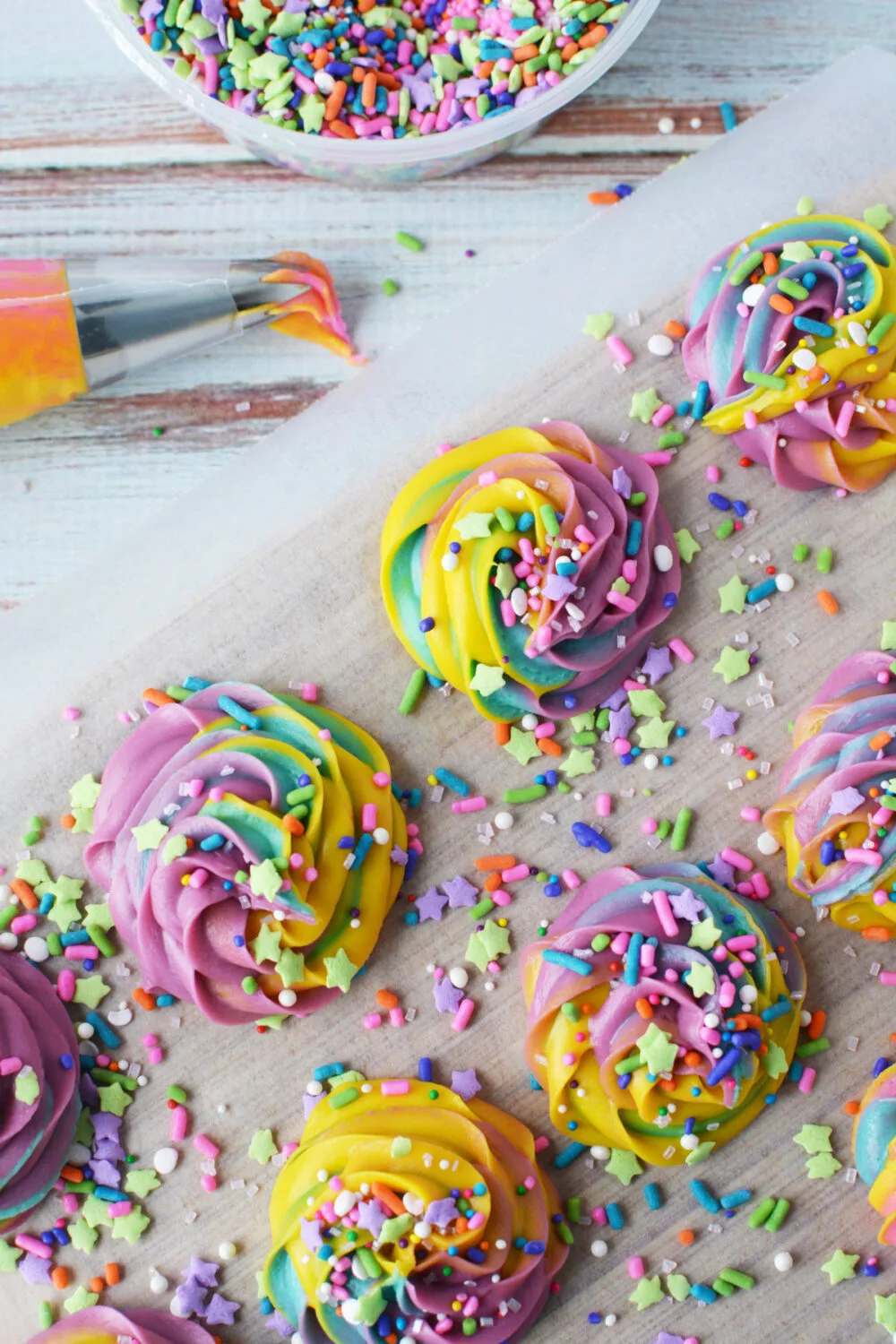 Let the Fudge Set:
Allow the fudge to stand until it sets up.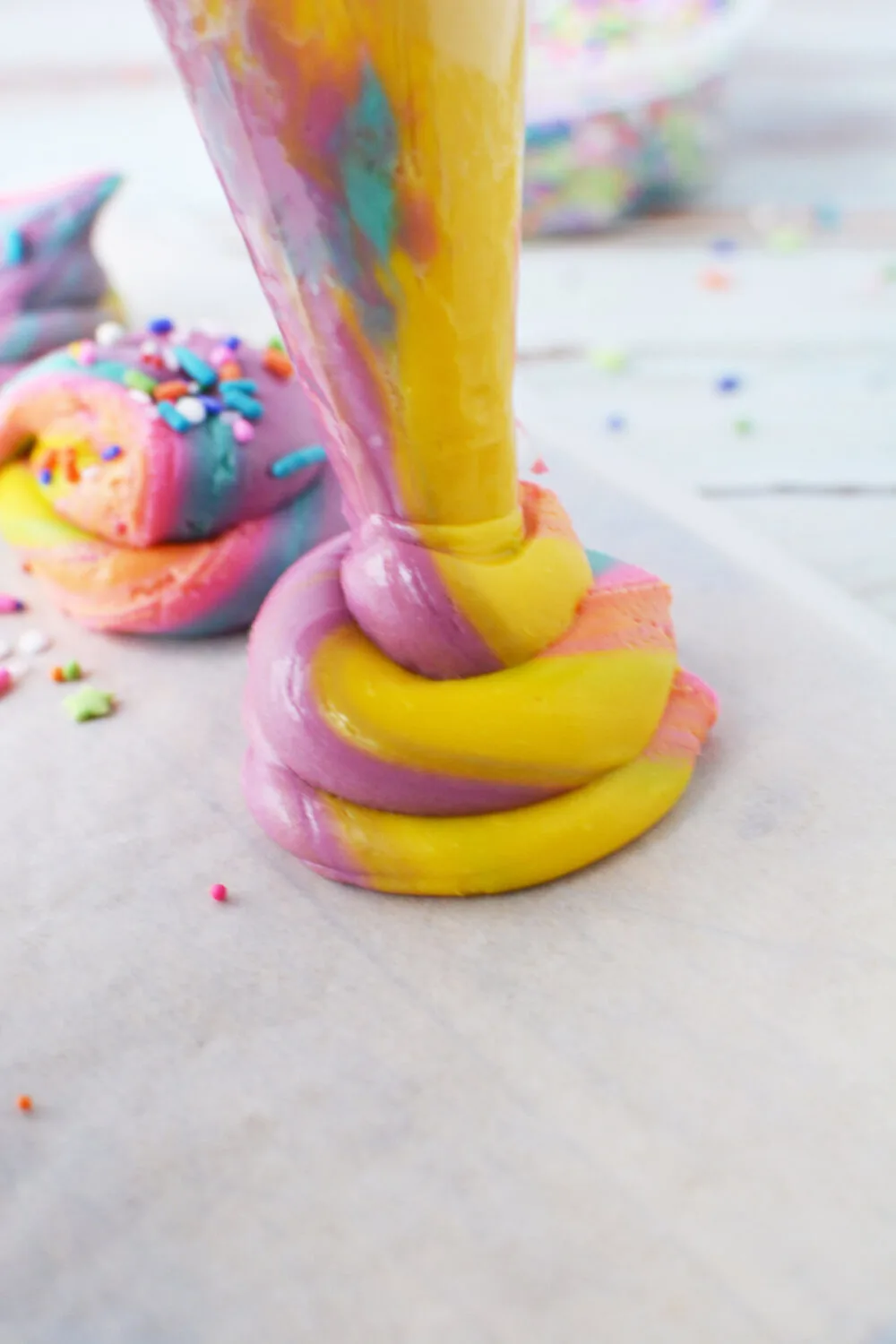 Enjoy!:
Once the fudge is set, it's ready to be enjoyed! This recipe makes about 24 piles of unicorn poop fudge.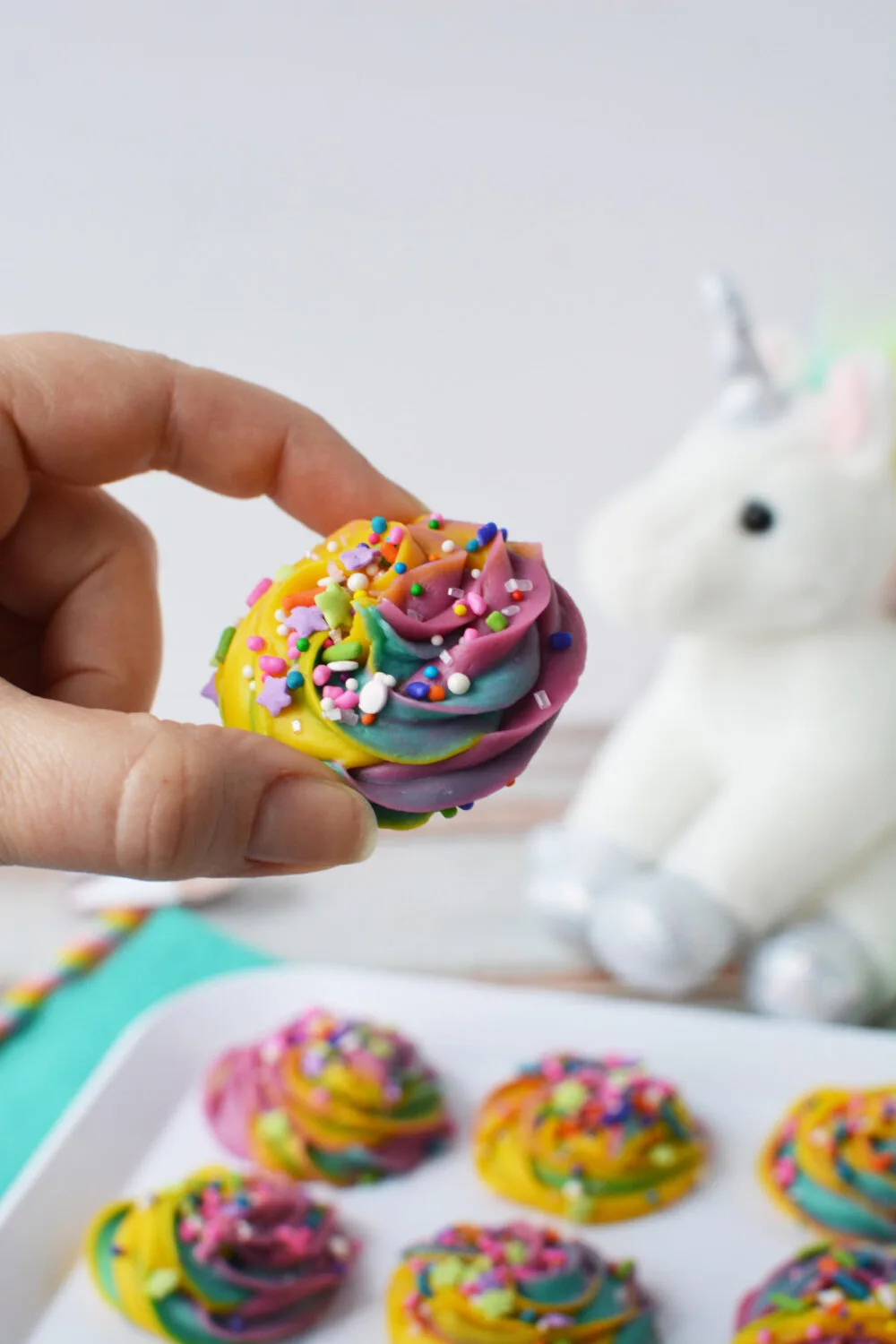 More Desserts for a Unicorn Party
If you are throwing a unicorn themed bash, here are more dessert ideas to include:
Unicorn Cupcakes: These adorable cupcakes have little faces and horns that make a great addition to the dessert table.
Unicorn Poop Shortbread Bites: Because everyone needs 100 tiny cookies at their party, these funny little bites are another way to get creative in the kitchen.
Unicorn Horn Snack Mix: This party mix is a giant hit all year on the blog. People just love the sweet and salty mixture and it's extra fun since it includes edible unicorn horns.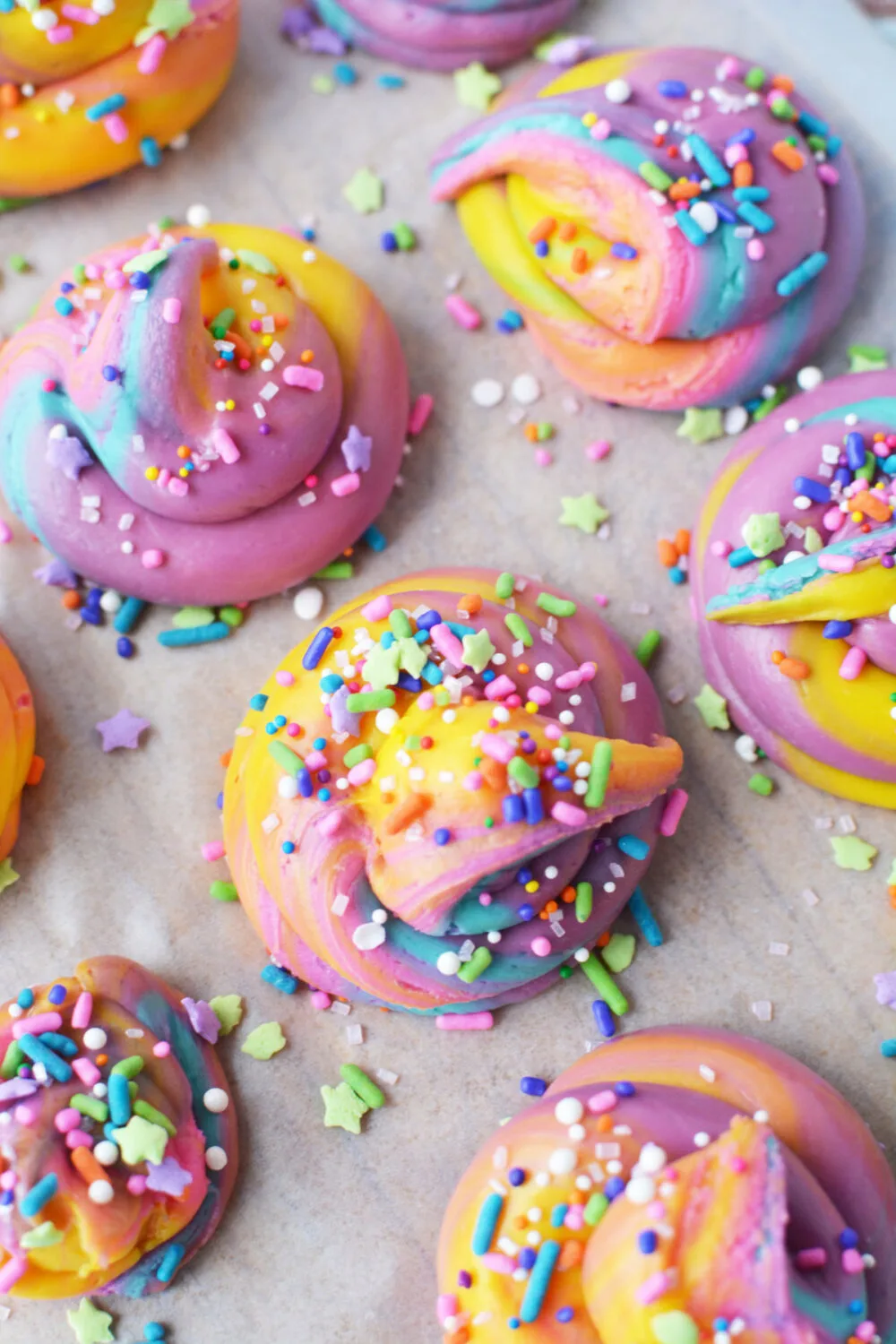 Recipe Swaps and Variations
Candy Colors: Obviously, you can use your choice of candy melts. Keep in mind that each color seems to behave differently with cooling and setting. Use the colors to fit your theme.
Sprinkles: Get creative with the sprinkles. Choose the style and colors of sprinkles that you like. Consider nonpareils, jimmies, edible glitter, sanding sugar, luster dust, or even crushed candies.
Different Themes: As mentioned above, I got this idea from a Christmas tree fudge. Have fun and get creative for other holidays. Maybe pipe some witch hats for Halloween?
Kitchen Tools Needed
Microwave-Safe Bowls: For melting the candy melts. You can also use a double boiler or a Wilton melting pot that's specifically made for melting candy melts.

Piping Bag: We usually say that snipping a tip off of a Ziplock bag is and easy swap for a piping bag, but not with this recipe. The mixture becomes too stiff, and only a piping bag will work.

Piping Tip: This is actually optional, and I think I like the result better with no tip for this recipe.

Plastic Wrap: For combining the fudge colors before piping.

Wax Paper: You need this to pipe the fudge onto. It helps with cleanup and prevents the fudge from sticking.

Kitchen Scale: Optional, but very useful for measuring the exact amount of ingredients needed.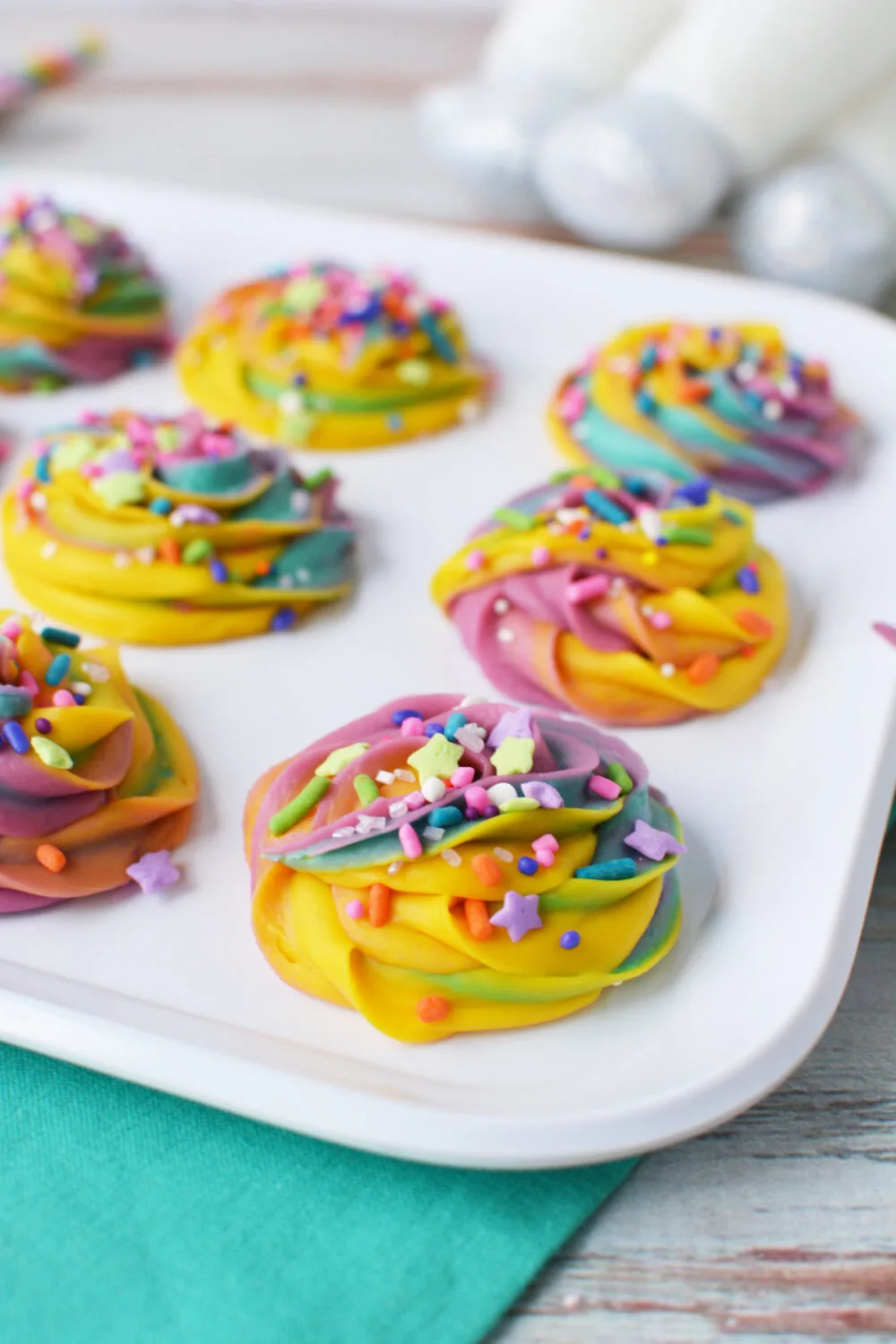 How to Store
It's best to keep the fudge in an airtight container in the refrigerator for up to a week.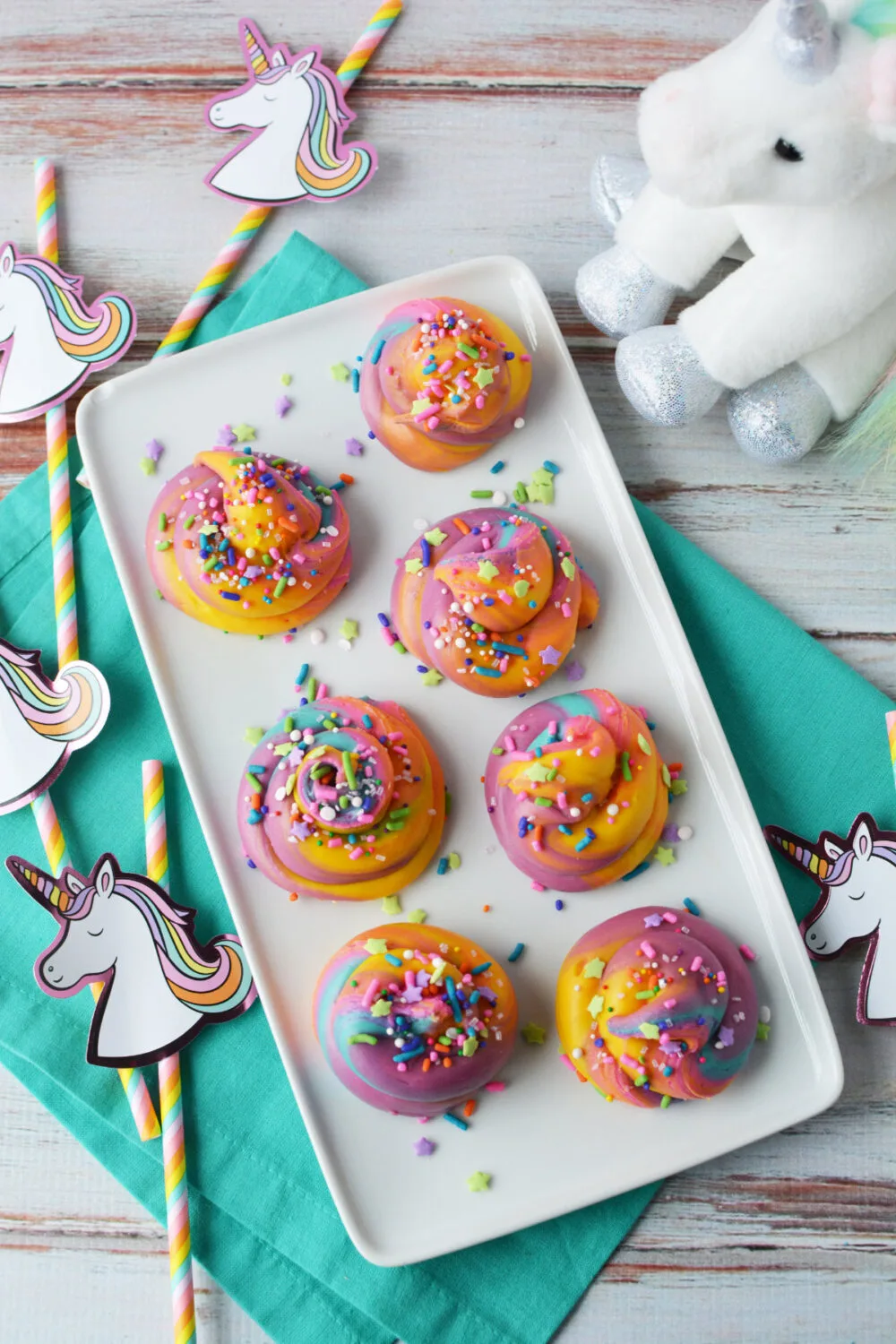 Recipe Notes and FAQ
Notes:
Consistency: The consistency of the candy mixture should be similar to frosting. It should hold its shape when stirred and not smooth out.
Working Quickly: The candy mixture sets up quickly, so it's important to work fast, especially when adding the sprinkles.
Piping Bag: A piping bag is recommended for this recipe. A zip-top bag may not be sturdy enough to handle the stiff candy mixture.
Why is my candy mixture not setting up?
The setting time can vary depending on the color of the candy melts and the temperature of your kitchen. If your mixture is not setting up, you can try placing it in the fridge for a few minutes.
How long does the fudge last?
If stored properly in an airtight container in the refrigerator, the fudge should last for about a week.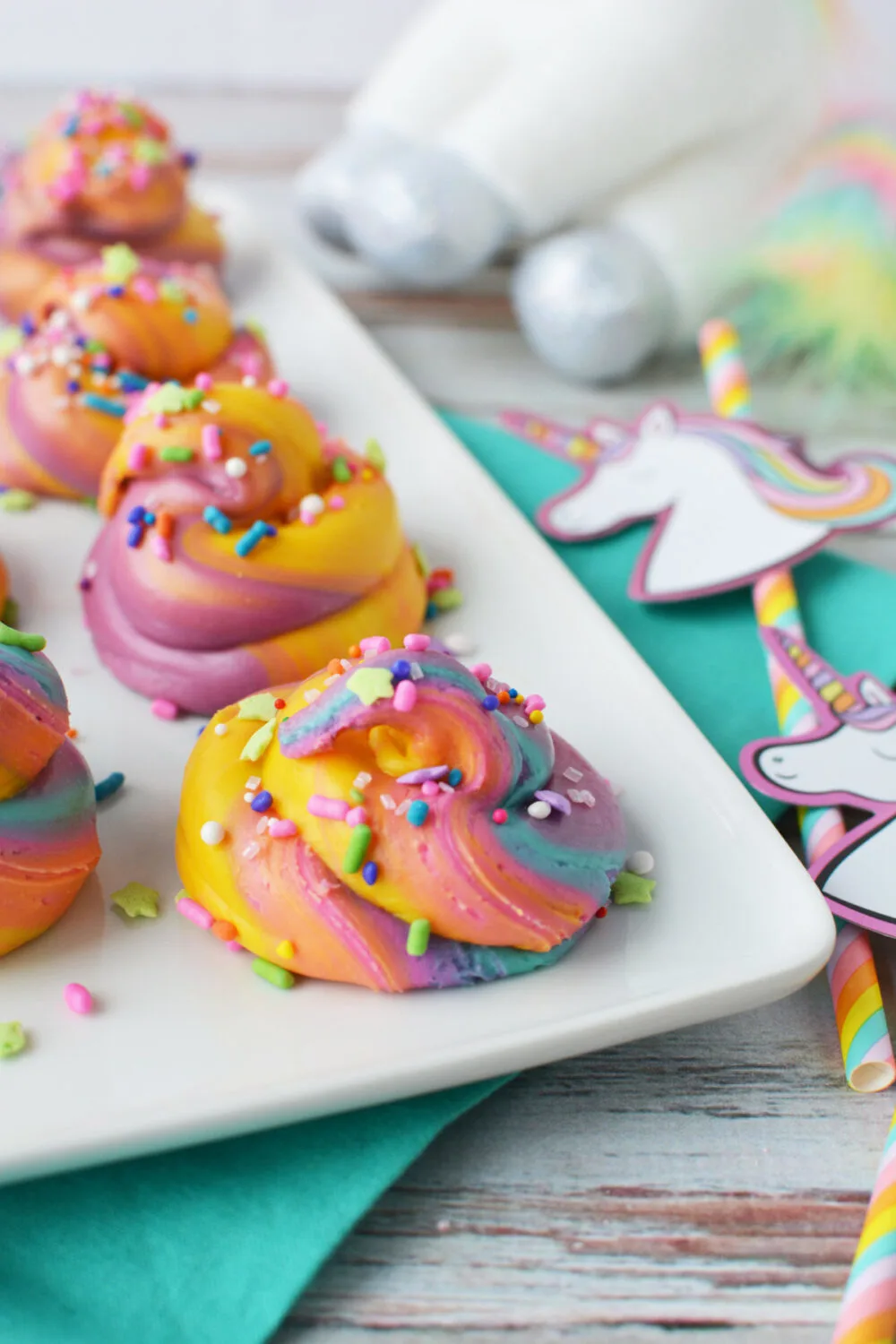 Yield: 24 Piles
Unicorn Poop Fudge Recipe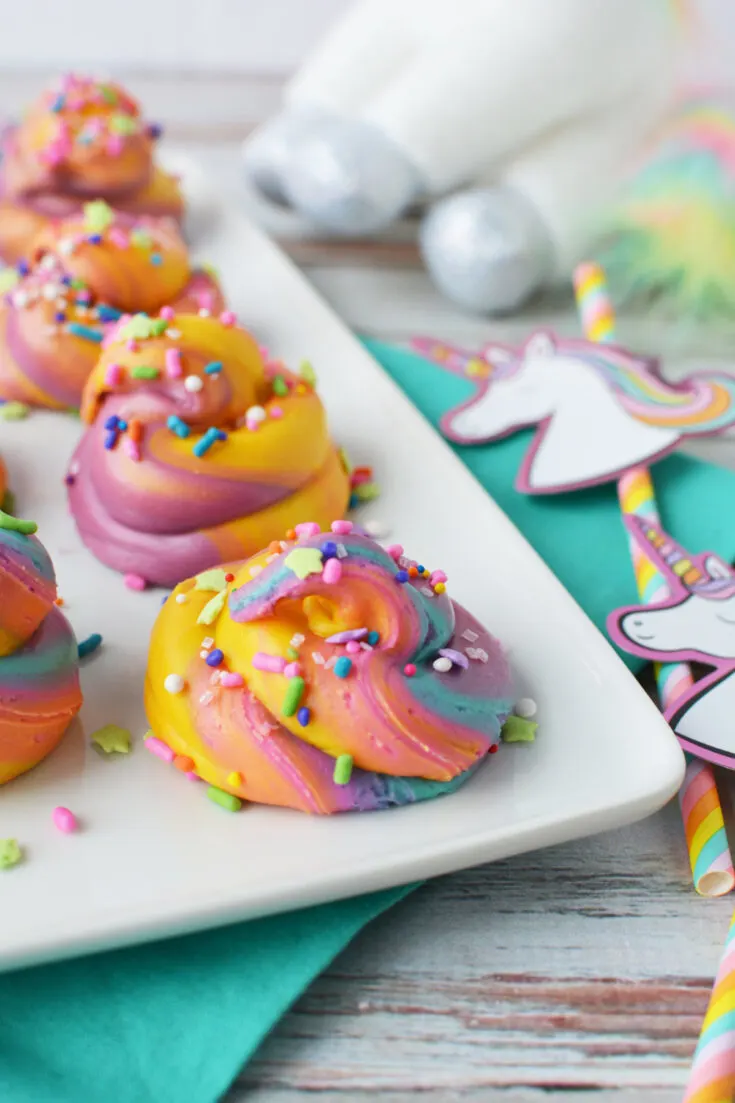 Try this funny and delicious unicorn poop fudge the next time you need a sweet treat for a party or celebration. The rainbow swirly shape is sure to bring out the smiles to all unicorn lovers or little ones who love a good poop emoji.
Ingredients
6 ounces of each of the following color candy melts: bright pink, turquoise, lavender, yellow (that is 1 cup each)
1 can, 14 oz, sweetened condensed milk, divided
unicorn candy sprinkles
Instructions
Add candy melts to four separate microwave safe bowls. Add 3.5 ounces, or 1/3 cup sweetened condensed milk to each bowl of candy melts and stir each color.
Place all bowls in the microwave for 4 minutes. When cooking is complete, let stand in the microwave for 4 minutes. Remove bowls from microwave and stir until smooth.
Set a timer for 4 minutes. Let bowls stand for 4 minutes and then stir. Repeat the process until the candy is the consistency of frosting. I would say when it holds its own shape when stirred and doesn't smooth out.
For me, the blue and purple icing set up after 20 minutes. Once those colors were set up, I covered them with plastic wrap and continued the timer until the other colors were ready. The pink color seemed to take the longest! It took 32 minutes at room temperature, and then I popped it into the fridge for 8 minutes (2, 4 minute cycles) and it was set. The yellow took minutes.
Once all colors are ready, unroll a long piece of plastic wrap and place the colors along the long edge and next to each other. Roll up the plastic wrap by joining the ends of each long edge together and turning down to create a long log. Twist the ends together.
Fit a piping bag with a large, 1M piping tip, or cut a 1" tip out of a piping bag. Snip one end of the twisted plastic wrap and place the fudge into the pastry bag. Pipe onto wax paper, adding sprinkles immediately after making each pile of poop. Let stand to set up.
Makes about 24 piles of poop.
Notes
If using a star tip, divide the colors into two separate piping bags. This will make it easier to squeeze out.
Avoid a tip completely and have a more realistic poop pile. Cut about a 3/4"-1" tip in the pastry bag and pipe into a swirl.
You absolutely must use a piping bag. This will not work in ziplock. I didn't try, but it's stiff, and you'll break a seam.
Work quickly, maybe have 2 people piping or someone to put the sprinkles on after you pipe.
Note my microwave safe bowls were glass, therefore yours may cool quicker, since glass does hold some heat.
Recommended Products
As an Amazon Associate and member of other affiliate programs, I earn from qualifying purchases.
Nutrition Information:
Yield:
24
Serving Size:
1
Amount Per Serving:
Calories:

102
Total Fat:

2g
Saturated Fat:

1g
Trans Fat:

0g
Unsaturated Fat:

1g
Cholesterol:

8mg
Sodium:

31mg
Carbohydrates:

19g
Fiber:

0g
Sugar:

17g
Protein:

2g
Nutrition facts are an estimate only.
More Rainbow Desserts
If you're throwing a party with a rainbow theme, you're in the right place. Here are more rainbow desserts to add to your bash.
This rainbow popcorn can be served in a rainbow display or mixed up into a party mix for goodie bags.
Fresh fruit rainbow popsicles are the perfect way to cool down on hot days.
A rainbow trifle is an irresistible layered dessert that's always a crowd-pleaser.
Pin this image to your dessert board to save and share!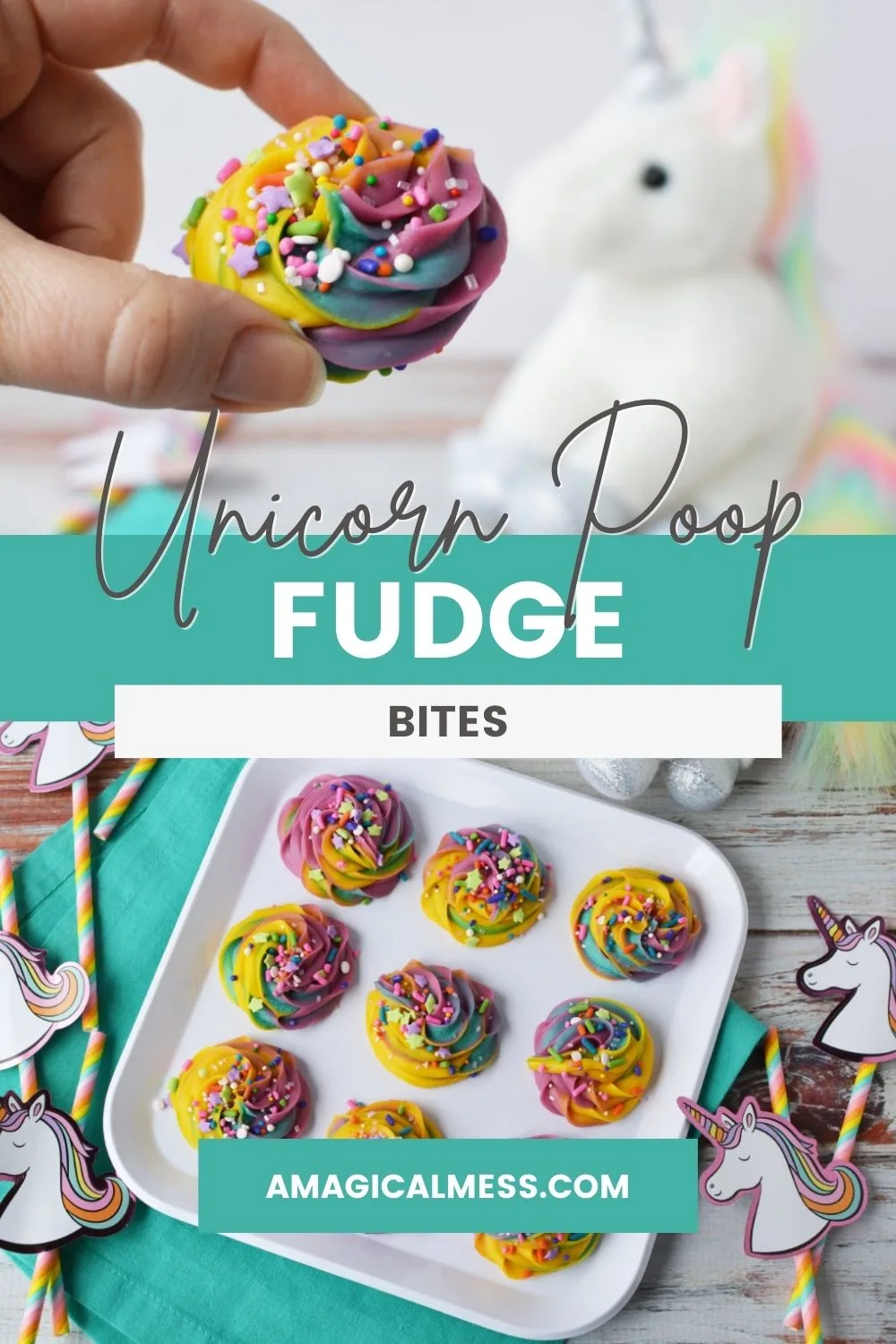 If you decide to make this silly fudge recipe, please share your creation! Tag me on instagram @jensoltys, so I can check it out and share it.
Please subscribe to the blog if you like recipes like this one. You will also receive printable coloring sheets to enjoy while you eat the fudge.