It's time that unicorn poop cookies take their rightful spot on our site. Our mascot is a unicorn, after all, and he deserves some recipes devoted to him.
These sparkly and colorful treats are fun to make for unicorn birthday parties or even Christmas cookies.
Whoever the unicorn lovers are in your family, they are sure to appreciate these delightful little sweets.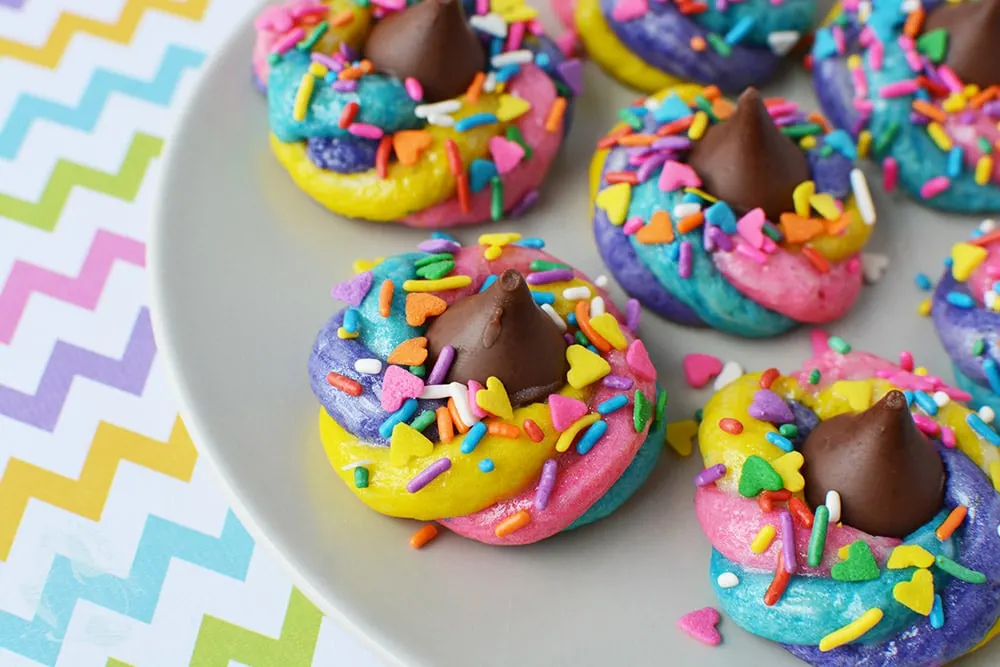 Unlock Kitchen Sorcerer Status with Unicorn Poop Cookies
The popularity of all things magical doesn't seem to be slowing down, and that pleases us greatly.
Shelley and I both have loved mystical creatures for our entire lives. Looking for the magic is even more critical during adulthood.
Although my inner 8-year-old is clapping with glee over these cookies, so is my current, ahem, much older self.
Unicorn poop cookies might not be the most enticing name, but people love them all the same. <== Rhyming super intentional.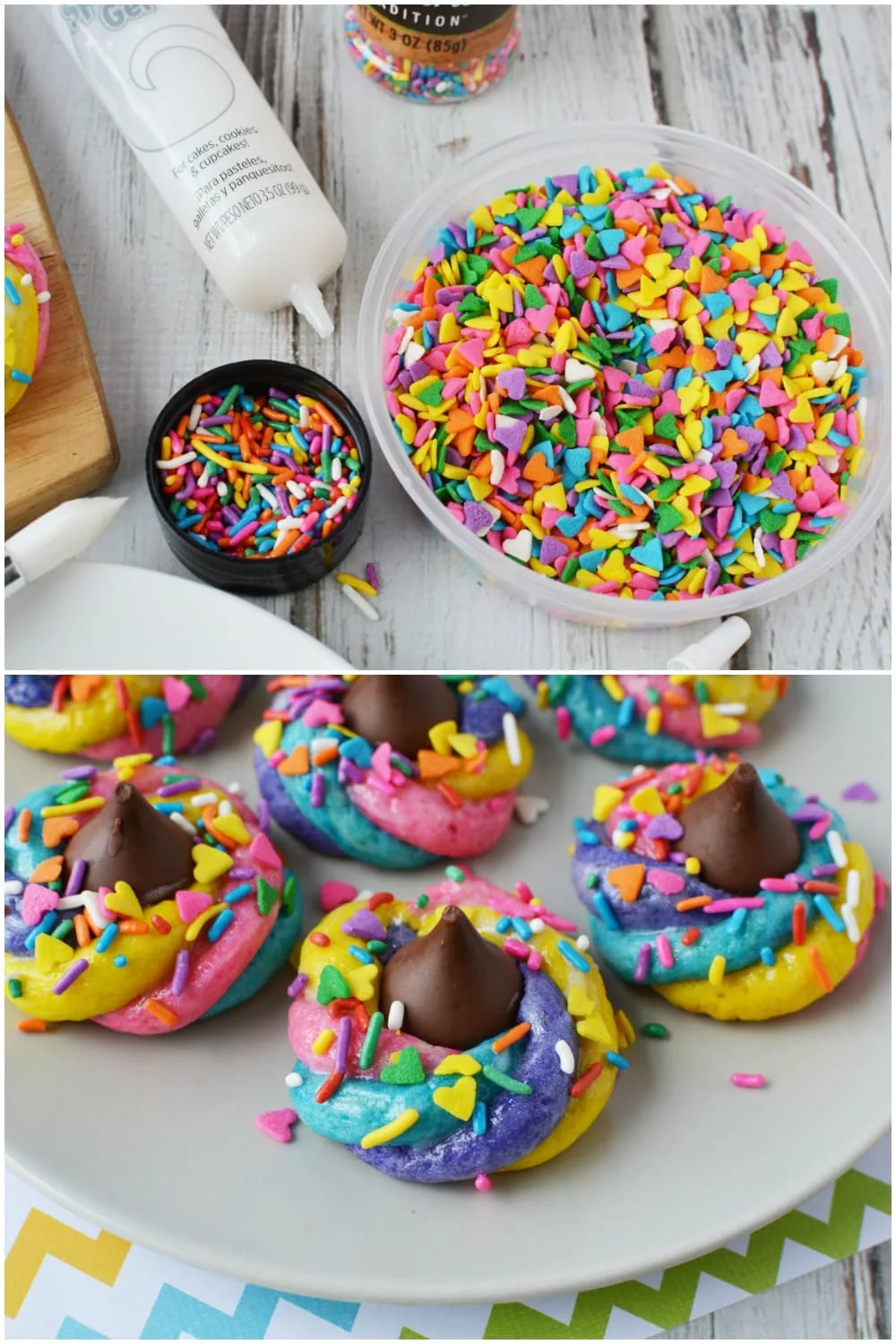 Using a sugar cookie type dough and a chocolate kiss, you can rest assure that these desserts are delicious.
The cream cheese in the dough makes the cookies extra soft and moist.
It's important to note that the sparkle gel used here doesn't seem to set or completely dry. Be mindful of that while serving and eating.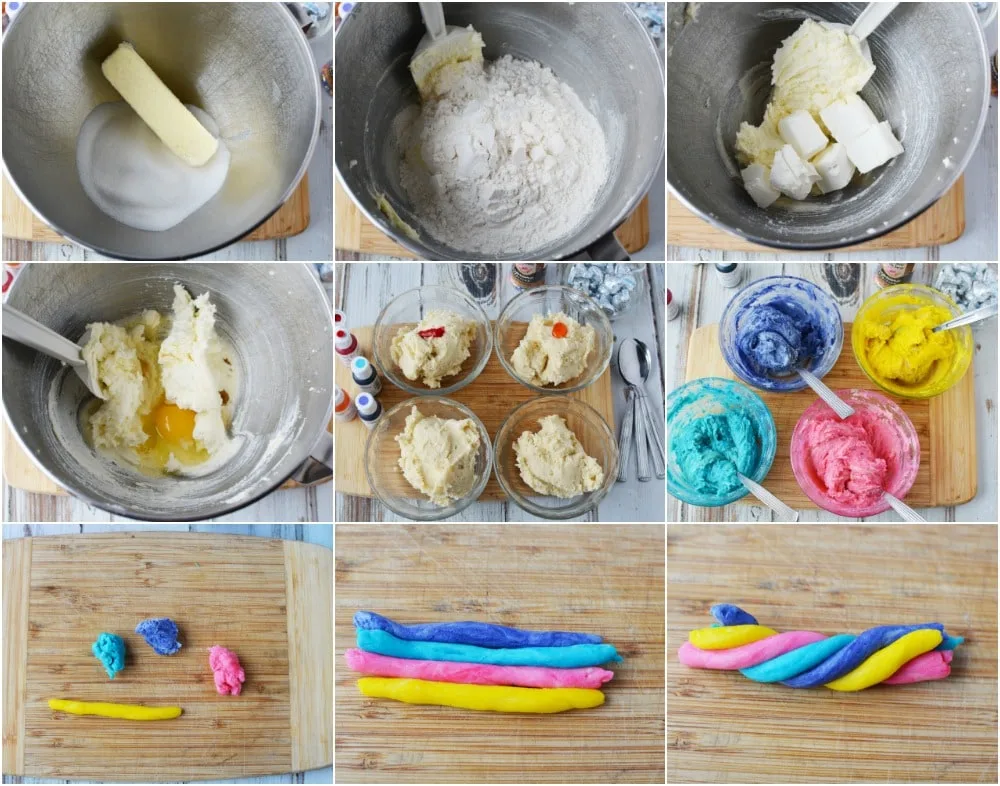 The cookies always feel a bit tacky.
You can try air drying longer to see if that helps, but they usually don't last that long!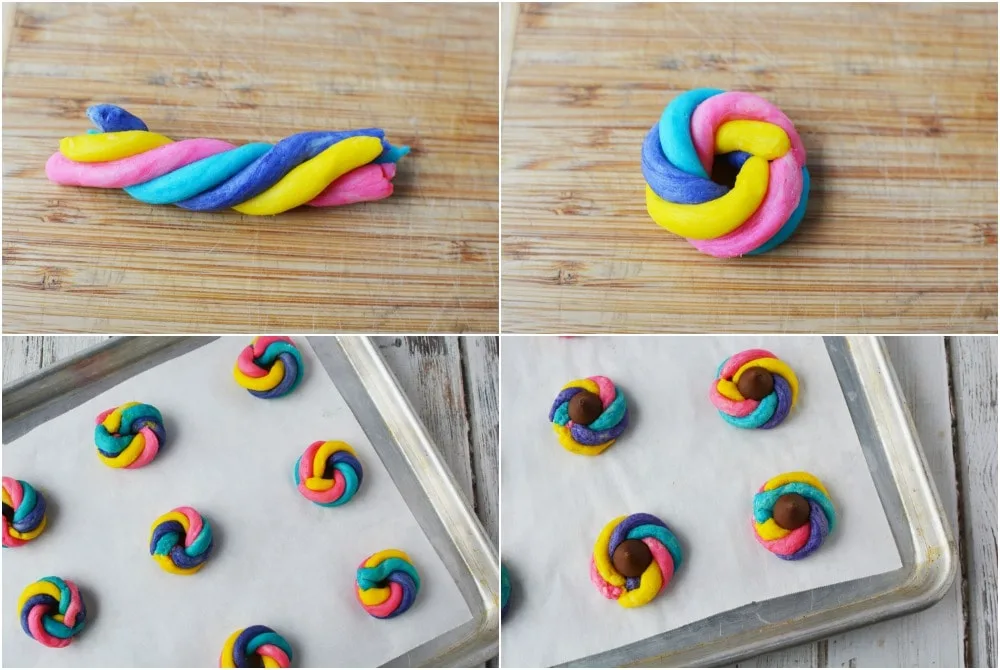 Fun and celebratory cookies to make
Yield: 20 cookies
Unicorn Poop Cookies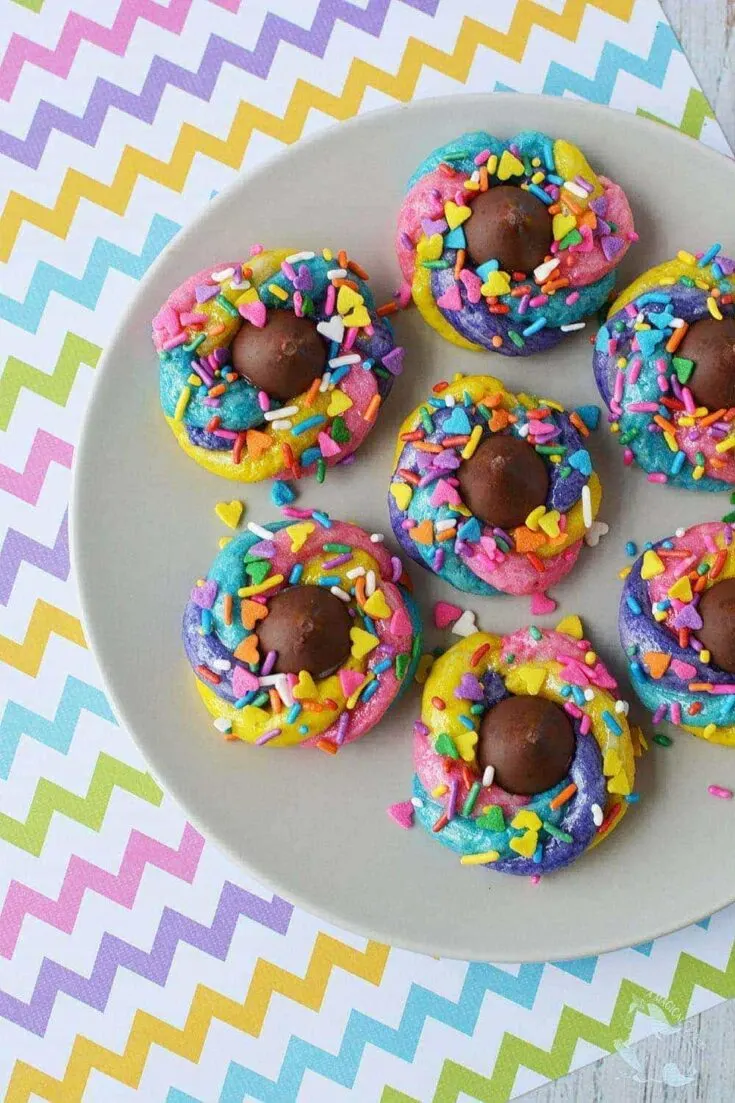 Sparkly, colorful, and fun cookies to make for anyone who loves unicorns. Unicorn poop cookies are a sweet treat that is sure to bring on joyful smiles.
Total Time
1 hour
22 minutes
Ingredients
1 cup butter, softened
2/3 cup sugar, white
4 ounces cream cheese, softened
1 egg
1 teaspoon vanilla
1/2 teaspoon salt
2 cups flour
20 Hershey kisses, unwrapped
Wilton sparkle gel in white
rainbow sprinkles
rainbow heart sprinkles
Colors for the Dough
Americolor Soft Gel Paste in 122 Violet
Americolor Soft Gel Paste in 114 Pink
Americolor Soft Gel Paste in 107 Lemon Yellow
Americolor Soft Gel Paste in 103 Sky Blue
Instructions
Add butter and sugar to a mixing bowl and beat on high speed for 3-5 minutes until butter and sugar mixture is fluffy. Add cream cheese and beat well. Beat in egg and vanilla.
Add salt and flour and beat until combined well. Divide dough into 4 separate bowls.
Color each bowl of dough a different color. Mix well to combine colors. Refrigerate, covered, for 30 minutes. Cover a baking sheet with parchment paper and set aside.
Create a space to roll the dough. Cover the space generously with flour. You may also cover your hands with flour to help roll the dough.
Remove from refrigerator and grab a small chunk from each color of dough and roll them into 3-4" long "snakes." Stack colored snakes together and twist to blend snakes together. Curl open ends around to join each other and gently press together. Place onto prepared baking sheet, 2" apart.
Bake in a 375 degree oven for 10-12 minutes. When cookies are done baking, immediately place a Hershey kiss onto the center of each cookie, gently pressing it into the dough. Let cool completely.
Use a small brush to spread color gel onto each cookie. Sprinkle cookies with sprinkles.
Notes
Colors used are listed in the ingredients. Of course, feel free to play around with your favorite colors.
If you have problems rolling the dough:
It's important to let the butter and cream cheese firm up a bit before you try to roll the dough.
You might need to use a more generously floured board/space to roll.
Flour is a tricky thing - I often weigh mine. Use 5 ounces for 1 cup of flour to get the most accurate measurement. If you pack the flour into a measuring cup, it will hold about 1-2 ounces more.
When you pull the dough out of the bowls that were in the fridge, make sure it's not sticky. If it's sticking to your hands, flour your hands and the surface before rolling.
Recommended Products
As an Amazon Associate and member of other affiliate programs, I earn from qualifying purchases.
Nutrition Information:
Yield:
20
Serving Size:
1 cookie
Amount Per Serving:
Calories:

332
Total Fat:

14g
Saturated Fat:

8g
Trans Fat:

0g
Unsaturated Fat:

4g
Cholesterol:

41mg
Sodium:

160mg
Carbohydrates:

62g
Fiber:

13g
Sugar:

21g
Protein:

7g
Nutrition facts are an estimate only.
Unicorn Recipes
If you're throwing a unicorn party and need more recipe ideas, I got you. For drinks, you can serve up some unicorn slushies. If you want more cookies, give these unicorn cookie cups and mini unicorn poop shortbread bites a try.
There's also unicorn bark candy, no-churn unicorn ice cream, swirly rainbow poop fudge, and cute unicorn cupcakes with faces that are perfect additions to any magical party.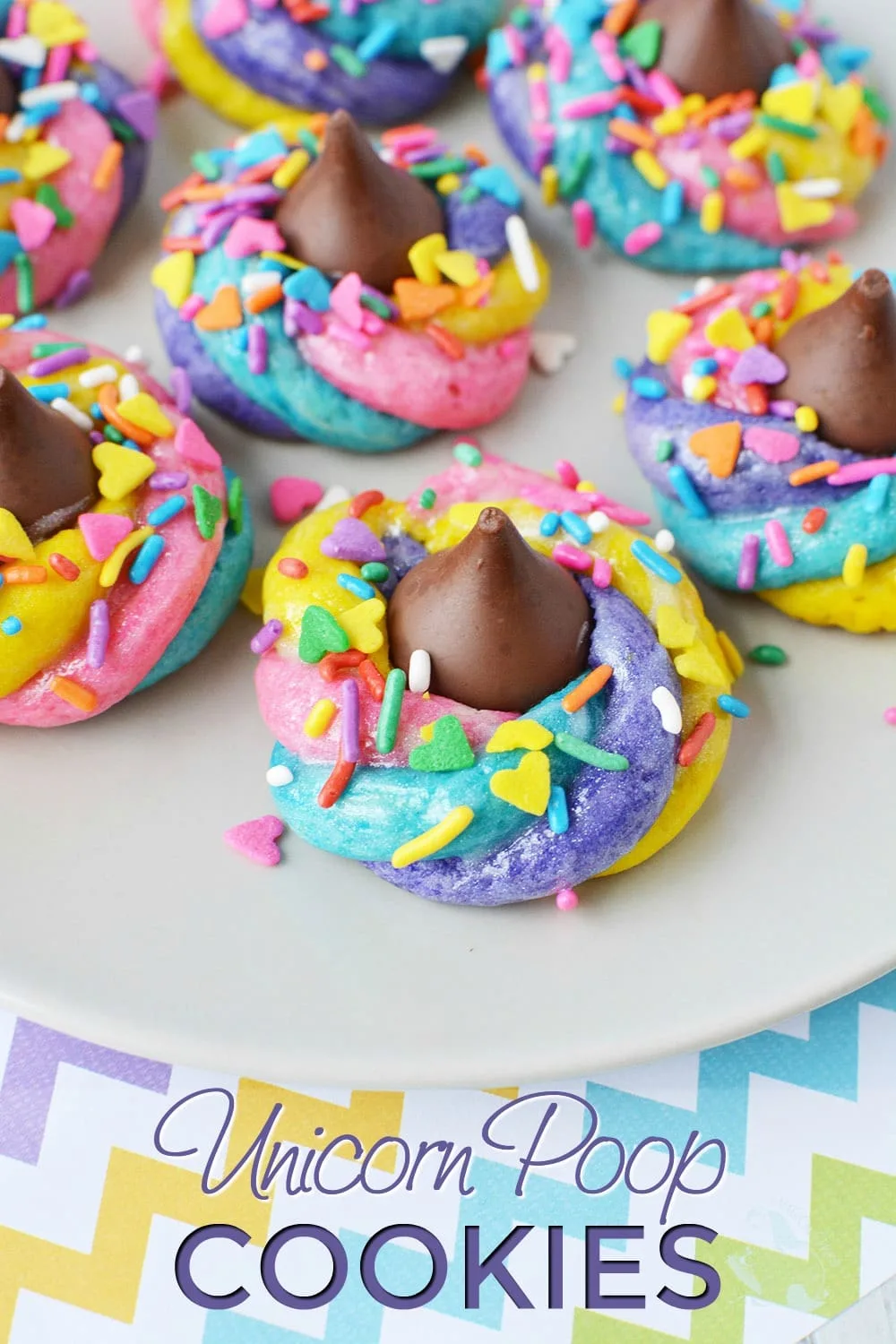 Please subscribe for more recipes like this and be sure to share with your friends.
Make these cookies for a fantastical surprise or include the family in the decorating fun.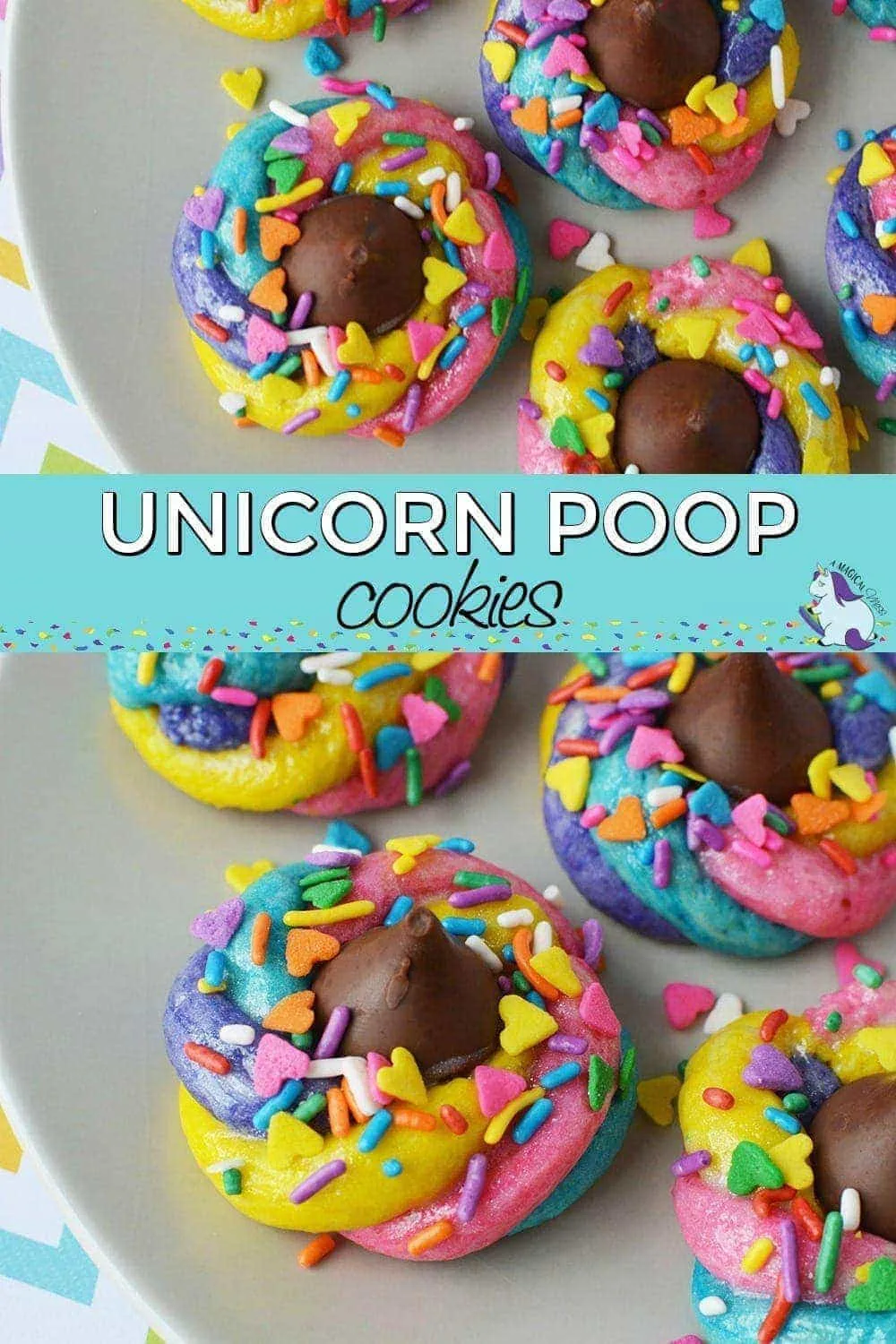 Come back and let us know if you give them a try.
We'd love to read your comments about the unicorn poop cookies!