Once you have this salted caramel frosting recipe, you will want to frost everything with it. I feel like a child again that wants to lick all the frosting off the cupcake. If you are a fan of Milk Duds, you will definitely be in heaven.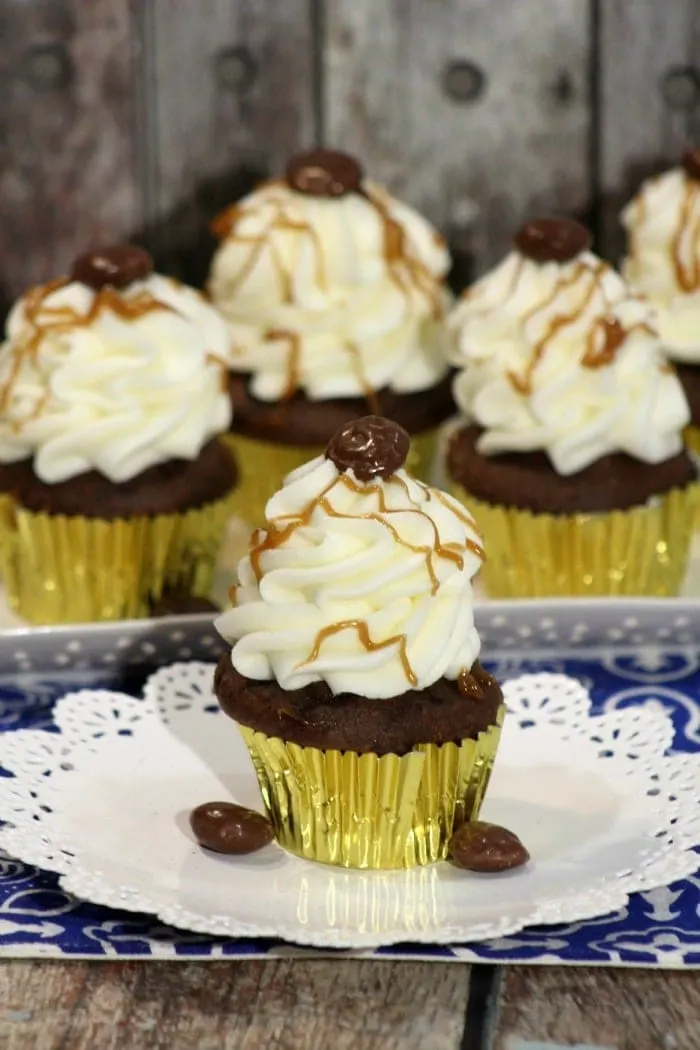 Chocolate Cupcakes with Salted Caramel Frosting Recipe
Cupcake Ingredients
2/3 cup cocoa
1 tsp baking soda
1 cup boiling water
1/2 cup unsalted butter, melted
1/3 cup vegetable oil
1 3/4 cup sugar
1 1/2 tsp vanilla extract
3/4 tsp salt
2 large eggs
2 large egg yokes
1/2 cup heavy cream
1 3/4 cup all-purpose flour

Caramel Sauce Ingredients
1 1 /2 cups sugar
1/4 cup water
6 Tbsp unsalted butter (room temp)
1 cup heavy cream
Salted Caramel Frosting Ingredients
1 cup unsalted butter, (room temp)
4 cups powder sugar
3/4 cup Caramel Sauce, (cool completely)
1 tsp vanilla extract
Directions
Preheat oven to 350 degrees.
In large heat-safe mixing bowl, mix cocoa powder and baking soda.
Add the boiling water and mix until bubbles subside and mix is well blended, allow to cool for 5 minutes.
In a second large mixing bowl, use an electric hand mixer on low speed, add melted butter, vegetable oil, granulated sugar, vanilla, and salt and mix.
Stir in eggs and eggs yolks, mix well until it's all well combined.
Fold in cocoa mixture then blend in heavy cream.
Slowly add in flour and blend until combined, make sure to scrape the sides and bottom of bowl.
Divide batter among 24 paper-lined muffin cups, filling each cup about 2/3 full.
Bake in the oven for 2o minutes.
Remove from oven and allow to cool in muffin tin.
Transfer to wire rack to cool more.
Cool completely.
Frost with salted caramel frosting (recipe below), drizzle with caramel sauce (recipe below)
Top with Milk Duds
Salted Caramel Frosting Recipe Directions
In the bowl of an electric stand mixer fitted with paddle attachment, whip butter on medium-high speed until pale and fluffy, about 3 – 4 minutes.
Add powdered sugar and blend on low speed until mixture forms a stiff peak.
Add caramel sauce and vanilla and whip on medium-high speed until light and fluffy about 2 minutes.
Caramel Sauce Directions
In a 3 quart saucepan, heat sugar and water over medium to high heat stirring to dissolve sugar.
Once mix reaches a boil, stop mixing and allow the sugar mix to boil until it reaches a dark amber color.
Once the sugar mix reaches a dark amber color, add butter and mix until butter has melted then remove from heat.
Carefully pour in cream and mix it till it bubbles.
Mix until mix is smooth.
The caramel will need to cool several minutes then pour into a mason jar to cool completely then refrigerate.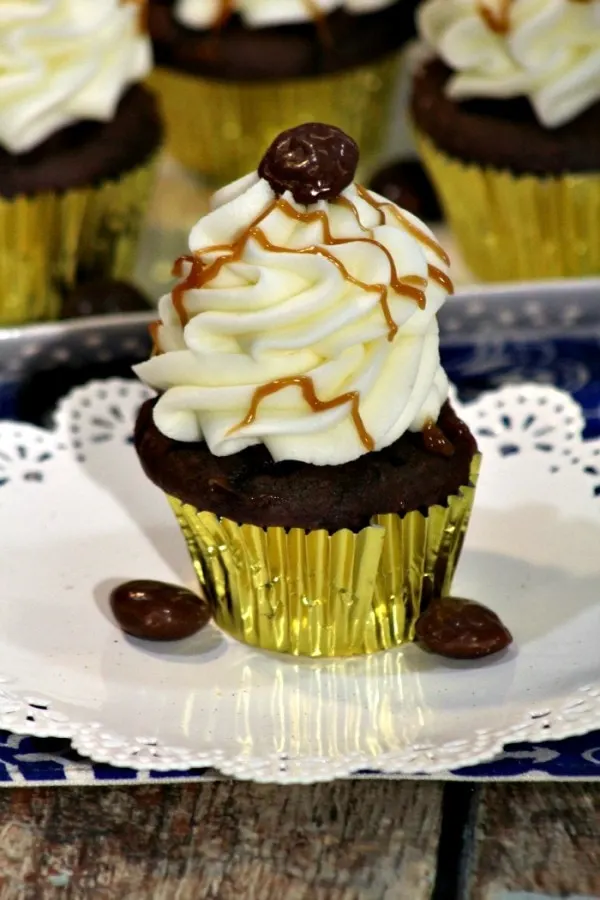 Have you ever tried a salted caramel frosting recipe? Once you do, you will want to FROST ALL THE THINGS! 😉