This easy red, white, and blue cheesecake dip recipe is ready to make a splash at your summer parties. If you're throwing a BBQ or backyard gathering for the 4th of July, Memorial Day, or any other patriotic holiday, this dessert dip is the perfect treat to add to the dessert table.
This creamy dessert dip is easy to make using simple ingredients. You can switch out the sprinkles to make this cream cheese dip all throughout the year for any event.
I receive payments for clicks, purchases, and/or registrations made through affiliate links in this post.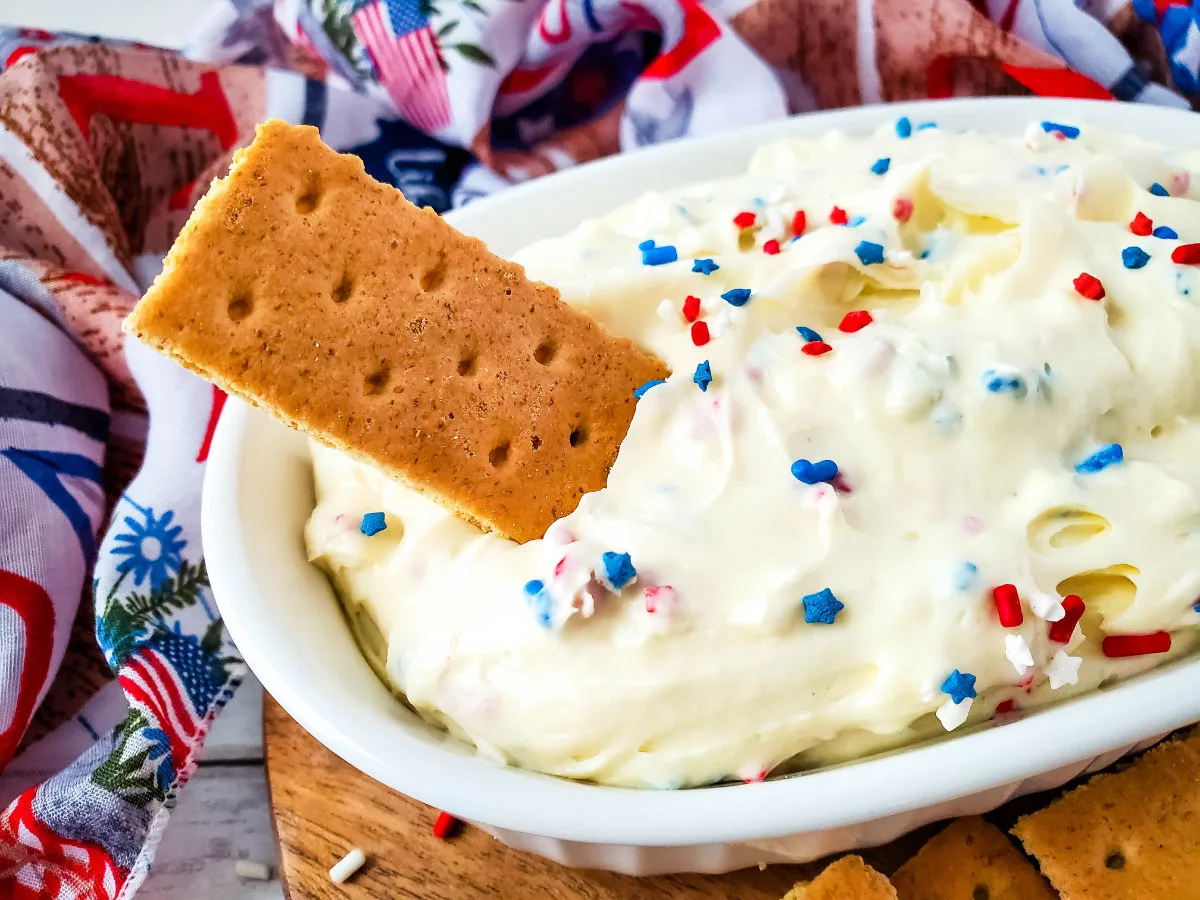 Patriotic Cheesecake Dip
I think I look forward to dips and desserts more than main courses at BBQ parties, that's why there are so many dessert dips on this blog. It's fun to bring a dessert dip when you're attending a party as a guest, or just keep the recipe on hand for your next bash. Visit this roundup post for even more summer party food ideas.
So far, I've spent this summer healing from surgery (will discuss in another post), but I am looking forward to August. I'm starting to feel a bit better and my birthday happens to be August 1st. What a perfect way to kick off the new, healthier me.
My frugal treasure-hunter side cannot wait to go around and get all my Free Birthday Stuff. I mean, look at all those freebies. From candles to burgers to makeup, collecting all those gifts will keep me busy all day!
I'm hoping to also plan something for Memorial Day. Maybe we can host a small pool party. Since our dogs are terrified of fireworks, we like to go out with a bang with FOOD! This red, white, and blue cream cheese dip is far better than loud booms if you ask me.
Reasons to Love this Dessert Dip
Pretty and festive: The red, white, and blue in this cheesecake dip make it an attractive addition to your party.
Creamy and dreamy: With its smooth and velvety texture, this cream cheese dip is an irresistible treat for all.
Quick and easy: Whip up this recipe in no time. It requires minimal effort and you might even have the ingredients you need on hand for a last-minute addition.
Crowd pleaser: Kids and adults tend to love this dip. You'll see everyone heading back for seconds.
No-bake dessert: As of right now, we have 100 degree days coming up. The less I need to use the oven, the better. This no-bake dessert is great to have on hand for the scorching summer heat.
Dip it all: From crunchy graham crackers to fresh berries, this dip goes well with many dippers!
Red, White, and Blue Cream Cheese Dip Ingredients
Here's what you need to make this dessert. The measurements are in the recipe card below.
Cream cheese
Butter
Powdered sugar
Brown sugar
Vanilla extract
Red, white, and blue sprinkles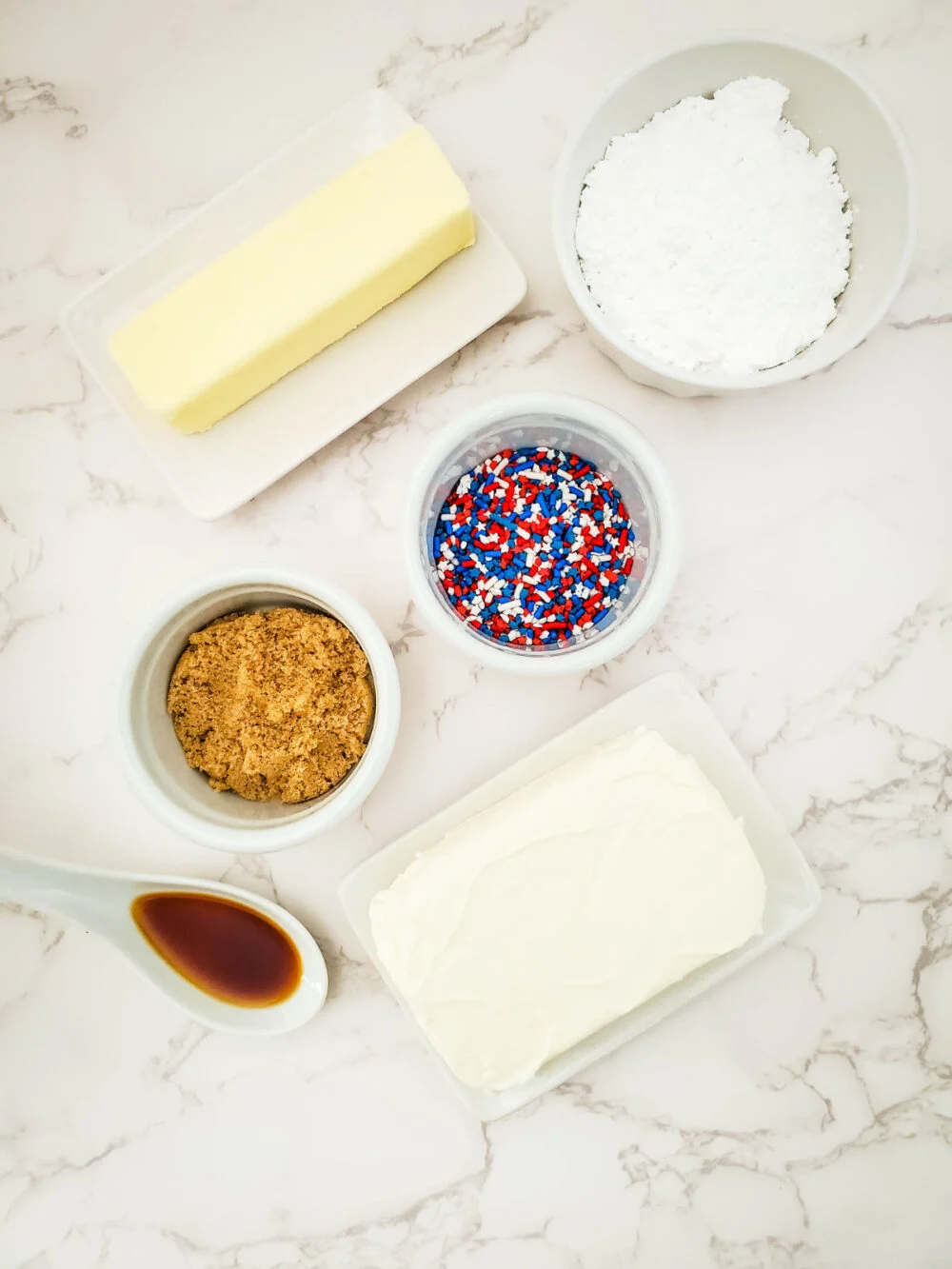 Cheesecake Dip Recipe Directions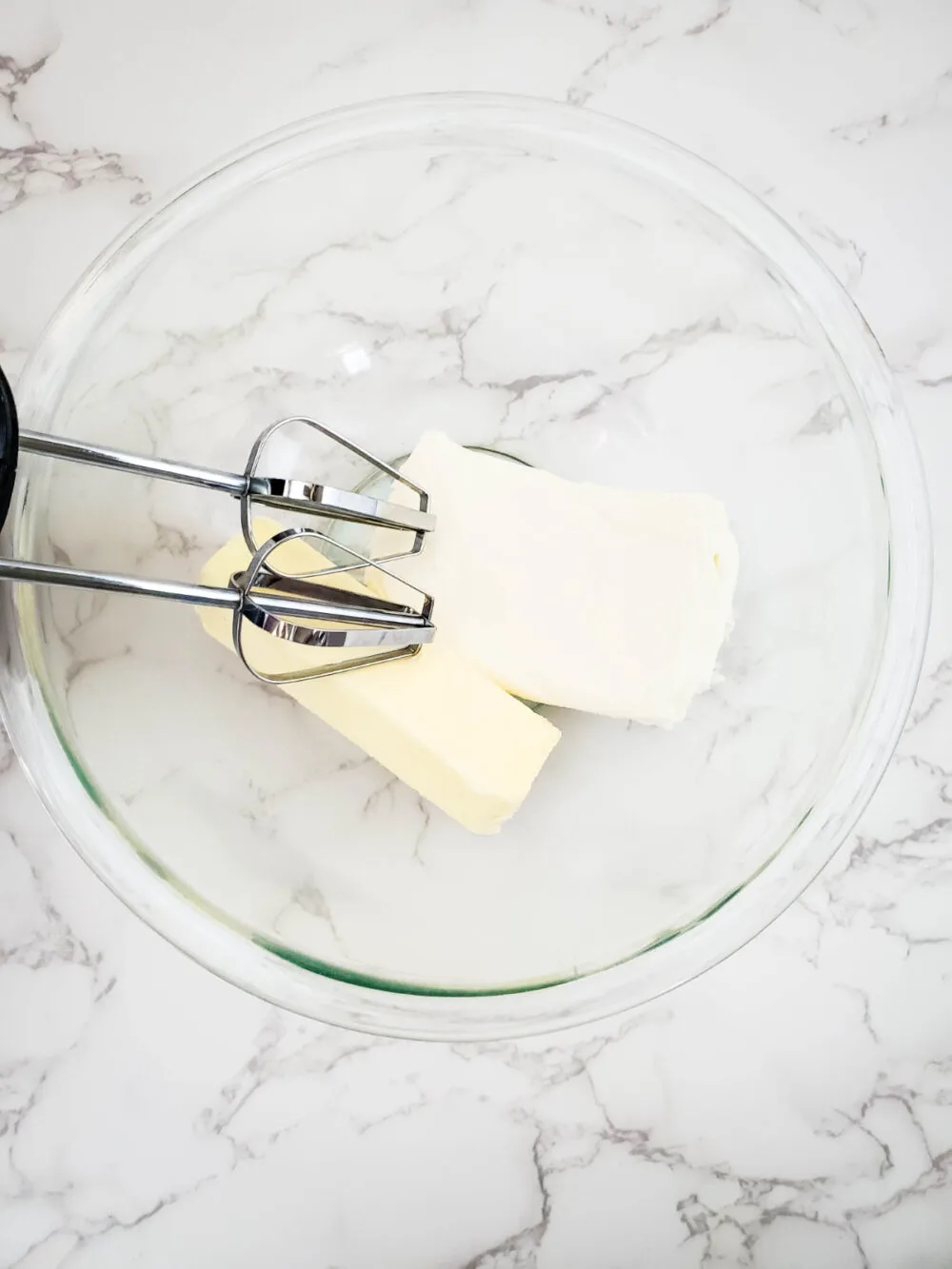 Cream the Cheese and Butter:
In a medium bowl or using a stand mixer, beat the softened cream cheese and butter together for 2-3 minutes until smooth and creamy.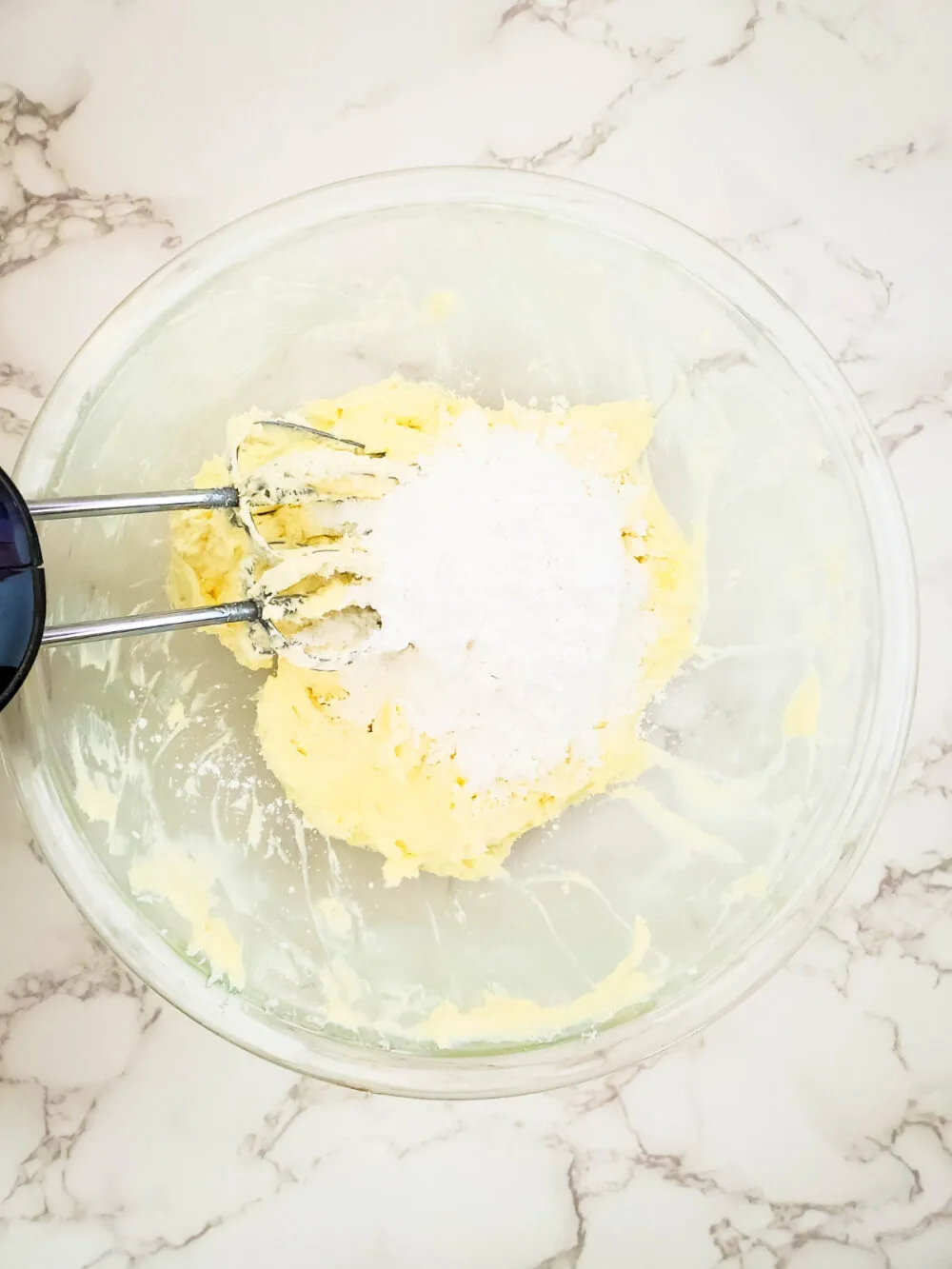 Add Sweetness and Flavor:
To the creamed mixture, add the powdered sugar, brown sugar, and vanilla extract. Continue beating for an additional 2 minutes to ensure all the ingredients are well combined.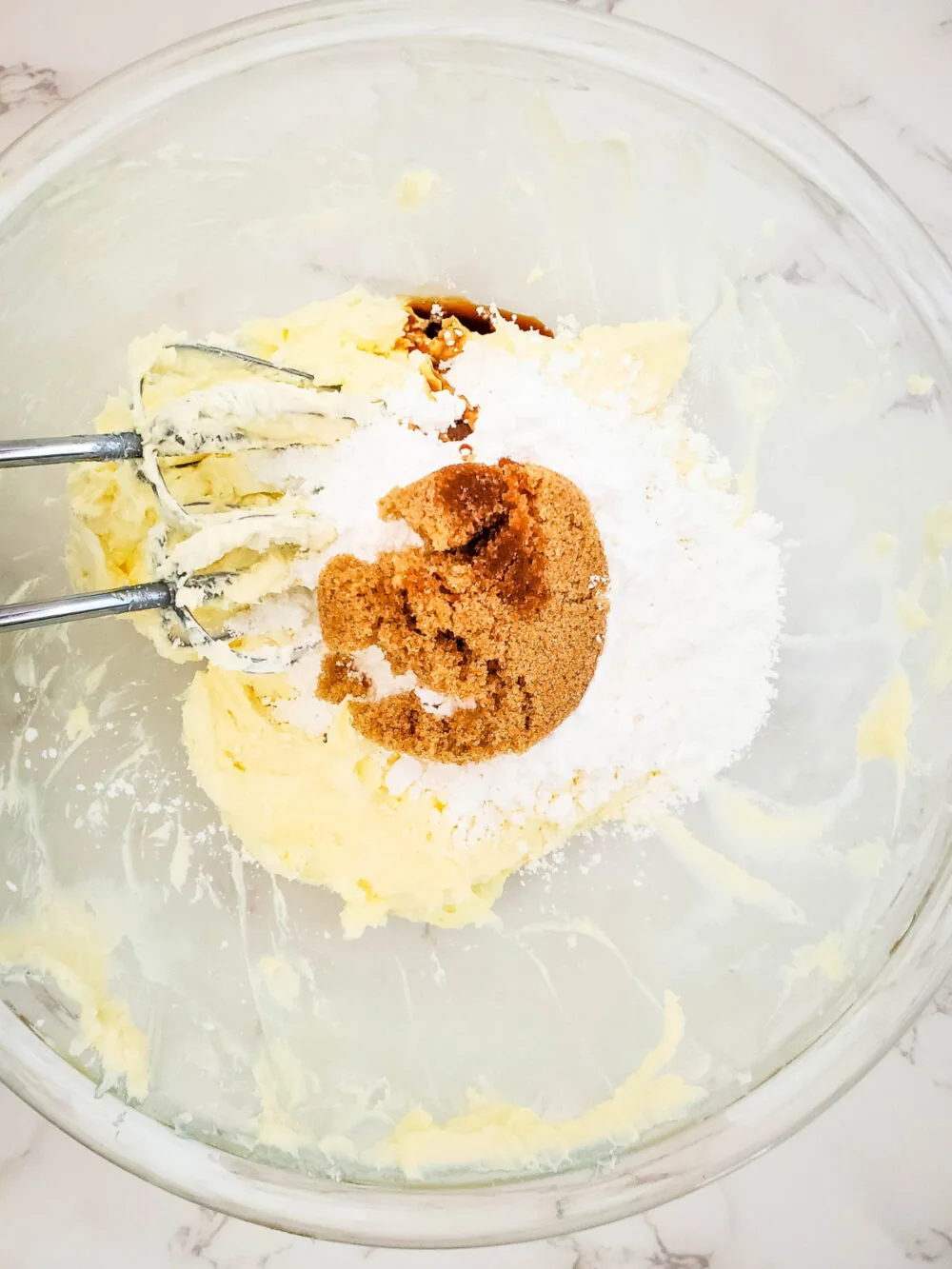 Sprinkle in the Fun:
Gently stir in the red, white, and blue sprinkles to give the dip its patriotic vibe. Save about 1 tablespoon of sprinkles to sprinkle over the top of the dip later.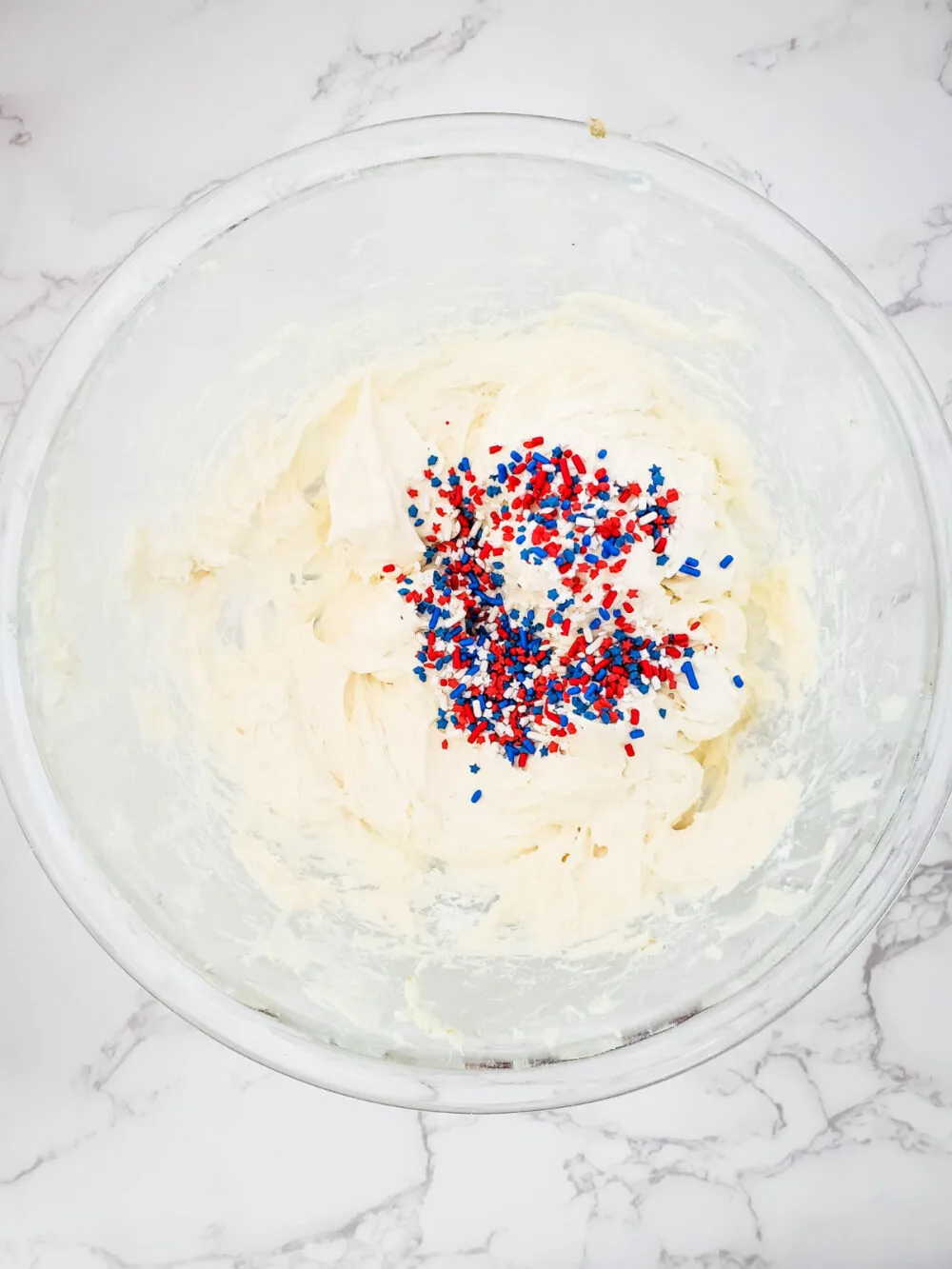 Chill and Serve:
Transfer the mixture into a small serving bowl. Sprinkle the remaining sprinkles over the top for an added pop of color. Refrigerate the dip for at least 1 hour, or until it's ready to be served.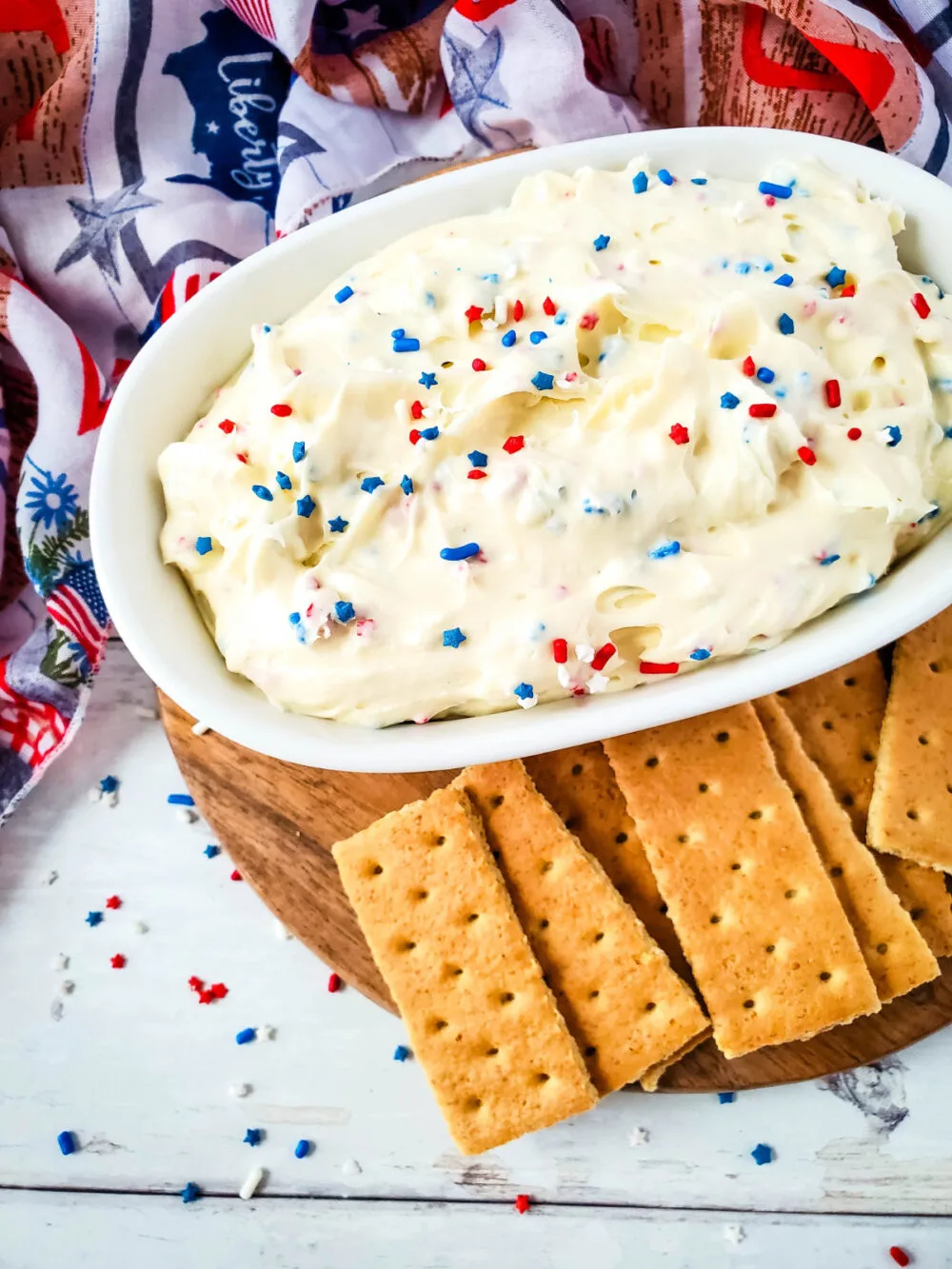 Serve the Dippers and Enjoy:
Once the dip is perfectly chilled, it's time to enjoy! Serve this creamy treat with an assortment of cookies, crackers, or a platter of fresh fruits.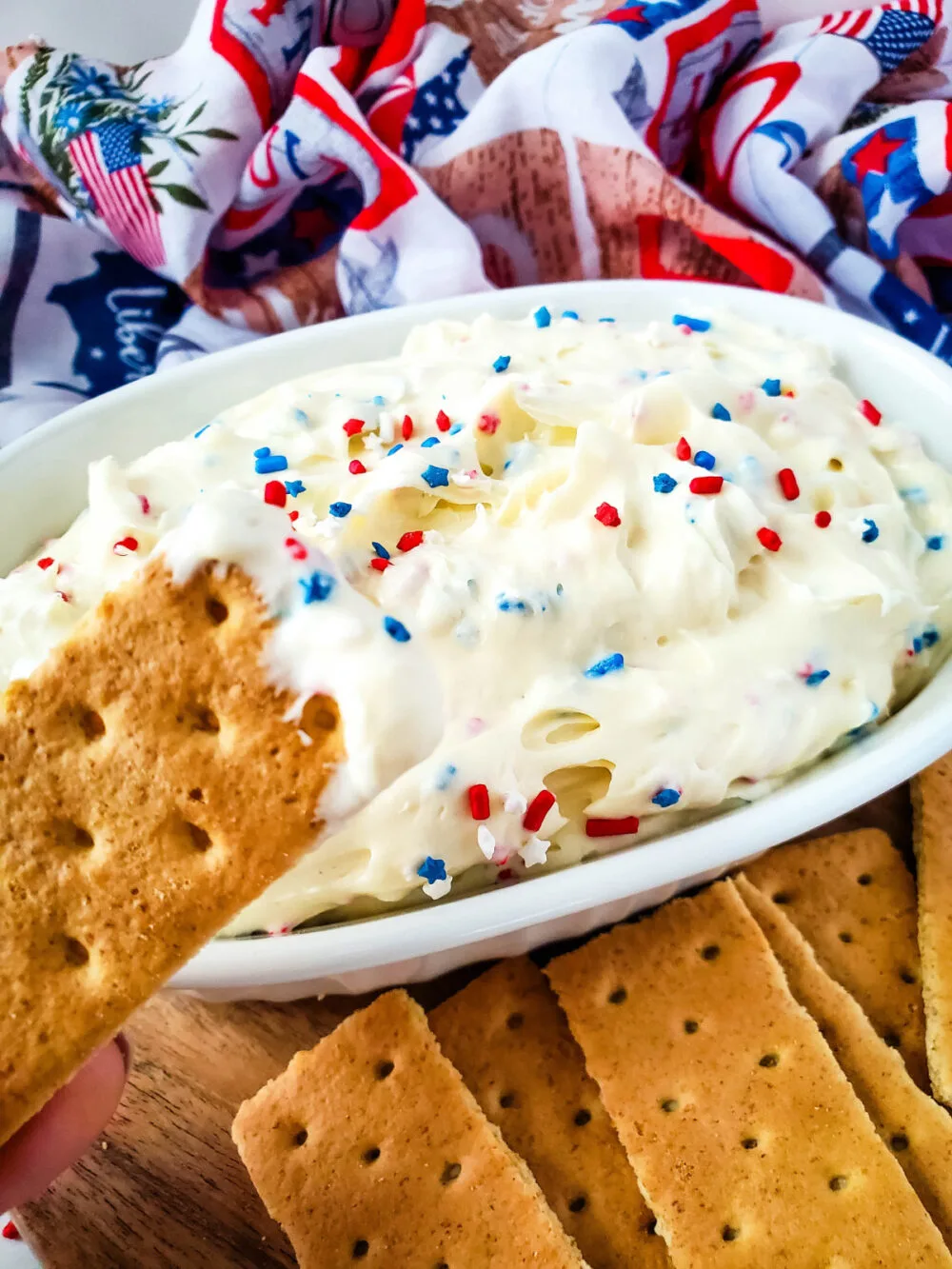 What to Dip in it and More Recipe Ideas
If you are throwing a party with a patriotic theme, here are more ideas for you.
Fresh Fruits: To balance out the creamy sweetness of the cheesecake dip, serve a bunch of different fresh fruits. Recently, I made fruit skewers and put them on this cute board for a gathering at my sister-in-law's house. It was a hit! You can dip the whole skewer into the fruit dip.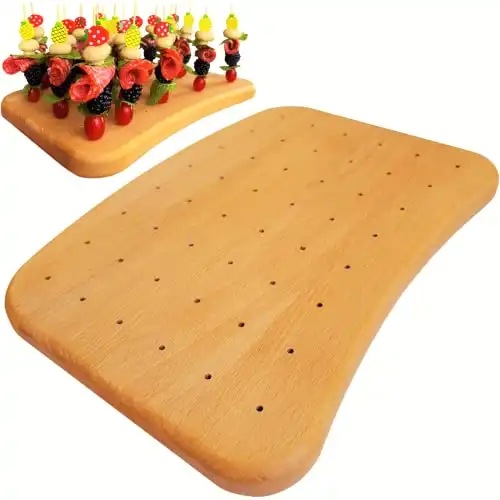 We earn a commission if you make a purchase, at no additional cost to you.
Crunchy Cookies: Graham crackers, vanilla wafers, shortbread cookies, or anything crunchy will go great as a dipping option.
Pretzels: For the people who love a salty and sweet flavor combo, offer up some pretzel sticks or twists as a dipping option.
Mini Fruit Tarts: For another dessert option, make these mini fruit tarts with berries for a red, white, and blue color theme.
Firecracker Cookies: The swirly colored cookies with a frosting middle are always a hit during summer parties.
Chocolate-Covered Oreos: Another simple and fun to make dessert, color and decorate Oreo cookies in red, white, and blue.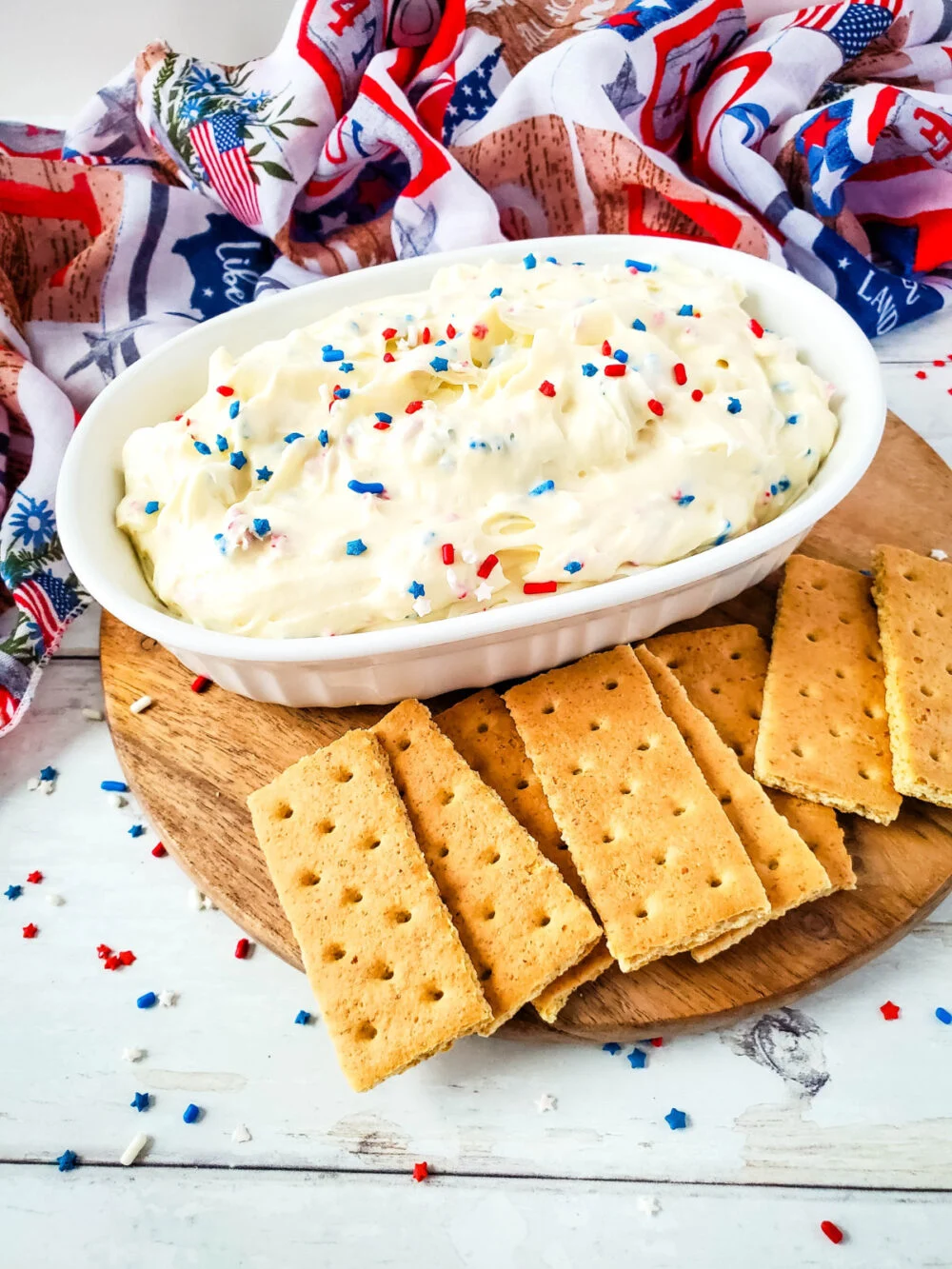 Recipe Swaps and Variations
Greek Yogurt: For a lighter version of this dip, you can substitute some or all of the cream cheese with Greek yogurt. It offers a tangy twist and reduces the overall richness.
Extract Flavors: Experiment with different extract flavors like birthday cake, lemon, or coconut to add a unique flavor to the dip.
Chocolate Chips: For the chocolate lovers, you can sprinkle in some mini chips instead of or in addition to the sprinkles. Of course, switch the color of the sprinkles to match your theme or holiday throughout the year.
Cookie Butter Swirl: Swirl in some cookie butter or Nutella to add a layer of richness to the flavor.
Caramel Drizzle: Drizzle on some melted chocolate or caramel to the top of the dip for even more fanciness and sweetness.
Feel free to get creative and experiment!
Storage
Store this cheesecake dip in an airtight container and keep it in the refrigerator for up to a week. Any leftover dippers should be kept separately to prevent them from getting soggy.
Recipe Notes and FAQ
Can I make this dip ahead of time?
Yes, you can make this Cheesecake Dip a day in advance. Store it in an airtight container in the refrigerator until you're ready to serve.
Can I use frozen fruit instead of fresh for dipping?
While fresh fruits are recommended for the best taste and texture, you can use frozen fruits if you don't have fresh. Thaw the frozen fruits before serving for a more enjoyable dipping experience. Frozen blueberries happen to be delicious when they are still a little frosty!
Can I substitute the sprinkles with other toppings?
Certainly! Feel free to get creative with other toppings such as chocolate chips, shredded coconut, or crushed nuts for added flavor and texture.
Yield: 10 Servings
Red, White, and Blue Cream Cheese Dip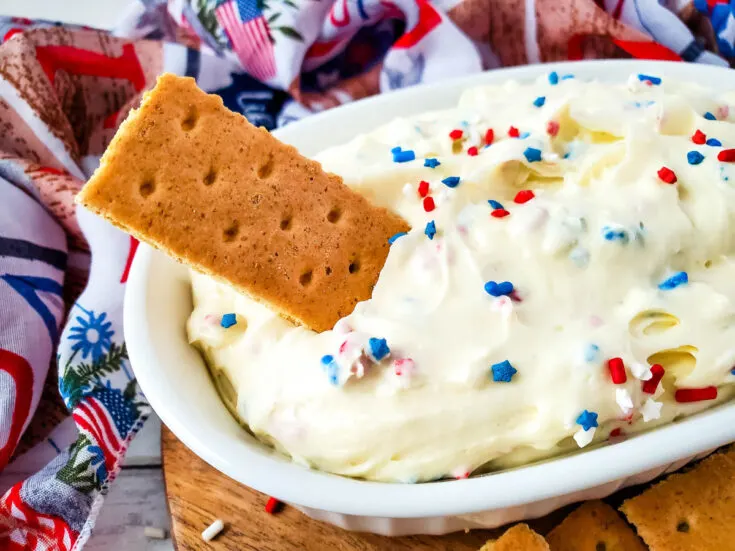 This red, white, and blue cheesecake dip is a creamy and dreamy no-bake treat perfect for the 4th of July, Memorial Day, and more. Dip fresh fruits, cookies, or animal crackers for a tasty dessert experience.
Total Time
1 hour
10 minutes
Ingredients
8 ounces cream cheese, softened
½ cup butter, softened
¾ cup powdered sugar
2 tablespoons brown sugar
1 teaspoon vanilla extract
¼ cup red, white, and blue sprinkles
Instructions
Whisk the cream cheese and butter together in a medium bowl or the bowl of a stand mixer, beating for 2-3 minutes until smooth and creamy.
Incorporate the powdered sugar, brown sugar, and vanilla, continuing to beat for an additional 2 minutes.
Gently fold in the sprinkles, setting aside 1 tablespoon to sprinkle over the dip later.
Transfer the mixture into a small serving bowl, sprinkle the remaining sprinkles on top, and refrigerate for 1 hour, or until ready to serve.
Pair the dip with your choice of cookies, crackers, or fresh fruits for dipping.
Recommended Products
As an Amazon Associate and member of other affiliate programs, I earn from qualifying purchases.
Nutrition Information:
Yield:
10
Serving Size:
1
Amount Per Serving:
Calories:

295
Total Fat:

22g
Saturated Fat:

11g
Trans Fat:

1g
Unsaturated Fat:

9g
Cholesterol:

47mg
Sodium:

145mg
Carbohydrates:

24g
Fiber:

0g
Sugar:

20g
Protein:

2g
Nutrition facts are an estimate only.
More Dessert Dip Recipes
Pin this image to your dessert board to save and share!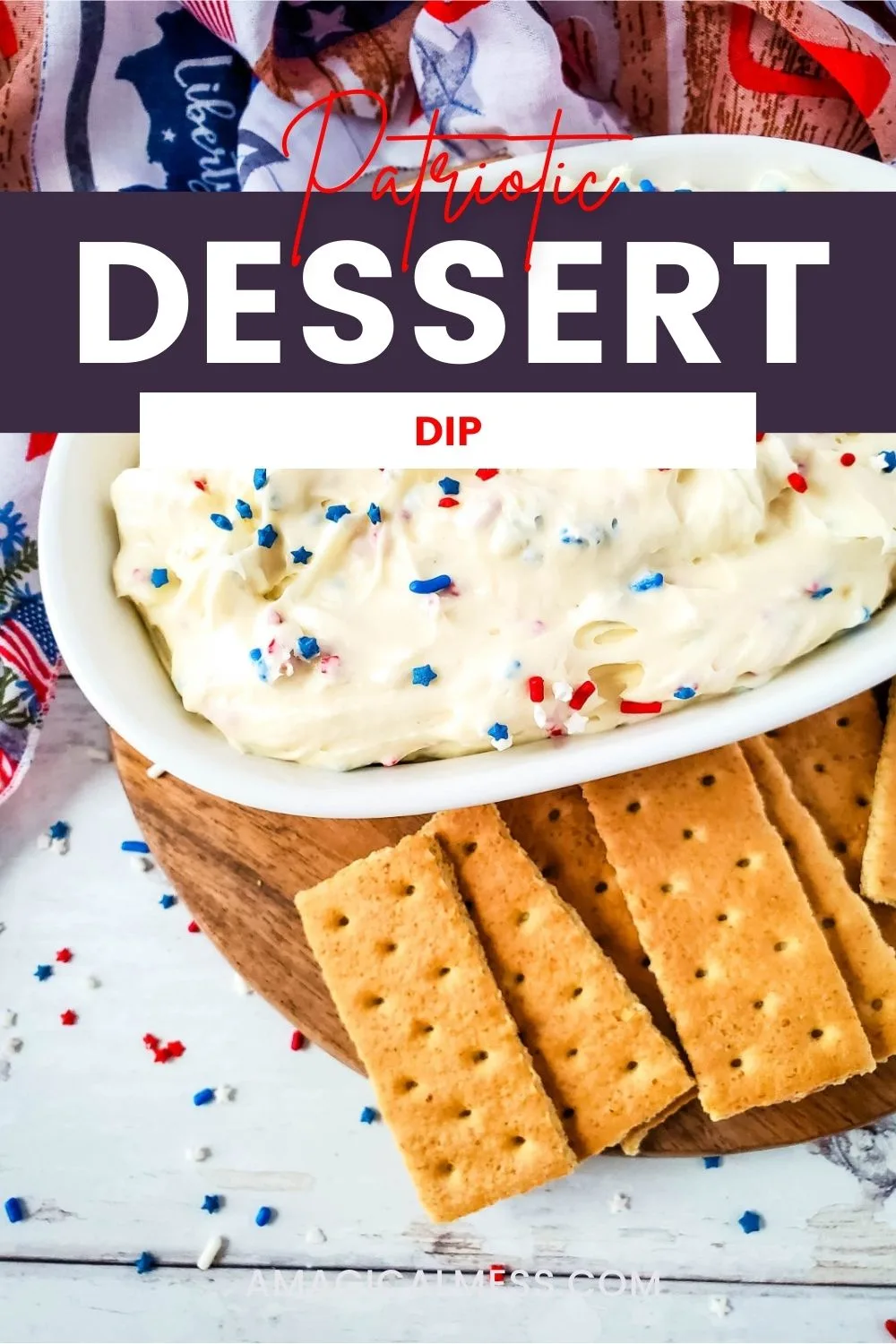 If you like quick and easy recipes like this one, please subscribe to the blog. If you make this cheesecake dip, tag me @jensoltys on Instagram, so I can share it!