Rainbow popcorn is here just in time for St. Patrick's Day or to add to your list of unicorn party desserts. Unicorn party mix is one of the most visited recipes on A Magical Mess.
Since that tells me unicorn parties aren't slowing down, I thought rainbow popcorn would be another colorful treat to add to your party ideas. This post contains affiliate links.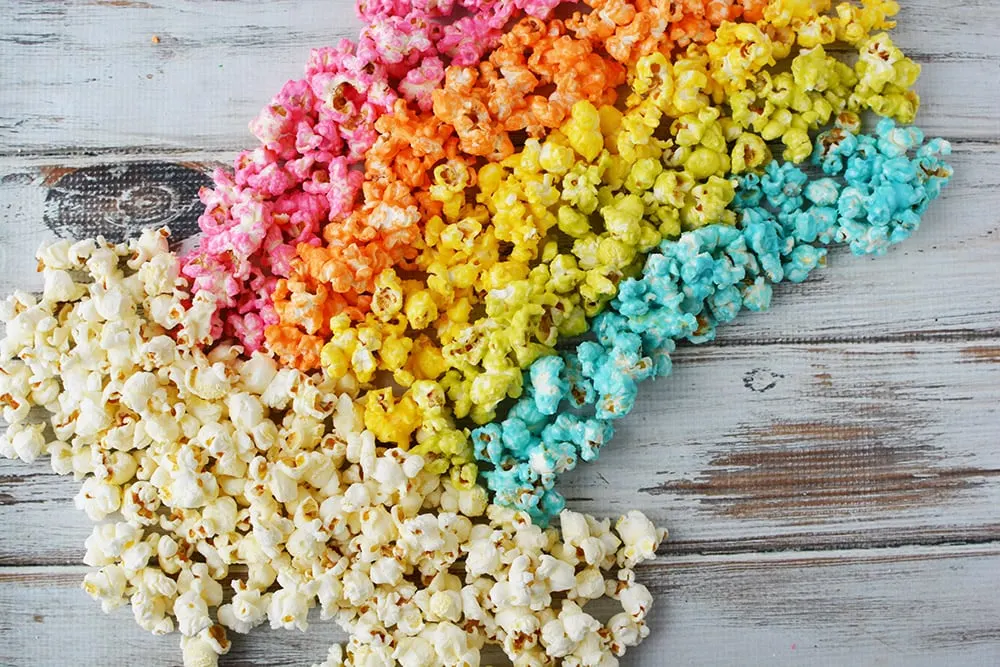 If you're looking to add a rainbow of colors to a St. Patrick's Day party, baby shower, unicorn party, wedding shower, Easter gathering, or another magical event, this is a fun way to display and serve popcorn.
Unicorn popcorn is another colorful option to consider for your next happy event. If you don't need all the colors and sparkles, give this sweet and salty popcorn recipe a try for your snacking needs.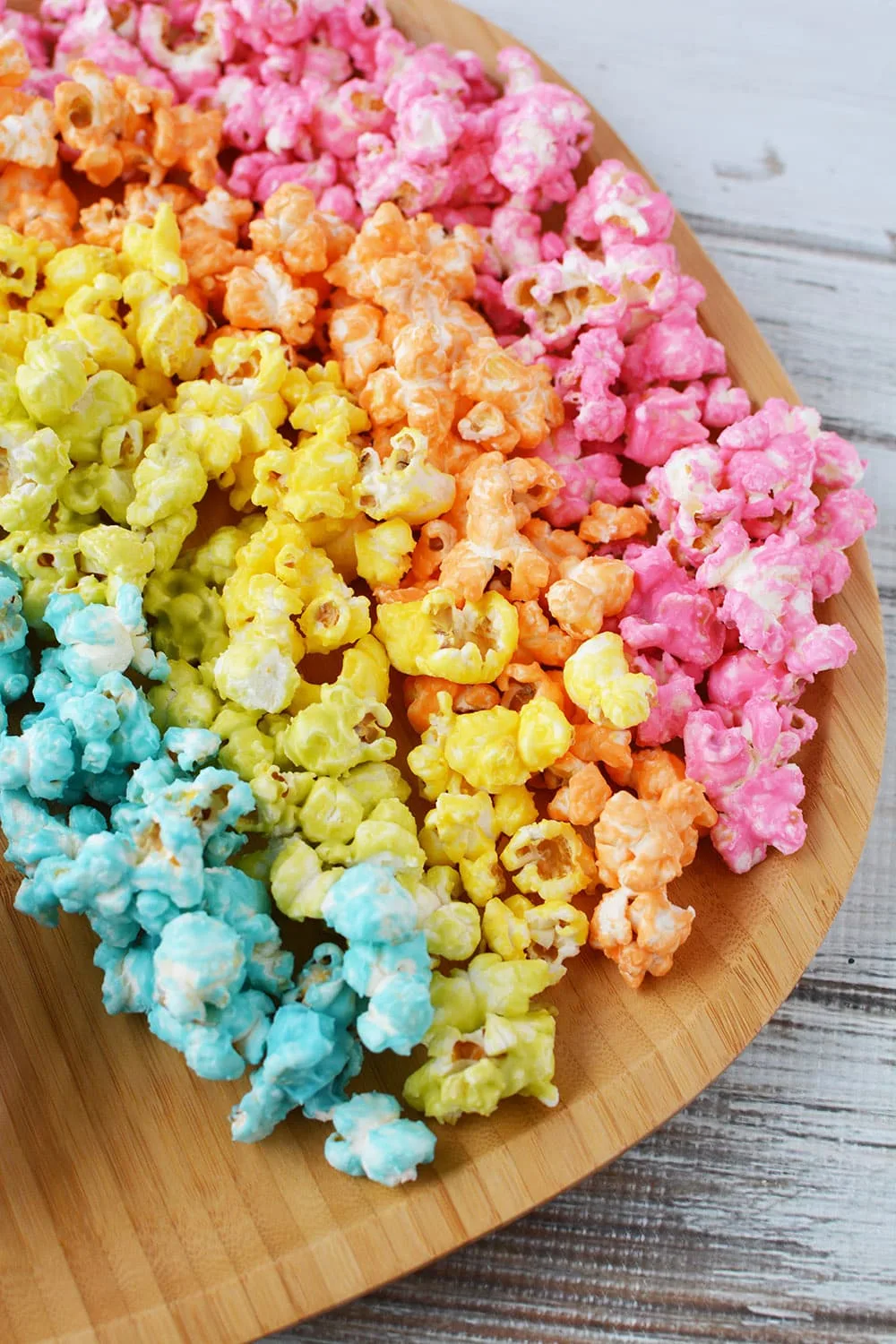 Sweet and Salty Rainbow Popcorn
A Stir Crazy popcorn popper was used to pop the popcorn for this recipe. Of course, you can pop the popcorn how you normally do.
A dash of salt on the plain popcorn before mixing it with the sweet candy melts make this snack mix a wonderful blend of salty and sweet.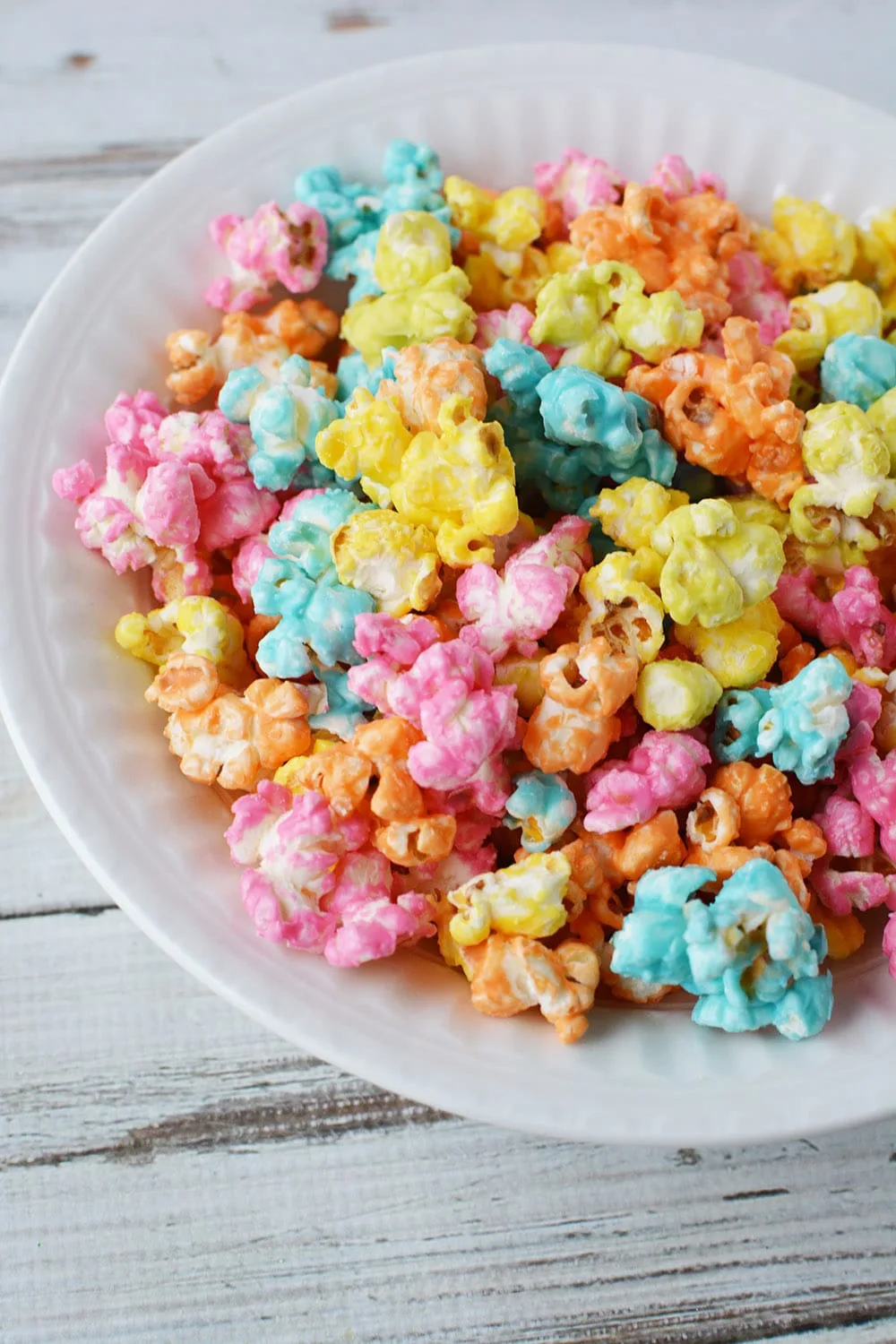 What you need for rainbow popcorn
(The recipe card below has exact measurements)
Popped popcorn
A rainbow array of candy melts
Pastel Sixlets (optional)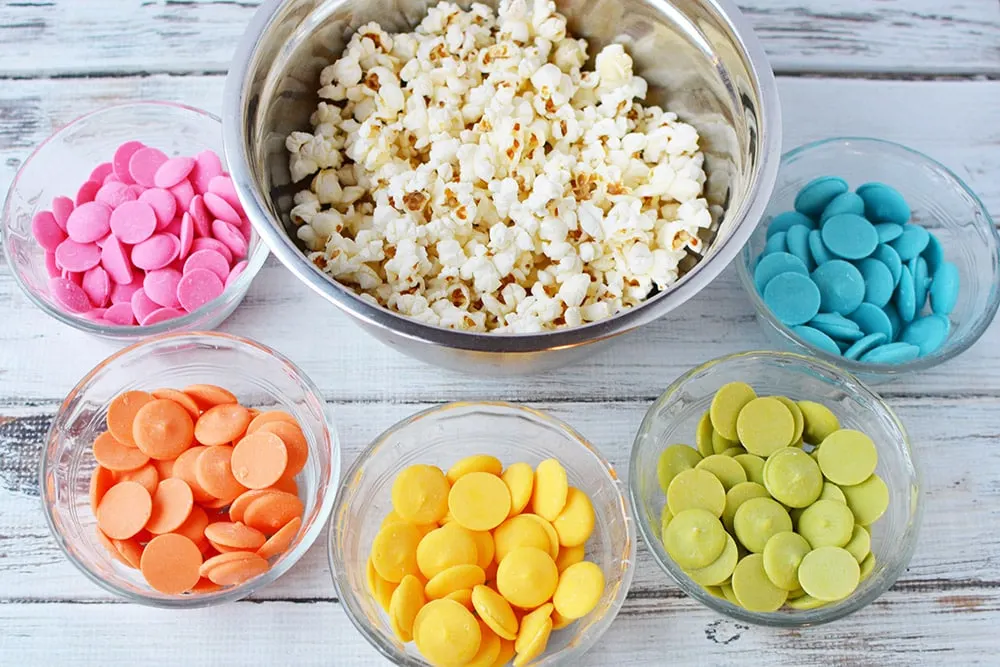 How to make the colored popcorn
Simply melt the candy melts and coat the popcorn.
(The recipe card below has detailed instructions and steps)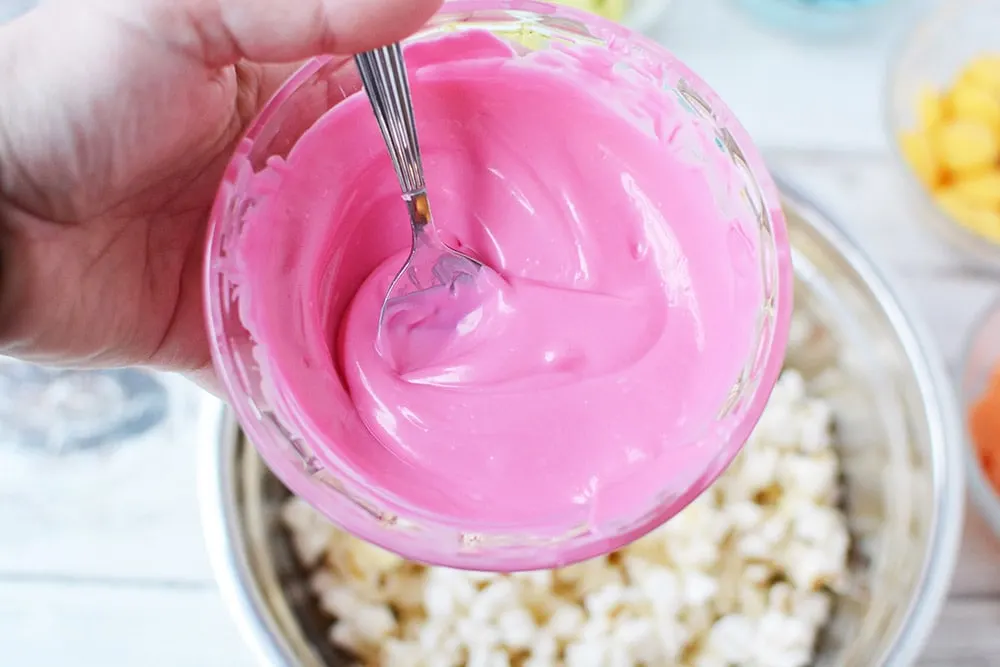 Notes and Tips
Exact colors of the candy melts used were Bright Pink, Orange, Yellow, Vibrant Green, and Blue.
Keep some plain popcorn out if you plan to make clouds.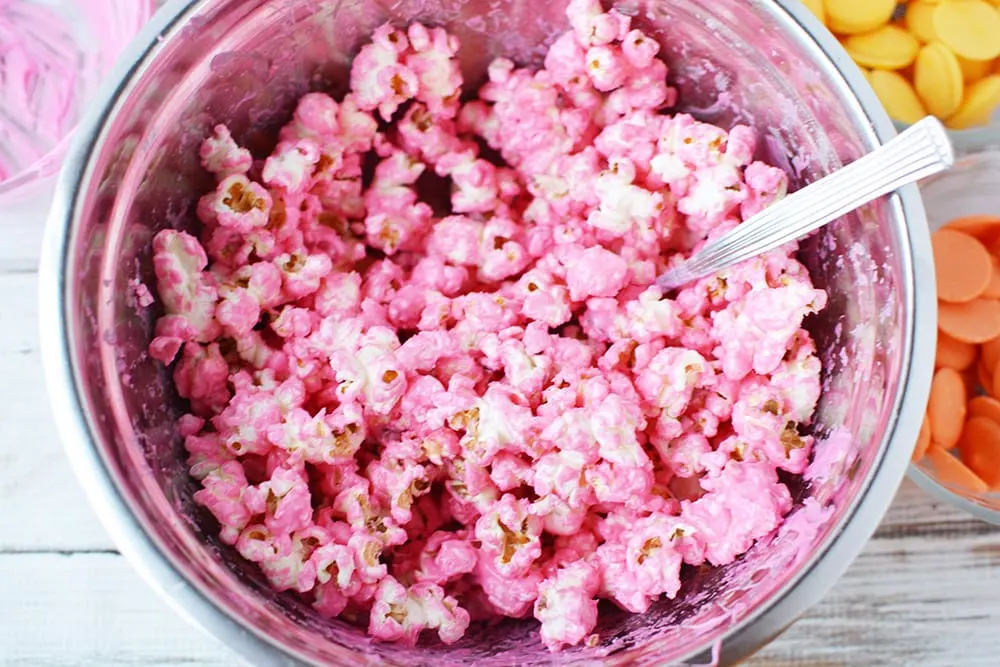 I weighed out 5 ounces of each candy melt on a scale, but this isn't necessary.
You can simply use half of the bag, the coverage on the popcorn just might be more or less than pictured.
To avoid getting several baking sheets dirty, use one mega sheet and create layers.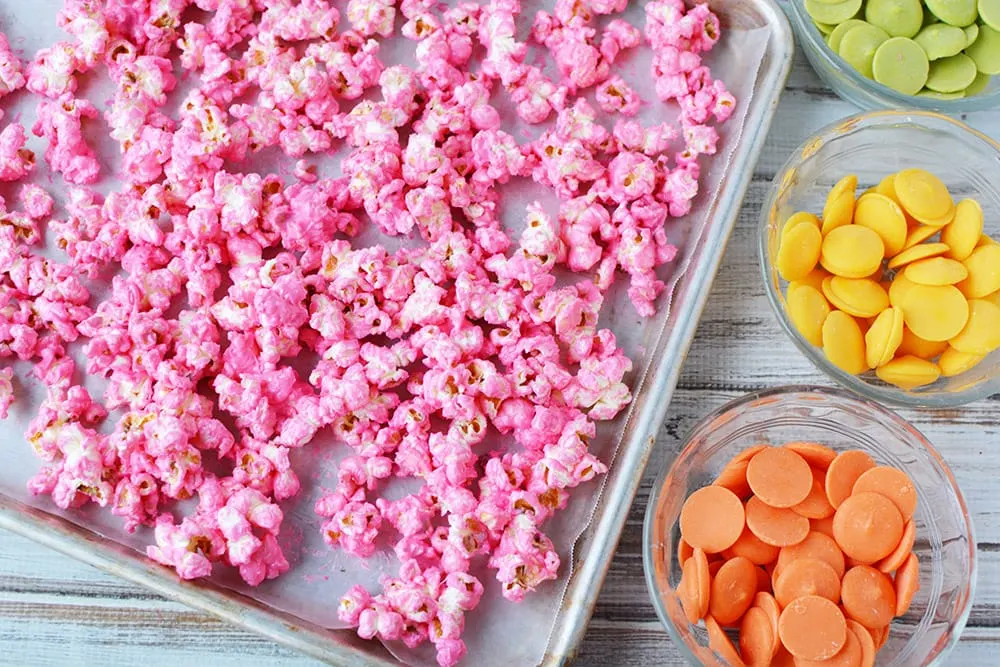 You can put two colors of popcorn on the first layer of a large baking sheet.
Top with wax paper to add an additional layer to let more colors set.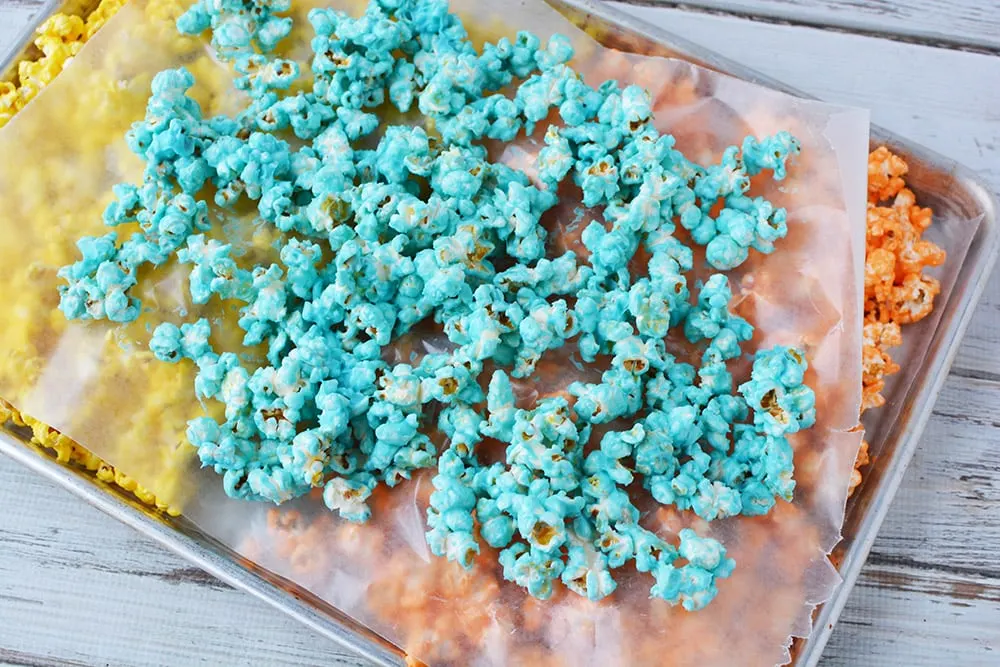 For rainbow popcorn
To make a rainbow, arrange colored popcorn in rainbow order on a large cutting board, serving board, or platter.
Add plain popcorn to create the clouds at the end of the rainbow.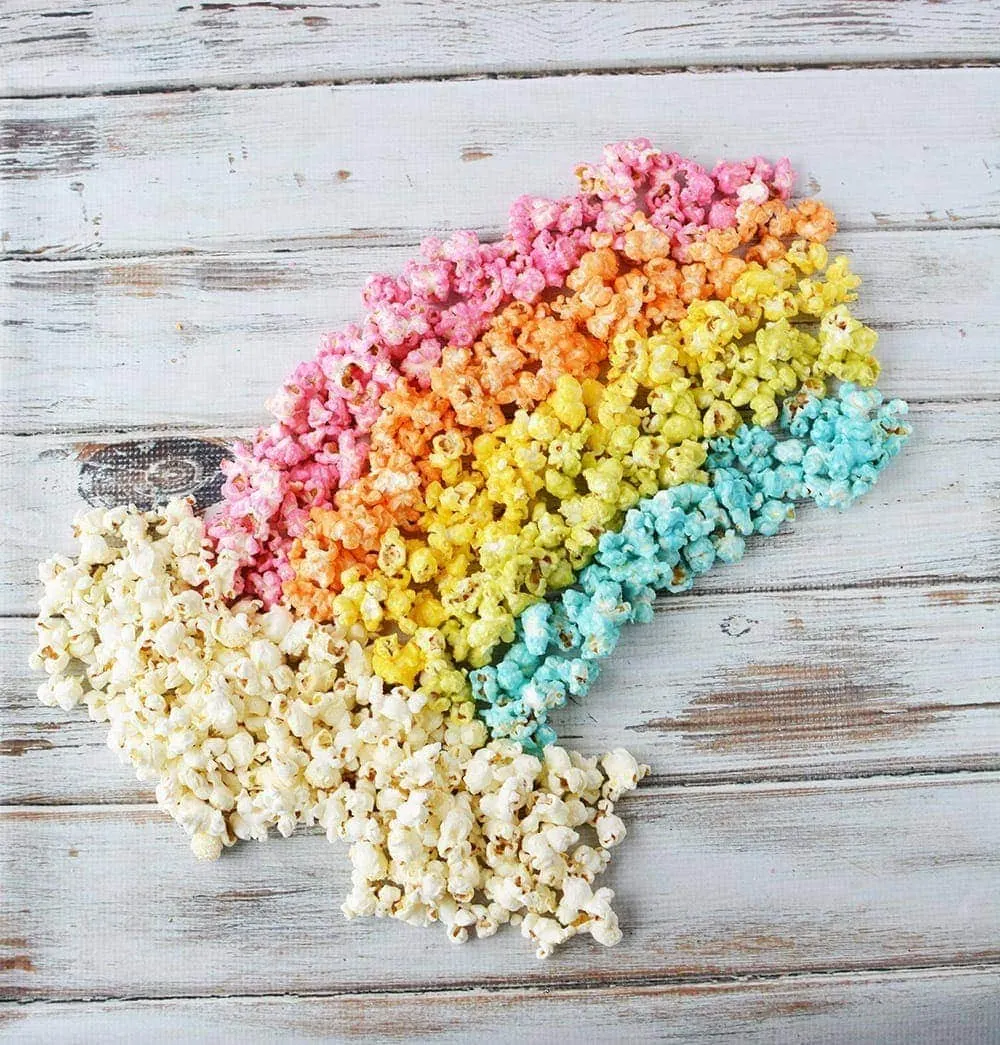 For unicorn popcorn mix
To serve as a unicorn popcorn party mix, add the colored popcorn to a large bowl and mix well.
Sprinkle with candies and serve in bowls or add to cute popcorn boxes.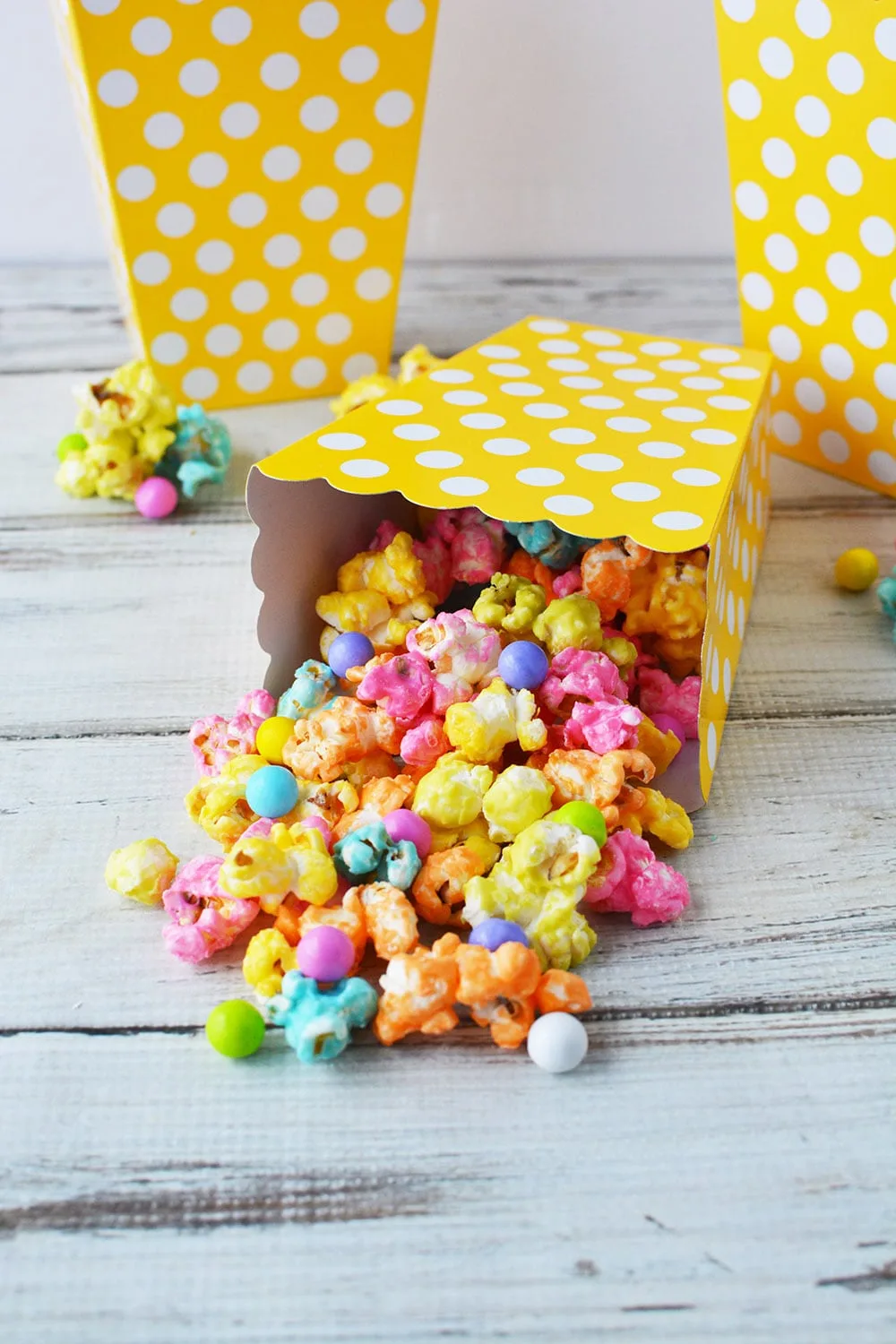 Rainbow Desserts to make
Yield: 30 cups
Rainbow Unicorn Popcorn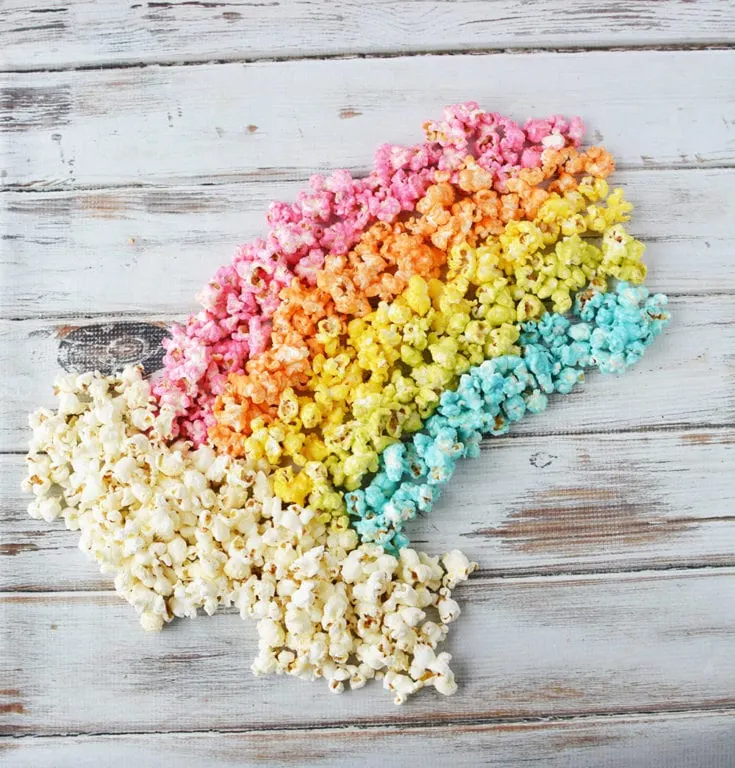 Rainbow popcorn perfect for a unicorn party or St. Patrick's Day.
Ingredients
25-30 cups of popped popcorn (you need 5-6 cups per color. If making a rainbow, you'll need a separate few cups for the white "clouds")
5 oz bright pink candy melts
5 oz orange candy melts
5 oz yellow candy melts
5 oz vibrant green candy melts
5 oz blue candy melts
pastel Sixlets (optional)
Instructions
Place each candy melt color in a separate microwave-safe bowl. Microwave for 60 seconds on 50% power. Mix well. Return to microwave, in 30-second increments at 50% power and mix well. If necessary, return to the microwave for an additional 30 seconds at 50% power and mix until smooth.
Pour over popcorn and mix well. Continue to mix well to evenly distribute the color. You'll need to really mix this for the color to distribute well.
Pour onto prepared baking sheet. Let set until candy melts are hard, and continue on to repeat with the additional colors.
To make a rainbow, lay colors in rainbow order on a serving platter or large cutting board. Add plain popcorn for the clouds.
To make a unicorn mix, add popcorn to a large bowl and mix well. Sprinkle with candies and serve.
Notes
I used a Stir Crazy popcorn popper to pop the popcorn. You can pop it however you normally make popcorn.
If you use a large baking sheet, you should be able to fit two colors in a row. Add a sheet of waxed paper to create another layer. This is to avoid dirtying several baking sheets!
Recommended Products
As an Amazon Associate and member of other affiliate programs, I earn from qualifying purchases.
Nutrition Information:
Yield:
30
Serving Size:
1 cup
Amount Per Serving:
Calories:

1187
Total Fat:

68g
Saturated Fat:

14g
Trans Fat:

19g
Unsaturated Fat:

47g
Cholesterol:

1mg
Sodium:

1528mg
Carbohydrates:

129g
Fiber:

20g
Sugar:

14g
Protein:

15g
Nutrition facts are an estimate only.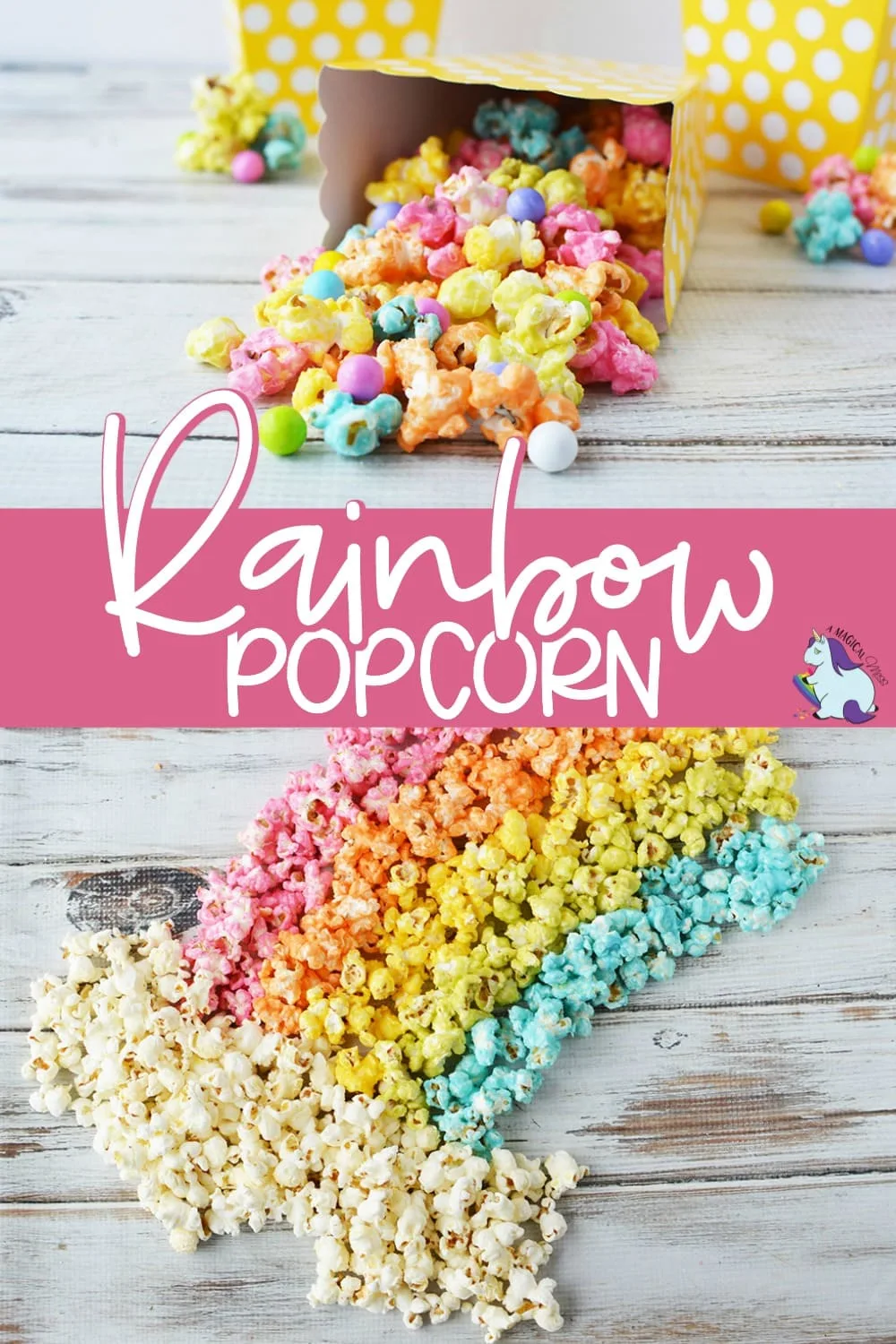 Crumbs Bakeshop
Skip the mess and order colorful treats online! If you're too busy or don't feel like making your own desserts, Crumbs Bakeshop is loaded with rainbow, sprinkly, and delicious cakes, cupcakes, cookies, and more. Get ready to drool when you browse their site!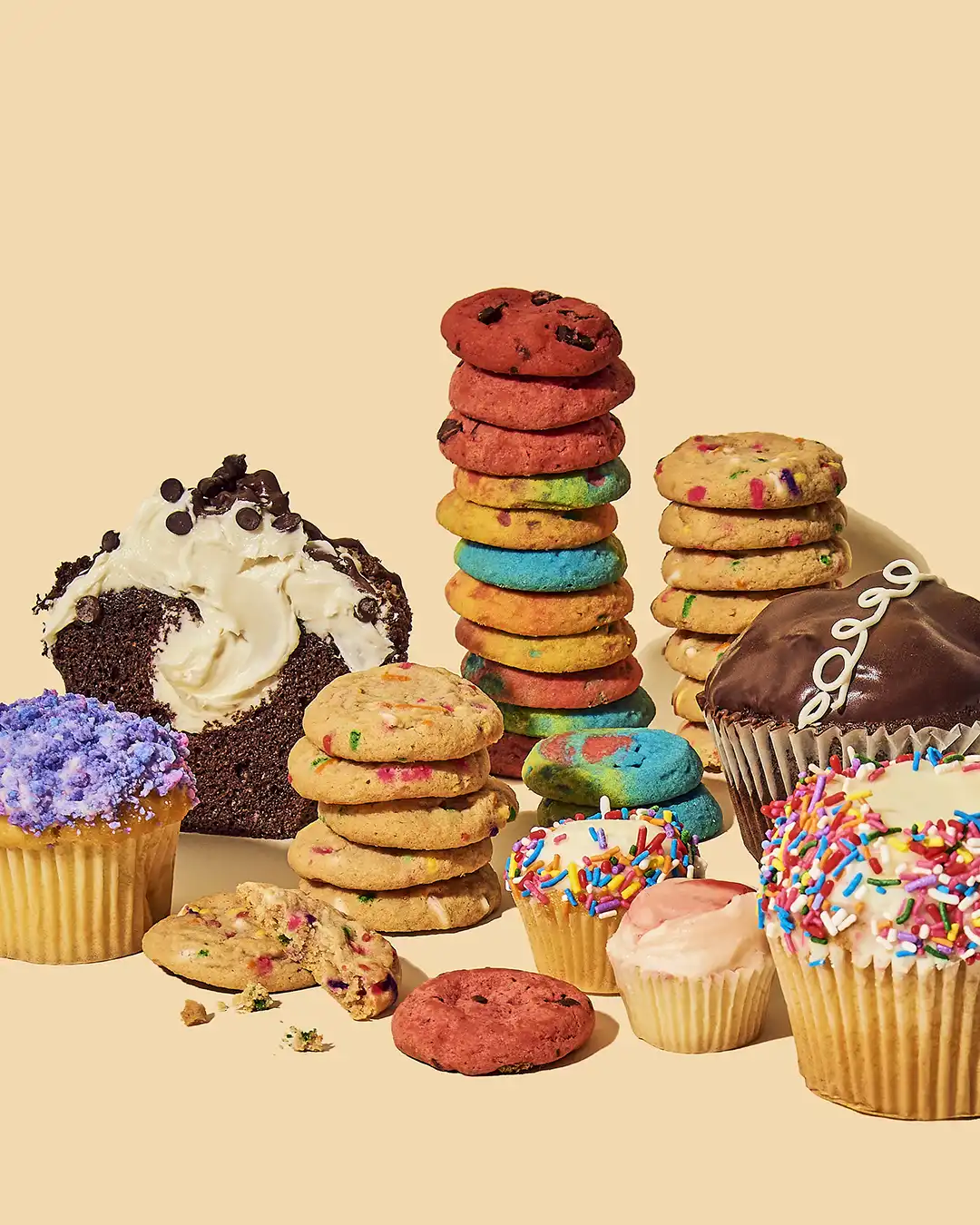 We earn a commission if you make a purchase, at no additional cost to you.
Please let me know if you make this recipe! Tag me on social media to show your recreations.
Don't forget to subscribe to the blog for more magical recipes.
Share this rainbow popcorn with your unicorn loving friends and family.