Dip recipes can be very useful during the holiday season. It's easy to whip up some dip for an appetizer or even dessert. This post is sponsored by Foodie, but all opinions are my own. Creating collections on Foodie.com is easy and like bookmarking delicious recipes. I could spend hours on the site drooling over all the scrumptious looking pictures.
Easy Dip Recipes for Appetizers
My sister-in-law is hosting Thanksgiving this year. She asked me to bring a side, a dessert, and an appetizer. I was trying to think of an easy appetizer that transports well and that won't require any cooking. Since her oven will be occupied, it's best that we bring an appetizer that's ready to serve. Dip recipes are ideal for that.
I have a couple dip recipes that I make quite often, but I really wanted to explore what else is out there. People get super creative with dips. There's so many of them and in a wide variety of flavors. I think I found enough dips for a before-dinner appetizer and an after-dinner dessert!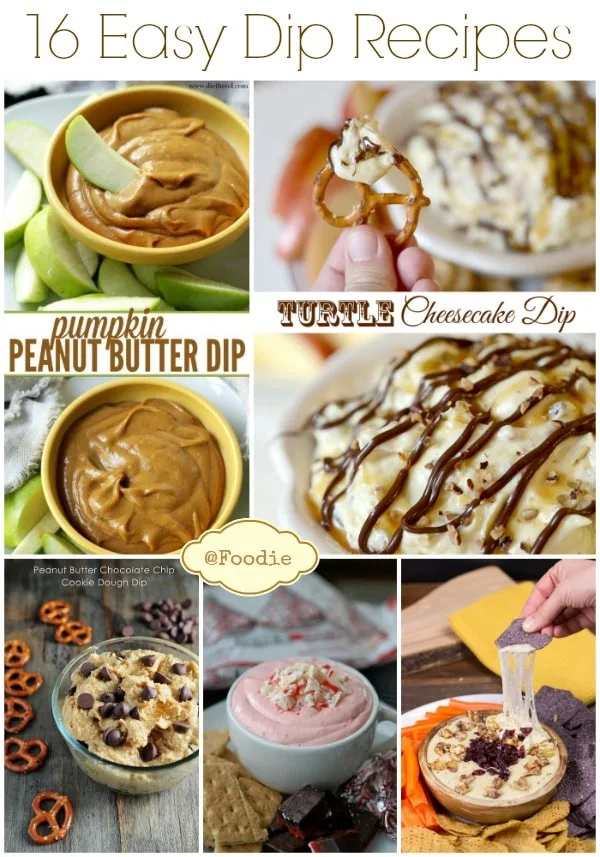 My original thought was to have a nice fruit and/or veggie dip, but after seeing all the sweet ones I may have changed my mind. Seriously, turtle cheesecake dip? Just hand me a spoon. And I love the idea of using pretzels for a whole salty/sweet combo flavor. Yum. Not sure I can wait until next week to try some of these dips!
What kinds of appetizers do you serve or bring for your holiday feasts? Do you have any favorite dip recipes?