Mmm… deep fried foods. They bring me back to when I worked at a sports bar and would throw those delectable, indulgent treats into the fryer so I could snarf them down in between running around. Among my favorites were cheddar cheese cubes, jalapeño poppers, mozzarella sticks, and chicken strips. All of which I slathered in ranch dressing.
I'm so excited to report that I've mastered the best jalapeño poppers recipe with cream cheese and cheddar so I can have them anytime I want. Plus, I found THE ranch dressing. This post was made possible by iConnect and Litehouse Foods. I was compensated for my participation in this campaign, but all opinions are 100% mine.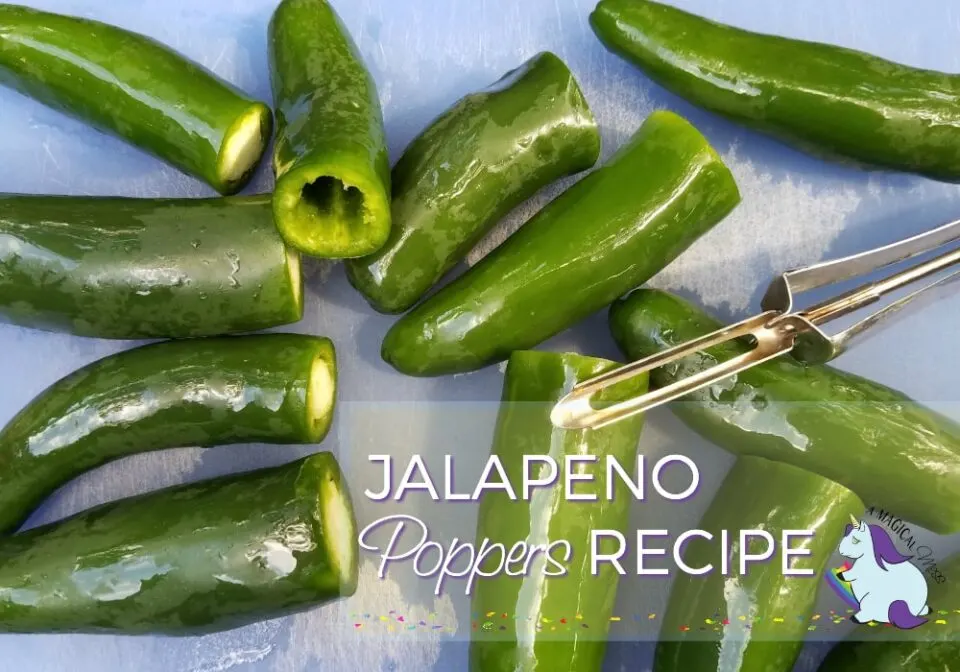 Best Jalapeno Poppers with Cream Cheese and Dip …
… AND cheddar AND the super secret ingredient: Litehouse Avocado Ranch with Bacon dressing.
The best part about this recipe is you can make dozens of these and freeze them so you have them on hand all the time. Unexpected game night at your place? No big deal. Once frozen, you can simply bake them to perfection.
Arguably, the most important ingredient is the ranch dressing. Because it is used literally inside and out of this recipe, its role is crucial. My absolute go-to is the Litehouse line of ranch dressings. For this recipe I used the Lithouse Avocado Ranch with Bacon, but Homestyle Ranch or Jalapeño Ranch would be perfect too.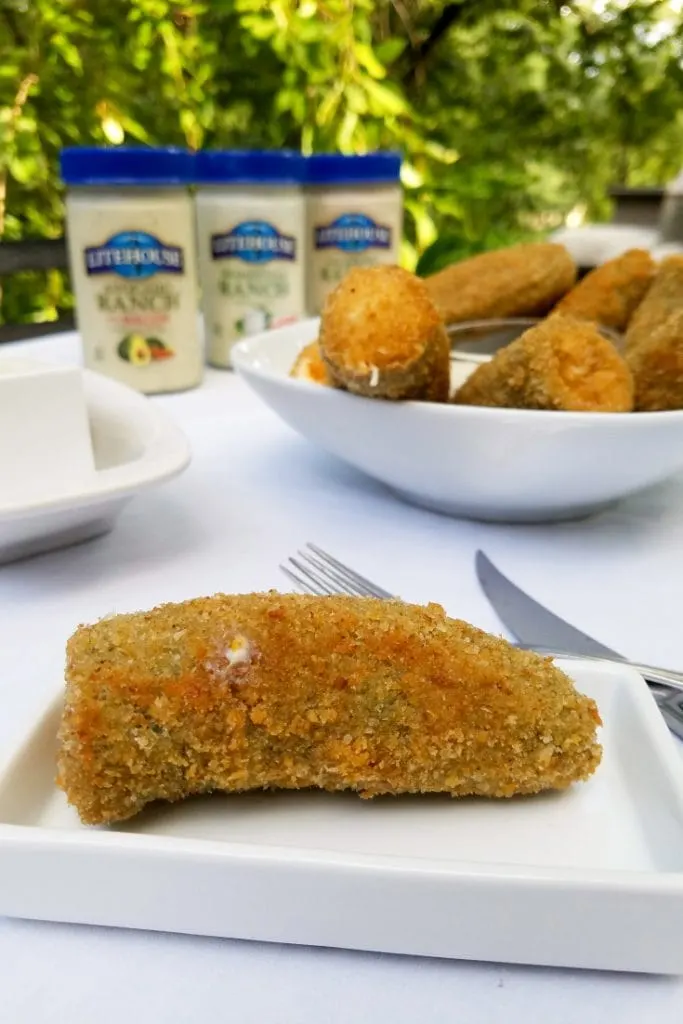 These dressings can be found in the refrigerated section of local Chicago supermarkets. Litehouse believes that cold, glass-bottled dressing is a better, more fresh-tasting way to enjoy your favorite dips and dressings. I happen to whole heartedly agree. Each of their dressings is far better than those found at room temperature. The flavor is fresher and, I don't know if this makes sense, but I swear it just tastes real-er.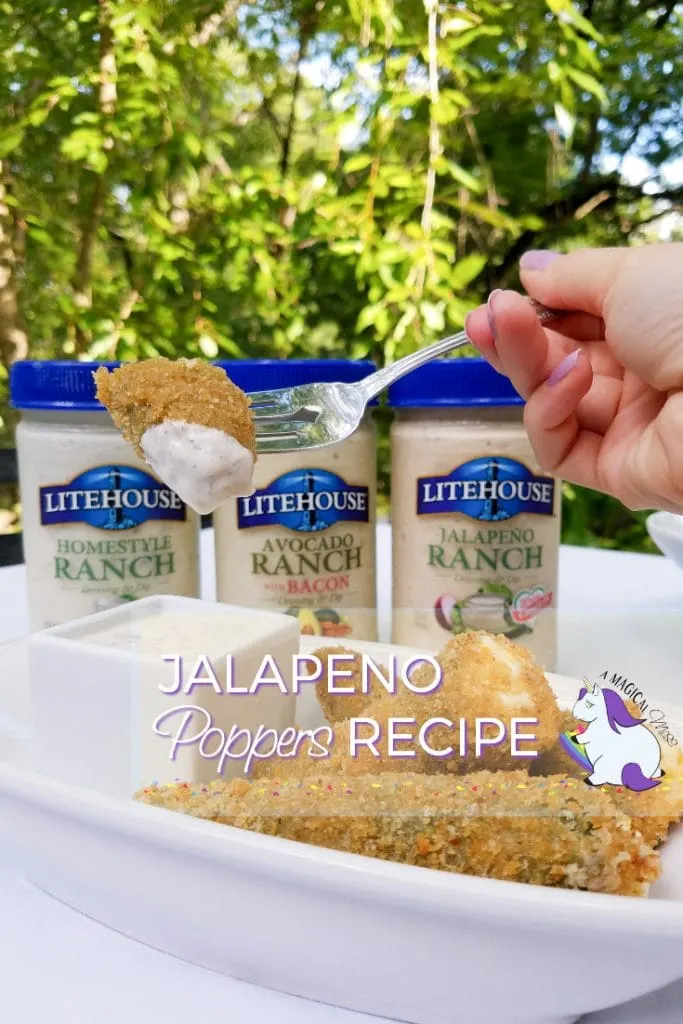 Perhaps that's because Litehouse employee-owners make refrigerated dressings that are developed in cold environments, shipped in refrigerated trucks, and sold in the refrigerated produce section. I LOVE when employees are also a part owners of the entire company–definitely makes quality end product. They really live up to their slogan: Families Making Food for Families.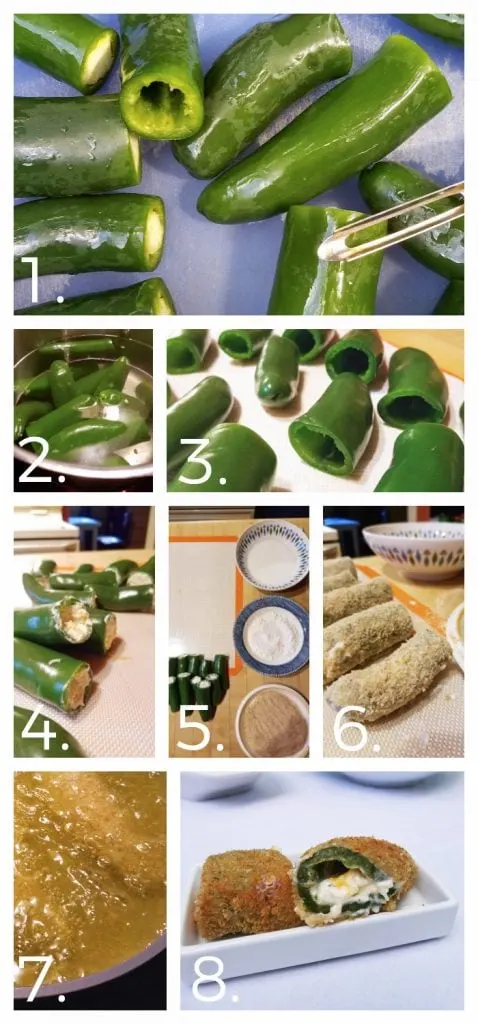 The Recipe
Okay, I'll shut up about how obsessed I am with ranch…
Ingredients
12 3-4″ jalapeno peppers
4 oz cream cheese, softened
1/3 cup shredded Mexican style blend Cheese
2 tbsp Litehouse Bacon Avocado Ranch dressing (and as much as needed for dipping)
1/3 cup milk
1/3 cup flour
3/4 cup bread crumbs
vegetable oil for frying
Instructions
Rinse peppers and remove cores with a potato peeler. While doing this, boil a medium size pot of water that will accommodate all your peppers.
Blanch your cored peppers in the boiling water for 3 minutes. (Skipping this step will create a more crunchy pepper in the final product–sometimes difficult to bite into.)
After blanching, drain and let cool.
In a bowl, mix the cream cheese, shredded cheese, and dressing.
Using a spoon, fill each pepper with the cheese mixture, using the handle of the spoon to push the mixture into the bottom of the pepper.
Pour the milk into one shallow bowl, the flour in another and the breadcrumbs into another.
Dip the peppers, one at a time, into the milk then the flour making sure to coat evenly. Let dry for 10 minutes.
Dip the flour-coated peppers into the milk again and roll in bread crumbs, making sure to evenly coat. Let dry for another 10 minutes, then repeat one more time with the milk and breadcrumbs to ensure a nice thick breading.
Heat the oil (I used approximately 2 quarts of a vegetable and olive oil blend in a deep frying pan) to 365 degrees F.
Put peppers into oil until golden brown (about 3-4 minutes).
Remove from oil using a slatted spoon and place on paper-towel lined plates to drain.
Enjoy with your favorite Litehouse Ranch dressing or put into freezer bags and freeze for later use.
Notes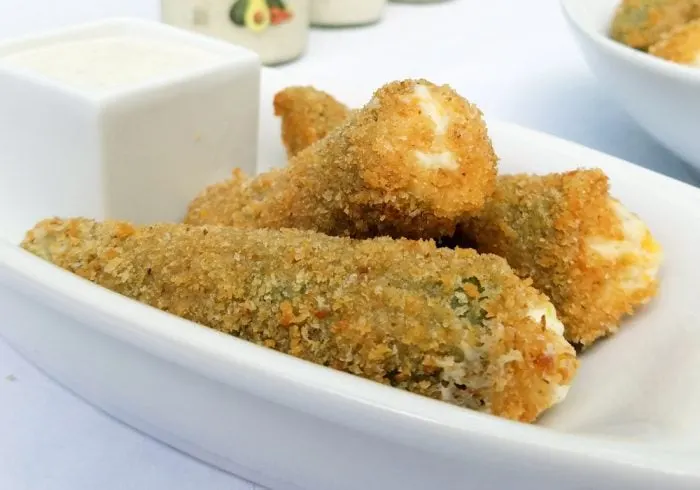 For less heat, slice each pepper in half long ways and fill like a boat. Coat with the milk, flour, breadcrumb method as instructed. You'll get double the yield and they're just as yummy. Personally, I like having the whole pepper but the kids thought it was little too much.
Also try these bacon jalapeño poppers that are keto-friendly.
Litehouse Ranch dressings are available in the following flavors:
Homestyle Ranch
Avocado Ranch with Bacon
Jalapeno Ranch
Chunky Bleu Cheese
Which Litehouse ranch dressing would you pair with this best jalapeño poppers recipe?