Here are some spooky Halloween cupcakes to impress your ghoulish posse. The cupcakes are also ideal for fans of The Walking Dead. October is just the best month, isn't it? This post contains affiliate links so this blog doesn't become one of the undead.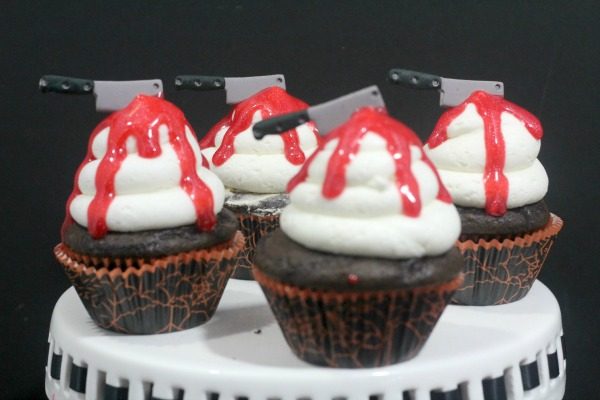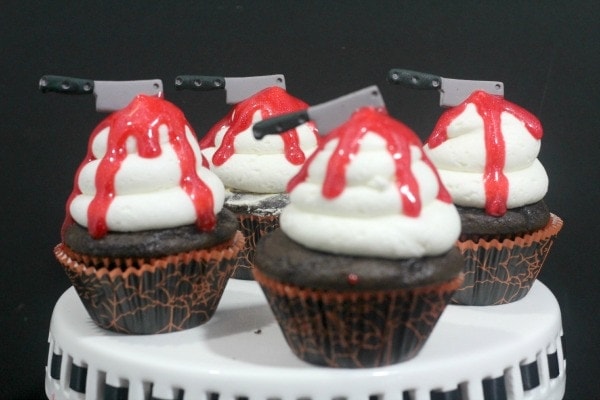 Bloody Knife Halloween Cupcakes Recipe
Chocolate Cupcake Ingredients:
1/2 C cocoa powder
3/4 C flour
1/2 teaspoon baking soda
3/4 teaspoon baking powder
1/4 teaspoon salt
2 eggs, room temp
1/2 C sugar
1/2 C packed brown sugar
1/3 C canola oil
2 tsp vanilla extract
1/2 C buttermilk, room temp

Vanilla Frosting Ingredients:
1 C unsalted butter, room temp
4 + C powder sugar
4 TBSP heavy whipping cream
Bloody Knife Ingredients:
Chocolate Cupcake Directions:
Preheat oven to 350 degrees. Line cupcake tins with paper liners.
Put cocoa powder, flour, baking soda, baking powder, and salt in a bowl whisking until thoroughly combined. Set aside.
Add the eggs, granulated sugar, brown sugar, oil, and vanilla whisking until completely smooth.
Add half of the wet ingredients into the dry ingredients. Now add half of the buttermilk.
Gently whisk together all of the above ingredients.
Now add the rest of the wet ingredients and buttermilk. Stirring to combine.
The batter will be a little thin.
Scoop batter into cupcake paper liners until 3/4 full.
Bake at 350 degrees for 20-25 minutes or until an inserted toothpick comes out clean.
Allow to cool for 10 minutes while in the cupcake pan.
Remove from the cupcake pan placing on a wire rack until completely cool.

Vanilla Frosting Directions:
Cream the butter and powder sugar until it looks light and creamy.
If it doesn't cream add several drops of the heavy whipping cream until it creams.
Test to see if the frosting can form and hold a stiff peak by taking a spoonful of frosting and turning the spoon upside down. If the frosting stays on the spoon it is ready if not then….
Add more powder sugar 1/2 C at a time…. mix well.
If ready, scoop the frosting into a pastry bag with a round tip.
Twist the open end of the pastry bag to push the frosting to the tip.
Start by frosting on the outside edge of the cupcake working to the center of the cupcake.
Bloody Knife Directions:
With the tube of red gel blood, drip it down on the sides of the frosted cupcake.
Stick the candy knife in the center of the frosted cupcake.
Make Pennywise Balloon Cupcakes next!
Are you attending any parties where these Halloween cupcakes would be a hit?