Creepy clown cupcakes aren't something you'd normally find on the dessert table.
Or, at least I haven't had the pleasure of attending such a gathering that offers up something so deliciously disturbing.
However, these aren't just any creepy clown cupcakes.
This recipe is inspired by the upcoming remake of the IT movie.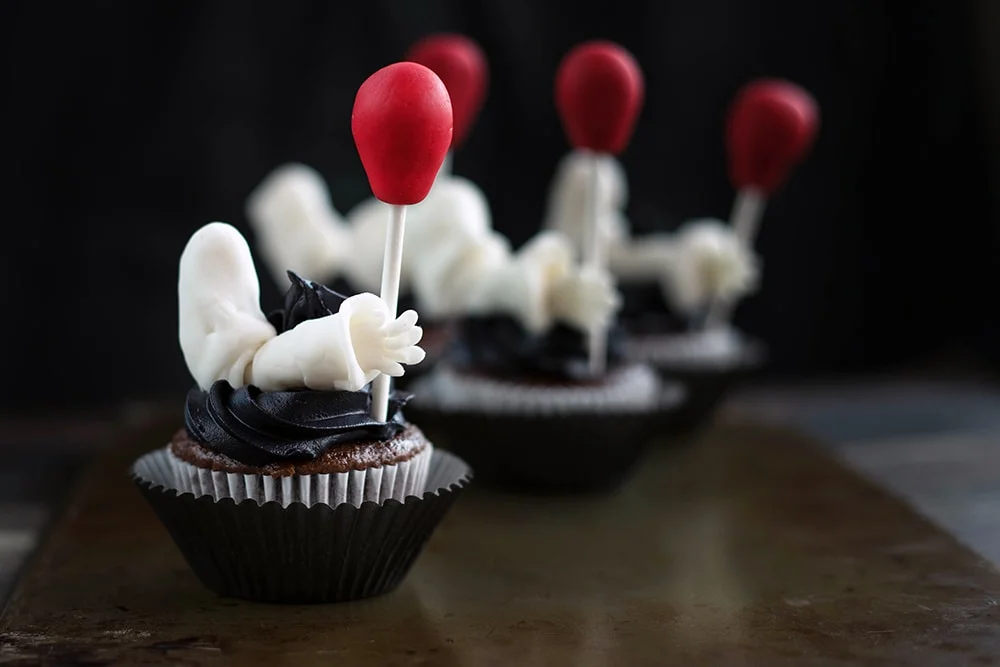 Pennywise Cupcakes
Our blogger bud, Devon, from Midwestern Moms creatively crafted these creepy cupcakes. Be sure to check out all of her scrumptious recipes.
Yep, that flick that traumatized most of us as children is back to make sure we never recover as adults.
Scrape off that scab of security and get ready to reveal the fresh fear of clowns.
It's been years since I watched the original IT. I think I was at just the right age that it left a horrific impression on me.
I'm told that the book is even more terrifying. My goal is to read it before the new movie comes out.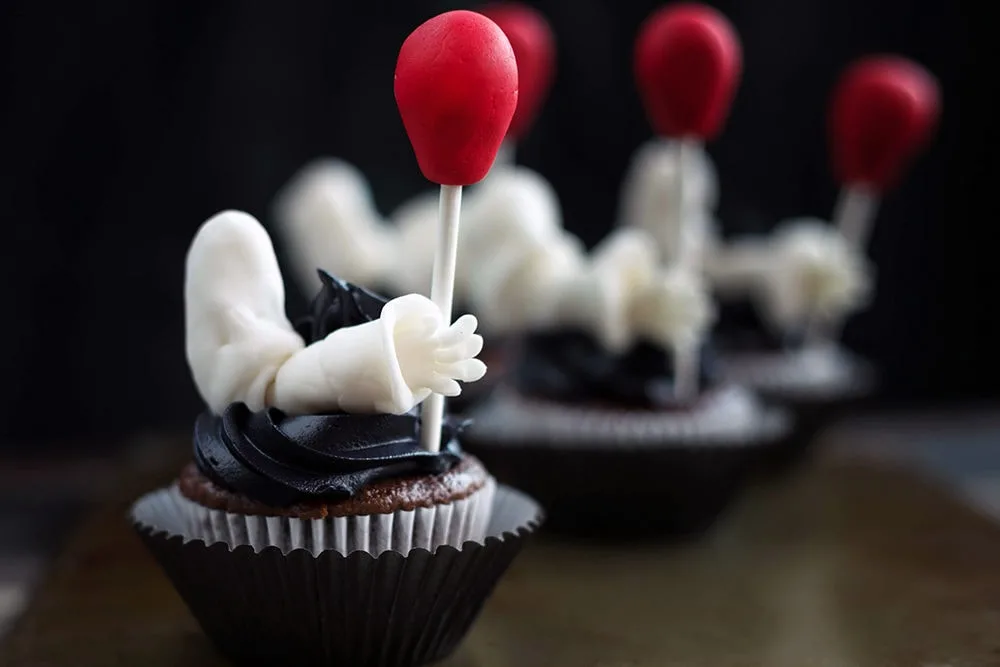 Serve up these creepy clown cupcakes for the IT movie, a Halloween party, or just to challenge your fondant skills.
Devon is quite skilled at decorating cupcakes with fondant.
How to Ice the cupcakes:
Mix up some decorators icing with the black food coloring gel. Make sure to have enough coloring gel on hand since it does take a good amount of the gel to make black icing. Or, just buy black icing.
Pipe the icing on to the cupcakes using a 1M decorating tip (or a tip of your choice).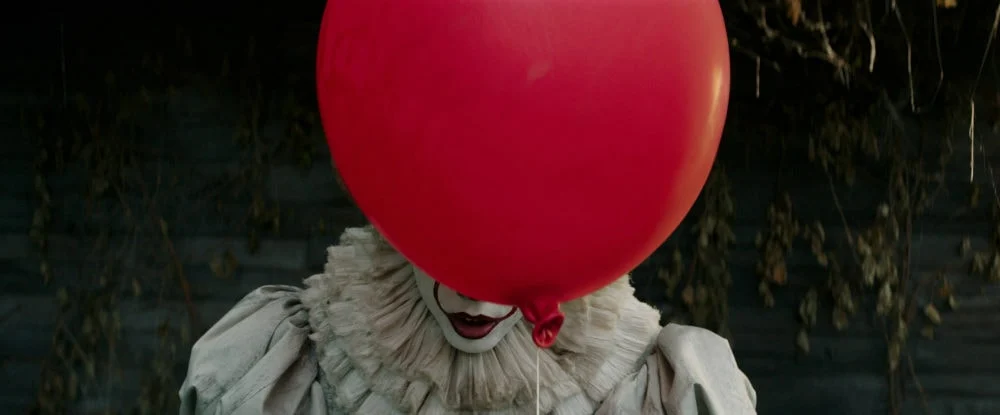 How to create the Fondant Red Balloons:
Using powered sugar to cover your surface, roll a small chunk of red fondant into a ball shape. Then roll it so that it is a bit oblong. Taper one end of the balloon. Then add the balloon to a lollipop stick.
How to create the Fondant Clown Arm:
Cover your surface with powered sugar to prevent the fondant from sticking.
Roll out a long thin snake like shape the size of the arm you would like.
Gently flatten one end to create a hand.
Take a knife and cut slivers for 5 fingers. The thumb you will need to shorten. Gently roll the fingers back and forth to help make them rounded. Take an end of the lollipop stick and create fingernails by stamping the ends of the fingers. Watch this video on how to create fondant arms to help.
To help bend the arm at the elbow, you can use the knife to guide it.
Roll out a long thin shape and cut to the size that will roll around the forearm. This will create the bottom of the sleeve. Use water to help adhere it together.
To create a couple of ruffles right above the elbow, cut some long thin pieces of fondant and kind of roll it to give it a puffy feel and wrap around the arm. Use water to help adhere it to the arm.
Cut out a shape to make the sleeve. This will be the large puffy sleeve of the clown.
Place it over the top part of the arm. Make it puffy and pinch in areas to make creases in the sleeve.
For the lacy cuff, cut out another shape. (See images for shapes) Then adhere it to the cuff area of the sleeve. Shape it how you like.
Cut about an inch or so off a lollipop stick and use it to place the arm onto the cupcake.
Placing the Arm and Balloon onto the cupcake:
Make sure the sticks are not too close to the edge of the cupcakes. If you do, eventually they will fall over.
Keeping that in mind, place the arms where they look like they are holding the balloon. If possible, curl the fingers around the lollipop stick.
Yield: 34 cupcakes
Creepy Clown Cupcakes Perfect for Halloween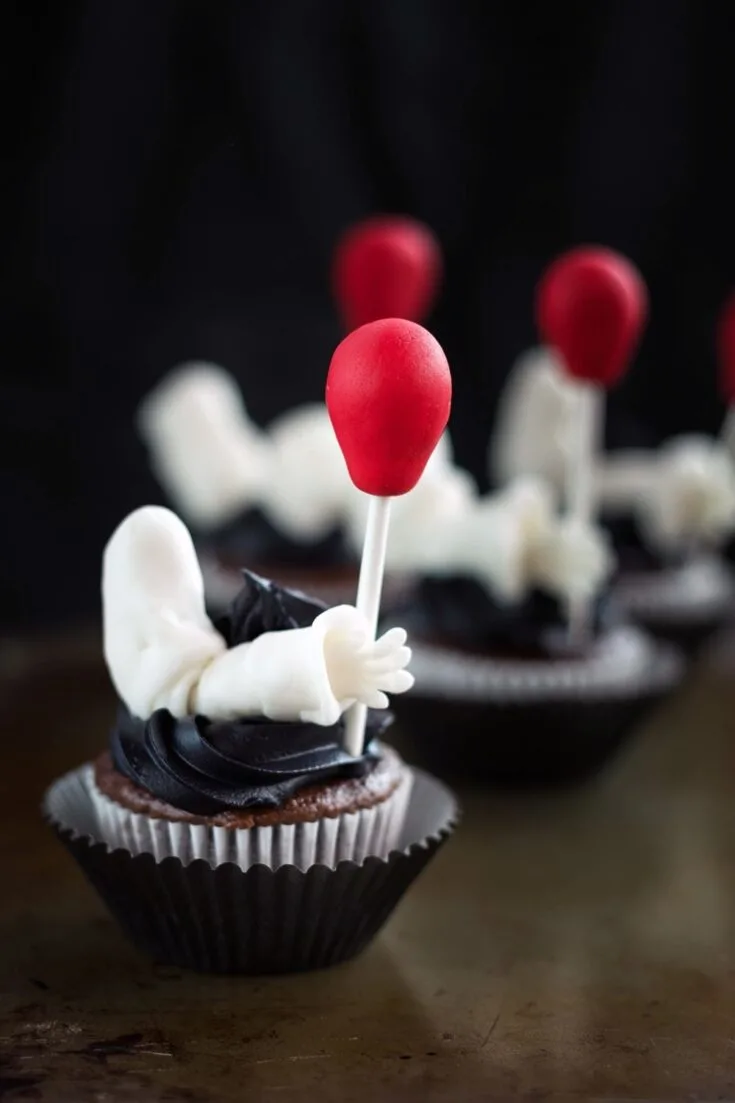 Clown cupcakes inspired by the IT movie and perfect for Halloween.
Total Time
1 hour
33 minutes
Ingredients
1 box chocolate cake mix
1 cup flour
1 cup sugar
3/4 tsp salt
1 1/3 cup water
2 tbsp vegetable oil
1 tsp vanilla
1 cup sour cream
4 eggs
Decorators Icing
White Fondant
Red Fondant
Fondant Roller
Lollipop Sticks
Black Food Coloring Gel
Instructions
Mix the cake mix, flour, sugar, salt, water, vegetable oil, vanilla extract, sour cream, and eggs until well blended.
Line a cupcake tin with liners and fill 3/4 of the way with batter.
Bake at 350 degrees for 18 minutes.
Allow to cool before decorating.
Notes
Nutrition facts do not include the fondant.
Please see blog post for full decorating instructions.
Recommended Products
As an Amazon Associate and member of other affiliate programs, I earn from qualifying purchases.
Nutrition Information:
Yield:
34
Serving Size:
1 cupcake
Amount Per Serving:
Calories:

83
Total Fat:

3g
Saturated Fat:

1g
Trans Fat:

0g
Unsaturated Fat:

2g
Cholesterol:

26mg
Sodium:

71mg
Carbohydrates:

13g
Fiber:

0g
Sugar:

10g
Protein:

1g
Nutrition facts are an estimate only.
More Halloween recipes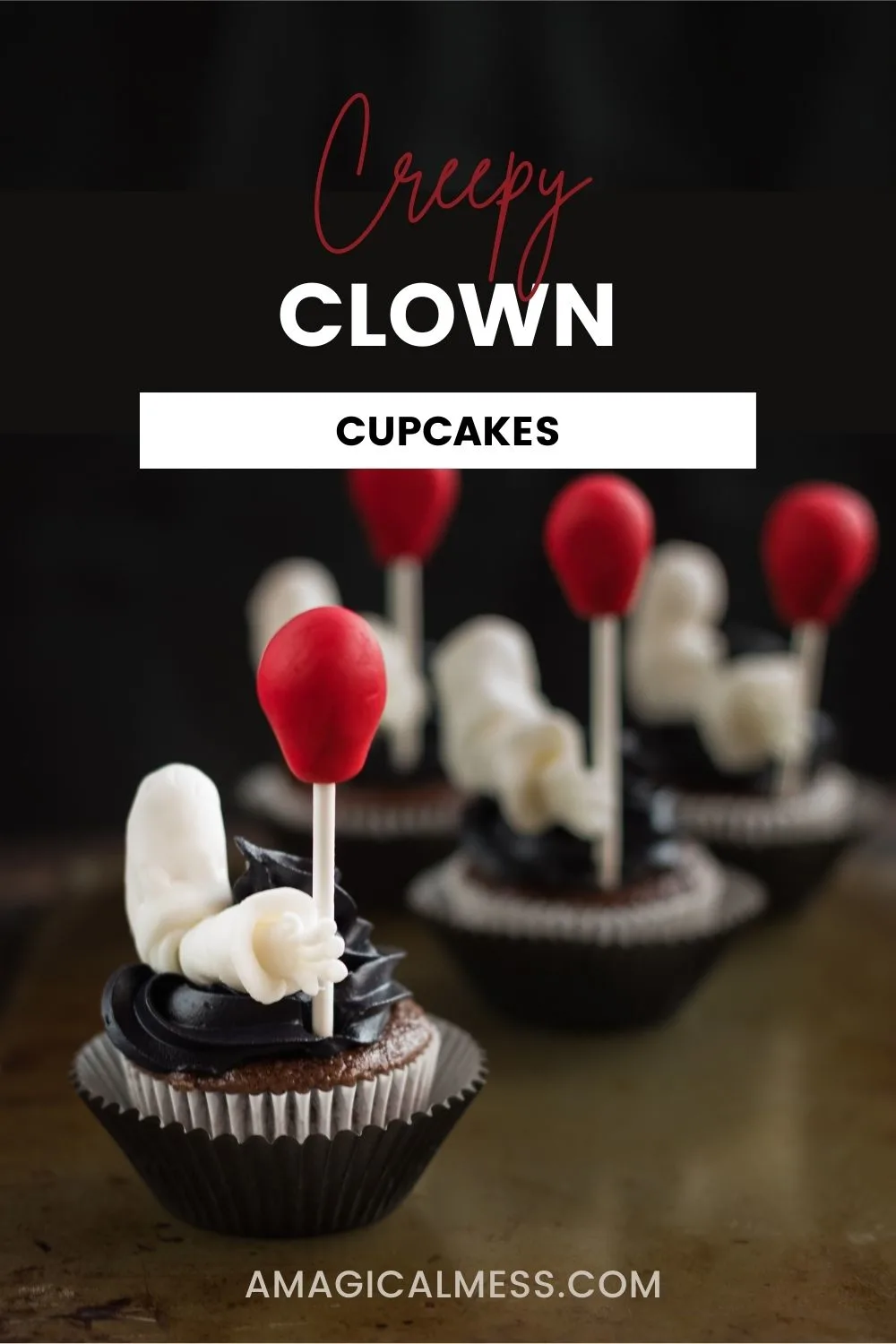 Are you up for the challenge of making these clown cupcakes?
Let us know if you do and tag us in any recreations!