Skip the box of chocolate and bake your Valentine some cherry filled cupcakes. If your sweetheart likes cherries, they will be in for a treat when they bite into these lemon cupcakes with cherry filling. This post contains affiliate links to help keep this blog going.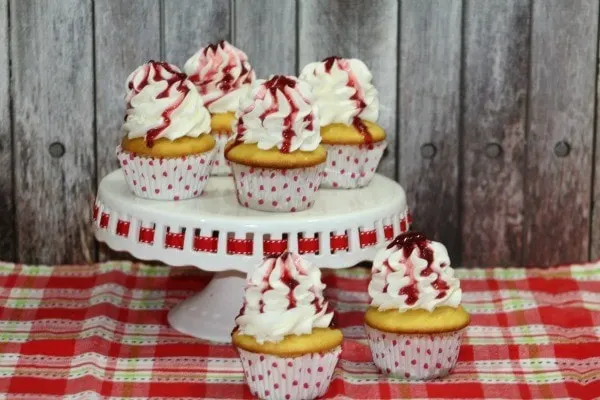 Lemon Cherry Filled Cupcakes Recipe
Lemon Cherry Filled Cupcakes Ingredients:
2 C sugar
2 TBSP lemon zest
1 C unsalted butter, room temp
4 eggs, room temp
1¼ C whole milk
3 C flour
4 tsp baking powder
1/2 tsp salt
1/2 tsp vanilla
Frosting Ingredients:
1 C butter, room temp
8 oz of cream cheese, room temp
2 TBSP lemon zest
2 TBSP vanilla
4-5 C of powdered sugar
Lemon Cherry Filled Cupcakes Directions:
Preheat oven to 350 degrees. Line cupcake pan with paper liners.
Whisk the flour, baking powder, and salt together in a mixing bowl. Set aside.
Add the lemon zest, vanilla, and sugar in a food processor pulsing until well blended.
Blend butter and the lemon sugar until combined in a separate bowl.
Add one egg at a time, beating after each addition until well mixed.
Add half of the flour mixture to the butter mixture. Mix until just combined.
Pour in half of the milk mixing until all ingredients are blended.
Add in the rest of the flour mixture and then milk. Mix well.
Scoop the batter into the lined tins 3/4's full.
Bake at 350 degrees for 20-24 minutes or until an inserted toothpick comes out clean.
Allow to cool slightly in the cupcake pan.
Transfer to a wire rack to cool completely.
Using a teaspoon make a small well in the center of each cupcake. (Don't poke the hole through the bottom of the cupcakes.)
Fill each small well with the cherry preserves. (Don't overfill. The preserves should not overflow from the top of the cupcake.)
Frosting Directions:
Mix butter and vanilla until it softens and begins to form peaks.
Beat in the cream cheese.
Mix in 3 cups of powdered sugar until well blended.
Add in the lemon zest and 1 more cup of powdered sugar.
Mix until the frosting is creamy and stiff.
Take a spoonful of frosting and turn the spoon over. If the frosting falls off the spoon mix in more powdered sugar.
When the frosting can cling to the spoon when turned upside down it is ready.
Spoon the frosting into a pastry bag with a piping tip.
Begin by frosting the cupcake on the outside edge working to the center.
Drizzle the cherry preserves on the frosting by spoonfuls.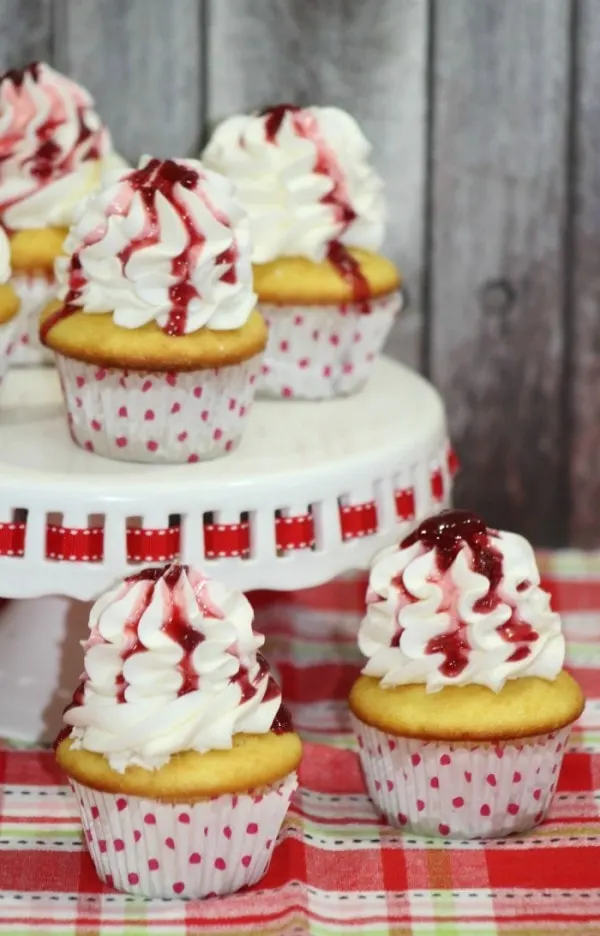 Would you like cherry filled cupcakes as a Valentine's Day treat?