Whether it was Lisa Frank, Rainbow Brite, My Little Pony, Legend, or some other magical source that seeded your love of unicorns, we are with you.
Jen and I have had a passion for all things sparkly, whimsical, and mythical since we were kids.
Stickers were our primary form of currency, and if we had the unicorn snacks presented here, we surely would have been obsessed.
The good news is we're still kids on the inside. These adorable unicorn snacks know no age limit–I mean, except for the littlest ones.
Choking is definitely not a magical experience, so please only give these to kids old enough to chew and tolerate the stickiness of these treats.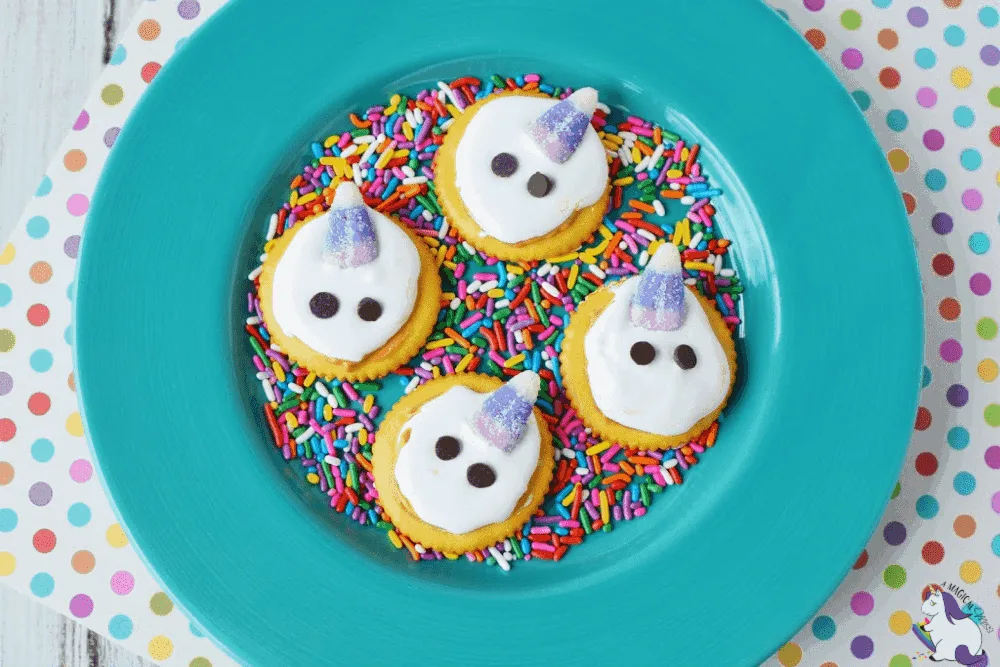 Unicorn Snacks for All
If you're planning a magical birthday party, fantasy movie night, or are just into legendary snacking; these are the treats for you.
As a kid, I was first introduced to Fluffernutter sandwiches at my dad's house.
The sweet and salty combo, on squishy bread, is still a guilty pleasure I devour enthusiastically.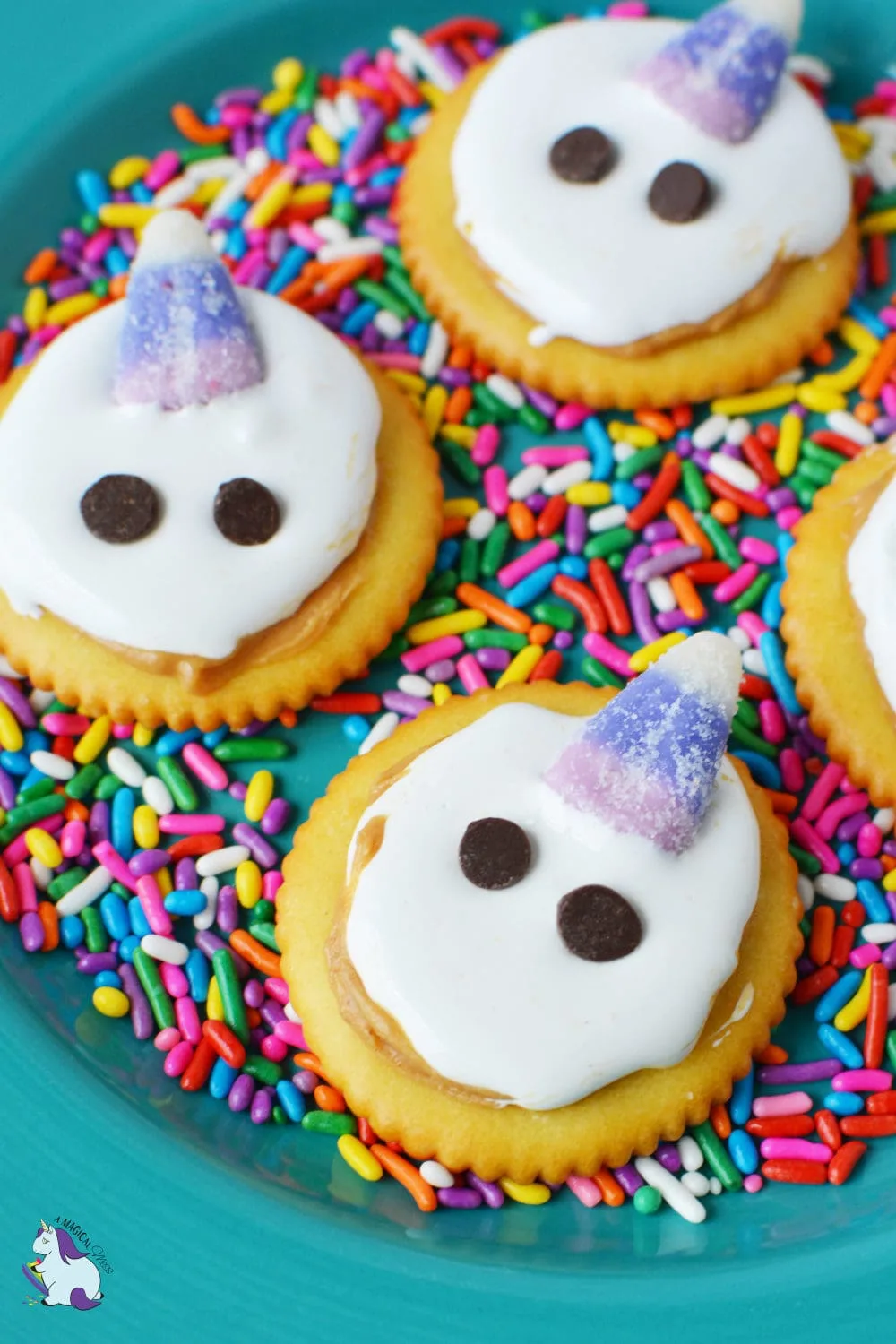 It's no coincidence that this combo is now the base for these yummy unicorn snacks–why limit a good thing?
We use peanut butter, but any nut or seed butter will be just as scrumptious.
You can also substitute the Ritz crackers shown here with other crackers to make them gluten-free or if you just want a different shape.
The candies we used for horns are the same from our beloved Melting Unicorn Hot Chocolate Recipe.
The Sour Patch Candy Corn is a seasonal item, so stocking up is necessary if you plan to make unicorn foods.
However, there are other ways to make edible unicorn horns. I'll be back with a post on that yumminess soon.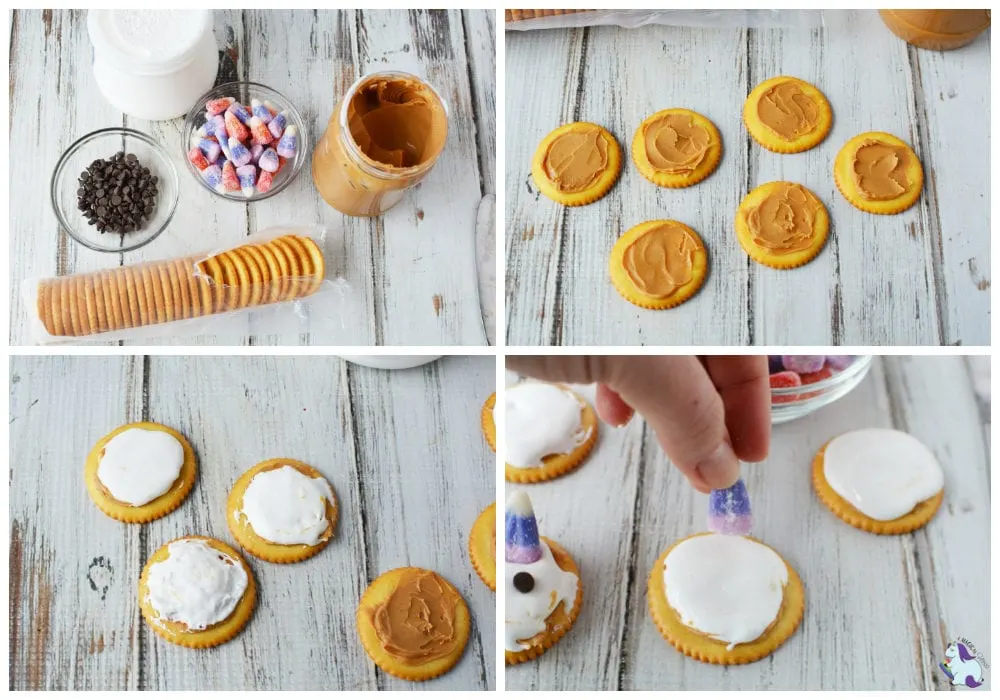 Yield: 4 crackers
Unicorn Snacks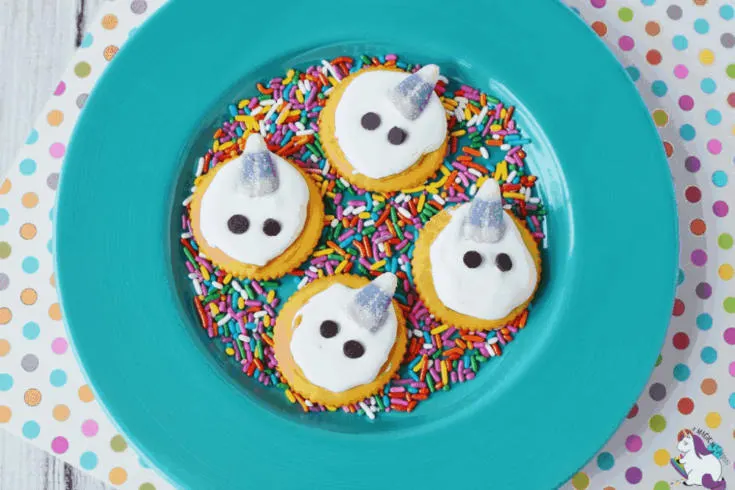 These unicorn snacks are irresistibly cute and yummy!
Ingredients
4 crackers Ritz Rounds
2 tsp peanut butter
2 tsp marshmallow creme
4 pieces Sour Patch Candy Corns
8 pieces chocolate mini chips
rainbow sprinkles, optional
Instructions
Spread a small amount of peanut butter, about 1/2 tsp, onto each cracker.
Place a small dollop of marshmallow cream onto the peanut butter and carefully spread.
Place on a flat surface and marshmallow cream will smooth out.
Add a candy corn horn and two chocolate chip eyes before serving on a bed of rainbow sprinkles, if desired.
Notes
Spread the marshmallow creme as best as you can and then let it set. It will actually smooth itself out.
Keep it on a flat surface, or your creme will run off of the cracker--be mindful of this if you put it on a plate.
If making a large batch, try placing them on a large baking sheet. It's like the marshmallow cream is self-leveling.
Recommended Products
As an Amazon Associate and member of other affiliate programs, I earn from qualifying purchases.
Nutrition Information:
Yield:
4
Serving Size:
1 cracker
Amount Per Serving:
Calories:

256
Total Fat:

9g
Saturated Fat:

3g
Trans Fat:

0g
Unsaturated Fat:

5g
Cholesterol:

3mg
Sodium:

94mg
Carbohydrates:

42g
Fiber:

1g
Sugar:

32g
Protein:

2g
Nutrition facts are an estimate only.
More Easy Unicorn Recipes
Share this unicorn snacks recipe with your most magical friends!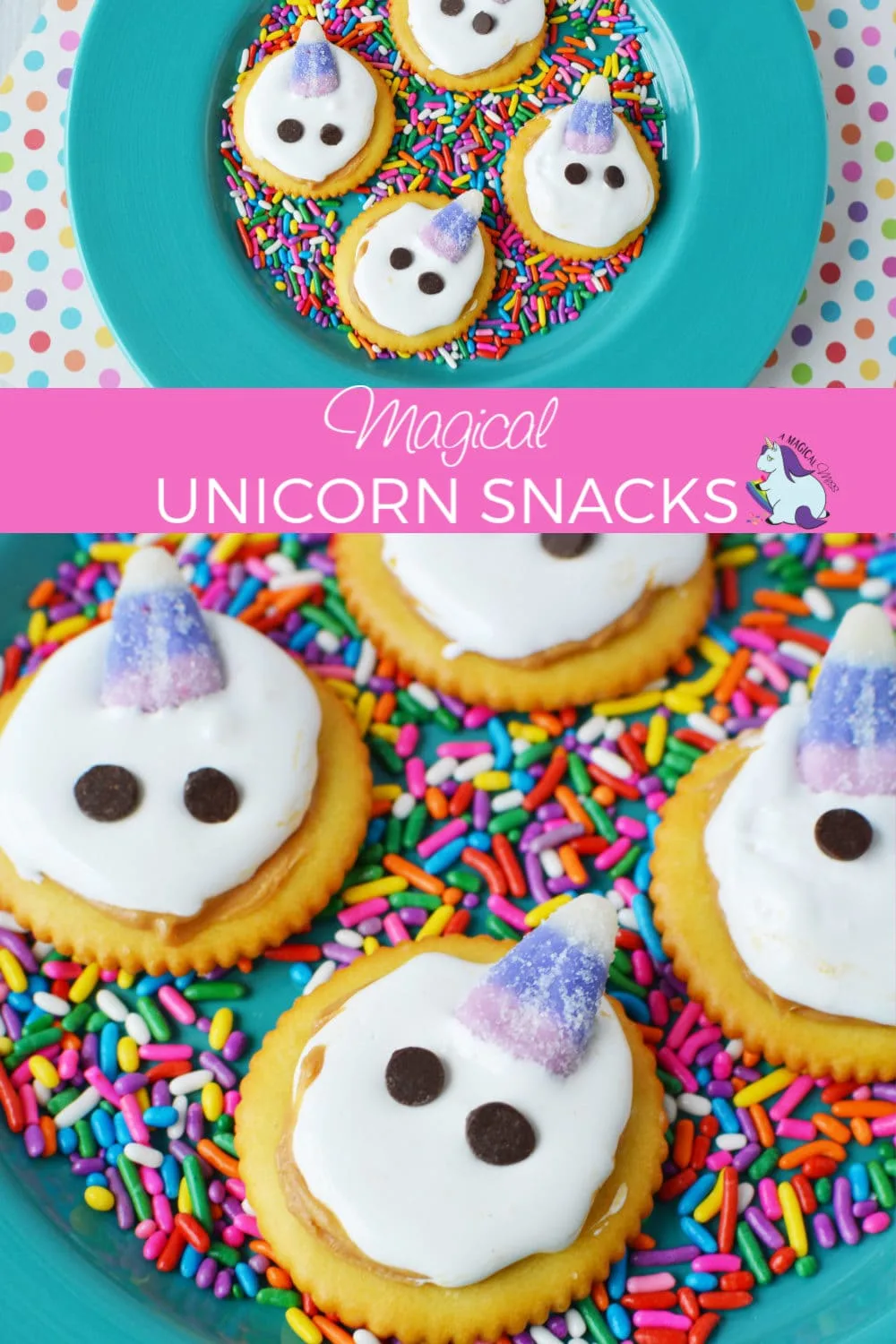 Take a peek and pin all of our unicorn recipes for your next magical event!
Don't forget to subscribe to the blog where you will also get free printable unicorn coloring pages.