I recently unpacked a supremely cool item for review. The Dyson Light Ball. This Dyson upright is exciting to us because it's designed to make vacuuming quick and easy. And, of course, this Dyson upright has their patented cyclonic technology for excellent cleaning power.
Stewie feels the need to approve of all things that enter the house.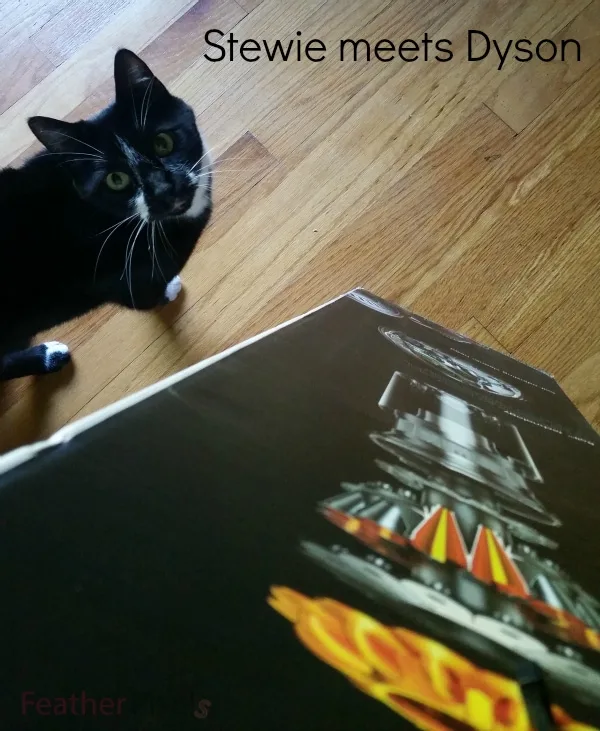 A Dyson Upright That's Heavy on Cleaning and Light on Bulk
My house has stairs and lots of furniture–all covered with fur from several beloved creatures. Because the Dyson Light Ball is designed to turn on their well known ball, it's easy to get around, under my furniture, and away from pets. Because it's been engineered to remove all the excess clutter and weight of other vacuums, this Dyson upright is even easy to use on my stairs. It's nice not to have to lug a behemoth up the stairs. Plus it maneuvers around all the stuff in my house with ease. I love the extended hose for getting cobwebs that collect in the vaulted ceilings.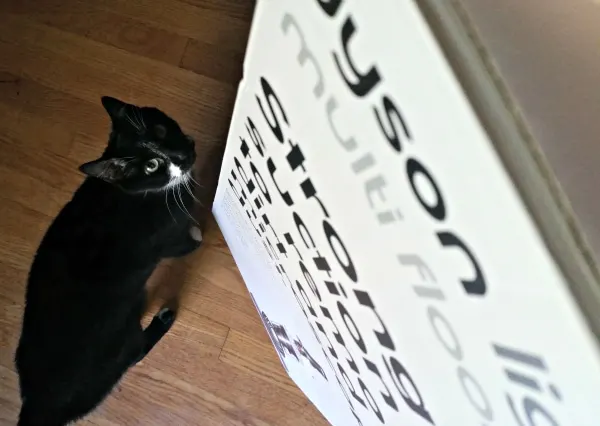 In addition to the lighter, easier to use design of this Dyson upright, it still keeps all of the cleaning power Dyson's known for with its cyclonic technology and whole-machine HEPA filtration. That means it keeps the dirt in the can and not flying through the air to give me and my family sneezing fits.
It didn't take Stewie long to deem Dyson a friend.
Dyson Light Ball Specs
This Dyson upright was designed to minimize bulk and maximize efficiency, and I can say from experience that it shows. My experience aside, the specs alone are impressive.
Radial Root Cyclone Technology – Mesh shroud helps separate large debris, while inner cyclones generate powerful centrifugal force. Every angle of each airway is designed to separate microscopic particles of dirt, mold, and the like from the airflow.
Maneuverability – The motor, filter, ducting, valves, and stand are all engineered into the ball, giving less bulk and weight, and easier access to super tight corners.
Hygienic Disposable – One button bin release for easy emptying.
Testing – Dyson upright vacuums go through 550 tests and 50,000 hours of use. A Dyson upright will be dropped onto a hard floor 5,318 times and run 847 miles on a turntable rig.
Patents – Currently, there are 304 patents and 481 pending patent applications worldwide regarding the Dyson Ball technology.
This Dyson Upright Works
Overall, I've had a great experience with this Dyson upright. Seriously–the suction! I was blown away! <ha ha> I used this on an area that had been vacuumed just one day prior and take a look at all the dirt, dust, and grossness it was able to get up!
I found the Dyson Light Ball easy to use, lift, and maneuver, and it picked up a vastly larger amount of dirt than my current vacuum. I've been wanting a Dyson upright for years, and now that I've finally gotten one, I can say that Dyson is just as great as they tell us they are.