The more pets in the house, the more joy if you ask me! However, we have to face the reality of pet odor. There's a stench factor to consider which increases with each additional furry friend.
Thank you, Angel Soft® for sponsoring this post. Ditch the spray and switch to Angel Soft® with Fresh Lavender-Scented Tube.
When you live with multiple pets, it's easy to become nose blind. It takes leaving your house for a while to get a whiff of what others experience when they enter your home.
Tips to Fight Pet Odor for Multiple Dog Households
There are obvious ways to tackle pet odor, like deep cleaning your house and bathing your pets often. But, let's think of some other ways to help fight pet odor.
Here are some ways to fight pet odor without lighting candles or spraying harsh fragrances. These are easy little tweaks to add, or just a friendly reminder of small details we often forget.
Be sure to read my 3 tips to help eliminate harsh chemicals in the home. It includes a review of a non-toxic cleaner that's safe for kids and pets.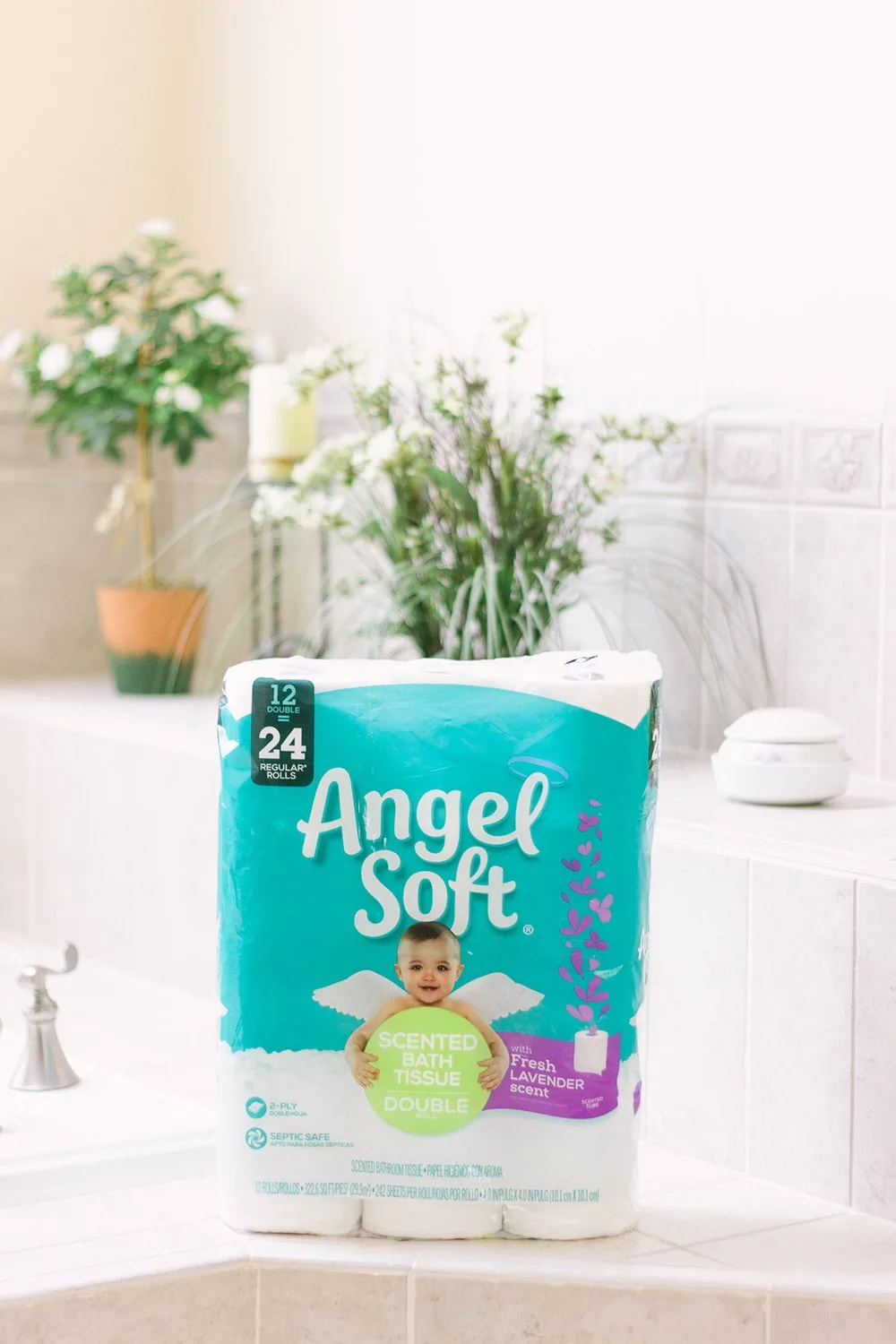 Scented Tube Toilet Paper
If you like to avoid candles and sprays like we do, toilet paper with a scented tube is an excellent option. Angel Soft® with Fresh Lavender-Scented Tube is an effortless way to lightly fragrance your bathroom.
No pets are necessary to enjoy the Fresh Lavender Scent that is applied to the toilet paper tube. I wouldn't want the toilet paper itself to have fragrance, but the tube? That's just genius.
With each spin of the toilet paper roll, the subtle scent of lavender releases into the air. Angel Soft® with Fresh Lavender Scent allows people to leave the bathroom smelling better than when they entered!
Angel Soft® with Fresh Lavender-Scented Tube is not overpowering, but adds just enough of a pleasant smell to help mask any lingering dog odors.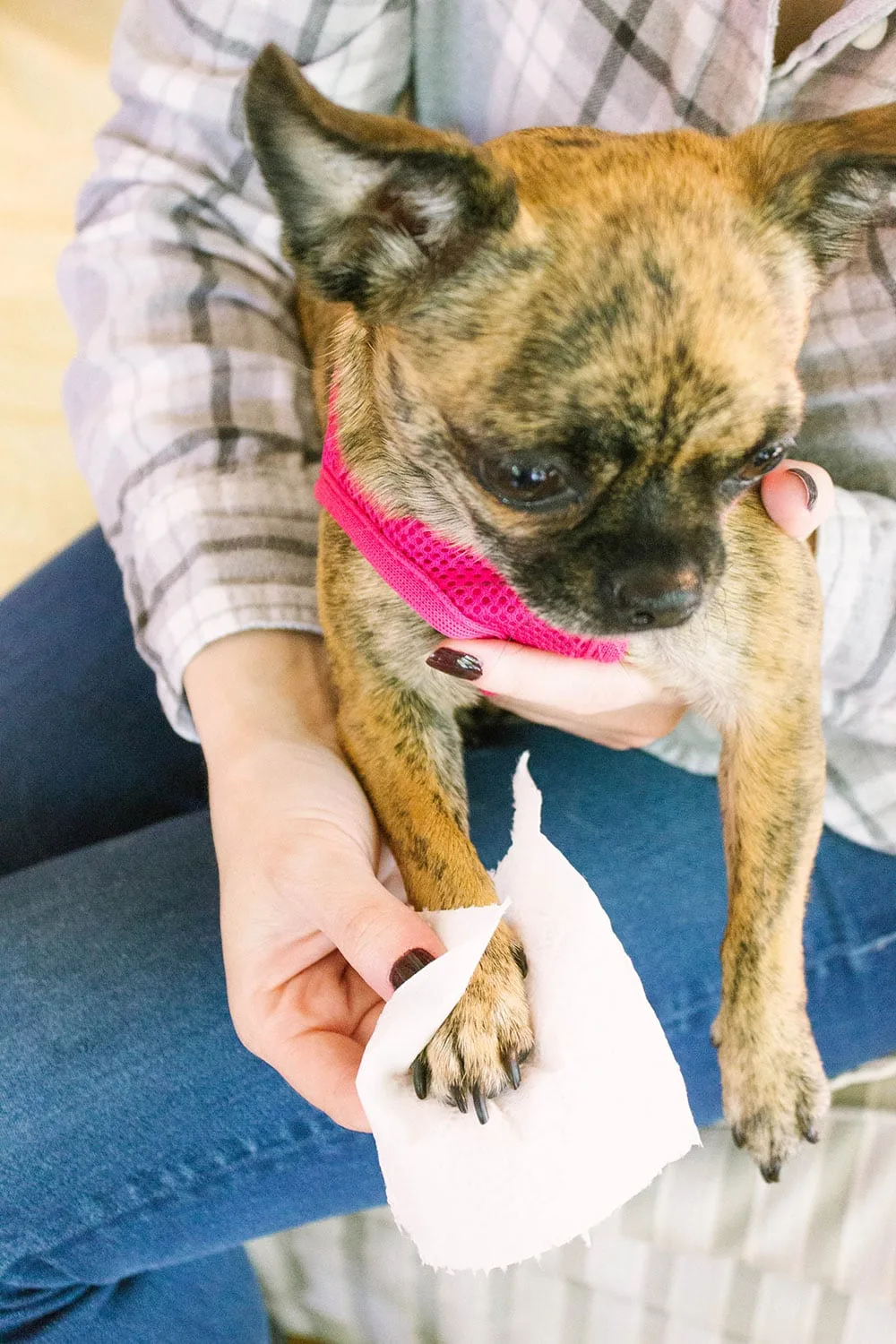 Wipe Doggy Paws
Do you wipe your pets' paws after each potty trip outside? I try not to overthink about the things my dogs track in because I'll unleash my inner germaphobe. In any case, giving a quick wipe to the paws upon reentry is an excellent habit to start.
I keep a roll of Angel Soft® with Fresh Lavender-Scented Tube and a spray bottle of water down by our outside door. The scented tube also provides the lovely aroma that's much needed in that area.
Once the dogs come inside from the yard, I use a square of toilet paper that's dampened with water to do a quick wipe of the doggy paws as they come in.
Dogs usually get used to new routines quickly, so they now know to stop to get their feet wiped. This easy step helps cut down on dirt, germs, and who knows what else, being tracked into the house.
We also added an outdoor faucet attachment that makes it easier to wash hands and paws outside.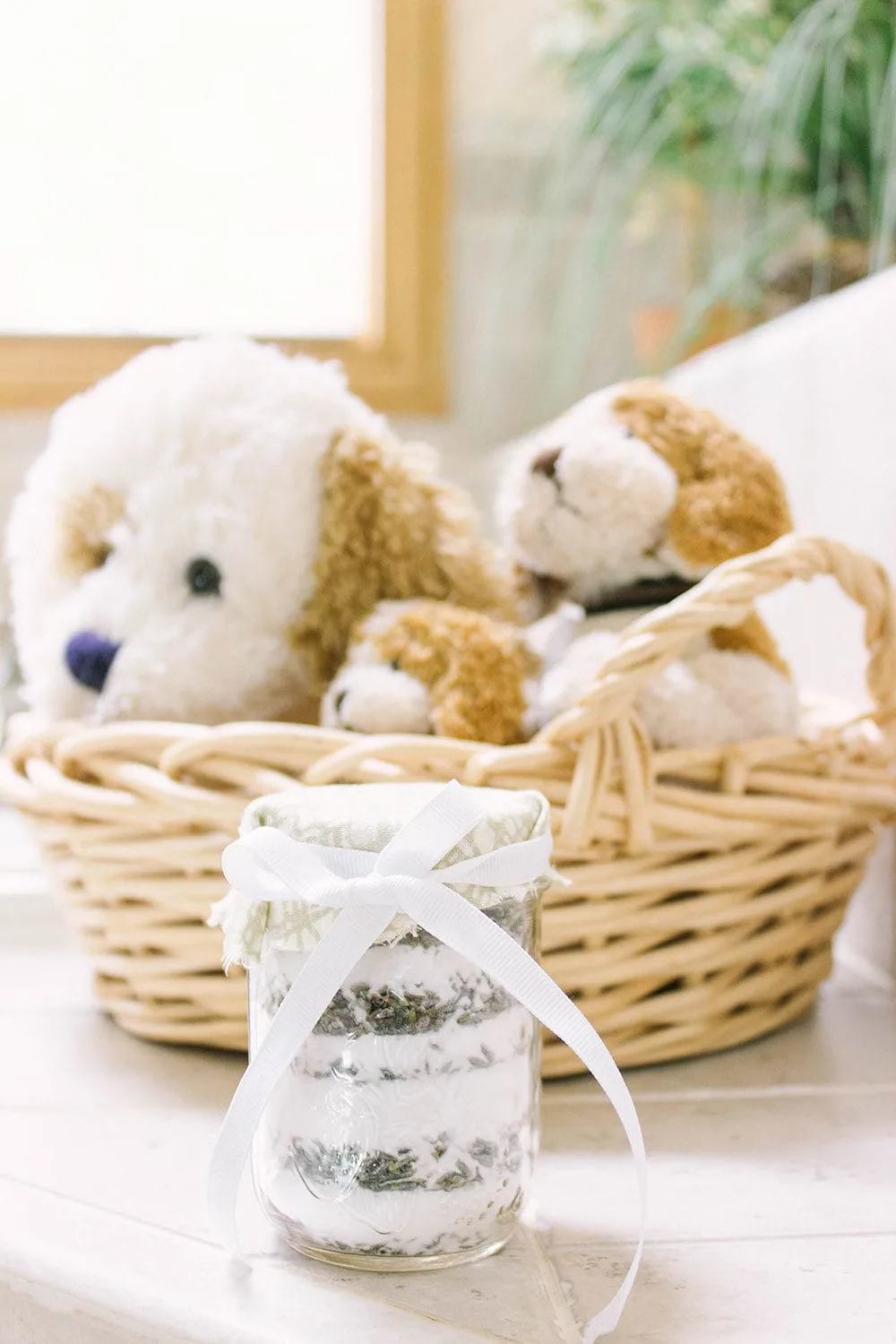 Impossibly Easy DIY Air Freshener
Using 2-3 ingredients, you can create a potent air freshener for any room. I used lavender for the example to match the Angel Soft® with Fresh Lavender Scent currently in our bathroom.
Yield: 1 jar
Easy DIY Air Freshener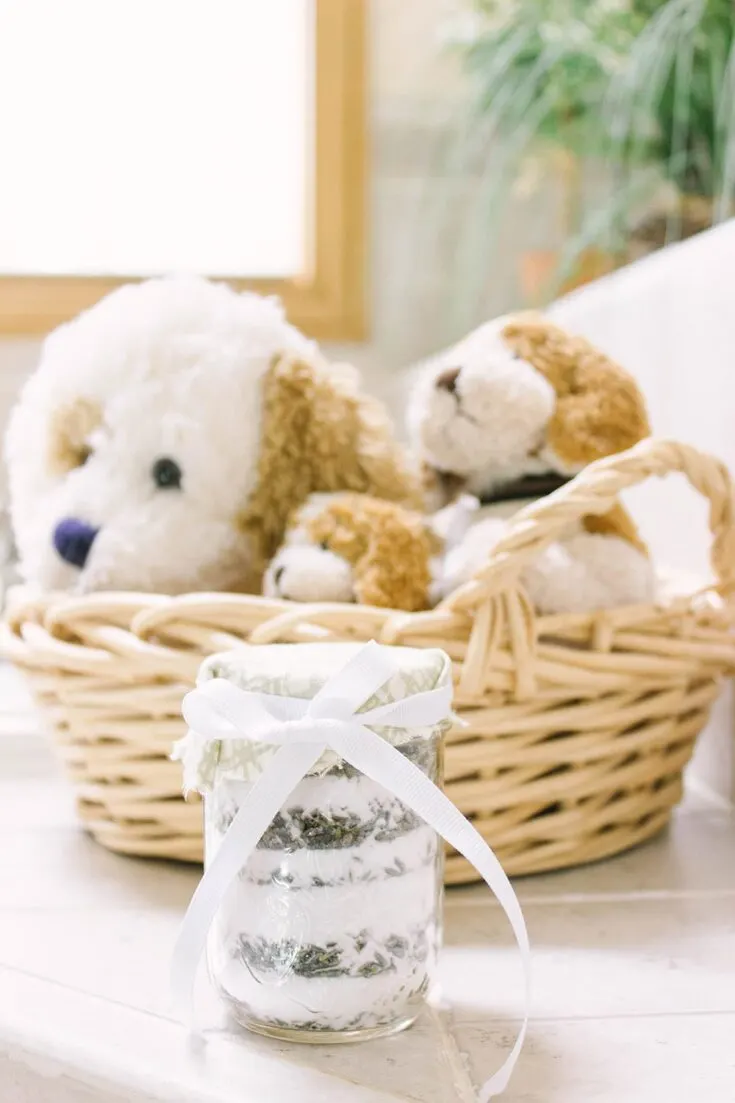 Using 2-3 ingredients, you can create a potent air freshener for any room.
Materials
Jar - I used a jelly jar, and it's plenty big enough
Dried lavender - or your favorite dried herb or flower
Baking soda
Essential oils (optional)
Fabric (optional)
Ribbon (optional)
Instructions
Simply layer dried lavender and baking soda to fill the jar.
Add a few drops of essential oil to the top or to the fabric if you desire. I didn't do this since the aroma was strong enough as is.
Top with fabric or poke holes in the lid of the jar. (Anything that lets the fragrance escape.)
Tie fabric with a pretty ribbon.
Place the jars throughout your home for a super easy air freshener. They also make cute gifts!
Recommended Products
As an Amazon Associate and member of other affiliate programs, I earn from qualifying purchases.
Clean Pet Beds
When cleaning a room, it's so easy to skip right over the pet beds. In this house, it's usually because a pet or two is currently occupying said beds. Since the dogs spend so much of their time napping away, those beds should be cleaned frequently.
I set up a task for myself as a reminder to clean the pet beds once per week. I shoot for the same day as their bath day so clean little bodies lay in clean little beds.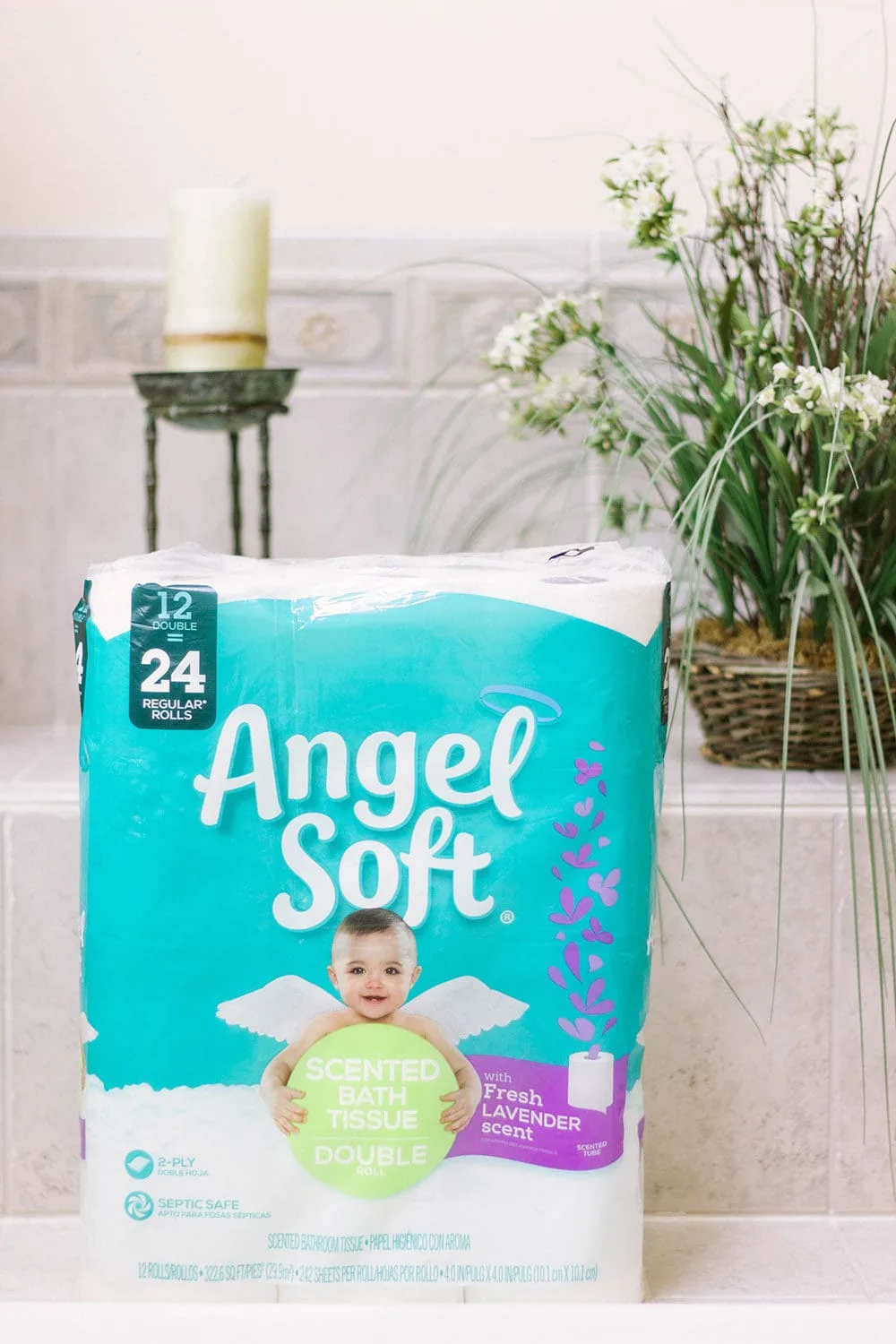 Clean Air Vents
When is the last time you removed one of your air vents to see what's happening under there? Let's just say I was slightly mortified the last time I checked mine.
There was quite a bit of dog fur in the vent and just under it. I now make an effort to wash the vents and thoroughly vacuum up any fur I can access.
Brush Dogs
This may seem obvious, but give your dogs a thorough brushing before their bath. Loosening up excess fur and dander with a brush will help get them even cleaner during bath time. I suggest brushing outdoors, if possible.
Clean Furniture
Have a couch potato pooch? Be sure to wipe down all furniture, throw pillows, blankets, and anything else your pet spends a lot of time near.
We have blankets on the couch for movie nights. If I don't pick them up after each use, the dogs lay on them, and the blankets ripen up after only a few days.
Clean Bowls, Toys, and Other Accessories
Other items often overlooked while cleaning are pet accessories. Where was that leash dragged during your last walk? When's the last time that food dish got a proper scrubbing? All of these things contribute to funky smells.
The Grump has a plush toy that he nurses all day, every day. This toy smells like actual raw sewage. It took us a while to figure out the source of this stench. After a team effort of sniffing it out, we now know his plush toys need to be cleaned or replaced often!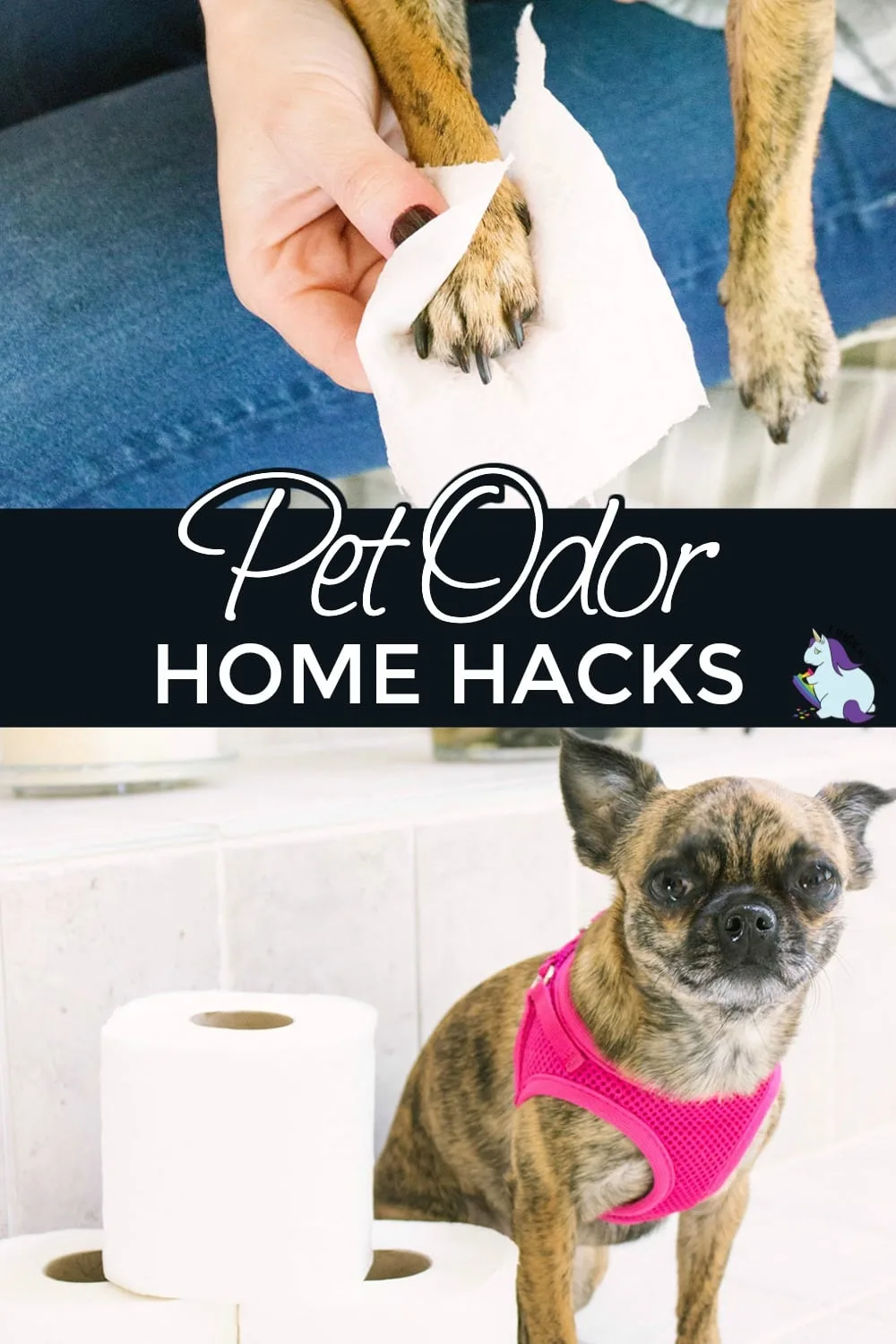 Change Filters
Mark your calendar to change your furnace and air cleaner filters out regularly. If you have multiple pets, perhaps consider changing them even more often than suggested.
There you have it. Simple little tweaks to make to help fight pet odor in households with multiple dogs.
Stock up on packages of Angel Soft® with Fresh Lavender-Scented Tube for instant freshness. Another hint: Rip little holes into the packages and wherever you keep your toilet paper will also smell amazing!
Do you have any pet odor home hacks to add?