Deep cleaning our home frequently is important. Not only am I allergic to a long list of items, but we have three shedding dogs to clean up after. After this long, frigid winter of the house being locked up tightly, a thorough cleaning is an absolute must. Sponsored post, all opinions are my own.
About Chem-Dry
Chem-Dry is the world's largest carpet and upholstery cleaning service. Founded in 1977, they have locations in 47 countries and serve over 10,000 homes per day worldwide. Unlike other services, the company uses a proprietary hot carbonating extraction cleaning process. This process delivers a deeper clean by harnessing the power of millions of microscopic bubbles. The brand's primary cleaning solution, The Natural, is green-certified and is safe and non-toxic for kids and pets. Chem-Dry is healthier than typical steam cleaning because their system uses 80 percent less water. This allows the carpet to dry within one to two hours instead of one to days. This means less risk of water build-up that creates a breeding ground for mold and mildew.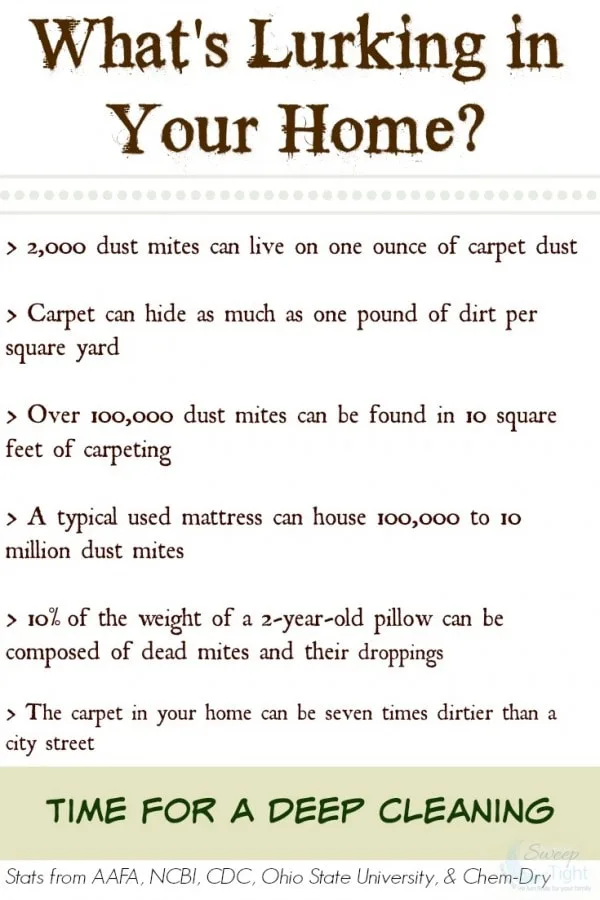 Deep Cleaning Tips to Reduce Allergens
There are so many things you can do when it comes to deep cleaning your home. Here are a few things that seem to get overlooked.
Keep Windows Shut – As much as I want to air this place out, the Spring air brings in a whole new batch of allergens. It's better to keep the air conditioner running and use a HEPA filter if your home contains allergy-sufferers.
Bathe Pets Regularly – Keeping your pets extra clean can help control their dander and the allergens they track in from the outdoors. They should be banned from bedrooms, too, but that's definitely not happening over here. Our dogs sleep with us, so cleaning the bed is a frequent task, as well.
Replace or Clean your Window Treatments – Make a habit of cleaning window treatments. Replacing them is a quicker fix. This is something we need to do desperately. Our blinds are ancient and who knows what kinds of allergens they are holding onto.
Keep Carpets, Rugs, and Upholstered Furniture Clean – Vacuuming and cleaning rugs and carpet is a given, but what about the furniture? Don't forget to detail your furniture. Chem-Dry's cleaning process is ideal for cleaning upholstered furniture, eliminating allergens and other unhealthy particles.
Is your home due for a deep cleaning?