The products reviewed and the content for this post was sourced from DownLinens, online resources and family traditions. Getting cozy in Chicago weather can be a challenge because one day it's hot and the next it's near freezing. No one has the time or energy to switch linens on their bed daily so having an all-season solution is the real trick.
Cozy in Any Season
DownLinens has this ultra-light, comfortable down comforter that is just perfect all year round. It's warm and cozy, but doesn't have much weight to it so it's not smothering you and keeping you too hot. I'm super picky about my temperature when I sleep. I like the room to be cold and the bed to be warm. I cannot sleep when I'm hot. Yuck, the mere thought makes me angry. Being able to use this one comforter all year is a huge deal for me. I like to use a weighted blanket for anxiety, but that's a different story.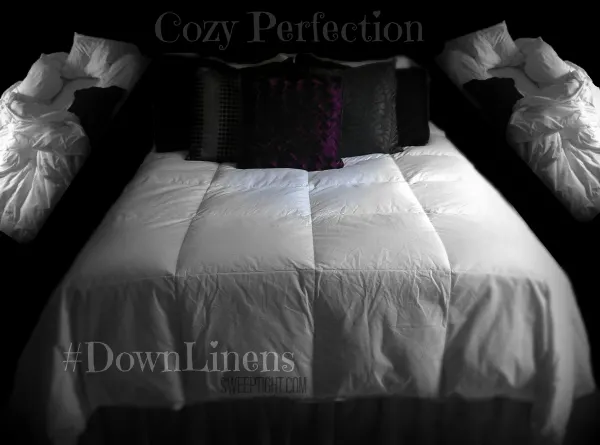 Getting ready for bed for me means washing my face, brushing my teeth, changing into a t-shirt and boxers, and making my nest. Yes, nest. I literally surround myself in my pillows in the shape of a legit nest. It's so cozy and awesome I just can't sleep any other way.

As we get older and have more responsibilities, falling asleep at night can get challenging. Making your bed a welcoming and comfortable place is one part of the battle that's in your control. Maybe you can't shut off your worrying brain about paying the rent, doing the laundry, and driving kids to practice without being late, but you can make sure your bed is as relaxing as it can possibly be.
If any part of your bed situation is causing you discomfort, change it immediately. Sleep is too important to mess around with products that aren't working out for you. Check out our gift ideas for people who can't sleep for more ideas on how to perfectly fluff your nest.
Silly Kids
It's really no surprise my kids have strange sleeping habits. My son likes to bundle himself up with multiple blankets and we're talking up around his head too. He actually has one blanket just for his neck. This used to freak me out like he could choke himself or something, but it's the only way he'll sleep. My daughter, well, she's in a category all her own. When she was little I'd find her in all sorts of strange spots sleeping. But the cocoon was definitely my favorite.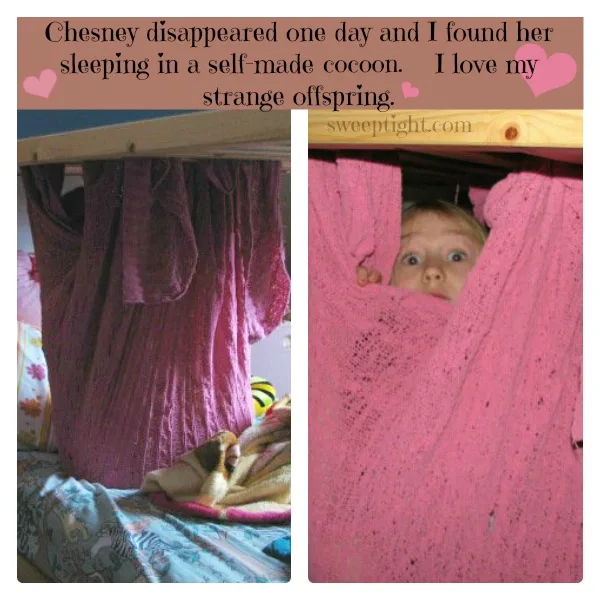 She tucked the edges of her blanket up into the bars under the top bunk. I don't know what possessed her to do such a thing but she was entertained for hours and slept like a baby. Ah, to go back to the days of pillow forts and falling asleep in any position…
Do you have any funny stories about your kids' sleeping habits? What's your favorite way to make your bed the most comfortable?