I received the best faucet connector and other yard and garden items from Aqua Joe. All opinions are my own.
Not to play favorites, but out of the awesome gardening gadgets available from Aqua Joe, the garden hose tap connector is by far the most exciting. Hands down, it's the #1 product we didn't know we needed of 2020.
As I said in the pressure washer post recently, we are focused on improving our yard this year. The yard is the best part of our property, so it's about time that we start appreciating it to the fullest.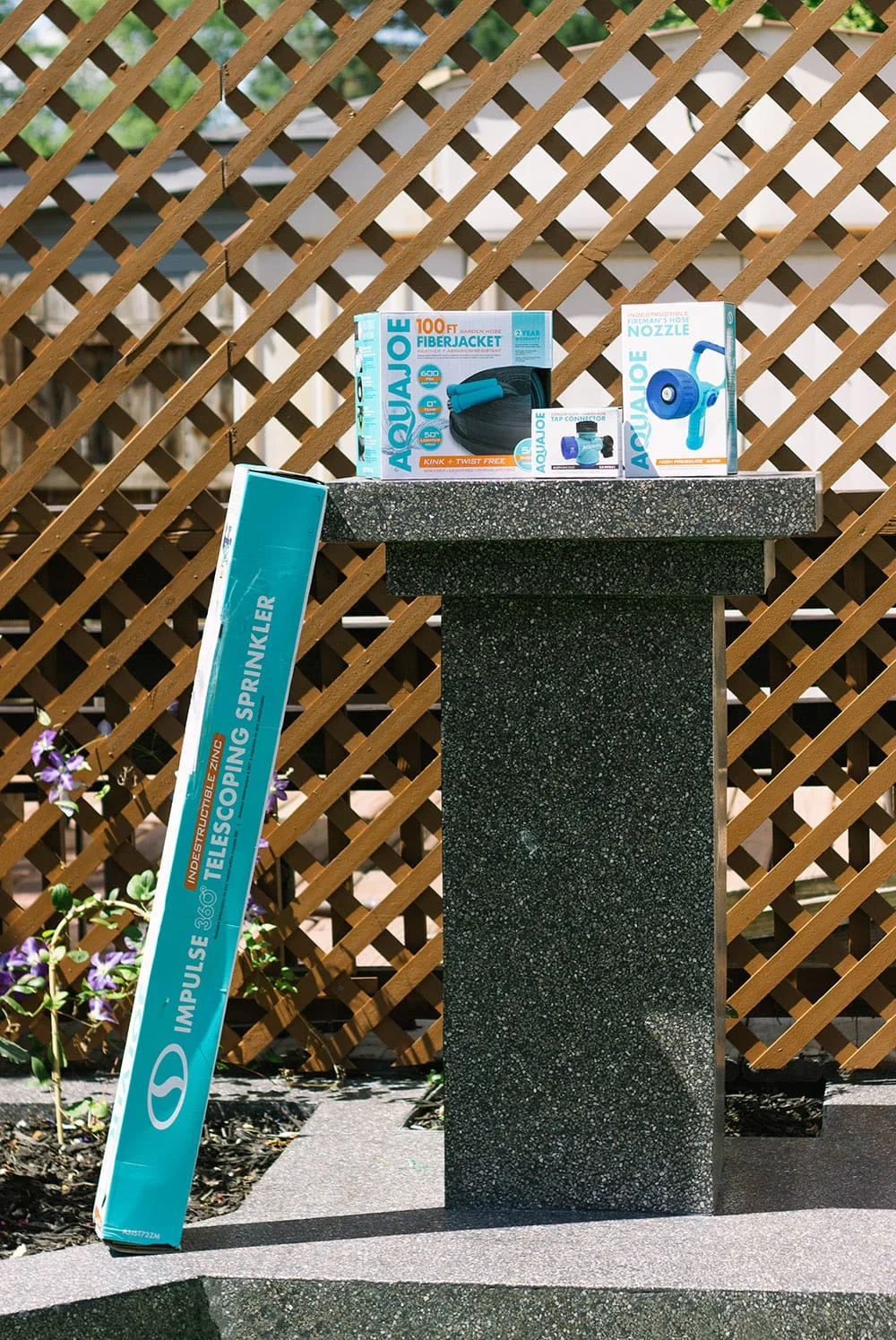 Yard and Garden products you didn't know you needed
Aqua Joe has so many innovative products that help make yard and garden work more efficient and fun. Here are the four products Aqua Joe sent.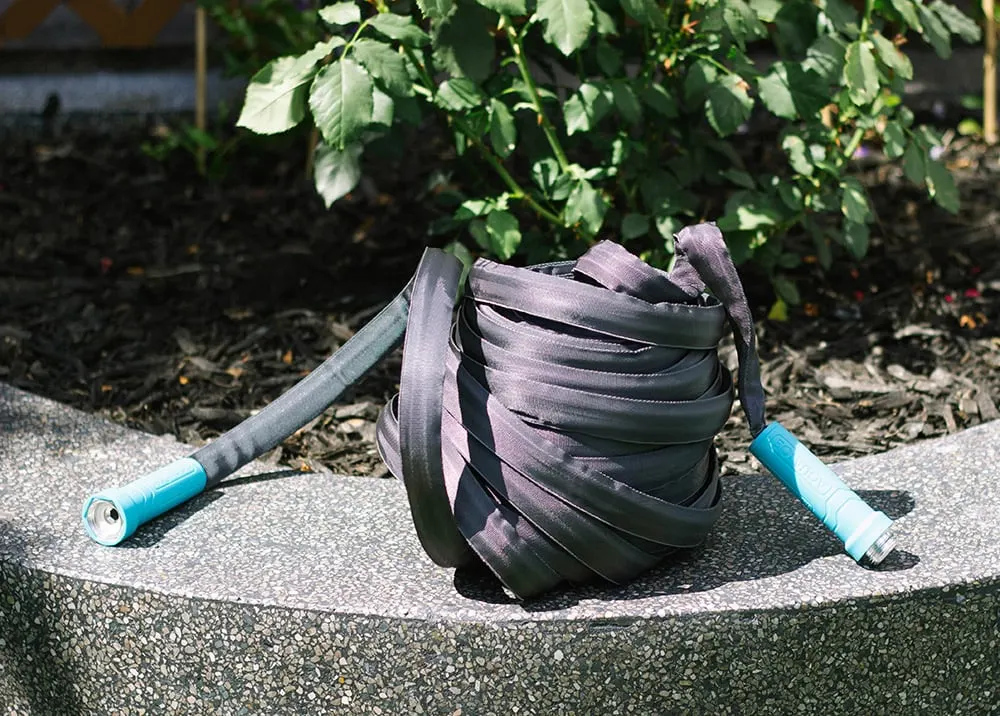 FiberJacket Max Garden Hose
The Aqua Joe 100 ft FiberJacket Max garden hose is your new dream hose. I like to think of this as a luxury hose that's still affordable. It's lightweight, flexible, and durable, making it so easy and pleasant to maneuver around your yard.
If you're like me and hate dragging around a heavy, dirty, mildew-y hose that's constantly tangling and kinking, this FiberJacket hose will be your new best friend. It's even easier to go from the backyard to the front and even around the corners with this hose!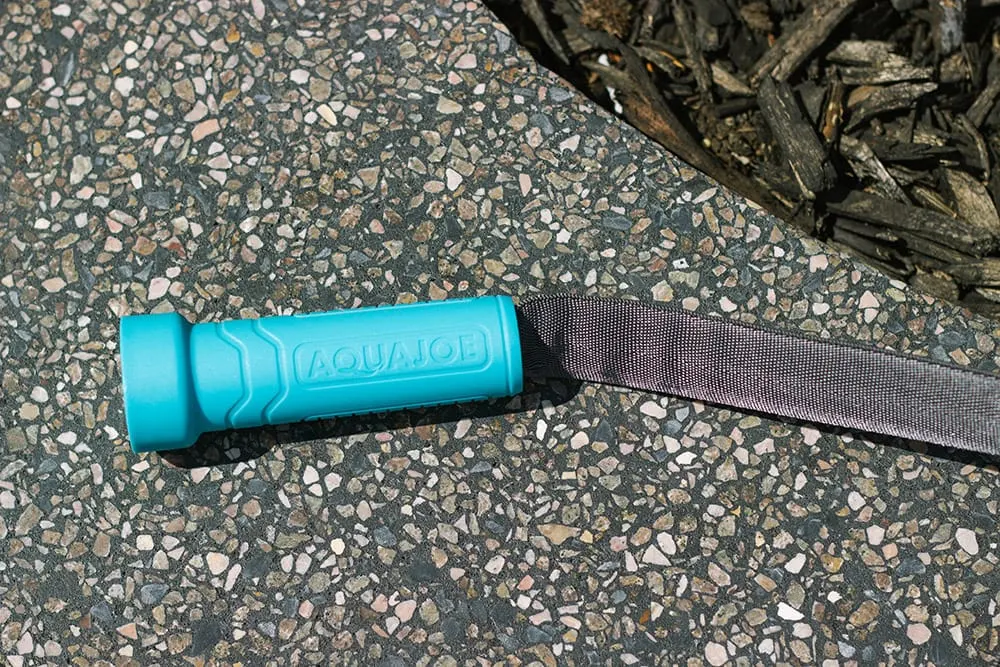 The innovative design makes this garden hose up to 50% lighter and 3x stronger than conventional hoses. You'll immediately feel how much easier it is to navigate through your yard and water every bit of the places that need it.
Even the material of the hose is gentler. Should you need to drag the hose over any delicate surfaces, the fabric is far less abrasive and won't scratch or damage painted surfaces.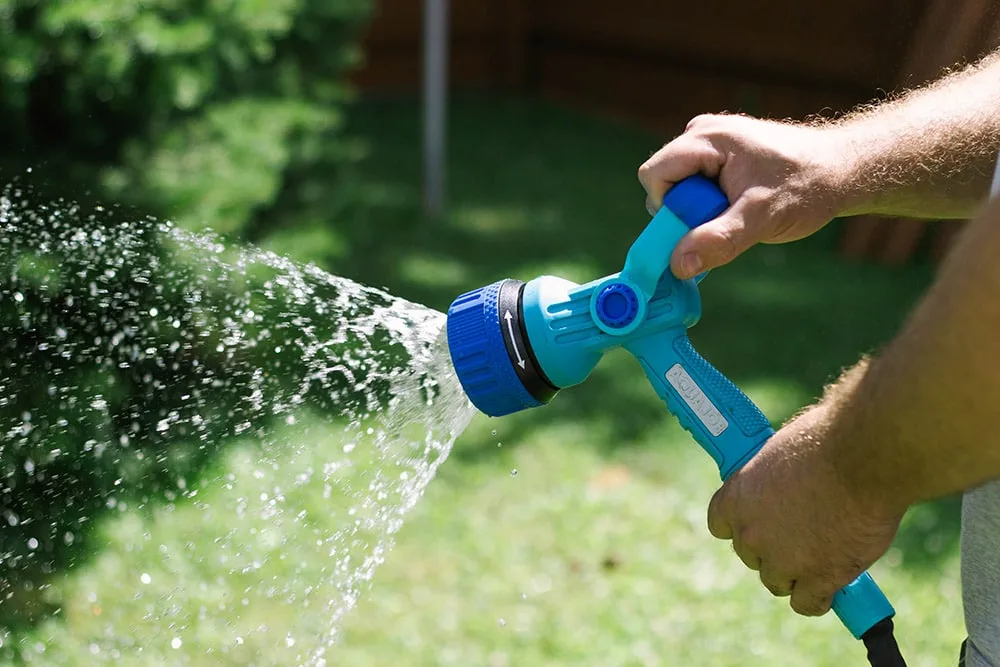 Fireman's Hose Nozzle
Go from a gentle spray to a strong stream with the Aqua Joe Indestructible Fireman's Hose Nozzle. This is another lightweight and easy to use hose attachment that you'll find useful for so many things.
It's so easy to switch between the three spray options to go from watering the flowers to washing the car.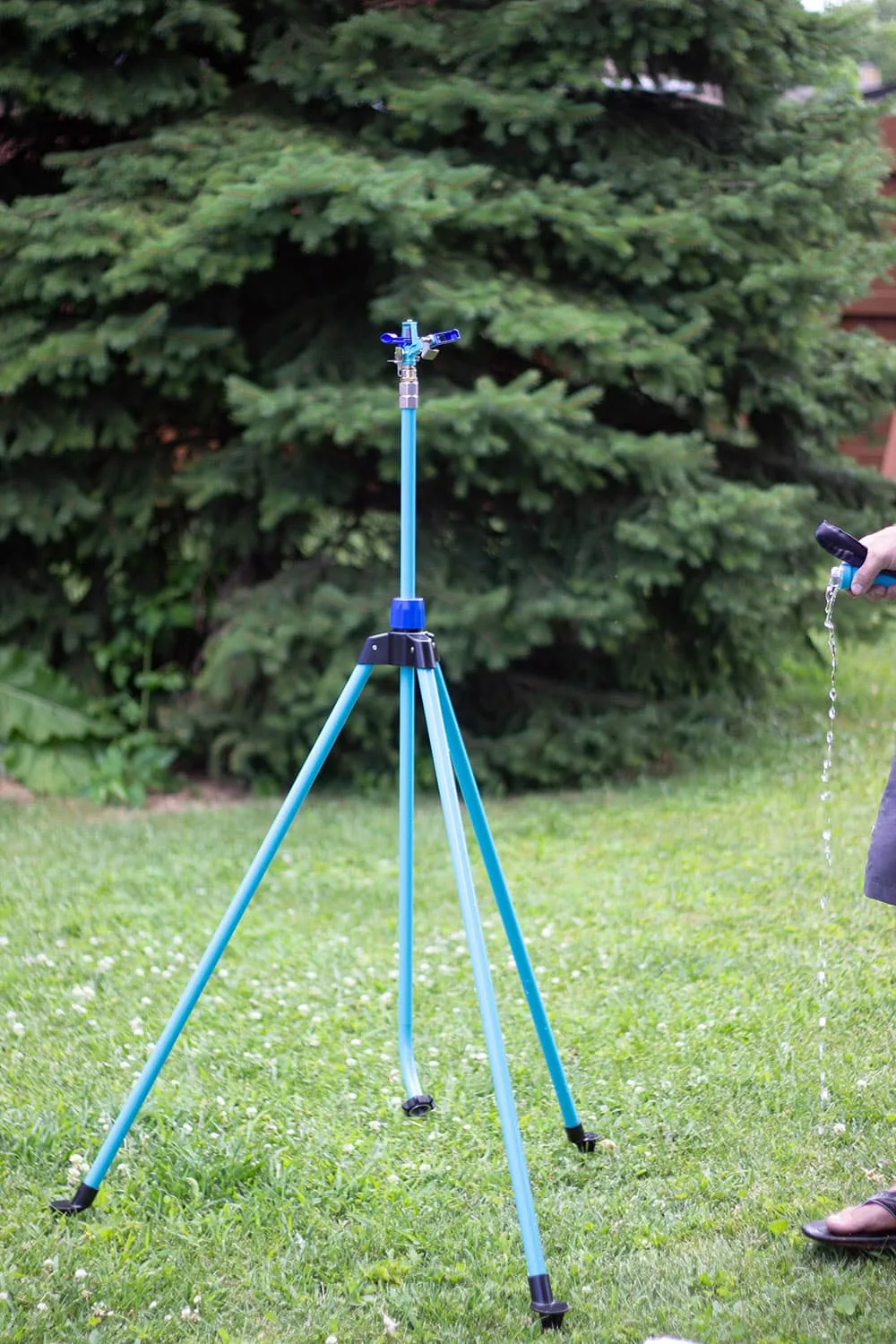 Telescoping Tripod Sprinkler
Water your lawn like an actual pro with the Aqua Joe Indestructible Zinc Impulse 360-Degree Telescoping Tripod Sprinkler. Evenly distribute water throughout your yard using the many options this sprinkler provides.
If you have a big piece of land to water, this sprinkler is for you. Having said that, you can also adjust it for smaller spaces.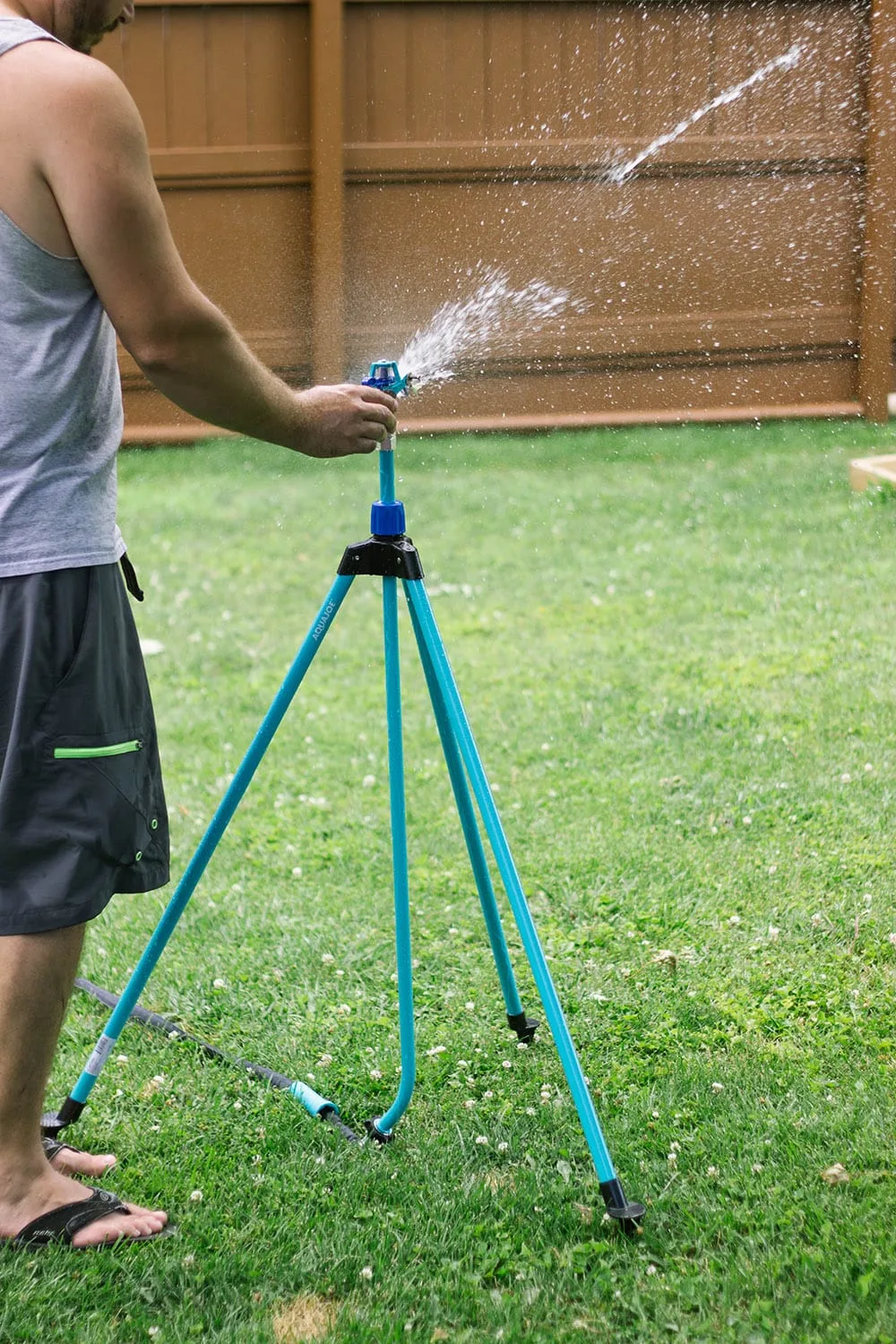 I let my friend borrow this sprinkler for her vacant property in Michigan. She has several pumpkins planted in a large area where this tripod sprinkler proves that it goes the distance.
Back home, we adjust it to reach the smaller radius of our yard. So, again, this is another Aqua Joe product that's easily adjustable to fit the needs of different sized yards.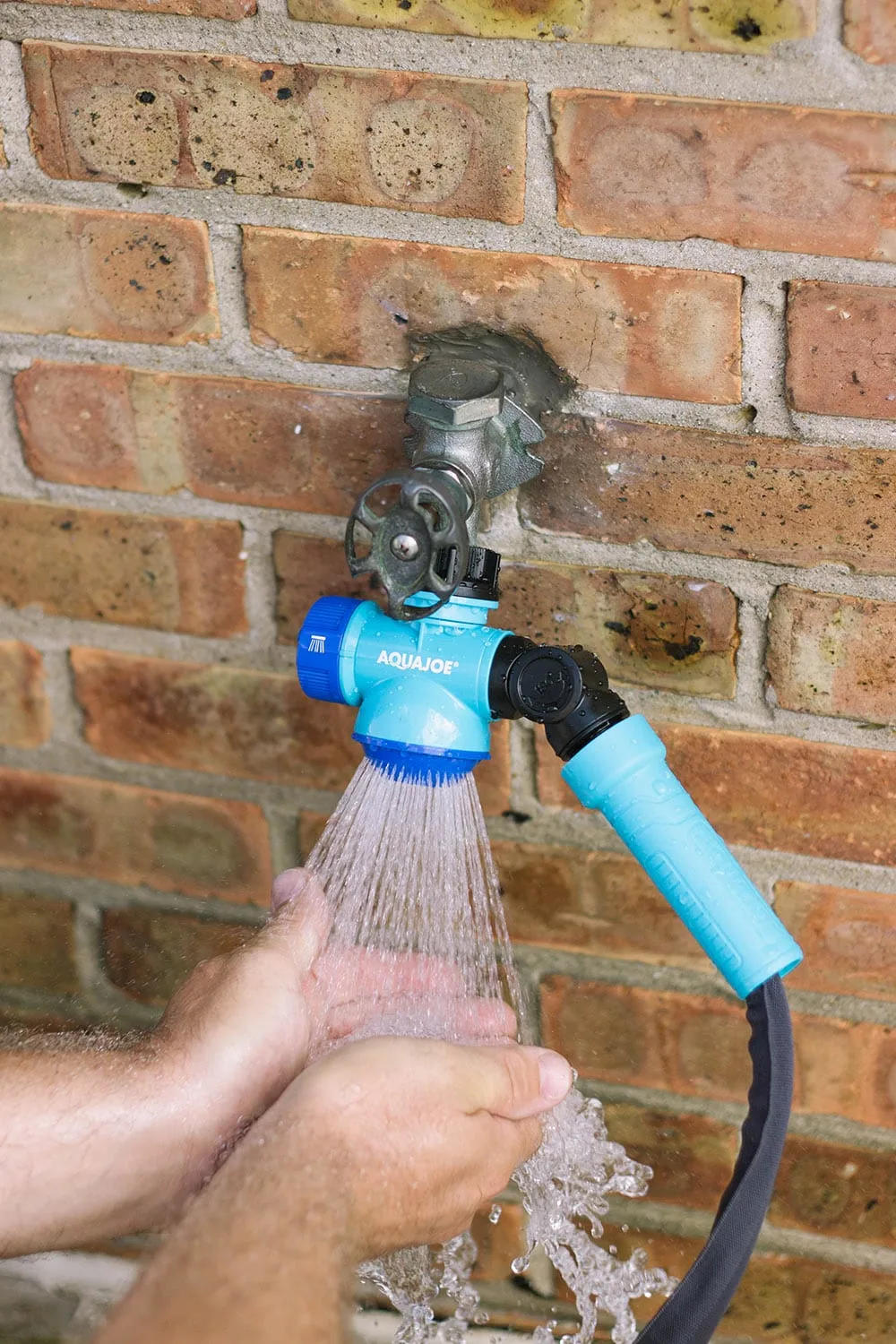 Faucet and Garden hose tap
Saving the best for last, this Aqua Joe Multi-Function Outdoor Faucet and Garden Hose Tap Connector is a game-changer yard item for around $10.
Spoiler alert: This is going to be my go-to gift for a while. Due to the price, uniqueness, and usefulness, it's an ideal gift idea for any homeowner.
My friend came over and saw this faucet attachment and absolutely flipped out. (Is this was happens in your forties, by the way?) She's purchased several of them already, and recommended them to everyone.
The major reason this garden hose tap is so cool is partially due to the times. Since any small gatherings this summer have been outdoors, and we all need to wash our hands frequently, this spigot connector is genius.
Simply attach the garden hose tap connector to allow your hose to pivot, preventing twisting and tangling. You can then adjust from the three settings to covert from hose to faucet. Get a steady stream of water or a gentle shower all without disconnecting your hose.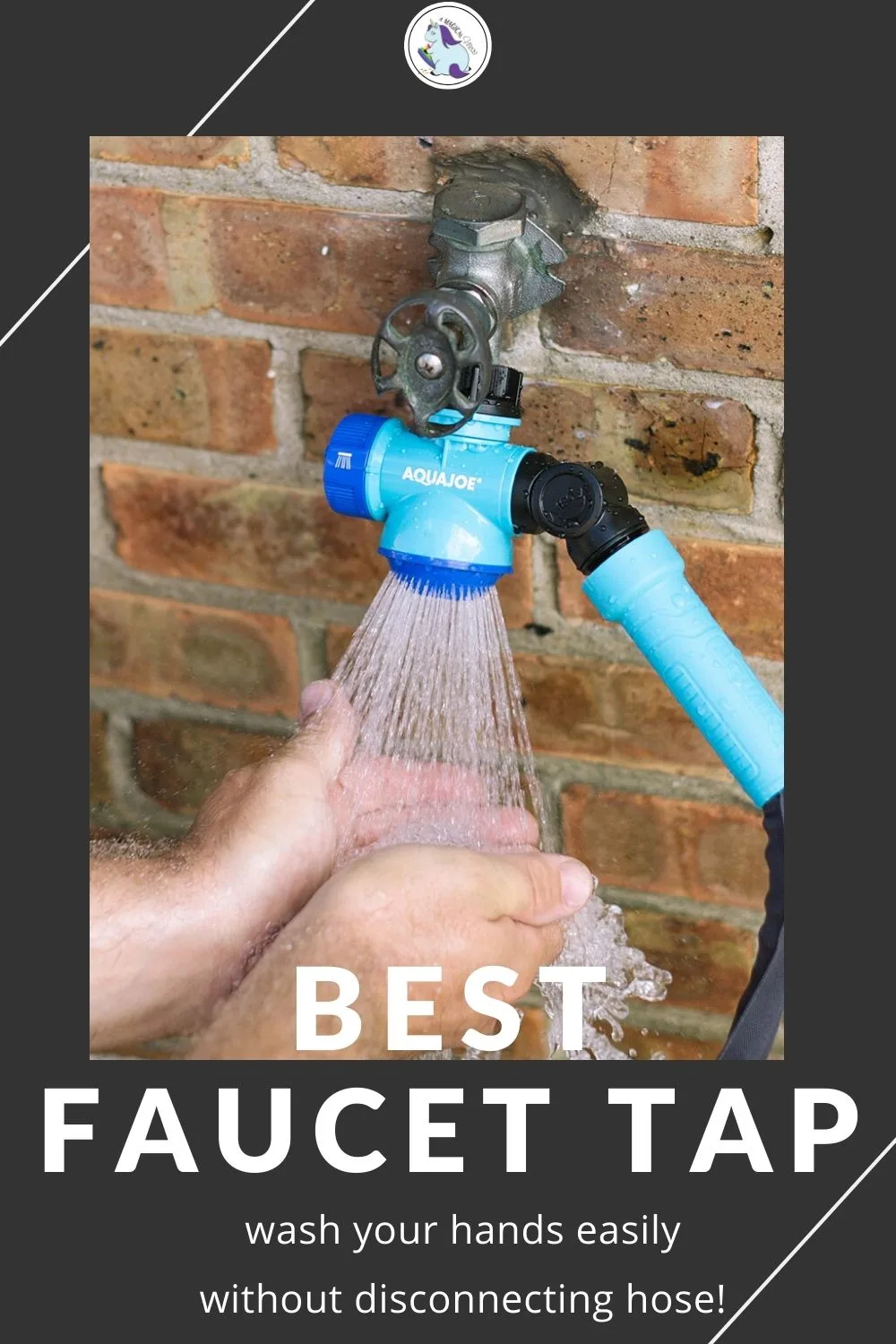 Fun gardening items!
If you do a lot of yard work and gardening, consider these Aqua Joe products to make it all more pleasant and efficient. And if you need an affordable gift idea for a homeowner, the outdoor faucet is a winner!