I recently bought the first book in the Malazan Book of the Fallen Series; the Gardens of the Moon. I have loved the book and finished it in a couple of sittings. I was set to buy the second book, which is the Deadhouse Gates. However, I was unable to find a matching copy which had left me quite distressed.
5 Reasons on Why You Choose Kindle
Upon searching copies on Amazon, I had somehow come across ebooks and Amazon's ebook reader, the Kindle. I have thought that getting matching copies on the Kindle is easier due to easier access to all of the available copies.
For a great price, I have grabbed a Kindle of my own and tried how ebooks would go for me. Being used to paperbacks, I first had my doubts on how the Kindle would go for me. After giving it some hours of use, I got the impression that the purchase was really worth it. Here's why.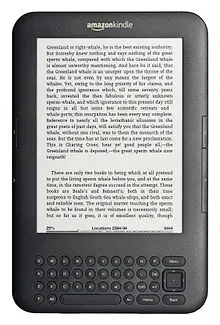 Incredibly Natural
At my first hour of re-reading the Gardens of the Moon through the Kindle, I have found it incredibly natural to the eyes. It does not feel like looking through a computer screen but more like reading something from a paper.
According to the package, this is one of Kindle's main selling points; the e-ink. The e-ink is a display type that is specifically adapted for ebook readers so that users can stare at the screen without straining their vision. The e-ink display is also visible under intense lighting conditions unlike regular tablets, phones, or monitors.
Integrated Dictionary
Some of Erikson's language can be deep and are not native to the reader's knowledge. This is where Kindle's integrated dictionary comes in handy. You do not need to open a separate page or browse a dictionary as you can already have the word defined within your Kindle's interface. This is my personal favourite and comes very handy when reading classics.
Cheaper Books
While ordinary books can cost $10 up to $20, a $10 ebook can be considered as an expensive or premium content for the Kindle. Sure you will have to pay an initial fee for the device. However, you can get this much savings over time, especially if you are an avid book reader.
You could already cover for your Kindle cost in just 20 to 30 ebook purchases because of the discount. And did I mention that classic works are available for free? There's also the option to join Kindle Unlimited to access a wide variety of books for free each month.
Internet access
The Kindle can connect to the internet via WiFi and some versions through its unlimited 3G connection using Amazon's network. Its primary purpose is to allow you to instantly purchase your desired books anytime, anyplace.
No more browsing through the book store only to find out that the book that you are looking for is not there. And though the internet is not particularly attractive in black and white e-ink, it is still handy for a quick look through Google.
A library has never been so light
With Kindle, you can carry thousands of books in just a single device. Like many, I usually read one book at a time. However, I make the habit of referring to a book's previous volumes for a certain event or dialogue. Kindle allows me to do this even if I'm away from my book shelf, on a trip, or during a vacation.
Though scanning through pages can be quite tedious in Kindle, you'll get used to it in time. I personally use bookmarks and other techniques in order to cover for this shortcoming. Hopefully, Kindle will be able to improve this in future versions.
The Kindle is available on Amazon for an affordable price. I hope Amazon gives further discounts on this device. But since I have already bought mine, I could not bother to check BigBoxShopper.com for coupons anymore. If you are planning to buy one, I suggest checking this website out.